Celebrating 10 Years of Patriot League Play, Student-Athletes Thrive at BU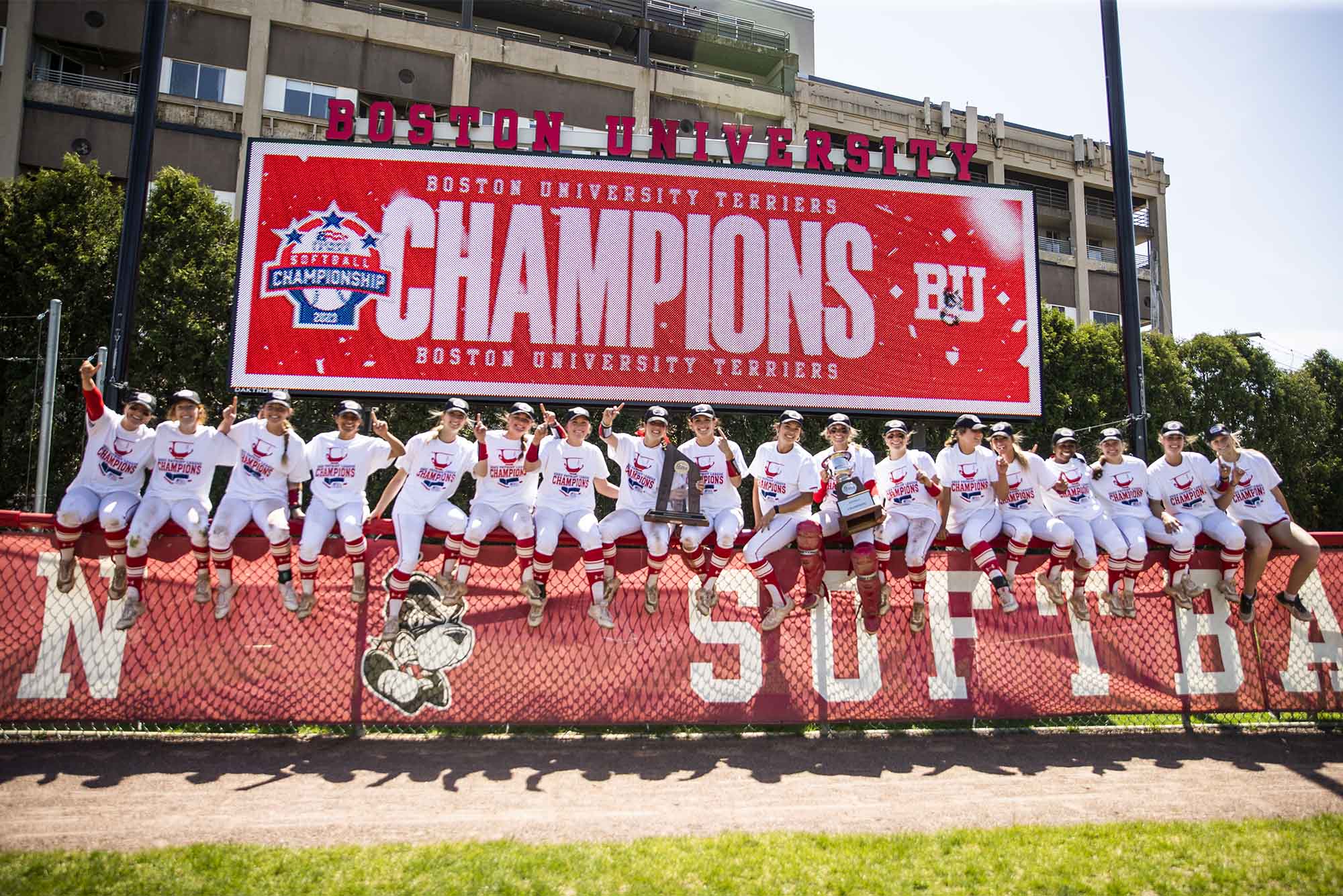 Athletics
Celebrating 10 Years of Patriot League Play, Student-Athletes Thrive at BU
A decade in the league has seen 34 Terrier championships, domination by several women's teams, and record GPA levels for student-athletes
Across the landscape of major college athletics today, change is inevitable—and constant. Frequent conference realignments, program debuts, evolving athlete practices, and the latest change—allowing athletes to be compensated by sponsors for their "name, image and likeness," or NIL—all contribute to the erratic nature of higher-education competition.
For Boston University Athletics, this year marks the 10th anniversary of the biggest change of all: 10 years ago, 20 programs moved out of the America East conference and into the Patriot League. Since joining the Patriot League, Terrier teams have captured 34 championships—a dominant 32 for the women and 2 for the men.
From 2010 to 2014, over 120 NCAA schools moved their athletic programs to different conferences. Among the fray, BU Athletics transitioned all but four of its programs—exclusions were men's and women's hockey, men's rowing, and women's lightweight rowing—to the Patriot League, alongside Loyola Maryland, becoming the conference's 9th and 10th members.
As Boston University women's track star Daisy Liljegren (CAS'24, Sargent'24) crossed the finish line of the women's 10,000 meter race at the 2023 NCAA Outdoor Track and Field Championships, BU Athletics closed the book on a full decade of playing in the Patriot League. In addition to the on-field and on-court successes the Terriers have racked up, BU Athletics has had its best 10-year stretch of department-wide student-athlete GPA.
"I think it's been a great partnership," says Drew Marrochello, director of athletics. "We share ideals about athletics and academics and the blend of the two with the other nine members. I think that our bond is very strong, and I think it's a stable league in an unstable national environment. We remain proud members, as we will long into the future."
A founding member of America East—originally called the Eastern College Athletic Conference–North, and playing exclusively men's basketball—in 1979, BU won 130 titles in the conference to complement 12 Commissioner's Cup trophies for the strongest overall athletic program. From 2006 to 2012 Terrier teams pulled in seven straight Commissioner's Cups, before moving to the Patriot League in 2013.
As BU's athletic success had steadily risen by the early 2010s, the desire for conference realignment escalated.
"I think it was a time that schools were starting to look around for different conference affiliations and trying to figure out where they fit in," says Marrochello, then deputy director of athletics. "I think it was a time that geography didn't matter as much as it did years ago. And historically, I think schools were simply saying, what do we want to align with, from a financial perspective and theoretically, a conference based on common ideals."
BU field hockey head coach Sally Starr, who has helmed the program for more than 40 years, making her BU's longest tenured coach, points to a key difference between BU and other America East programs.
"The America East was a good competitive conference athletically, but I felt we were at a disadvantage recruiting-wise because the majority of schools in America East were state schools," Starr says. "I think the admissions standards were very different from the type of student-athlete they could entice to Boston University."
The Terriers won eight America East championships under Starr before the conference realignment, their last in 2009.
Starr's recruiting woes coincided with a larger change happening on Commonwealth Avenue. BU was bolstering its national academic standing under President Robert Brown, who took the helm in 2005. Thus, the widespread change around college athletics was an opportunity to align BU's athletics with schools of similar academic prowess.
An academic and athletic blend
"The Patriot League and the Ivy League are the leagues that people talk about when they talk about an academic and athletic blend," Marrochello says. "We're not in it for driving revenue, we're in it based on the ideals of how academics can exist with the athletic enterprise."
BU had conversations with the Atlantic 10 and the Colonial League, but these were preliminary discussions, Marrochello says, and the department was not solely intent on moving. The biggest impediment to BU's Patriot League bid was the size of the institution—with 10,000 more undergrads than the league's next biggest school. Marrochello calls Brown's procurement of the invitation a "stroke of genius."
"When you're looking at the size of the schools that are competing, we're quite a bit bigger," he says. "And I think it was [Brown] who sold them that we're not as much of an outlier, that we subscribe to the same ideals of academics and athletics blending together. Bob sold them that our kids being admitted are Patriot League kids."
According to Jennifer Heppel, Patriot League commissioner, BU's student body size has only bolstered the conference.
"From an external perspective, when you're simply looking at data on a piece of paper, BU might be considered an outlier due to the size," Heppel says. "But when you look at our mission and vision in terms of how the athletic experience is approached as an important component of the educational experience, Boston University is just in lockstep with the rest of the league. And that is what has made them such an important and strong member—that approach to the athletic experience at Boston University and the educational opportunities that are provided to the student athletes. It is just so consistent with the league itself." 
On July 1, 2013, came the announcement that Boston University and Loyola Maryland would officially join the Patriot League. Overnight, the 2013-14 athletic year became a new era for the Terriers: a new athletic conference, the hiring of David Quinn (CAS'89), BU's first new men's ice hockey coach in 40 seasons, and two new programs—women's lightweight rowing, and men's lacrosse. 
Starr says the conference realignment came as a surprise, but a welcome one.
"The change was a total surprise," she says. "I loved it because I really felt we were going into a conference that was an academic fit for our program. It was a good hockey conference at that time, and I think it's gotten much better since we've been in it. All the schools have really made a commitment to their hockey programs with new facilities. It's become a very, very good field hockey conference over the last 10 years."
BU hit the ground running in 2013-2014, finishing second in the Presidents' Cup standings—awarded to the best overall athletic program—with BU women claiming two of their six Patriot League Women's Presidents' Cups in the first two seasons. Women's indoor and outdoor track and field, women's soccer, women's tennis, women's cross country, women's rowing, and softball all won their first Patriot League titles in their debut seasons.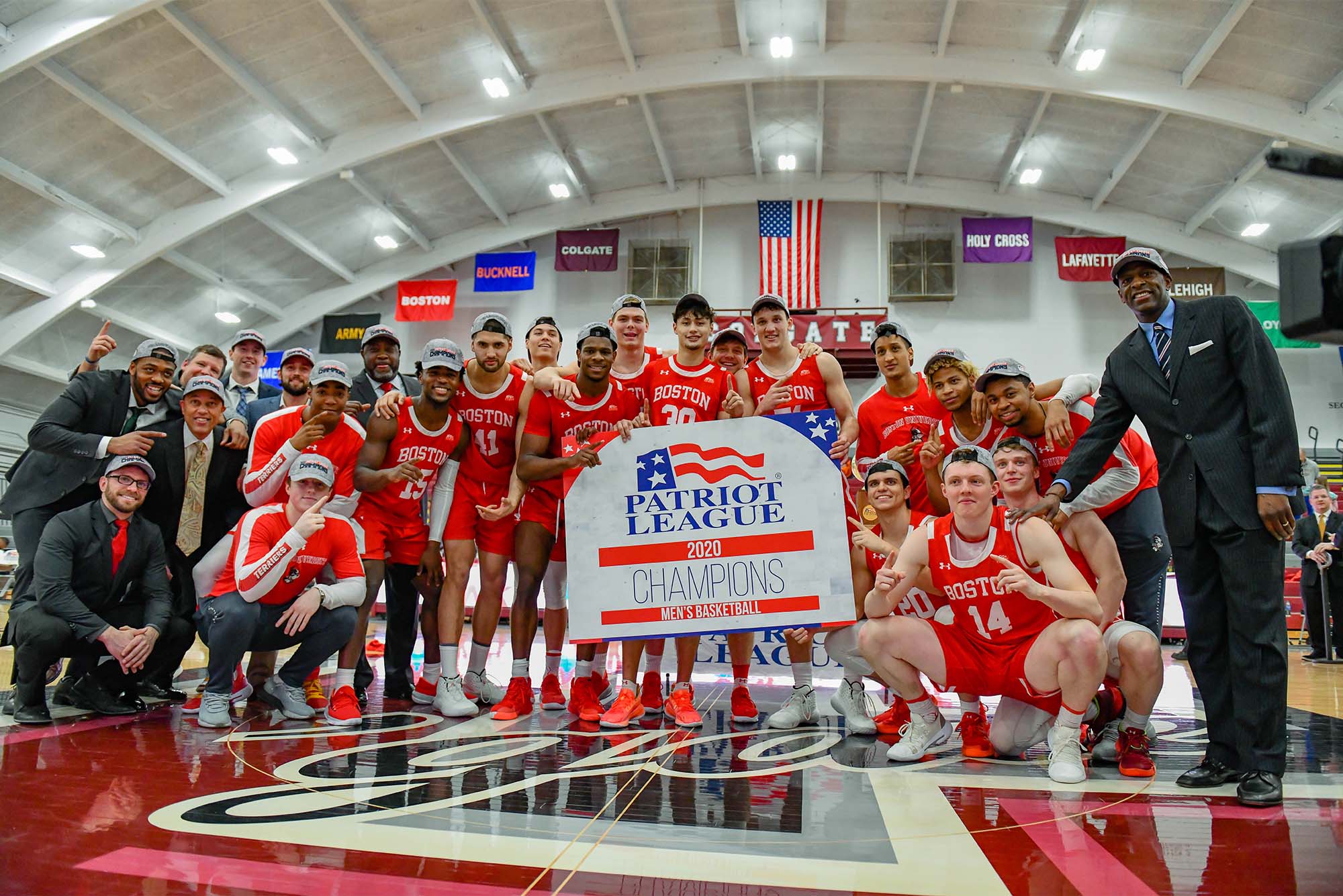 Other programs took time to find their footing in the new conference. The men's basketball team won their first and only title in March 2020. It was a bittersweet celebration: the team received an automatic bid to the NCAA March Madness tournament, but the COVID pandemic canceled the remainder of the hoops season just days later.
Two dynasty-like programs
Perhaps the success of the BU men's lacrosse program is most emblematic of the school's time in the Patriot League. The program started from scratch, going from a D-1 club team and joining some of the winningest programs in NCAA lacrosse, including Navy and Loyola Maryland.
Tasked with building a contender from scratch, head coach Ryan Polley has been named Coach of the Year twice (2017 and 2022), and BU has just won its second consecutive Patriot League regular season title. 
"We've pretty much been a top-three school the last five years, which is really saying something because of the history of Loyola, Army, Navy, and certainly the great coaches in the league," Polley says.
BU has won those 34 Patriot League titles across 11 programs, with a decade of highlights spelling the Terriers time in the 10-team league. The two winningest programs, softball and women's tennis, have been dynasty-like, taking six titles each in 10 years, including in 2023, when the softball women earned their first national ranking (No. 25) since 1996, en route to a fourth title in five years. The women's tennis victory is their second Patriot League title in three seasons.
However, the success of BU Athletics in the Patriot League has not been confined to Nickerson Field or the BU softball diamond. As for student athlete GPAs, the University has had the best 10-year stretch ever. In 2023, softball captain Caitlin Coker (CAS'24, GRS'24) was named BU's second-ever Patriot League Scholar Athlete of the Year.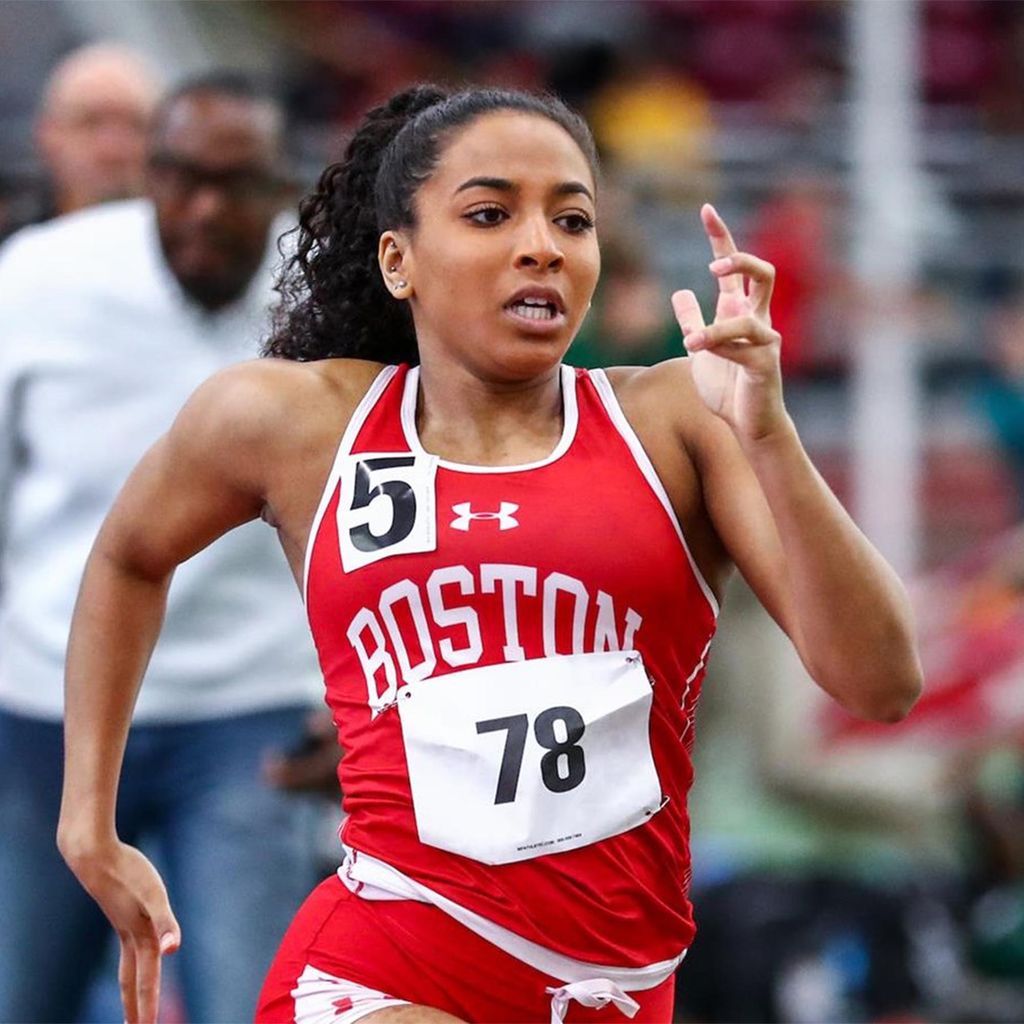 Marrochello says that academic consideration is essential in recruiting Patriot League athletes: "Our coaches are charged with recruiting Division One athletes who can compete at the highest level, who are also top-notch, academically oriented students who can succeed and thrive at Boston University in a very competitive environment."
Mikajah Hayes (Questrom'22, MET'23) ran on the BU women's track and field team from 2017 to 2022, and is now the Patriot League's associate director for championships and business operations. She says she came to Boston University for the "holistic model" of athletics and academics.
"I wanted a school that was going to give me an athletic challenge while also challenging me academically," Hayes says. "The Patriot League is full of institutions whose mission is pushing their student-athletes to be the best on both fronts, and they're successful at it."
Marrochello, Heppel, and Hayes all find apt comparisons between the Patriot League and Ivy League in academic and athletic standing.
"There isn't a university in the world that wouldn't want to be mentioned in the same sentence as the Ivy," Heppel says. "I embrace that comparison, but as long as folks understand that our athletics are competitive and we are different, we offer a different type of experience with the scholarship component."
As college athletics approaches another era of uncertainty, with new agreements in conference alignment and NIL deals, Boston University and the Patriot League enjoy a mutual sense of security heading into decade two. Expect college athletics to continue evolving under Charlie Baker, new NCAA president and former Massachusetts governor.
"I love being in the Patriot League," Starr says. "I love the stability and the competitiveness of it. I was happy right from the start with the move, I thought it was a really good for our University and our program, and I think that has been reinforced through the years with how well we have done in the Patriot League, how well the University has done in the Patriot League, and how well the Patriot League has served Boston University."