BU Women's Basketball Beats Loyola Maryland, Advances to Patriot League Semifinal Round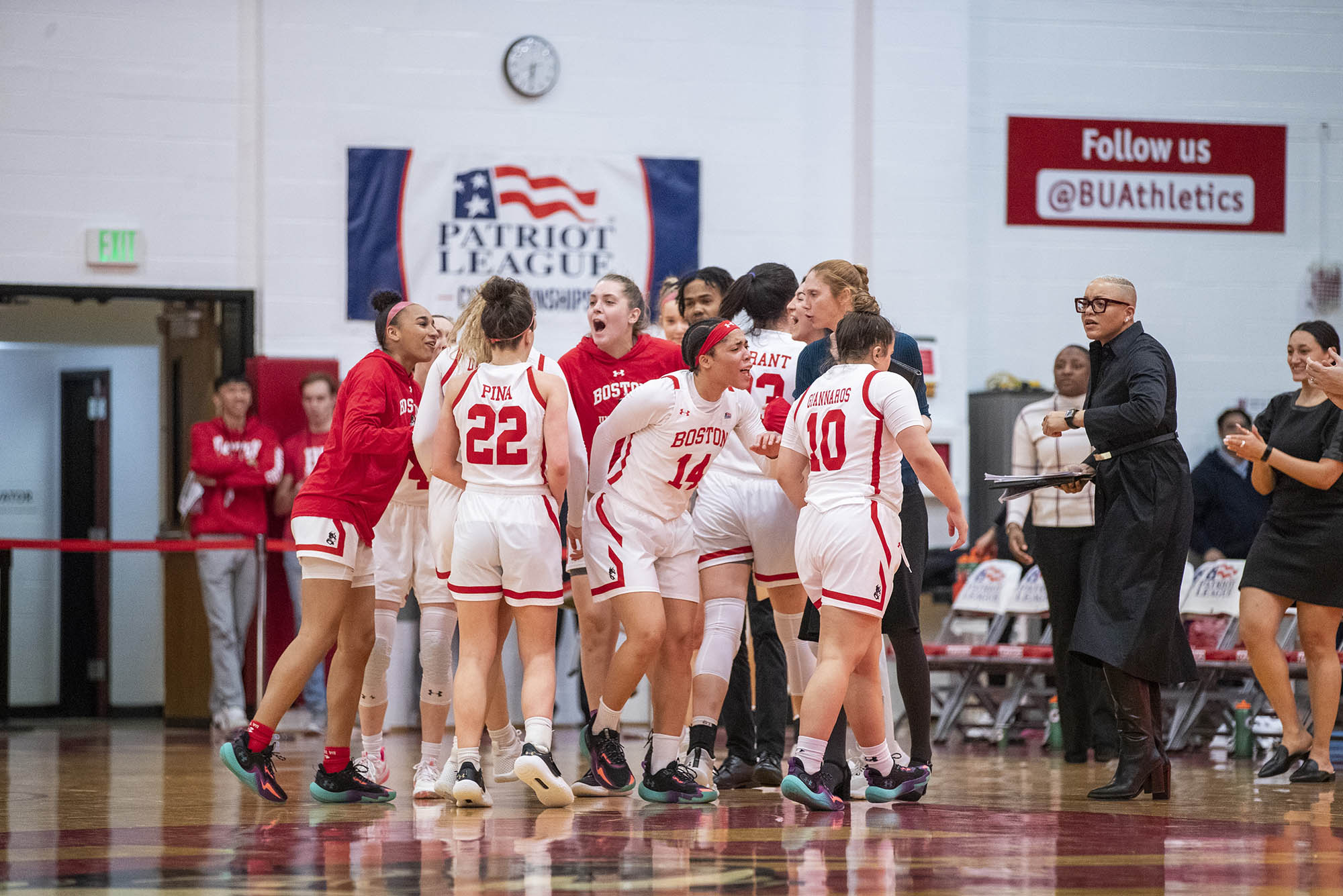 Women's Basketball
BU Women's Basketball Beats Loyola Maryland, Advances to Patriot League Semifinal Round
Terriers face Army Thursday, hoping to reach conference championship on Sunday
The Boston University women's basketball team moves closer to a championship title with its Monday night win against Loyola Maryland, advancing the squad to the semifinal round Thursday, March 9.
The 2022–23 regular season was the Boston University women's basketball program's most dominant finish in 10 seasons of Patriot League play. The Terriers won 17 games, while losing just once, shattering their previous high of 12 wins. Hot from beyond the arc all season long, BU led the Patriot League in scoring offense and finished third in the NCAA in three-point percentage (.392).
Although the Terriers clinched their fourth program regular season championship—and their first in the Patriot League—their work is not done yet.
"This year has been really special," says forward Maren Durant (Sargent'23). "But I think the most special thing about it is the momentum that we have, and that's because of our camaraderie as a team. The togetherness has been really helpful throughout the entire year."
The Terrier roster boasts three All-Patriot League team honorees. Caitlin Weimar (CAS'24) and Sydney Johnson (CAS'23) were named to the All-Patriot League First Team, and guard Alex Giannaros (CAS'25) was named to the Third Team. Durant was named to the Patriot League All-Defensive Team alongside Johnson and Weimar. 
In just her second season at the helm of the Terriers, head coach Melissa Graves was named Patriot League Coach of the Year.
"It's a proud moment, but not just for me—that's a reflection of my entire staff, the team and how well they've been doing," Graves says. "I feel really lucky to be at BU, and to be with a team like this. The work they put into it makes me look good."
After enjoying a first-round bye as the Patriot League tournament's top seed, BU welcomed the No. 9 seed Loyola Maryland to Case Gym on Monday. The Terriers caught fire late, en route to beating the Greyhounds 66-52, and advancing to the Patriot League semifinal round on Thursday.
The Terriers will face No. 5 Army at the Roof at Case Gym. Army bested No. 4 Colgate Monday 55-50.
"We made some really good adjustments in the second half defensively and I thought that's what won us the game," Graves says.
The Terriers were without Weimar, who was sidelined with a lower-body injury. Weimar was named Patriot League Defensive Player of the Year and leads the Terriers in points (375), rebounds (240), and blocks (45), averaging a double-double with 15.6 points per game and 10.0 rebounds per game. 
Weimar's absence was felt early, as BU struggled to limit Loyola Maryland, leading just 27-26 at halftime. The Terriers and Greyhounds were tied 34-34 with five minutes to go in the third before BU finished the game with a 32-point run to Loyola's 18.
Durant had a season-high 15 rebounds and a career-high six blocks in the winning effort.
"Obviously Caitlin's a huge part of our team, but when she needs time to recover, all of us are more than capable of stepping up," Durant says. "I thought we all did a really good job of that tonight."
Last season, BU fell in the Patriot League tournament semifinals to American University on the road, making this year's home court advantage especially significant to the players.
"I think it really pushed us this year to be able to get that home-court advantage," Giannaros says. "We can play like we did Monday, have our family around and just do what we know how to do when we're here."
The Terriers have previously faced the Black Knights twice, winning both matchups, 68-52 at West Point on January 15, and 77-70 at home on February 22.
The other matchup in this year's Patriot League semifinal round is between No. 2 Holy Cross and No. 3 Lehigh. Holy Cross is the owner of the only blemish on BU's otherwise perfect 17-1 record. The Crusaders beat BU in the final regular season game on March 1 in Worcester.
Should BU move past Army, they will host the Patriot League Championship game on Sunday, March 12, as the tournament's top seed.
"This team is really fun, and I think we're just very talented," Graves says. This year has just been a very special year for breaking a lot of records."
The No. 1 Boston University women's basketball team will face the No. 5 Army West Point Black Knights in the Patriot League tournament semifinal round on Thursday, March 9, at 6 pm at Case Gym. Tickets are free for students with a Sports Pass, free for the first 300 faculty and staff, $6 for seniors and students without a sports pass and $12 for general admission. The game will be streamed live on ESPN+. Fans can keep up with BU on GoTerriers.com and @TerrierWBB on Twitter.