Questrom Student Creates Stuffed Animals and Books to Teach Kids about Sustainability
Idori founder Noah Sorin (Questrom'24) is participating in the MassChallenge 2023 US Early Stage Accelerator Program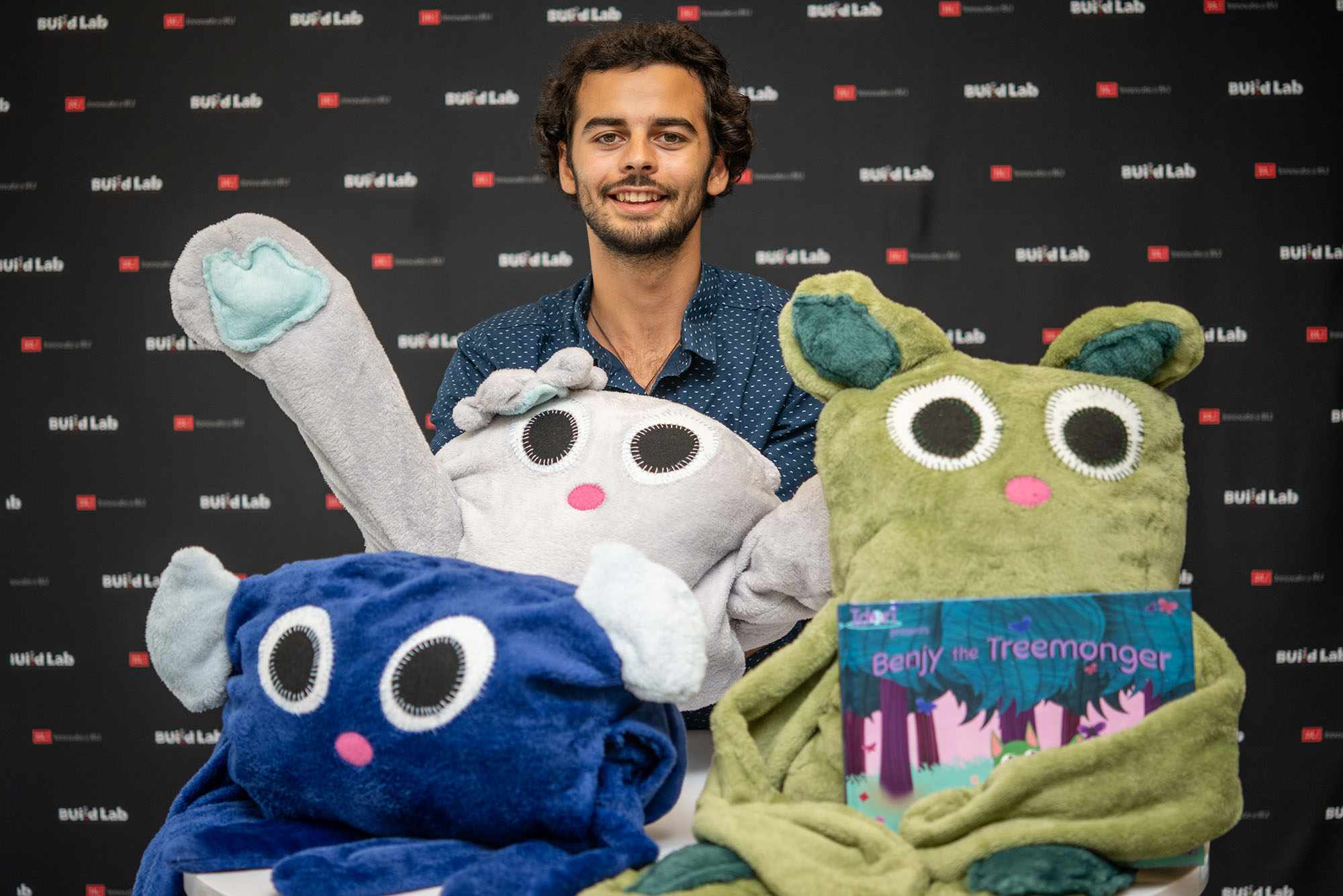 Innovation
 Questrom Student Creates Stuffed Animals and Books to Teach Kids about Sustainability
Idori founder Noah Sorin (Questrom'24) is participating in the MassChallenge 2023 US Early Stage Accelerator Program
Plush, huggable, and puppet-able, these stuffed animals want to help kids save the planet.
Called Idorians, the toys come from the fictional planet Idori, where climate change has destroyed the land. Now, the Idorians have traveled to Earth to educate children about keeping the planet healthy.
How they spread that awareness is where Noah Sorin (Questrom'24) comes in. Sorin founded Idori, an acronym for "I Dream of Real Impact," in February 2021. Idori sells eco-friendly stuffed animals and children's storybooks with the mission of instilling sustainable habits in the next generation.
Growing up in rural Vermont, Sorin formed a close connection with the Earth early on. He describes breathtaking mountains and endless greenery surrounding his family's farm. Immersed in this natural beauty, a deep concern for sustainability came naturally to him.
"The reason I care so much about this issue is because of how beautiful the place where I grew up was," Sorin says. "I don't want sustainability to be something that only people who grew up in the mountains or near the beach care about. I want sustainability to be something that's accessible and equitable for everyone."
When Sorin came to BU, he realized that most people lack a basic understanding of sustainability and mindfulness when it comes to the environment.
His freshman year, he joined Innovate@BU's BUild Lab, which he describes as the "center of the entrepreneurial ecosystem at BU" for students. He began searching for an inventive solution to helping fellow students become more sustainable.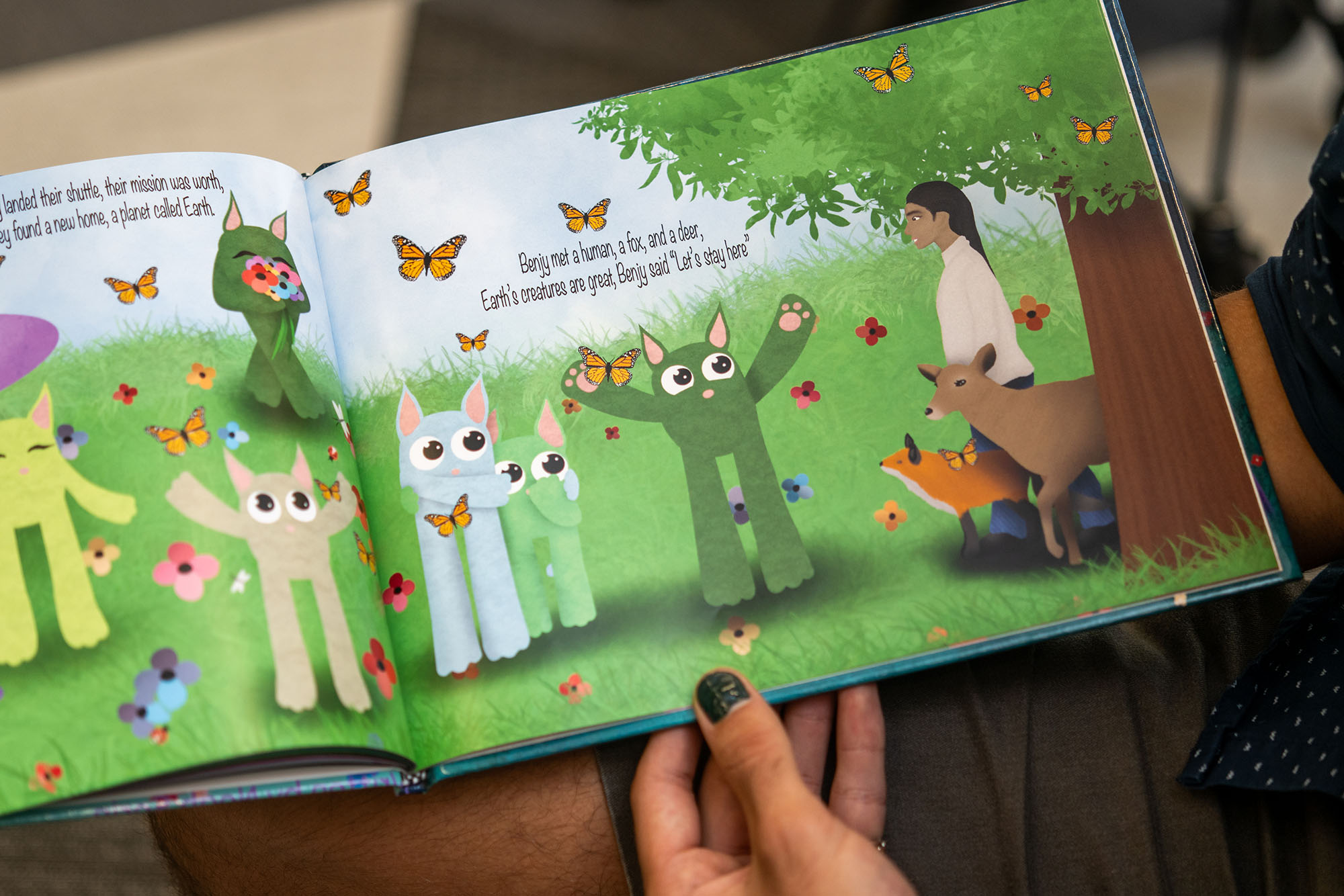 Through BUild lab programs like the First Year Innovation Fellowship and the Innovation Pathway, Sorin received funding to articulate his idea and a mock board of investors to offer advice. Tom Samph (COM'10, Questrom'24), Innovate@BU's program director for business ventures, mentored Sorin at BUild Lab and says Sorin's intellectual curiosity impressed him immediately. "He's really passionate about sustainability, takes feedback really well, and is just focused on getting stuff done," Samph says.
Realizing the difficulty of getting adults to change their behavior, Sorin decided to focus on how people develop habits in the first place. In early 2021, he started with early childhood education professors at BU's Wheelock College of Education & Human Development and family friends who had young children. After asking each person he interviewed for a few referrals, he had soon talked to almost 100 people. 
Through his research, he discovered that children start developing lifelong habits by age nine. He also learned that 70 percent of middle schools nationwide do not address climate change. To harness that crucial habit-forming age, Sorin decided to write children's books that educate kids about sustainability through the story of Idorians, animals from a fictional planet where climate change has destroyed the land and who are now spreading the message about sustainability. He found an illustrator, Shumita Littlefield (CAS'24), who applied for the position after seeing an advertisement in the George Sherman Union.
By fall 2021, Sorin—who says he has always enjoyed creative writing—had written three books, each featuring a different Idorian character. Geebo the Puffball's story raises awareness about air pollution, Flo the Ocean-Dweller teaches kids about ocean conservation, and Benjy the Treehopper tackles deforestation.
---

I want sustainability to be something that's accessible and equitable for everyone.

---
But before going further, Sorin needed to gauge children's responses.
He read the prototypes at several preschools, even tested them at the Boston Public Garden. Here, Sorin whipped out his juggling skills, tossing clubs in the air to attract children's attention before reading his books to them.
Children liked the books, but he found that pictures and words on a page didn't hold their attention for long. He decided he needed a concrete way to develop their empathy for the Earth, just as his had been developed hiking and fishing during his childhood in Vermont.
As it turned out, all it took was some soft fabric, stuffing, and a solid design. A friend of Sorin's suggested adding stuffed animals to the books, similar to Webkinz. Taking his friend's advice, Sorin worked with Rhode Island School of Design student Alia Bringas to design stuffed animal iterations of Geebo, Flo, and Benjy, and this, he says, transformed children's experience with the books.
"The next time I went to a preschool the reactions were so much better," he says. "Kids were literally fighting over this stuffed animal."
With children now hugging the Idorians and more engaged than ever with the fictional characters' mission to save the planet, Sorin had one last step—teaching kids concrete sustainable practices. This summer, he started a partnership with Boston Outdoor Preschool Network, where he taught kids sustainable, hands-on activities during visits with his books and characters.
After over two years of work, Idori has gained considerable recognition. The company was awarded a Poets&Quants Most Disruptive Startups of 2022, and in 2023 was accepted into the MassChallenge 2023 US Early Stage Accelerator Program. Currently partway through the program, Sorin attends weekly workshops, meets with program mentors, and has the option of working in MassChallenge's Seaport office.
Idori also launched a preorder for its first product in July, with more products to come in the next few months.
Although big plans await the company, Sorin's vision for it remains clear. Empathy, not fear, should drive environmental change, he says.
"I don't want to build new sustainable individuals out of this idea that do this or we're all gonna die," he says. "I want to empower people to make change to protect the things that they care about, because nature is beautiful."