BU Rowing Teams to Compete at IRA National Championship Regatta This Weekend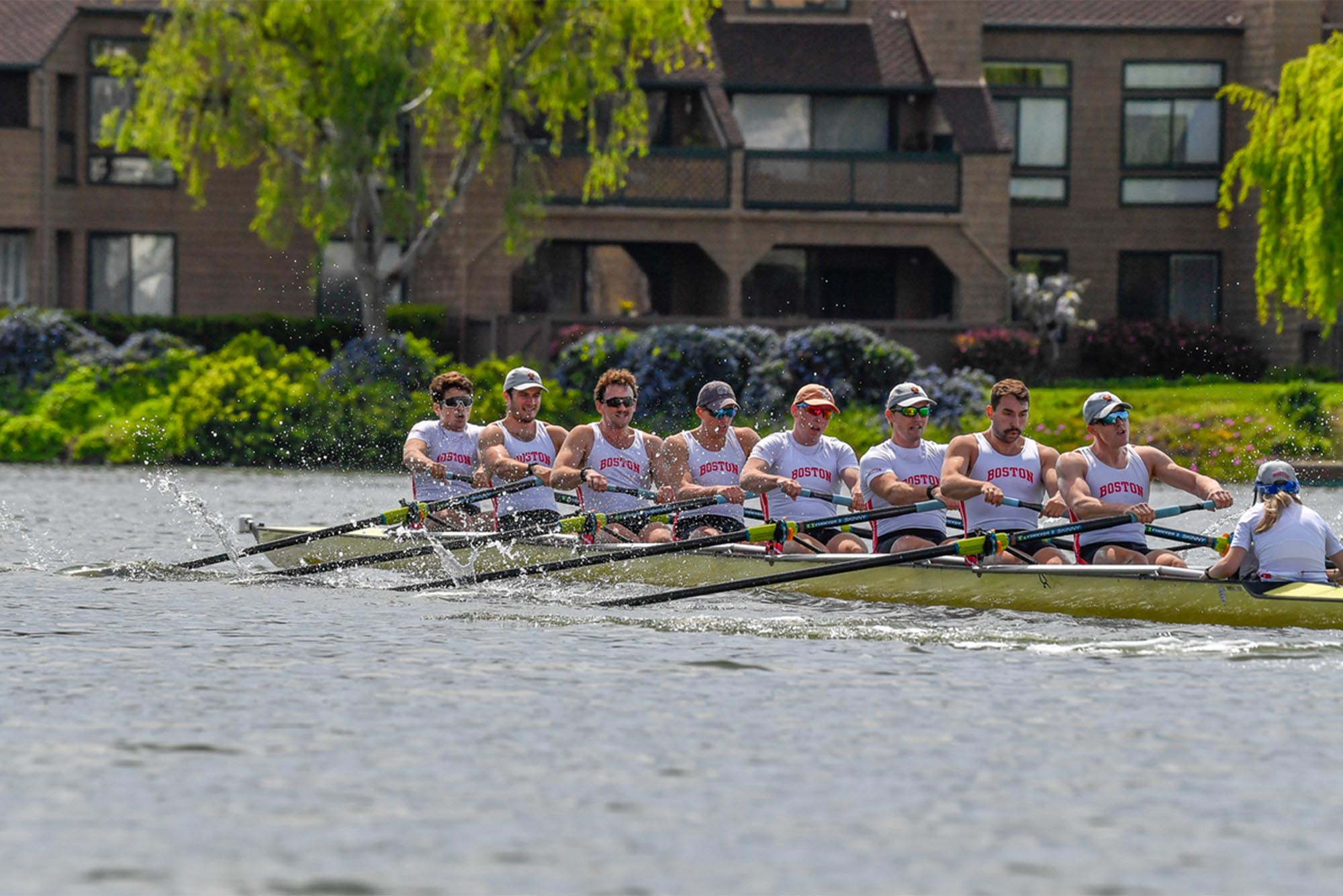 BU Athletics
BU Rowing Teams to Compete at IRA National Championship Regatta This Weekend
Men's rowing and women's lightweight teams head to West Windsor, N.J., in pursuit of titles
Although final exams and Commencement have come and gone, the year is not yet over for two of Boston University's three rowing programs. The men's rowing and women's lightweight rowing teams will compete this weekend in the prestigious Intercollegiate Rowing Association (IRA) National Championship Regatta, taking place this year on Lake Mercer in West Windsor, N.J. This year's regatta will be cohosted by the Princeton National Rowing Association (PNRA).
Men's Rowing
The men's rowing team will help kick off the IRA regatta this weekend, racing their first of four boats in the third heat of varsity eights on Friday, June 2, at 8:30 am. The second varsity eight boat will race at 9:30 am, followed by the third varsity eight an hour later. The men's fourth boat, the varsity four, will compete in a time trial race at 11:20 am Friday, vying for a semifinal slot that will be held over five races beginning at 3:30 pm.
"It's been a good year internally, the guys have been working hard," men's rowing head coach Tom Bohrer says. "We've been getting better each week, and I think the mindset of the team going into the IRAs is showing how we finish as a team and that is really important to us." 
The three BU varsity eight boats will compete first on Friday morning, with repechages—secondary races—running Friday afternoon. Saturday, they will compete in the semifinals until Sunday, when the top-six boats compete in the grand finals, while finishers outside the top six compete in the petite finals. A total of 24 schools from across the country are competing for the men's first and second varsity eight, while 18 schools will compete in the third varsity eight. BU's fourth boat, the men's varsity four, will conclude competition on Saturday.
The men's rowing team finished in 10th place at last year's championship, and has struggled in the regular season this year. But Bohrer says the team has continued to improve. They last competed at the Eastern Sprints on May 14 in Worcester, Mass., where BU's four boats each earned a top-three petite finals finish.
"I'm looking for us to come out of this regatta feeling like we raced as well as we could have," Bohrer says. "I want the guys to leave it feeling we did everything we could to get the place we did. They've been very mature, and they really care. As a coach, it has been really rewarding to see how invested these guys are, and how well they want to do."
Women's lightweight rowing
The women's lightweight squad will send three boats—16 athletes and three alternates—to compete across three events Saturday, June 3: the varsity eight, varsity four, and varsity double scull. Although the program has never won the IRA regatta, each of their three boats will draw to the starting line with a top-three seed, positioning them in direct contest with the nation's best.
All three preliminary races will see BU row one lane over from Princeton, the defending champions and this year's top seed and host school. BU's third-seeded varsity double will race for lanes—where they will start the following day—at 8 am on Saturday. The third-seeded varsity four competes at 8:10 am, followed by BU's second-seeded varsity eight at 8:20.
"You need the crew that lines up next to you to show your speed, so we are thankful that we get the opportunity to line up against the best lightweights in the country," women's lightweight head coach Malcolm Doldron says. "That's truly the only way that we're going to show what we're made of." 
A year after finishing second at the 2022 IRA regatta, this year's roster of Terriers may lack experience—according to Doldron, all of the varsity eight and both varsity doubles athletes are racing for the first time in their respective IRA events.But he says the team has been "consumed" preparing for the weekend.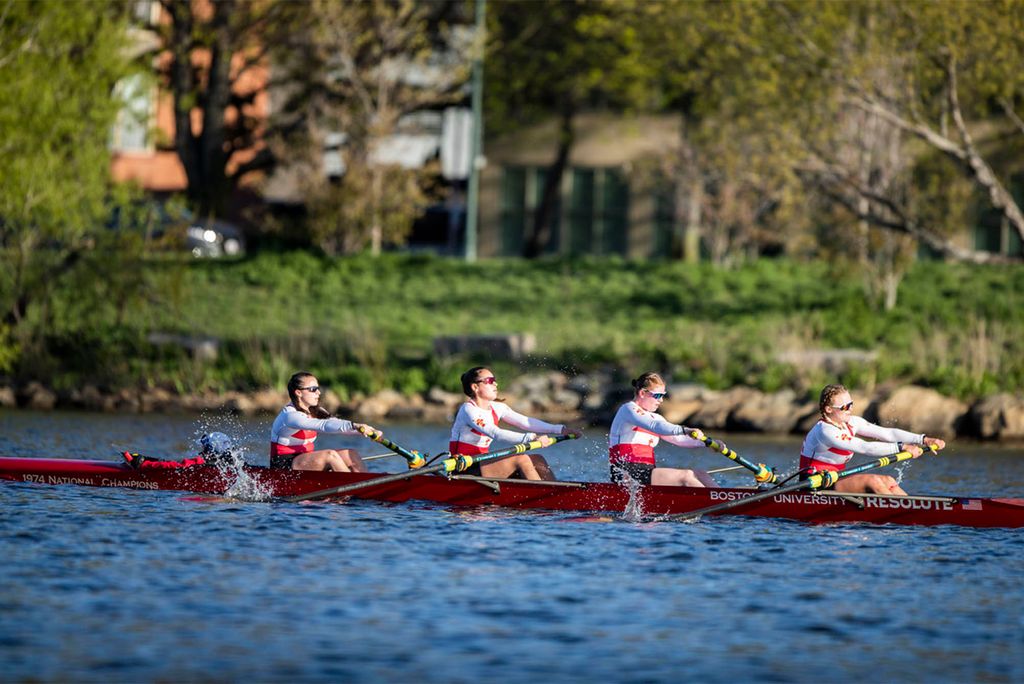 "It is really amazing to watch on a daily basis how hard they work and how much they lift each other up," Doldron says. "I believe that they are in the right place at the right time in terms of their training. We want to have our fastest times on the race course all year, we want to be able to produce really strong 500-meters splits and hopefully that will put us in position to race for a championship in all three boats."
After they race for lanes Saturday, the grand final is tentatively scheduled for Sunday, June 4, at 8 am for the double scull, followed by the varsity four at 8:10 and the varsity eight at 10.
"There's a general feeling of cohesion and unity throughout the team that's really palpable right now," Doldron says. "I think the biggest feeling that we all have right now, coaches included, is just being grateful. We're really fortunate that we get to participate in this sport and that we get to participate at our national championships. So many programs don't get an opportunity to do that. We're excited to see what we can produce over the weekend."
After the final races Sunday, the awards ceremonies will take place starting at 11 am. All results can be followed live across all three days of competition here. 
The 2023 IRA National Championship Regatta begins Friday, June 2, and concludes with the grand finals on Sunday, June 4. All races are being held on Mercer Lake in West Windsor, N.J. The BU men's rowing team will race four boats, starting at 8:30 am on Friday. The women's lightweight team will row three boats, beginning at 8:00 am on Saturday. Find more information about the regatta here. All races will be streamed on the IRA YouTube page.