BU Men's Hockey Faces Providence in Hockey East Semifinal Friday Night
Varsity Sports
BU Men's Hockey Faces Providence in Hockey East Semifinal Friday Night
Top-seeded Terriers play in their first tournament semifinal since 2019, and hope for a shot at the title on Saturday
They've been eyeing the trophy all season long. Now, it's just two games away, with the first one on Friday at 4 pm at TD Garden in the Hockey East semifinals against Providence College.
The No. 5 ranked Boston University men's hockey team has a lot to show for its 2022–23 campaign: Hockey East regular season champions, Hockey East Coach of the Year in first-year head coach Jay Pandolfo (CAS'96), and a breakout campaign from freshman phenom Lane Hutson (CAS'26)—who coled the conference in points as a defenseman, was named Hockey East Rookie of the Year, and was a top-10 finalist for the Hobey Baker Award.
But for these Terriers, all eyes are on the program's first Hockey East Championship since 2018. This is the first time anyone on the roster has made it to the semifinals. A pandemic-shortened 2020 season followed by two consecutive losses in the Hockey East quarterfinals (2021 and 2022) means the goal of making the championship game transcends this season. According to alternate captain Jay O'Brien (COM'23), everyone on the roster is excited to make their mark at TD Garden, site of the final four.
"We're excited to get the opportunity to play at the Garden again, and play for a championship," O'Brien says. "Winning the Hockey East, it's one of the biggest things on your list at the beginning of the year."
BU, the tournament's top seed, hosted No. 11 University of Vermont at Agganis Arena on Saturday and routed the Catamounts 7-3 with help from Nick Zabaneh (COM'24), who scored a hat trick.
"I really like where our team's at and the way that we're playing," O'Brien says. "It's playoff time, so to be in a one-game elimination, you gotta be ready to go right off the bat and I feel like in these last five games, that's what's helped us as a team."
The Terriers finished with an 18-6 conference record, good for the most points (54) in Hockey East. Of BU's 10 overall losses this season, four of them came when the Terriers dropped the Beanpot semifinal, Beanpot consolation game, and a home-and-home series to Merrimack in a two-week period.
"It's not fun to go through that, but at the same time, we got to understand that it happened and break down why it happened," O'Brien says. "A lot of teams go through that and I think that adversity was good for us."
Undefeated in their last five, BU will need to get past No. 7 seeded Providence in order to reach the Hockey East title game, which will be played Saturday night at 7 pm. The Terriers have seen 25 Hockey East semifinals, and won nine titles since the tournament's inception in 1984.
BU and Providence have matched up seven times in the tournament format. The Friars have won five of the games, including their only meeting in the semifinals, a 7-4 loss in 1996. However, BU won the most recent tournament matchup, claiming their 38th conference title in the 2018 Hockey East Finals with a 2-0 victory.
More recent history would also dictate favor to BU. The Terriers have won the last five straight matchups between the teams, including a 6-4 victory this season on March 3 and a 2-0 triumph at Providence on March 4. According to Pandolfo, the recent matchups help both squads.
"It definitely helps that we just played Providence, because we know the way they play," Pandolfo says. "But they can make some adjustments and do some different things against us, as well. I thought we played really well against them at home on Friday and they played a lot better on Saturday night. It was a pretty even matchup, so we have to make sure we're at our best in this game coming up Friday."
O'Brien played his freshman year at Providence and transferred to BU ahead of the 2020–21 season. He has 11 points (5G, 6A) in six games against Providence in scarlet and white. Despite his stats against the Friars, O'Brien says it's just another game.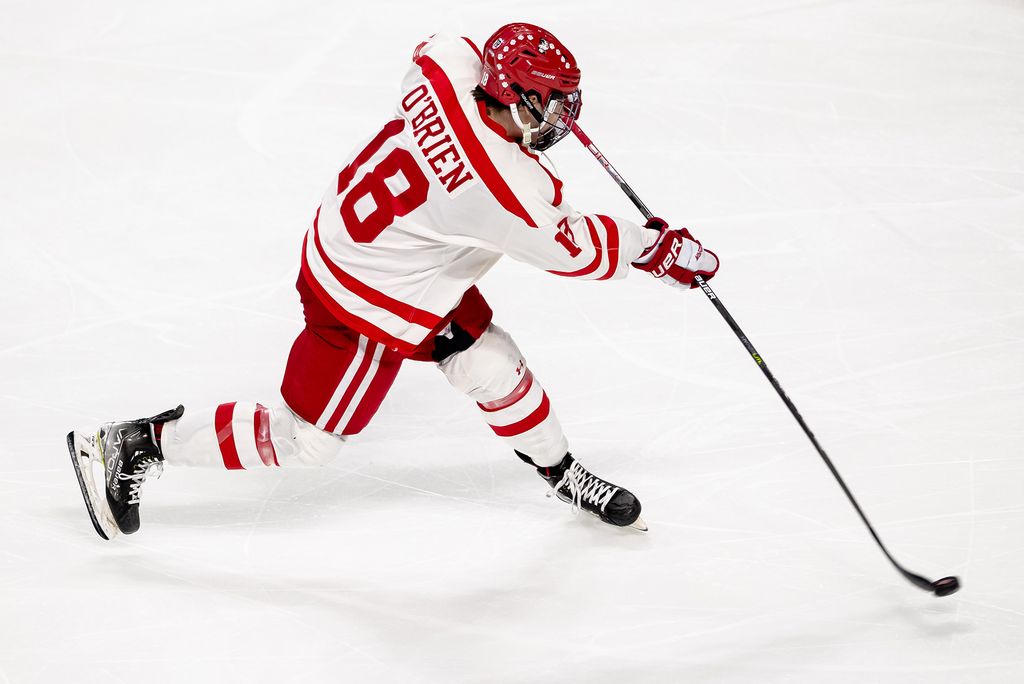 "I just hope I can help the team," O'Brien says. "I am just excited to play at the Garden in front of our fans with a chance to play for a championship. It's no different than any other game."
O'Brien says the Hockey East tournament losses in 2021 and 2022 "still sting," but he is excited to rectify those results Friday.
"Come Friday, it's going to be emotional, loud, and hectic," O'Brien says. "I'm excited. I know everybody's pumped, playoff time is the best time of the year and there's nothing better than this."
BU is the only team left in the tournament from the direct Boston area. Providence knocked off No. 3 seeded Northeastern 2-1 in overtime Saturday, and No. 2 seeded Merrimack dropped No. 8 Boston College 1-0 in a double-overtime thriller. Pandolfo believes the BU fans could give an advantage to the Terriers.
"It just brings the energy to our group," Pandolfo says. "They've been such great support for us this year. The band is awesome, and it helps our players, gives them energy and they get excited about it. It's a great environment when our fans and band are into it."
BU's 4 pm matchup is the first of two games Friday. The second semifinal between No. 2 seeded Merrimack and No. 5 UMass Lowell is scheduled for 7 pm. The winner of both games will play the following night at 7 pm for the Lamoriello Trophy, and an automatic qualification to the NCAA tournament.
The No. 1 seeded Boston University men's hockey team will play No. 7 Providence College in the Hockey East semifinal at 4 pm on Friday, March 17. The winner will play Saturday, March 18, at 7 pm against the winner of No. 2 seeded Merrimack vs No. 5 UMass Lowell. Tickets for all Hockey East tournament games are $17 for the BU student section, and can be purchased here. General admission is $23.50. All games will air live on NESN, and can be followed here.