BU Alum Is the First Woman to Head US Figure Skating
CEO Tracy Marek previously was executive vice president for the Cleveland Cavaliers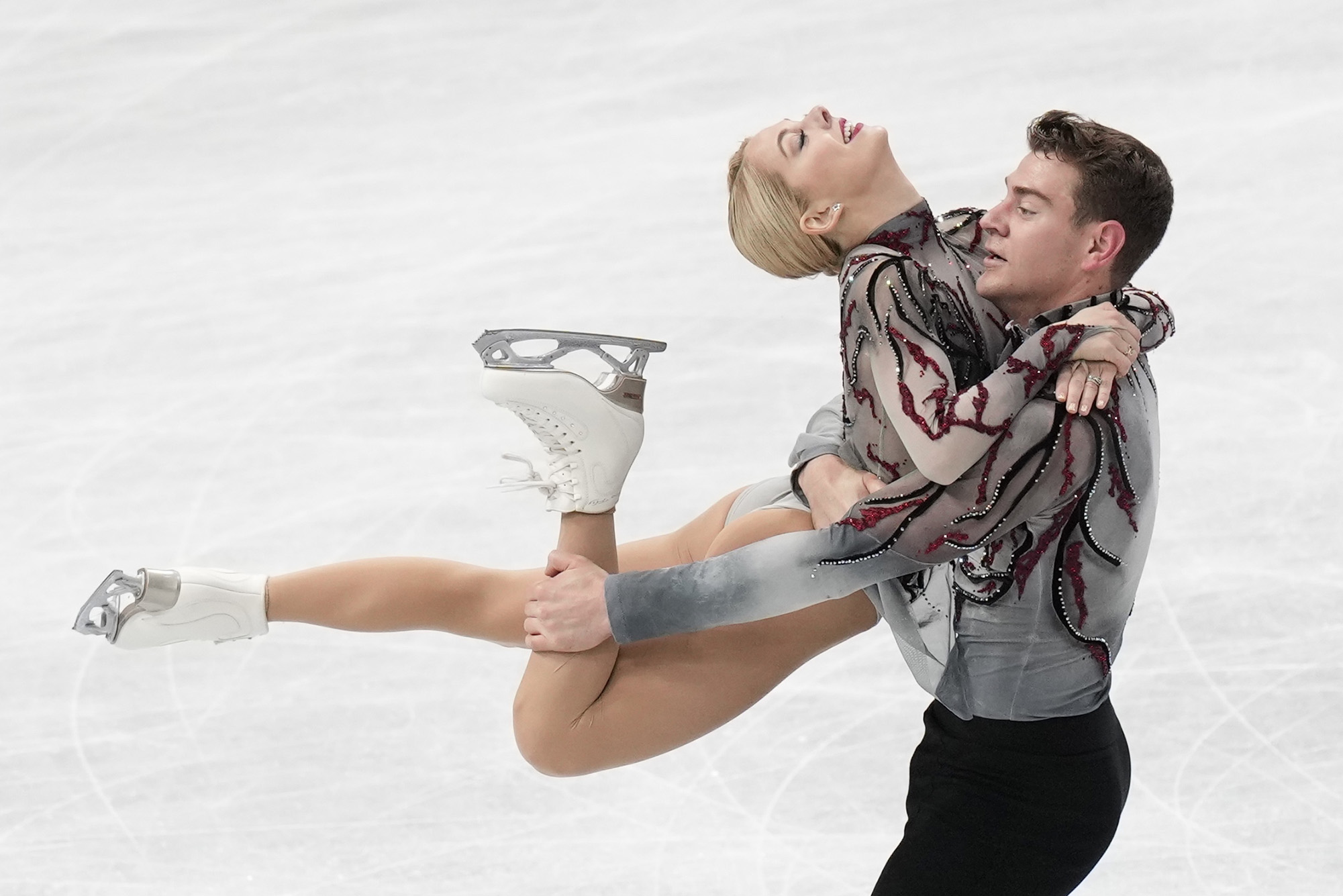 International Sports
BU Alum Is the First Woman to Head US Figure Skating
CEO Tracy Marek previously was executive vice president for the Cleveland Cavaliers
On January 14, 1992, Tracy Marek, then a sports reporter for Boston University's student newspaper, Daily Free Press, got a phone call. A BU student had just been named to the US team for the next month's Winter Olympics in Albertville, France. Would she like to interview him?
Marek was available and made her way to the Skating Club of Boston in Brighton. There, she interviewed Peter Breen (Sargent'93,'01), who had unexpectedly earned the second Olympic spot in ice dance with his partner Rachel Meyer at the US Figure Skating Championships. Marek, who usually wrote about hockey, felt completely out of her element. The only similarity between Marek's usual beat and this assignment was the ice.
"I really didn't have any knowledge of figure skating," recalls Marek (CGS'90, COM'92). "I wasn't engaged with it at all. I got there, and there was a bunch of reporters and no one was asking anything, because it was so formal. I said to them, 'Are you excited? Can you believe it?' And everybody just started laughing."
Today, Marek hasn't lost that ability to break the ice—or break through glass ceilings. In December, she was named the CEO of US Figure Skating, making her the first woman to hold the position. For a sport in which many all-stars are female—Peggy Fleming, Kristi Yamaguchi, Michelle Kwan—her appointment seems long overdue.
"It's been fun to see how it's mattered to the skating community and to women," says Marek. "I've had a number of people, including athletes at various levels, want to talk to me because they want to understand how I got here."
Before moving to the US Figure Skating headquarters in Colorado Springs in January, Marek spent 19 years with the Cleveland Cavaliers and their related holdings (the American Hockey League's Cleveland Monsters, NBA G-League's Cleveland Charge, and the NBA 2K's Cavs Legion GC, an e-sports team) with her most recent title being executive vice president and chief marketing officer. The position prepared her well for the rest of her career, she says.
"(The Cavaliers) was an environment that encouraged risk-taking," says Marek. "You wouldn't want to take silly risks, but at the same time, you're not going to stretch your limits if you don't put yourself out there and make the effort."
Marek believes the best example of that environment was Cleveland's Christmas day game against the Washington Wizards in 2008. Transcendent basketball star LeBron James was playing for his hometown Cavaliers at the time, and he'd established a habit of chalking his hands at the scorer's table pregame and tossing some of the powder into the air. Marek and her team wanted to find a fan promotion to dovetail with James' ritual, and decided to give fans confetti to throw into the air at the same time he threw his chalk.
"Needless to say, we were worried about there being a delay in the game if it all landed on the court," says Marek. "Here you've got these incredibly valuable athletes and you don't want them to get injured. You don't want to upset people if you get confetti in their nachos. So we worked it all out. We worked out how we would clean the court. We worked out how we would deal with a fan who got confetti in their beer. We would basically replace it, no questions asked."
Planning for the worst-case scenarios was what turned the promotion from a "silly risk" to a calculated one.
"I went to my boss and I said, 'I can't promise that we won't have a game delay, and a game delay on a national televised game would be an incredibly bad situation to have,'" Marek recalls. "The question he asked me is, 'Have you done everything in your ability to avoid that?' And I said, 'Yes.' He said, 'Then just go. Take the risk.'"
It was worth it: the event became a big favorite among fans. It's a moment that Marek still turns to when she seeks confidence in her new position with US Figure Skating.
"At the end of the day, it became one of the coolest things we ever did," says Marek. "I really like that part of (the Cavaliers) and I think it gives you a lot of confidence as you grow into the next stages of your career."
BU gave her a boost in confidence as well. Marek, who grew up in a military family, describes Comm Ave as the first place that felt like home. She learned to take every opportunity that arose—from being a "basement dweller" in Mugar Memorial Library, to traveling to a tumultuous Soviet Union on an unsanctioned College of General Studies group trip (just three years after the Chernobyl disaster), to selling advertising, writing and editing for the Daily Free Press.
Take Marek's CGS Capstone Project, for which she and her fellow travelers addressed the intersection of public health, public safety, and nuclear power plants. Marek notes that the project was one of the highlights of her BU career. 
"That was pretty special to go through that travel experience with my fellow students, meeting them in a unique way, and then having a project that really determines your future at the University with them and having a good experience," says Marek. "That was pretty phenomenal."
Russia is now front of mind again for Marek as she takes the reins of US Figure Skating. Thesport faces a multitude of issues, including the ban on Russia from competing following the country's invasion of Ukraine. Even before the ban, Russian figure skating, the sport's juggernaut, was under inquiry for alleged performance-enhancing drug use by its top skaters—such as Kamila Valieva, whose failed drug test loomed over the 2022 Winter Olympics in Beijing—and promoted by their coaches.
The investigation into Valieva has kept the US team from receiving their medal for the team competition at those Games, something US Figure Skating continues to pressure international governing bodies to resolve.
Marek also inherits an organization that has grappled with several highly publicized cases within the US Center for SafeSport, a nonprofit dedicated to preventing sexual, physical, and emotional abuse in sports and promoting education and accountability. Rebuilding the public's trust is an important part of her to-do list.
"We can never, ever take our eye off the ball," says Marek. "We keep very sensitive to it. I think we can never take any issue, complaint, or comment for granted."
US Figure Skating also has to expand its popularity by getting more skaters on the ice in a variety of ways (think collegiate skating, an area of the sport that has thrived at BU) and sparking a rebirth in the fandom of elite skaters. In her first few weeks at work, Marek has been trying to find a balance between the two tasks.
"We don't get to the Olympic space if we don't have the youth space, right?" she asks.
This week, Marek is experiencing her first World Figure Skating Championships in Saitama, Japan. The US team began the week with high hopes in the men's, pairs, and ice dance competitions. As of Thursday, Alexa Knierim and Brandon Frazier had won a silver medal in the pairs event, and two American men (Ilia Malinin and Jason Brown) were in the top six after the short program.
Marek's to-do list in Colorado Springs looks far different than it did in Cleveland, but her passion is the same.
"I love the fact that the sport is so focused on passion, interest, and engagement at all levels," says Marek. "If you're a person who wants to get into the competitive space at any age, there's a forum for you. If you're a person like me, who just wants to have fun when they put the outdoor ice rink out during the holidays, there's gonna be a place for you, too."