Archaeology Student Trevor Lamb Found Some of Alaska's Oldest Woven Textiles on Kodiak Island
Archaeology
Digging Up the Past on Alaska's Kodiak Island
BU archaeology student Trevor Lamb found some of Alaska's oldest ever woven textiles while looking for ancient cooked plants
From above, Kodiak Island, off the southern coast of Alaska, looks pristine, with lush greenery and stunning mountains touching the clouds. As Boston University archaeology student Trevor Lamb glided over the island in a small 4-seat floatplane, he felt anticipation and awe. On the ground below, he knew, were precious archaeological sites, rich with information about the past—and he was there to get his hands in the dirt.
Lamb (GRS'25) traveled from Boston to the city of Kodiak, then took a floatplane to a remote area of the island, where he joined a team brought together by the Alutiiq Museum and Archaeological Repository. The Alutiiq/Sugpiaq people have inhabited this part of Alaska for over 7,500 years, with historical records and artifacts revealing much about their lives—including the tools they used for hunting and fishing, how their homes were built, and much more. Lamb, a PhD student in Boston University Graduate School of Arts & Sciences anthropology department, is particularly interested in discovering details about the diet of their hunter-gatherer ancestors. Specifically, how plants fit into the diets of people who relied on meat and seafood for sustenance.
"People who lived on the coast largely depended on the ocean for food," Lamb says. "But there is traditional knowledge and historical accounts about particular plant foods that were also really important." Chocolate lily roots, for example, were once an important food and are still found throughout coastal Alaska, though they're not as commonly eaten due to the time it takes to find and prepare them. (Lamb has never tasted one but, allegedly, they taste like mashed potatoes.)
On Kodiak, Lamb hoped to find clues that help create a more complete picture of what people ate—and unexpectedly stumbled on ways plants were used other than for food.
Roots of Complexity
During his master's work at the University of New Brunswick studying ancestral Passamaquoddy sites in northern Maine, Lamb noticed that anthropologists and archaeologists weren't as tuned in to the ways hunter-gatherers were eating and using traditional plants. For his doctorate, he changed focus from the Northeast to the Northwest to expand his reach, prompting his PhD dissertation project, "Roots of Complexity: Tubers, Cuisine, and Surplus Production in the North Pacific." He is now training to become a paleoethnobotanist, someone who studies how people used plants in the past.
"Growing up in Massachusetts, my parents and I would go to the Museum of Fine Arts in Boston and look at all the things from around the world, and over time that really got me interested in the story of North America and indigenous people of North America," Lamb says. "It's important to me to understand the full history and the different stories of people that have lived here, and continue to live here."
At the site in Kodiak, he and a team of local archaeologists and scholars from other universities started digging. They worked on a plot of land on the shores of Karluk Lake where a house had stood about 3,200 years ago, the outline of the dwelling still visible, a patch of dirt noticeably darker from where fires were once lit to cook. Their goal was to unearth any remaining traces of the house and clues about how people lived at that particular time in history. The land is now owned by Koniag, one of the 12 regional Alaska Native corporations established by Congress in 1971.
It became clear as they were digging that this house likely burned down, collapsing to the ground in flames.
"Everything was very charred, and we kept finding burned structural timbers," Lamb says. Burning can actually be good for preservation. One of the key ingredients of Lamb's research is analyzing burned food that remains stuck on broken pottery, and burned fragments of roots and fuelwood preserved in roasting pits. If any food happens to burn while cooking in a clay pot, small starch grains are trapped inside the burned residue. Similarly, burned root vegetables—like potatoes, carrots, and chocolate lily roots—hold up particularly well in the remains of subterranean roasting pits that last underground for thousands of years.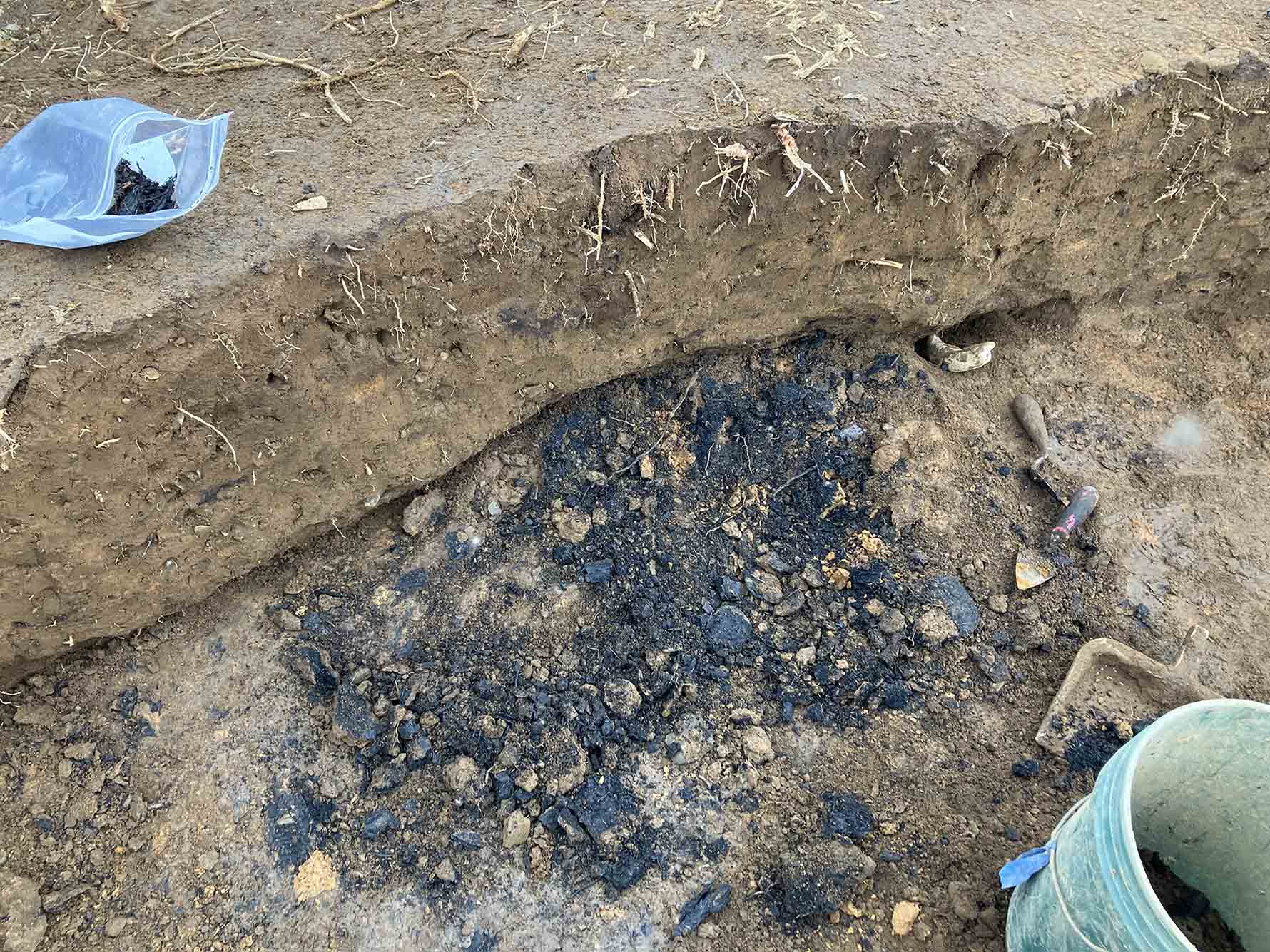 In studying hunter-gatherer communities, "plants are almost invisible unless you look at those burnt remains," Lamb says, since organic matter decays and disappears quickly in the ground. He carefully scrapes off the pottery residues, then burned plant fragments are later put under a microscope and identified through comparison with modern reference plants located at BU's Environmental Archaeology Lab (EAL). Some residues are selected for stable isotope analysis at BU's Stable Isotope Laboratory, which involves identifying chemical signatures that give scientists information about the chemical composition—which in Lamb's case, indicates the types of food mixed together to create meals. Samples collected from roasting pits are also analyzed at EAL through a process called floatation, which is when a sample is dumped into a water tank and gravity separates buoyant ancient burned plants from the dense soil, as well as fuelwood, seeds, and fragments of roots that are typically present.
Archaeologists working on Kodiak Island have found countless stone tools, knives, and traditional fishing net sinkers called Ulus, signaling to experts that hunter-gatherers were using tools to increase their bounty with the intention of storing food for the winter, and to host elaborate parties to show their wealth. This is called surplus production, Lamb says, and it's unclear how carbohydrate-rich plants were stockpiled. He hopes to figure out if roots were part of surplus production on Kodiak, and which plants were eaten solely for sustenance or as an added flavor or to season a meal.
Surprise Discovery
Back at the field site, Lamb was digging and sampling more charred material, when he noticed bits of blackened grass scattered in the dirt. On further inspection, he discovered whole pieces of woven grass that were surprisingly intact.
"These may well be the oldest woven textiles ever recovered on Kodiak Island," says Patrick Saltonstall, Alutiiq Museum's curator of archaeology who led the excavation. "The significance of the 3,000-year-old weavings is that they are so similar to weavings from just 200 years ago. This demonstrates remarkable technological continuity over the last 3,000 years."
He and other experts suspect the woven textiles were used as grass floor mats. Saltonstall says that these textiles were found in remarkable shape because of the way the house had burned—the roof had collapsed onto the floor, limiting the oxygen fueling the fire and leaving the weavings charred instead of burned into ash. The textiles will likely be displayed in the future and used for research purposes at the Alutiiq Museum where they are being conserved. "It was an awesome find and I feel very lucky to have been able to be there for that," Lamb says.
Lamb, along with Catherine F. West, a BU College of Arts & Sciences research associate professor of archaeology and anthropology, has helped further archaeological research on Kodiak a great deal, Saltonstall says. West has been collaborating with the Alutiiq Museum for the last 20 years and is Lamb's PhD advisor.
"Because he was closely looking for charred plant remains, Trevor was the first to recognize the woven charred grass textiles," Saltonstall says. "He was also the one who carefully collected all the pieces we could find. His expertise in such matters was critical to the material making it back to the lab in such good shape."
Lamb will be analyzing the loose, less-woven fragments of the fabric to figure out what type of plants were used to make the grass matting, and if the plants could have been used for basketry to store root plants. He's also studying samples taken from the cooking pits on the site that hopefully can provide more knowledge about how plants were used in ancient households.
To complement the findings from Kodiak, Lamb will visit University of Wisconsin–Madison for a month to work with hundreds of pottery shards excavated in the 1950s and 1960s from Kodiak. He's also visiting the University of Washington for samples excavated in Kodiak during the 1990s. He'll be bringing them back to BU—temporarily—for analysis.
"There's still a lot more to learn from all of the burnt material," he says.
Lamb's dissertation work is funded by the National Science Foundation.