Alum and Boston Marathon Fixture Rick Hoyt Dies at 61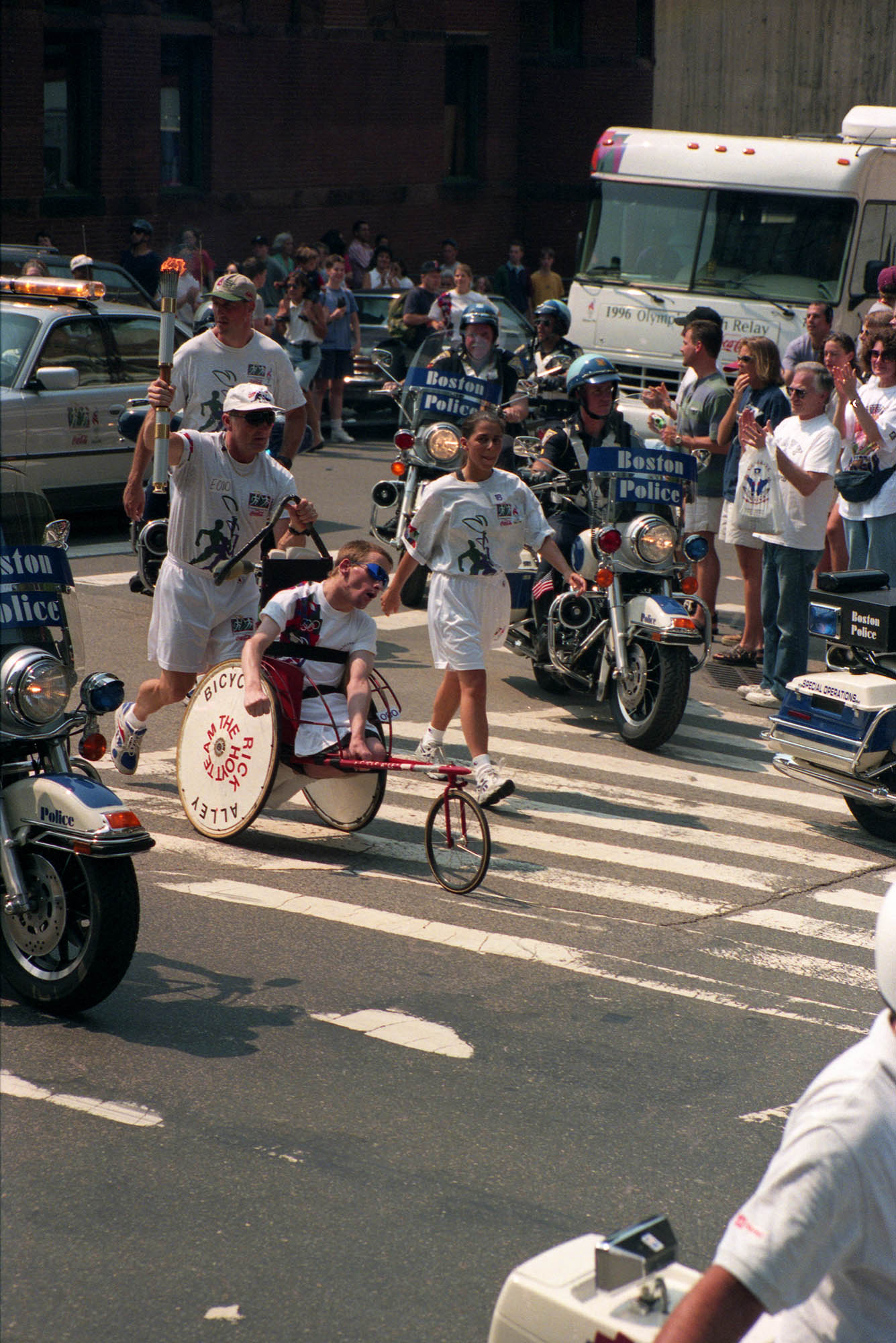 TRIBUTES
 Alum and Boston Marathon Fixture Rick Hoyt Dies at 61
Pushed in a wheelchair by his father, Dick, for years, he finished more than 1,000 races and triathlons
Rick Hoyt, who was born with cerebral palsy and spastic quadriplegia and went on to graduate from Boston University, famously competed in more than 1,000 races over 40 years, pushed in a wheelchair by his tireless father, Dick Hoyt. The two, known as Team Hoyt, finished many Boston Marathons and Ironman triathlons, and, in 1992, they crossed the United States in 45 days, biking and running their way over 3,000 miles.
Hoyt (Wheelock'93) died May 22, 2023. He was 61. His father had died of heart failure at the age of 80 in 2021.
The Team Hoyt website describes how the duo's racing career began. In 1977, Hoyt told his father he wanted to participate in a benefit run for a lacrosse player who had been paralyzed in an accident. Dick Hoyt agreed, and they finished the five-mile run—coming in next to last.
In a 2009 interview with the Boston Globe, Dick Hoyt said he was 40 when they started to race. "I was not a runner. At first nobody wanted anything to do with us. Nobody wanted us in their race," he said. When asked why they didn't try something else, he told the Globe, "He [Rick] always had a big smile and his hands up. He said, 'When I'm running, I don't feel disabled.'"
The Hoyts completed 32 Boston Marathons between 1980 and 2014, according to the Globe. In 1989, they launched the Hoyt Foundation, a nonprofit focused on building self-confidence and self-esteem in young people with disabilities. They spoke before community and professional groups, in addition to participating in races and triathlons, according to the Team Hoyt website.
Rick Hoyt was born in 1962 with cerebral palsy—his umbilical cord cut off oxygen to his brain—and had no control over the muscles below his neck. According to a Bostonia article about Dick Hoyt's 2012 memoir, Devoted: The Story of a Father's Love for His Son, "At the time, disabled children were routinely sent to institutions. But Dick and Judy Hoyt were determined to give their son the same opportunities as able-bodied kids. Judy fought to enroll Rick in public school and helped pass Massachusetts' Chapter 766, the first special-education reform law in the country."
Hoyt communicated with a computer aid. He attended BU, at what was then the School of Education and now Wheelock College of Education & Human Development, earning a degree in special education. He went on to work at Boston College, helping to develop computer-aided mechanical systems; he tested assistive technology developed through a decade-long collaboration between James Gips, a Boston College professor of computer science, and Margrit Betke, a BU College of Arts & Sciences professor of computer science. (The technology allows users to control a computer cursor by moving their head.)
Hoyt's family told the Globe he died of complications with his respiratory system. Dave McGillivray, race director of the Boston Marathon, told the Globe, "We all will truly miss Rick as we have missed his father but we will never, ever forget the gift they both left all of us—that we all can overcome obstacles and we can accomplish special things in our lives that have positive impacts on other people's lives, too."