Adeena Sussman Releases new Jewish Cookbook, Shabbat: Recipes and Rituals from My Table to Yours
Alum Adeena Sussman encourages readers to slow down in her new cookbook, Shabbat: Recipes and Rituals from My Table to Yours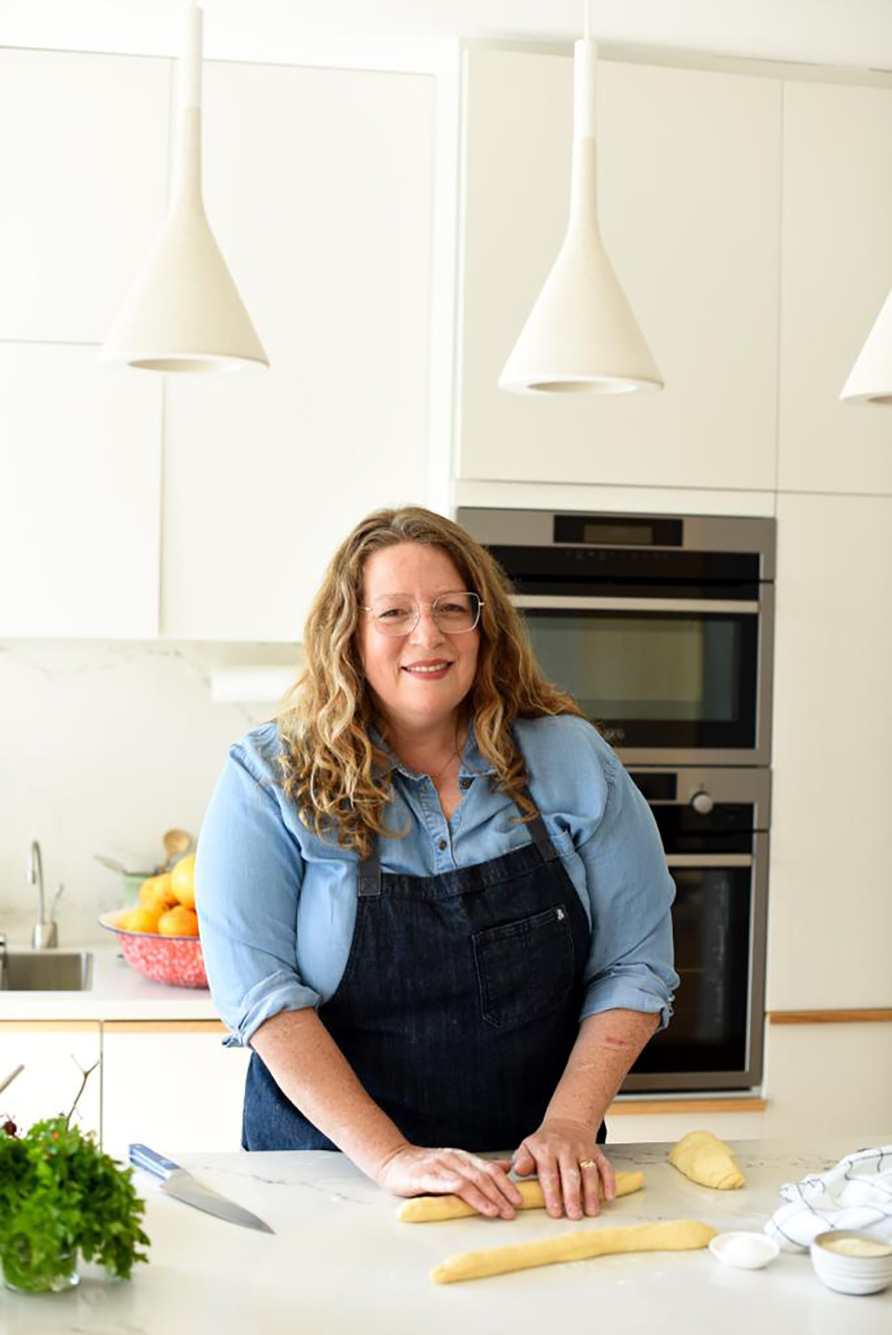 food
Savoring the Cooking Experience
Alum Adeena Sussman encourages readers to slow down in her new cookbook, Shabbat: Recipes and Rituals from My Table to Yours
Jump to Fig & Pomegranate Brisket Recipe
SHABBAT, the weekly Jewish day of rest, and its meals have long been a central part of Adeena Sussman's Jewish and culinary identities. In her latest cookbook, Shabbat: Recipes and Rituals from My Table to Yours (Avery, 2023), she ruminates on her relationship with the Jewish Sabbath at different phases of her life and presents 130 recipes inspired by the foods she has eaten over time, such as White Shakshuka with Roasted Crispy Eggplant, Moroccan Carrot Salad, and Chicken Thighs with Roasted Figs & Grapes.
In the book, Sussman (COM'93) recalls the Shabbat dinners of her childhood, with her mother starting preparations on Wednesdays. (Shabbat runs from sundown on Friday to sundown on Saturday.) "I grew up enveloped in Shabbat's magic, aware of how my family's life revolved around this sacred bubble," she writes. "In my childhood home in Palo Alto, California, our weekdays were a mere prelude to Shabbat."
Her relationship with the holiday has evolved over the years. At BU, when she didn't cook much, she attended Shabbat dinners and lunches at Hillel. After college, she spent time in Jerusalem and learned to make Shabbat meals with friends. When she moved to New York City for a job and gradually stopped observing Shabbat, she felt "unmoored, empty, and exhausted" and longed for the opportunity it provided to relax and recharge, she writes in the cookbook.
Sussman, who moved to Israel almost a decade ago, explored its cuisine in her previous cookbook, Sababa (Avery, 2019), which was named to the New York Times "13 Best Cookbooks of Fall 2019" list. After Sababa, "I was looking for another organizing principle that would allow me to continue to explore the intersection of my new citizenship in Israel and my Jewish culture," she says from her home in Tel Aviv. She landed on Shabbat because of its ubiquity in Israeli life—but she notes that her experience with the holiday has been different in Israel than in the United States.
"I feel like my Shabbat experience in the US is maybe a little more traditional," she says. "Many people there identify Shabbat with chicken soup and matzah balls and chopped liver—all those traditional foods. In Israel, it's much wider than that. It's like a national holiday every week that centers around food."
Sussman hopes her recipes will inspire readers to slow down and savor their weekends.
"In Israel, people are very religious about observing Shabbat, but not necessarily in a religious way," she says. "It's a time for people to get together, cook, and entertain in a more relaxed fashion. I encourage people to take time while they're cooking, to slow down, unplug, and enjoy communing with the kitchen, the ingredients, and the processes, as opposed to just putting out food to entertain guests. I want the cooking experience to be relaxing, and even potentially restorative, for the cook."
Fig & Pomegranate Brisket
Serves 8 to 10
Active Time: 1 hour
Total Time (including chilling time): 13 hours
Ingredients
One 5-pound brisket with a good amount of fat
1 tablespoon plus 1 teaspoon kosher salt, plus more for seasoning
1 ½ teaspoons freshly ground black pepper, plus more for seasoning
¼ cup vegetable oil 3 large onions, thinly sliced (6 cups)
2 tablespoons all-purpose or gluten-free flour
10 garlic cloves, peeled and left whole
2 tablespoons tomato paste
2 cups dry white wine
1 ½ cups beef or chicken broth
⅓ cup pomegranate molasses
4 dried figs, chopped
¼ cup honey
1 ½ teaspoons red wine vinegar
1 tablespoon ground cumin
1 teaspoon dried red pepper flakes
6 fresh figs,* quartered
½ cup pomegranate seeds
Mint leaves, for garnish
1. Preheat the oven to 300 degrees.
2. Arrange the brisket on a large plate and season it generously on all sides with 1 tablespoon of the salt and 1 teaspoon of the pepper. In a large, heavy Dutch oven, heat the oil over medium-high heat until very hot but not smoking. Add the brisket (fattier side down, if there is one) and sear until deeply browned and crisped in parts, 6 to 7 minutes. Carefully flip the brisket and sear for another 6 minutes, then, if they're thick enough, sear each of the narrow sides, standing up the brisket, if possible, 3 minutes per side. Remove to a plate, leaving any fat and juices in the pan.
3. Add the onions and flour and cook, stirring occasionally, until the flour is absorbed, 1 minute, then add the garlic and tomato paste and cook, stirring occasionally, until the onions begin to soften, 5 minutes. Add the wine, raise the heat to high, bring to a boil, then turn down the heat and simmer until the wine reduces by half, 4 to 5 minutes. Add the broth, pomegranate molasses, dried figs, honey, vinegar, cumin, red pepper flakes, and the remaining 1 teaspoon salt and ½ teaspoon black pepper.
4. Bring to a boil over high heat, then reduce the heat to a simmer and gently lower the brisket back into the roasting pan, spooning some of the sauce and onions over the brisket. Cover the brisket with a piece of parchment paper (this will prevent the acid in the sauce from interacting with the foil), seal the roasting pan tightly with foil, and cook in the oven until the brisket is tender, 4 hours to 4 hours and 30 minutes. Remove the oven, unseal slightly, then let the brisket come to room temperature, about 1 hour.
5. If you have time, refrigerate the brisket overnight, then uncover it and remove and discard the congealed fat. Remove the brisket from the sauce and slice it against the grain into ¼-inch-thick slices. Heat the sauce in the roasting pan or another pot over medium-high heat, until boiling. Lower the heat and simmer until the sauce thickens to your liking, 10 to 15 minutes. Nestle the sliced brisket back in the sauce, cover with foil, and warm gently in a 200 degree oven until everything is heated through, 45 minutes to 1 hour.
6. To serve, transfer the brisket and sauce to a platter, season with salt and pepper, and garnish with fresh figs, pomegranate seeds, and mint leaves.
*If you can't find fresh figs, garnish with more pomegranate seeds.