On the Hunt for a New Podcast? WTBU Students Talk Sports, News, Romance Novels—and More
The station produces over a dozen shows, available on Spotify
Watch it again
On the Hunt for a New Podcast? WTBU Students Talk Sports, News, Romance Novels—and More
Watch Now
On the Hunt for a New Podcast? WTBU Students Talk Sports, News, Romance Novels—and More
Did your Spotify 2022 wrap-up show an embarrassingly large amount of time listening to true crime podcasts? May we recommend something new?
The number of podcasts has steadily risen over the past decade, as more Americans tune in to the spoken word. In the second quarter of 2022, 29 percent of 13-to-34 year olds listened to a podcast daily.
WTBU, BU's award-winning student-run radio station, produces over a dozen affiliated student podcasts, with new ones added each semester. The radio station is run by an executive board of approximately 20 students and has been overseen by WTBU faculty advisor Anne Donohue (COM'88), a College of Communication associate professor of journalism, since 1996 (Donohue is retiring this month). The general podcasts are overseen by audio productions director Shandra Back (COM'25), and the sports and news podcasts are produced by their own separate WTBU departments.
"If you're in the car, if you're eating, if you're running, whatever, it's so simple to pop on a podcast, as opposed to sitting down to read an article or turning on your TV," Back says about why she believes podcasts have risen in popularity. "This is an activity that can be done anywhere, anytime, as long as you have access to headphones and a way to listen."
The WTBU podcast studio on COM's third floor was renovated in 2017 following a three-alarm fire in March 2016 that destroyed the WTBU studios. And even though the station receives most of its funding and is directly affiliated with COM, students from all colleges and majors can join.
Back says that a lot goes into producing a podcast beyond a great idea. The station received about 30 podcast pitches last spring, and she says the most successful show applications are those that come with a plan, which include a synopsis, episode ideas, a posting schedule, and even graphics.
"It's anyone from any major, coming into COM and producing this content," says Back, who also hosts her own travel-inspired podcast called Sunshine on a Dime. "All of our podcasts are so different, and I think that's what makes our department so strong. We have a lot of diversity in the topics, subjects, and people producing our podcasts."
Ready to start listening? Check out this list of current WTBU podcasts.
General podcasts
Created by Leah McFarlane (COM'25), Symone Pettis (CAS'25), and Tsega Seleshi (CAS'25), The Block Is Hot gives listeners a moment in their day to feel connected, related to, and loved. Discussing topics such as college, society, and life, the podcast asks listeners to "come as you are, bring what you can, and just vibe."
Created by Jonny Leonidas (COM'25) and Helen Roth (Pardee'25), this podcast highlights overlooked or neglected musicians of the past. Now in its second season, recent featured artists include Milli Vanilli, Israel Kamakawiwoʻole, and Nick Drake. The Forgotten Artist also features lesser-known Boston-based artists.
If the idea of planning a vacation overwhelms you, Sunshine on a Dime can help you map it all out. Host Shandra Back (COM'24), along with editor Jessie O'Leary (COM'25) and social media manager Ella Stonich (COM'24), interviews travelers and shares stories, tips, and resources to make sure you book that trip, no matter your budget, agenda, or companion-status. Recent episode topics include travel regret, mental health abroad, travel safety, hostel hopping, and solo traveling.
Is Boston really the most racist city in America? (Dis)Integration, created last year by a COM podcasting class taught by Donohue, discusses the history and ongoing impact of busing and the desegregation of Boston Public Schools in the 1970s. The podcast won two national awards from the Public Media Journalists Association.
Created by Abigail Gilroy (Questrom'25), Alejandra Hoenigsberg (Questrom'25), Sophie Velychko (Questrom'25), Tiffney Chen (Questrom'25), Jacob Godshall (Questrom'25), and Matthew D'Alessandro (Questrom'25), Biz Buzz takes on the conversation surrounding business for students. Tune in to hear students, professors, and industry professionals give their take on corporate America.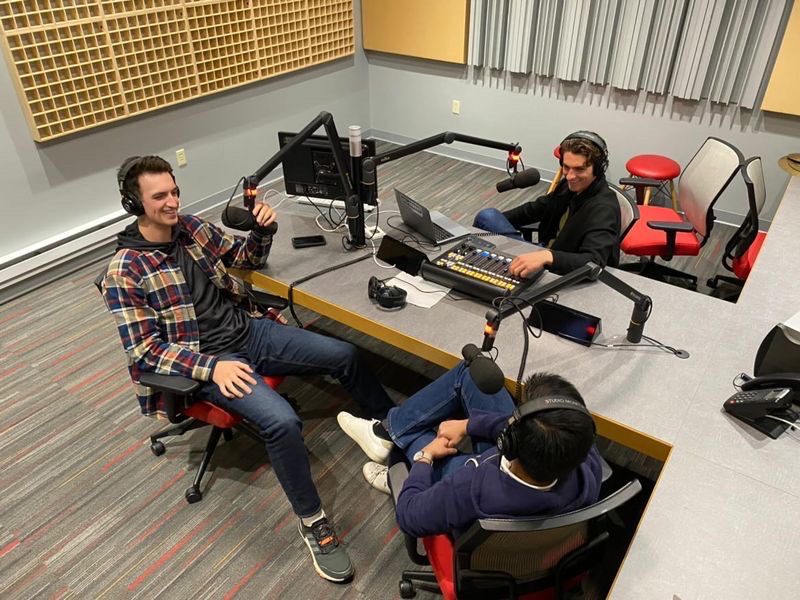 Ever wonder how to start a business? What about pursuing a nontraditional path? STU STREET, hosted by Arkash Jain (ENG'24, CAS'24), Sam Morra (CGS'22, Questrom'24), and Michael Dupre (CGS'22, CAS'24), features interviews with CEOs, athletes, professionals, models, and even students to give listeners insight on finding their career path. These interviews also introduce listeners to the various opportunities available within their community and to the people connected to those opportunities.
Love romance novels? You came to the right place! Join hosts Andy Morales (CAS'24) and Shafali Verma (CAS'24), two self-proclaimed romance book experts, as they discuss tropes, authors, popular books, and unpopular opinions and recommend some new books. Recent episode topics include Taylor Swift songs as books and "five-star" reads.
Created by Benjamin Roldan (CAS'24, COM'24) and Zoe Moore (COM'24), CINEGAB discusses—and gossips about—popular movies and TV shows. Among recent topics: animated films, summer movies, motherhood in TV and films, and diversity (or lack thereof) in movies.
Sports podcasts
Second Stringers is your one-stop-shop for major sports news. Hosted by Griffin Morrill (COM'23, CAS'23), Joe Eachus (COM'24, CAS'24), and other contributors, the podcast covers it all, from championship-caliber players to rookies stealing the spotlight. Second Stringers promises to keep listeners "updated on all the need-to-know information about your favorite sports teams."
Join cohosts Justin Horlick (COM'26), Stevie Potter (COM'25), and Owen Gund (COM'23) (also a BU Today intern), as they discuss all things Boston University hockey. Covering both the men's and women's varsity teams, this podcast features interviews with players and coaches and gives listeners an in-depth analysis of recent games.
Football or soccer? Whatever you call it, stay up-to-date with the latest international football news. This weekly podcast, produced by cohosts Charlie DeMatteo (COM'25), Bobby Serafin (COM'25), and Harrison McGlashan (COM'25), provides recaps and reactions to the week's games. The podcast recently discussed the controversial 2022 FIFA World Cup, currently happening in Qatar, with the final game on December 18.
Catch up on all NBA news, both on and off the court. This brand-new podcast, hosted by Eli Cloutier (COM'26), James Noyes (COM'26), and Finley Rogan (COM'26), features commentary on the latest from the NBA and special guest hosts who offer their own analysis of basketball headlines.
While Redshirts technically covers everything sports from the World Cup to MLB and BU hockey, hosts Brendan Nordstrom (COM'25) and Jeremy Gay (COM'25) are diehard NFL fans and admit that football talk dominates much of their show. Their passion is evident, and the show also includes debates, personal takes, and interviews with local experts. 
News podcasts
WTBU News Today is a daily news podcast produced by the WTBU news department. Launched in 2020, this quick podcast—often five minutes or less—brings listeners the latest headlines (both local and national), a weather report, and recent campus news. WTBU also produces a full news program every Tuesday and Thursday at 6 pm.