BU Student and Alum Honored in Wildlife Photographer of the Year Competition
Karine Aigner (COM'96), Brandon Güell (GRS'20,'23), and Russell Laman (CAS'22) all captured amazing wildlife images
Photography
BU Student and Two Alums Honored in Wildlife Photographer of the Year Competition
Karine Aigner (COM'96), Brandon Güell (GRS'20,'23), and Russell Laman (CAS'22) all captured amazing wildlife images
Editor's note: November 14, 2022: After this story was first published, BU Today learned that a grand prize winner in the wildlife photography contest was also a BU alum—Karine Aigner (COM'96)—for her photo of a buzzing ball of cactus bees. Our story has been updated and that photo can be seen below.
They are the pictures that cross your social media feed, maybe on Instagram or Twitter or Facebook, and make you stop and stare—incredible images of animals in nature, wildlife at its most stunning and striking. And three BU-connected photographers are now a part of that elite photography circle: they are 3 of the 100 winners in the 58th annual Wildlife Photographer of the Year competition.
Brandon A. Güell (GRS'20,'23), a Graduate School of Arts & Sciences PhD student studying biology, and recent alum Russell Laman (CAS'22), who earned a dual degree in marine science and in conservation ecology and conservation biology, both had photos chosen in this year's contest. And a third photographer, alum Karine Aigner (COM'96), was an Adult Grand Title Winner for her incredible shot, The Big Buzz, showing a buzzing ball of cactus bees in the hot sand of a Texas ranch. One judge said of that image: "In today's world, where we struggle to grab the attention of the policymakers towards even big mammals, this image helps in bringing the spotlight to one of nature's most important creatures—bees." Aigner is an associate fellow with the International League of Conservation Photographers.
The 100 award-winning photos (view the gallery here) were selected from 40,000 entries from 93 countries and will be exhibited at the Natural History Museum in London and other venues.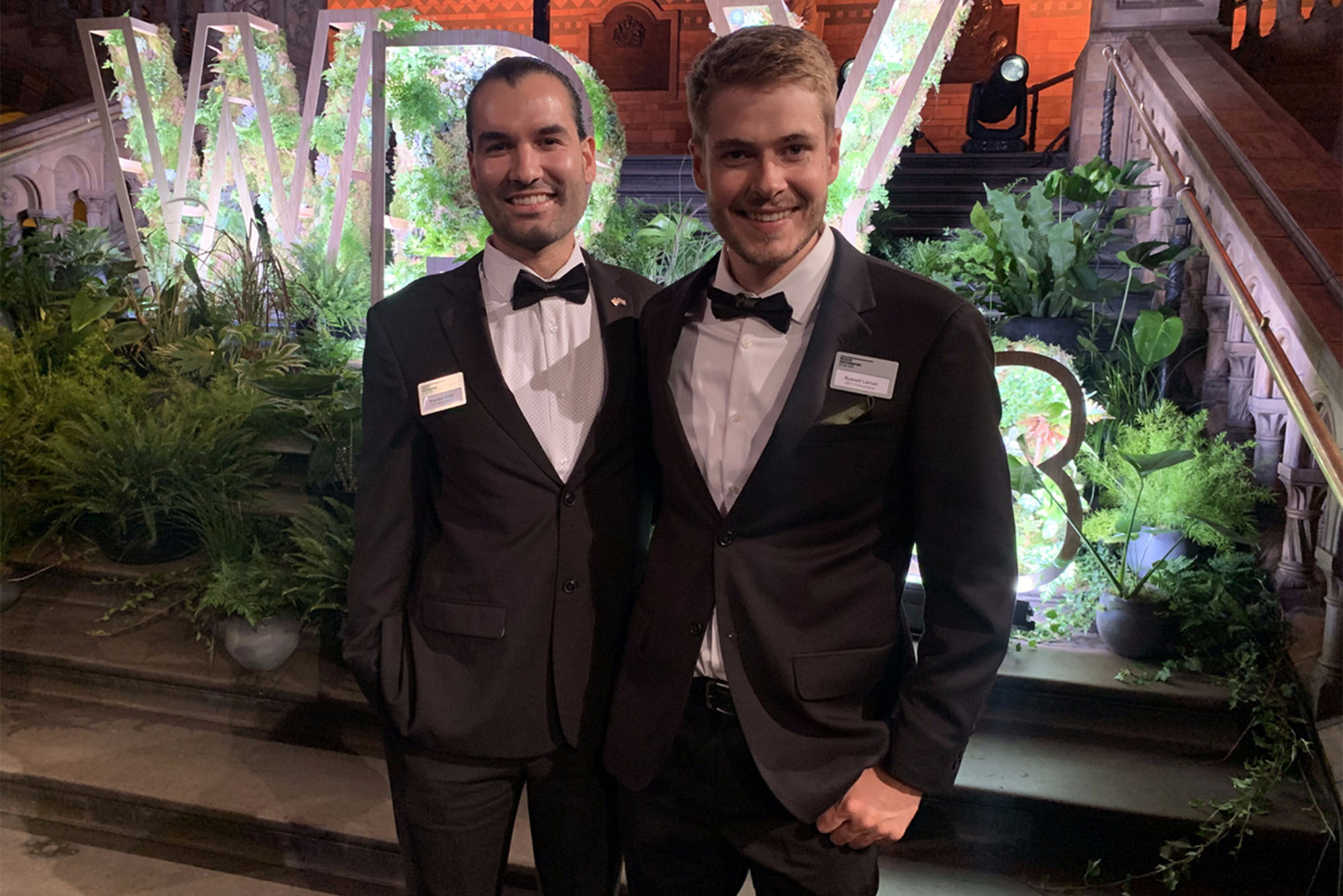 Güell's photograph "Treefrog pool party" was awarded Highly Commended in the "Behaviour: Amphibians and Reptiles" category, and Laman's "Oceans: past, present and future" won a Highly Commended in the "Oceans: The Bigger Picture" category. BU Today asked Güell and Laman to tell the stories behind their photos
---
Brandon Güell
I took this photograph at my field site on Costa Rica's Osa Peninsula during the first explosive breeding event I ever saw, in 2018. I was so excited, amazed, and overwhelmed by the spectacular display of wildlife and animal behavior that I had to try and capture as much of it as I could. That day, I took over 800 photos in less than four hours. This photo embodies the accumulation of over five years of remote field research. I have been studying the reproductive, behavioral, and developmental ecology of gliding tree frogs, Agalychnis spurrelli, since 2017 for my PhD dissertation research.
Explosive breeding events of gliding tree frogs are hard to predict, uncommon, and occur at only a few remote locations. To take this photo, I woke up at 4 am for several days to survey the pond and look for breeding activity. I waded chest-deep through the murky pond with all my camera and research equipment either on my back or in my hands. I fought off mosquitoes and fumbled with my gear for over four hours, all while trying to avoid disturbing the two resident caimans that waited to prey on falling frogs from the vegetation above.
My favorite thing about this photo is how the intimate look of the focal male captures the intensity of his situation. Scrambling and partnerless amidst hundreds of thousands of already laid eggs and several competitors, this male's gaze highlights the urgency of his need to reproduce. Explosive breeding causes mating mayhem, since reproduction only takes place during short breeding periods. To me, this image captures the natural beauty surrounding this reproductive chaos, and I hope sharing it will not only help communicate my research, but also inspire a passion for wildlife and create advocates for conservation.
---
Russell Laman
While on an internship with Backscatter Underwater Video & Photo in the summer of 2021, I had the opportunity to do a number of dives in the rich waters off Monterey Bay. During my stay, I was blessed by a huge influx of sea nettles close to shore, which provided me with a fantastic photographic subject. Because of the low-visibility conditions, I decided not to use strobes and was shooting black-and-white images of the jellies when I came across a sea lion skeleton lying on the bottom with a live sea lion hovering just above. Struck by the powerful scene I was witnessing, I captured this image.
The main challenge I experienced while shooting the photograph was dealing with the huge swarms of jellyfish. The sea nettles that had been swept into the bay don't pack a powerful sting, but they still hurt. Swimming through the swarms, I had to move slowly to try and avoid their long tentacles. Despite my efforts, I still got stung countless times on my lips, the only part of my body I left exposed.
The thing I like most about this image is the atmosphere. It portrays a truly eerie scene, with a sea lion looking down at its dead friend below, mirroring its body position in a way that invokes the dichotomy of life and death. Above, the huge swarm of sea nettles adds to this atmosphere even more, as they seemingly drift off into the gloom. Finally, I chose to convert this image into black and white, a creative choice which I think amplifies and heightens the mood of the image.
I took this photograph because it represents the change in community assemblages of our world's oceans. The anthropogenic effects of overfishing and global warming continue to kill off marine megafauna such as large predatory fish and marine mammals. Meanwhile, jellyfish are uniquely positioned to capitalize on changing ocean conditions. With fewer predators and beneficial warming waters, jellyfish are on the rise globally, a transition that will only be exacerbated in the coming years.
---