"When People Don't Have Resources, They Still Have Imagination"
SPECIAL ISSUE: BU RESEARCH
"When People Don't Have Resources, They Still Have Imagination"
BU's Louis Chude-Sokei says literature, music, technology, new ideas and people can inspire our imagination
Louis Chude-Sokei was three years old when he arrived in Jamaica from a refugee camp in Gabon, in West Africa.
"All I had with me," he writes in his memoir, "was a song, not an Igbo song but a Western one played on the radio about floating in space and choosing never to come down. It was a song about someone named Major Tom, and it eventually became my only memory of my origins in Africa."
Born in Nigeria on the cusp of the Biafran rebellion that led to a devastating civil war, Chude-Sokei brought the memory of that David Bowie song, "Space Oddity," with him to Jamaica, where he lived in a religious home for "left behind" children until he was nine, and later to America, where he was reunited with his mother and came of age navigating the cross-cultural currents of the African diaspora and the streets of South Central Los Angeles.
Chude-Sokei says Bowie inspired his love of science fiction, which eventually led to his scholarly research into the intersection of race, sound, music, and technology. In one of his books, The Sound of Culture: Diaspora and Black Technopoetics (Wesleyan University, 2015), he discusses how idiosyncratic dub reggae artists like King Tubby, without access to cutting-edge technology in the 1960s and 1970s, created futuristic soundscapes by repurposing what was available to them. Chude-Sokei is the founder of the international sonic art/archiving project, Echolocution, and the lead artist/curator of a sound art project in Nuremberg, Germany, focused on Nazi Party historical sites. He is a curator of Carnegie Hall's 2022 Afrofuturism Festival and editor in chief of The Black Scholar, ranked by Princeton as the top journal of Black studies in the United States.
At BU, Chude-Sokei is holder of the George and Joyce Wein Chair in African American Studies, a College of Arts & Sciences professor of English, and chair of the African American Studies Program, and author of the critically acclaimed memoir Floating in a Most Peculiar Way (Mariner Books, 2021), its title taken from the Bowie song. Recalling growing up in the African diaspora, he writes about how his lack of material resources, along with his outsider status, fueled his imagination, eventually leading to his scholarly and literary career.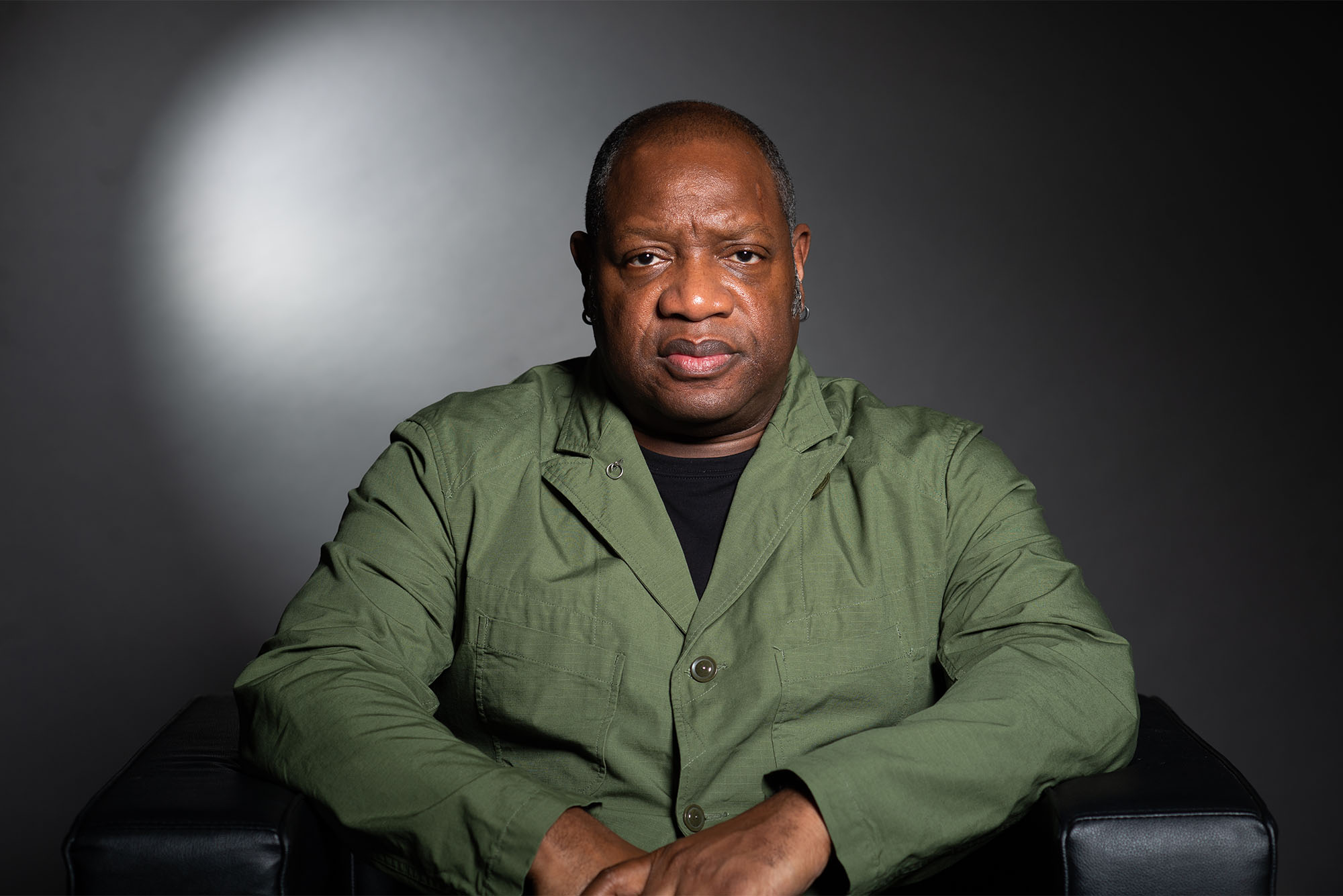 Bostonia talked with Chude-Sokei about the role of the humanities and the arts in inspiring imagination and how imagination can bring different groups of people together and help them survive and flourish.
Q
&

A
With Louis Chude-Sokei
Bostonia:
Do you think imagination has limits?
Louis Chude-Sokei: No. We're capable of imagining everything, even that which is beyond the possible—that's a cliché, but it's true. However, because the imagination is endless, it's possible to generate ideas, concepts, and possibilities that are bad for us, and that are dangerous for other people on the planet. For example, artificial intelligence and the impact on the environment of relentless technological growth—these things are products of the imagination, but there are repercussions that were very foreseeable in some cases. But we so celebrated the imagination that we didn't think it mattered. Because one of the things in America that we must acknowledge is this very powerful cult that believes innovation and imagination will solve all of our problems—while at the same time they're causing them.
Bostonia:
Are there things we can do to increase our powers of imagination?
Louis Chude-Sokei: That's what the humanities is supposed to do—to enable and inspire the imagination. I don't know that it's being done now, given the current state of scholarship. But that's initially why I was drawn to the humanities.
Bostonia:
Your memoir says that when you were eight, you and your mother lived in a studio apartment crammed with newspaper clippings about the Biafran rebellion in Nigeria—a rebellion your father helped lead and died fighting for—and that ignited your curiosity about your family's history.
Louis Chude-Sokei: Having very little access to things creates this desire to imagine access and to create possibilities. I can barely balance my checkbook, I don't understand coding, but I can imagine the relationships between technology and social groups and communities and histories—and that imagination inspires me to do the reading and to do the research. I'm not an expert on computers and technology. I'm an expert, if anything, on music, literature, and science fiction, and that's how I got to technology. That's all due to my imagination.
Bostonia:
It sounds like it's also about having the confidence to dream.
Louis Chude-Sokei: That's the point. Because I got access to technology through science fiction and through music production and sound design. That's how a lot of Black people get access to technology. And that develops in you the confidence to take further steps, to learn more. That's the path I took. I'm a kid who was put in remedial education. And I was, like, well, damn it, I'm going to be a professor of literature. I'm going to imagine myself as a writer, as a scholar, as a thinker. Imagination was a form of revenge and resistance.

I'm only now beginning to understand the experience of operating with resources and support. Much of my life has featured me not having access to things, and therefore having to use the imagination to strategize and figure out how to get access. It's kind of the trickster mentality—the hustler. How do you figure this out? How can you make nothing into something or broken into better or very little into more?
Bostonia:
Do you think you can create environments where diverse groups of people will mingle and spark one another's imagination?
Louis Chude-Sokei: Yes, but we should also look at where those things happen organically. I distrust too much intentional social engineering. Human community and human interaction and human intervention—a lot of that happens by unsolicited and unplanned crossings of boundaries. Different kinds of things inspire different kinds of people. You can never know that this kid in a refugee camp is going to be inspired by a pop star from England, just to use myself as an example. And it's generally impossible to program unpredictability, and so attempts to manufacture imagination are sometimes doomed to fail.

What inspires us is the things that we didn't expect, or the people who are not like us, or the ideas or sounds we've never heard before, the strange things we've never seen, the communities we've never understood. Even if we don't like them, they are triggering our minds in unique ways. And that's what I pay attention to.
Bostonia:
Do you think part of it is that you didn't care about being conventional and doing what the adults expected of you?
Louis Chude-Sokei: Not just the adults, but with my peers also. With my family migrating and moving around so much, I never was able to sort of settle into one convention, for example, or one kind of identity. Everything was always new. And I was hungry for it all because it was information. Black, white, straight, queer, male, female, appropriate, inappropriate—it was all just information. Music, for example—and this was before we could afford records—was information about the world beyond mine. Bartók or experimental music—I had no idea what I was listening to. Why do people like this? So, I just kept listening, to try to understand it. And to understand it was to claim and own it regardless of what it or I looked like. I still think that way.

This is what Wilson Harris, the Guyanese writer and philosopher who's one of my most important intellectual figures, always suggests: that the crucial thing about the imagination is that it's what you use to keep yourself from falling into ideology. And it's something I've taken up in my own work: how do you get people who were produced by racism, slavery, colonialism, and oppression to not respond to those forces by hardening their identities, closing themselves off, and limiting their imaginations. The point is not to just focus on our needs, our Blackness, and our identity, but rather to respond with a new kind of imagination, which reimagines who we are or what we can do. That's actually the genius of Black music, and the goal is to live up to its standards, or as the great writer Ralph Ellison would say, its discipline.

The fear of losing authenticity, of losing who you are, is very strong among minority communities, and that often imprisons us. That's why, for me, the imagination is very important, because it enables us to transcend that fear, and the anxiety that equates transformation with loss.

Apart from the recent work on technology, my scholarly work is more broadly focused on trying to get people past conventional American racial thinking so they can realize immigrants or aliens have something to offer. Immigrants and aliens are not a part of the conceptual system in some ways. Their lack of understanding of "how things work here" is profound in some cases, yet we can learn from it. People often say, "Oh, well, immigrants don't understand racism, they don't understand what's going on in America." And I like to say, "The fact that they don't understand could be a gift. Perhaps what cripples you is how much you understand."

For example, Black African or Caribbean immigrants come here remembering, or maintaining, the fiction of an America that we may not think is a real one anymore, or we may think it never existed. But they believe that fiction. This is why they don't think, "Racism is going to stop me." It may indeed have stopped them at times, but that's not how they're thinking. It's an optimism born out of the imagination. They have the sense of America that we no longer have, or that maybe was always false, but it's still how it works out for them. And given how vast are the disparities in social and economic and educational outcomes between Black immigrants and both white and Black Americans—Black immigrants very often outdo them all—there is clearly something to how their imagination and the fiction of America has worked for them.
---

In my view it's the imagination that allows you to create possibilities.

---
Bostonia:
How can the rest of us who aren't scholars, who aren't trained to think this way, learn to use our imaginations in this way—to be open to new ideas and new ways of thinking?
Louis Chude-Sokei: Nothing here requires money or advanced training. It's stuff that began for me when I was a kid. Listen to things you don't like. Try to figure out why others read books you do not agree with. Put yourself in situations where you're interacting with people who are very, very different…. You do that as an immigrant. You're always the outsider. You develop the ability to see in multiple directions at once and to trust yourself to recover when bruised. In my view it's the imagination that allows you to create possibilities rather than hold on to static notions of self, of others, and ideologies that limit your expansion because they are only focused on determining innocence or guilt.
Bostonia:
Would you say imagination was behind Frederick Douglass believing he could read, and risking his life to learn to read?
Louis Chude-Sokei: As Henry Louis Gates, Jr., pointed out, Black people began to notice that anytime their masters and mistresses sat at a table with a light and looked at this thing called a book, something was going on. And of course, this stays within the context of, "Well, I need to figure this out. What is that?"

This is why, after slavery ended, the greatest obsession among Black people was literacy. Literacy was a trigger of the imagination, because the imagination depends on information, and this was a population deliberately starved of information.
Bostonia:
Is it possible that our modern consumerist society and our technology can crush imagination?
Louis Chude-Sokei: That's a really good question. With this rabid use of social media today, we're seeing an unprecedented moment where the human capacity to imagine, to explore, to put yourself inside the other's experience seems threatened in a pretty big way. Ironically, this is the precise moment when there is more access to information than ever before. Rather than expand and open, many individuals shut down, close off into cliques, sects, echo chambers, cults. Ignorance becomes fetishized. This will not end well.

But I always remind myself that this is definitely a United States—a first-world—crisis. Yes, other places have other related and interrelated crises, but one of the things I love about being in Nigeria or Jamaica is you realize that the vast majority of people on the planet still are craving more information and are bursting with ideas and imagination. This is why the immigrants who come here tend to be so exceptional in their contributions. When you first go there, you say, "How do they survive? My God!" But then you stay awhile and you're, like, "They survive because of their inventiveness and imagination." It's remarkable. How do you get cars to continue running for 60, 70 years, basically on rubber bands, tree branches, and spit?

There's that great line by Derek Walcott (Hon.'93), the Nobel Prize–winning poet [and late CAS professor of English]: "I had no nation now but the imagination." When people don't have resources, they still have imagination, and will create something, no matter what. The history of Black people in the world is about creating things out of nothing. Like they did with America.