At Wheelock Family Theatre, There's No Place Like Home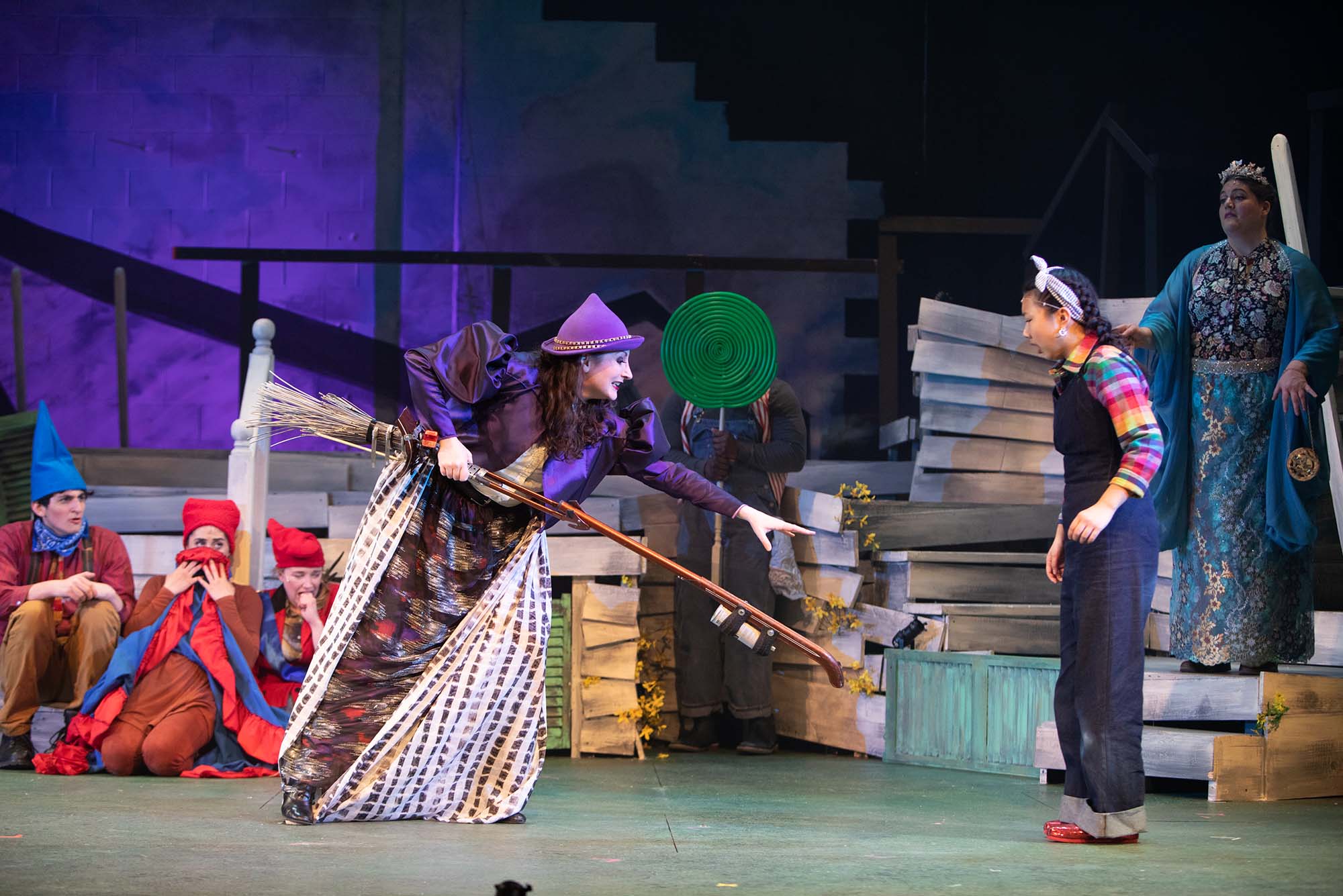 Theater
At Wheelock Family Theatre, There's No Place Like Home
After a two-year COVID-caused hiatus, live performances return with The Wizard of Oz
For the last 775 days, only a ghost light has illuminated the Wheelock Family Theatre stage. Renowned for its intergenerational and multicultural productions for the whole family, the theater had just ended a successful theatrical adaptation of Louisa May Alcott's Little Women in early 2020 when the COVID-19 pandemic shuttered the theater, along with virtually all live performance venues.
Wheelock Family Theatre (WFT) is now returning to live theater with a production of The Wizard of Oz, based on the classic 1939 film adaptation of Frank L. Baum's beloved children's story.
"To see the theater activated again is, in a way, spiritual," says Emily Ranii (CFA'13), WFT artistic director. Seeing actors return to rehearsal rooms, designers tinkering with lights, costumes, and sets, musicians playing an overture has been both "exhilarating and a relief," she says.
"It's the simple everyday moments that get me the most—the impromptu conversations that happen in the hallway, the laughter on a break from rehearsal, the music that plays on the radio while carpenters build the scenery or electricians hang and focus the lights—all those moments that we took for granted before the pandemic now make me stop, smile, and breathe a sigh of gratitude," says Ranii, who is also BU Summer Theatre Institute academic program head. 
It's a message reiterated by Wizard director Nick Vargas (Questrom'24), the theater's associate artistic and education director. "It's like riding a bike, you pick it back up," he says. "You're a little wobbly: coming in each day or leaving rehearsal at night, I get a little bit choked up. I forgot what a privilege it is to do this."
While Wizard of Oz marks a return to live performances for WFT, staff remained busy throughout the pandemic. The theater staged a virtual workshop of a new musical adaptation of Robert McCloskey's classic Make Way for Ducklings and tried their hands at filmmaking (the result, Walking the Tightrope was streamed to audiences at home). In addition, the education program quickly pivoted to a virtual curriculum and launched a professional development series for Boston Public School teachers in collaboration with the Eliot School for Fine and Applied Arts in Jamaica Plain and Open Door Arts.
WFT's staging of The Wizard of Oz features the film's music and lyrics by Harold Arlen and E. Y. Harburg. It's the fourth time the theater has staged the musical, but this production is notably different because there are just nine actors in the entire show, taking on multiple roles, aided by some deft shadowplay and puppetry.
"Audiences are going to see actors putting on and taking off costumes onstage and becoming characters very, very quickly," Vargas says. "We're also looking at utilizing found objects, puppetry and costumes and prop pieces, to just give the audience a gesture of a character and then allow you to fill in the gaps on what's going on in your brain…it's been really fun to see the cast just jump in and try to see where the different characters take them."
The show's driving message—that there's no place like home, echoing the memorable line uttered by young Dorothy, played by Judy Garland in the film—is a timely one, Ranii says.
"As the pandemic unfolded and we were all increasingly at home, the questions of what makes a home and how does one feel at home took on new meanings. The quest that occupies Dorothy's dream became our very real, everyday quest," she says. "The need to share this story now, as a way to welcome us all back to our artistic home at Wheelock Family Theatre, became all the more resonant."
The cast is finding that having to rapidly switch hats (or capes, shoes, and other apparel) to play multiple characters has been both fun and challenging.
"It can feel like kid-play again, those times when I would pretend with my siblings and don different characters pretending to be adults going to work or superheroes vanquishing evil," says David Jiles, who plays The Tin Man, and his farmhand counterpart, Hickory, and one of the Munchkins. He acknowledges that performing multiple roles "can make you feel a little scatterbrained.
"I'm on a journey to see which layers of myself are like Tin Man, Hickory, and a Munchkin, and then playing with and trying different methods of illuminating those characteristics into these three pretend individuals."
Other cast members say that taking on roles so indelibly linked to the film actors who played them on celluloid can be daunting.
"There's definitely some pressure there," says Katie Anne Clark, who's playing the role made unforgettable by actor Margaret Hamilton (Wheelock 1923), with her green makeup, hooked nose, and bone-chilling cackle—the Wicked Witch of the West/Almira Gulch.
"I want to give the audience what they want and what they expect and yet make the character my own," Clark says. "I am finding a balance between the Margaret Hamilton 'isms' and my own voice." She says that her Wicked Witch is funnier than Hamilton's. "The character reminds me of an old vaudeville performer—she's full of jokes and zingers. In the movie, she's very serious, so it was very surprising and different to have permission to play her in this different way."
Playing the lead role of Dorothy Gale, 15-year-old Lily Park has the equally daunting task of getting audiences to set aside their childhood memories of Garland following the yellow brick road.
A sophomore at Milton Academy, Park says she made a conscious decision not to go back and rewatch the movie after winning the role. Instead, she's worked hard to create her own interpretation of the character. She took the production's theme of empowerment and "slowly began to weave it into moments during scenes and songs." Working with Vargas and music director Todd Gordon, Park says, she's found a way to transform the play's most famous song—"Over the Rainbow"—into something less dreamy, more determined.
"I hope to show our audience, particularly the younger members, not only the value of dreams, but the importance of perseverance," she says.
The show's production team is helmed by three BU alums. Chelsea Kerl (CFA'14) designed the show's ingenious costumes. A veteran who has worked with nearly every theater company in the Boston area, Kerl has been nominated three times in the past three years for Boston's highest theater honor, the Elliot Norton Award. Albina Aleksandrova (CFA'22) designed the sets and Kevin Dunn (CFA'23) the lighting. The Wizard of Oz marks the first time working with WFT for both and each points to the opportunity to collaborate so closely with the rest of the production team as a highlight of their experience.
"It's been an extraordinary process," Aleksandrova says. The designer worked with the rest of the creative team to help execute their vision of a Dorothy who has more power over her adventures than previously portrayed. "I didn't want her to have a set route, a clear brick road or path," she says. "It was more exciting to see her make these choices."
Now, with the theater preparing to welcome back children and their families after such a long absence, Vargas says he hopes the production sends an important message as people begin to emerge from the shadows of the pandemic.
"I think we've lost—especially in young people—the opportunity to really collaborate and play with one another, and I think the playfulness of this ensemble and this story will really inspire folks to think in different ways. I hope folks come away with a feeling of hopefulness not only in the theater's future, but the future of our society and humanity."
The Wizard of Oz runs weekends through May 1 at the Wheelock Family Theatre, 200 Riverway, Boston. Performances are Fridays at 7:30 pm, Saturdays at 2 and 7:30 pm, and Sundays at 2 pm, with special 1 pm matinee performances during school vacation week, Tuesday, April 19, through Friday, April 22. Note: There is no evening performance on April 22. Ticket prices range from $20 to $40. BU faculty and staff get $10 off with code "BUSTAFF." Full-time BU students can purchase $10 tickets to any performance using the code "College." Purchase tickets here, call 617-353-3001, or email WFTtix@bu.edu. Student rush tickets are available for $10 one hour before showtime, at the box office only. ASL and AD performances are Friday, April 29, at 7:30 pm, and Sunday, May 1, at 2 pm. There is a special socially distanced performance on Thursday, April 28, at 7:30 pm.