For This Valentine's Day: Messages of Love and Gratitude to Friends
Something a little different for 2022 from the BU community
SHARE THE LOVE
For This Valentine's Day: Messages of Love and Gratitude to Friends
Something a little different for 2022 from the BU community
When we think of Valentine's Day, we typically think of romance—cards festooned with images of Cupid and his bow and arrow, heart-shaped candy, flowers, quiet dinners. But we at BU Today decided that this year—especially this year—the holiday would be a good chance to celebrate a different kind of relationship: that of the friends in our lives. So we invited students, faculty, and staff to write a message of love and gratitude to a close friend, with a promise to publish them on Valentine's Day. We also heard from folks who wanted to express their love for their romantic partner as well as a few proud parents who couldn't resist the opportunity to send a special message to their Terrier.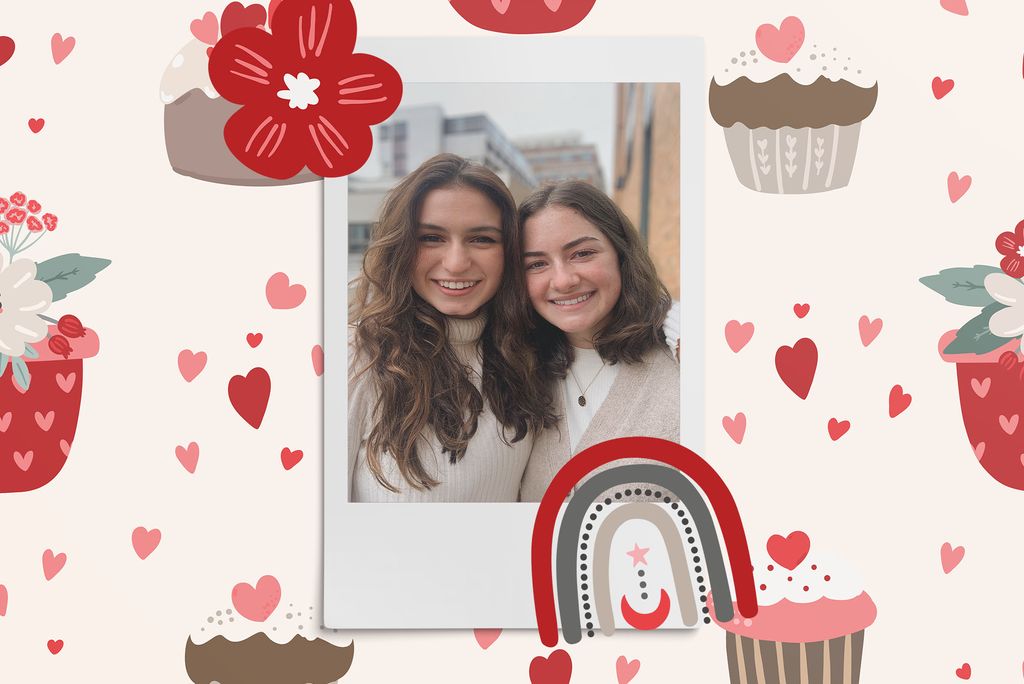 Happy Valentine's day, Aidan! I'm so lucky to have found such an awesome friend at BU. I'll never forget how we met at the GSU during FYSOP and became friends while riding the T to Cambridge. I love how we can laugh about anything and everything, even things that make no sense. Transferring to BU was exciting for both of us, and I'm glad we were able to discover Boston together! I know we'll be friends for a very long time and love that we've taught each other how to "Be you" at BU. Here's to many more walks down Comm Ave and conversations trying to convince each other to switch to the other's major. Love you! Sophia
From: Sophia Pelletier (Questrom'24)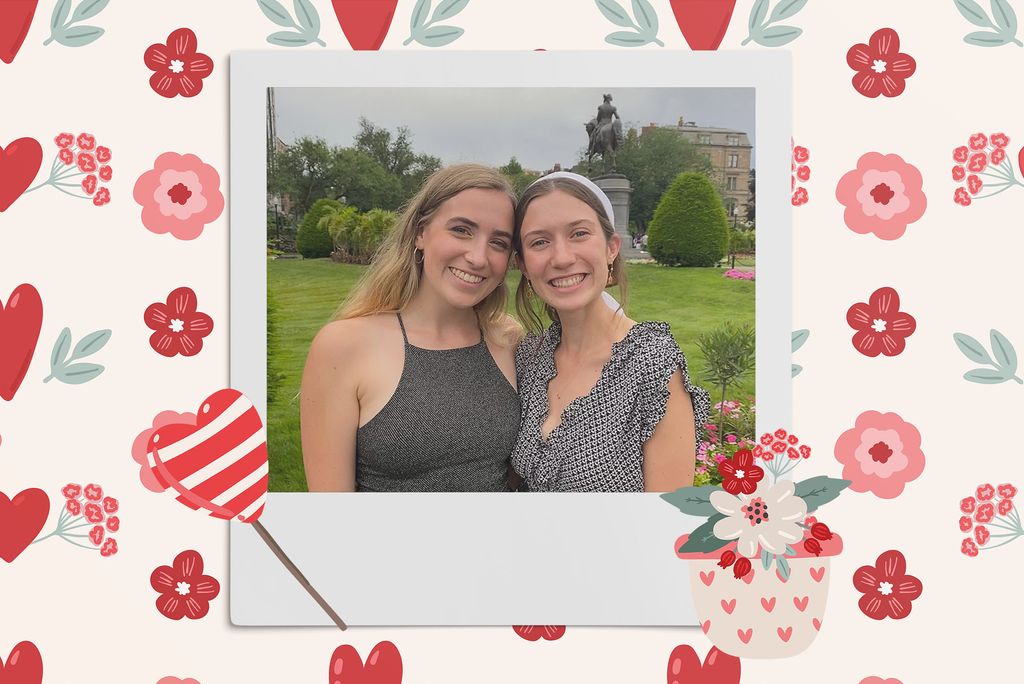 I love you, Victoria!!! Your friendship has foundationally changed me into a kinder, more open and loving person. I'm so grateful for every moment we've shared together, from lighthearted Life Alive dates to the really hard-to-have conversations. You inspire me every day with your ability to think of others no matter how busy you are, and you've consistently shown me compassion, even in times when I might not have deserved it. Thank you for being you, and happy Valentine's Day :)
From: Marissa Carty (CAS'22)
Dear Dana,
I'm so grateful that BU brought us together. From our first coffee dates to our pandemic movie nights and Her Campus meetings, I've thought about how lucky I was to have found a friend as kind, thoughtful, funny, and generous as you. We haven't had much time in person (and we're going to be even farther apart soon), but it's only made me appreciate your presence in my life even more. On this Valentine's Day, I want you to know that I love you and I wish you only the very best. The "crème de la crème," as we like to say in French. Thank you for being my best friend.
P.S. Enjoy this photo of our Insomnia Cookies run in the rain. It's a pretty bad one, but it'll have to do.
From: Ariane Vigna (CAS'22, COM'22)
Love you so, so much and I'm so happy to have you as a friend. Be kind to yourself and know I'll always be here for you
From: Ayna Molina (CAS'23)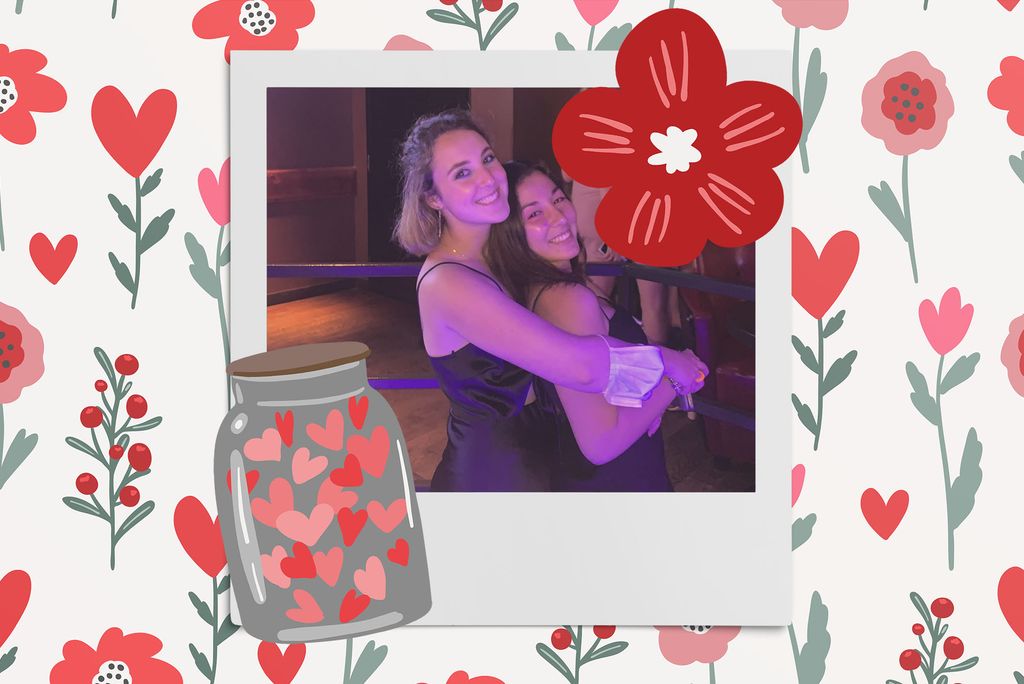 Good thing I'm over 21 because your beauty is intoxicating. Happy Valentine's Day. I love you <3
From: Defne Yucebas (CAS'23)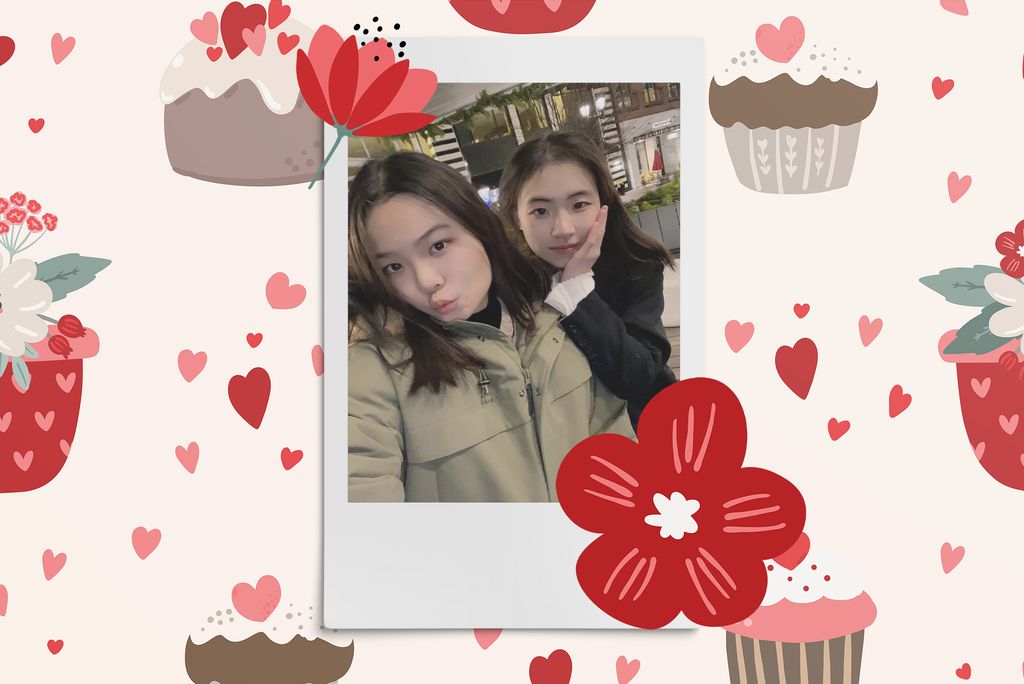 Thank you for being there at my worst.
From: Kelly Tang (COM'25)
To Cecilia, the most brilliant, independent, and charming young lady I know, Happy Galentine's Day! I never dreamed that I could have "the college roommate" that movies portray. I could always talk to you about anything, from academic TED Talks to frivolous gossip. Even though they say that people come and go in different phases of your life, what's certain is our shared memories of the good and the bad, and my respect for you.
Also, cheers to us building our first snowman as seniors who have been in Boston for four years!! (Where have we been all along?) I have a newfound appreciation for the "Do You Want to Build a Snowman" song from Frozen.
I know we've spent a lot of time discussing misgivings about the future, so let's not do that now. Here's to this moment of knowing you.
From: Christina Yin (COM'22)
Happy Valentine's Day to my favorite daughter! You are the light in my heart and the happiness in my soul. I LOVE YOU MORE!!!
From: Julie Edwards, BU parent
Happy Valentine's Day, Mame-Diarra! Freshman year at BU has been tough academically, but you've made great new friends and had some wonderful experiences. I love you so much and I'm so proud of you!
From: Stephanie Ngom, senior lecturer, Center for English Language & Orientation Programs, and BU parent
Милая девочка, мы с папой поздравляем тебя с днём Св. Валентина, потому что мы тебя очень любим. Котик, рыбка, птичка, цветочек (дикая роза), и лапочка- это ты! Пусть у тебя всё будет хорошо, и солнце тебе светит, и цветы распускаются, и жизнь дарит радость и хорошее настроение!
English translation:
Dear girl, your dad and I congratulate you on St. Valentine's Day, because we love you very much. A cat, a fish, a bird, a flower (wild rose), and a sweetheart—that's you! May everything be fine with you, and the sun shine on you, and flowers bloom, and life gives joy and a good mood!
From: Katya Nemtchinova, BU parent
Cheers to our first Valentine's Day together <3 I love you, squish
From: Elizabeth Nelson (CAS'22)
I've enjoyed every single year of friendship with you. Thank you for all of your wisdom, kindness, support, and attentiveness. Oh! And thank you for getting me hooked on Naruto. That show is awesome. Love you lots!!
From: Kendall Lowe (CAS'22)
Vanessa!!
Estamos muy orgullosos de ti! Te queremos con todo nuestro corazón ♥ te extrañamos mucho, pero sabemos que estás viviendo tu sueño!!
Con mucho amor! Papi, Mami y Jaime
English translation via Google:
Vanessa!!
We are very proud of you! We love you with all our hearts ♥ we miss you so much, but we know you are living your dream!!
With lots of love! Daddy, Mommy and Jaime
From: Blanca Ramirez, BU parent
To my beautiful Destiny, to our puppy, Matcha, and to spending another lifetime together. Happy Love Day, boo!
From: Jaden Duenas (COM'22)
Happy Valentine's Day, Lily. I love you so so very very much! Hope you have a lovely day <3
From: Amie Belisle, BU parent
Most couples want to be Jim and Pam, but we are a Michael and Dwight :P
From: Ashwini Chaudhari (SPH'22)
Julian,
I am so beyond grateful for you, and every day I am constantly reminded of how lucky I am to have you & our relationship. You are the most loving person, and I'm so happy with all of the memories we have created. I'm also super proud of you for all of the hard work you've put in this semester so far, you're doing amazing! I love you tons and I hope this brightens your day! I can't wait to see you soon!
Love, Taylor
From: Taylor Marshall (non-BU-affiliated partner)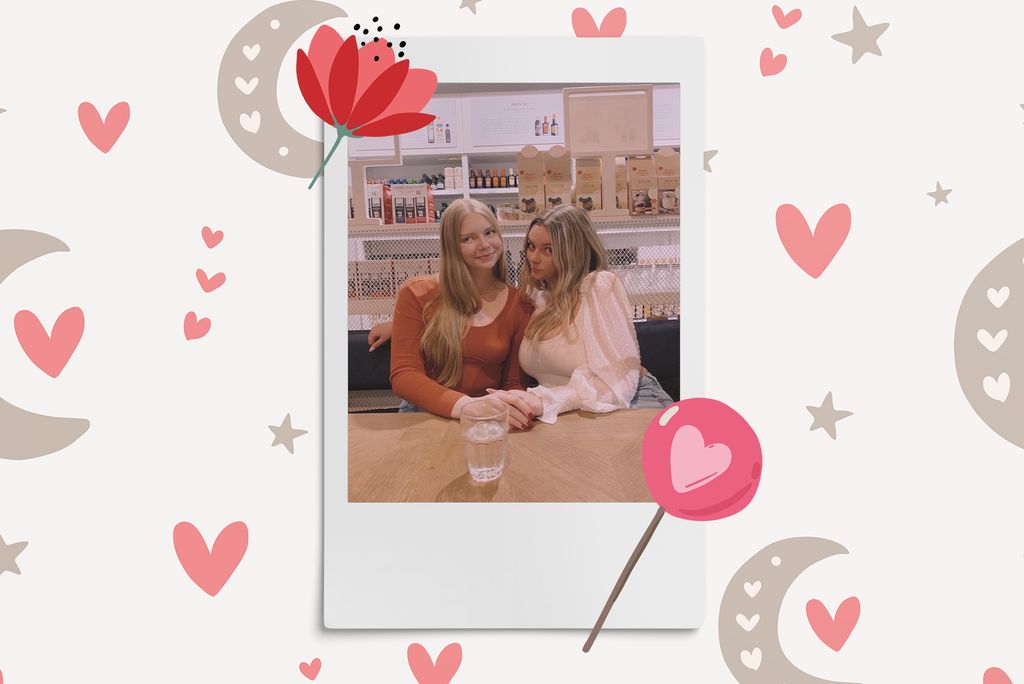 I'm so glad we are roomies AND besties :)
From: India Stevenson (CGS'22)
Happy V-Day to someone who knows me and yet somehow still wants to hang out. What would I do without you? I'm so lucky to have a friend like you. You're the best!! On Valentine's Day and actually, every day, I'm thankful for your warm, caring, and lovely heart!
From: Christina Polyzos (Questrom'91, COM'97), associate director, Center for Information & Systems Engineering
Dear Elana,
Thank you for being such a rock star at everything you do! I cannot imagine my BU Arts Initiative journey without you—you make each workday so worth it. You add so much value to the work you do. With the two of us together, we are simply unstoppable. Happy Valentine's Day, chica!
Best regards,
Ivy Buena
From: Ivy Buena (Wheelock'17), program administrator, BU Arts Initiative
I met one of my best friends in the world, Ashley, at the very first meeting for ASIABU, and the rest is history. We served on the club's E-board together for years while also bonding over K-pop and food in general (but especially hot pot). Although she's graduated and moved away from Boston now, I still catch myself reaching to invite her to the library or for Starbucks at least once a week; old habits die hard! I know you're off doing amazing things with your life, Ashley, but don't forget about little old me! I love you with my whole heart (except for the part reserved for Dami from Dreamcatcher).
From: Megan Hodge (CAS'22)
Happy Valentine's Day, Selena! Destiny brought us together in that fateful Core Picnic and I couldn't be more grateful. You bring out the best in me and always encourage me toward growth and success. I couldn't ask for a better friend, partner in crime, and confidant. I'm so happy I get to graduate alongside you; you're headed toward amazing things and I want to be there to cheer you on. I love you, girl!
From: Rebecca ("Rivkah") Cohen (CAS'22)
Happy Hearts Day to one of my favorite people, ever!! I'm so thankful we spent all 4 years of BU as roommates—a statistic I am so proud to share with everyone I meet. Sending you lots of love, hugs, & moon dust.
From: Emily Kirwin (CGS'16, CAS'18)
Happy ladies celebrating ladies day <3 I'm happy to have a friend like you in Boston. I wish you all the happiness and love in the world. Let's go for a chocolate run sometime ;)
From: Viviana Dominguez, research study assistant, School of Medicine Graduate Medical Sciences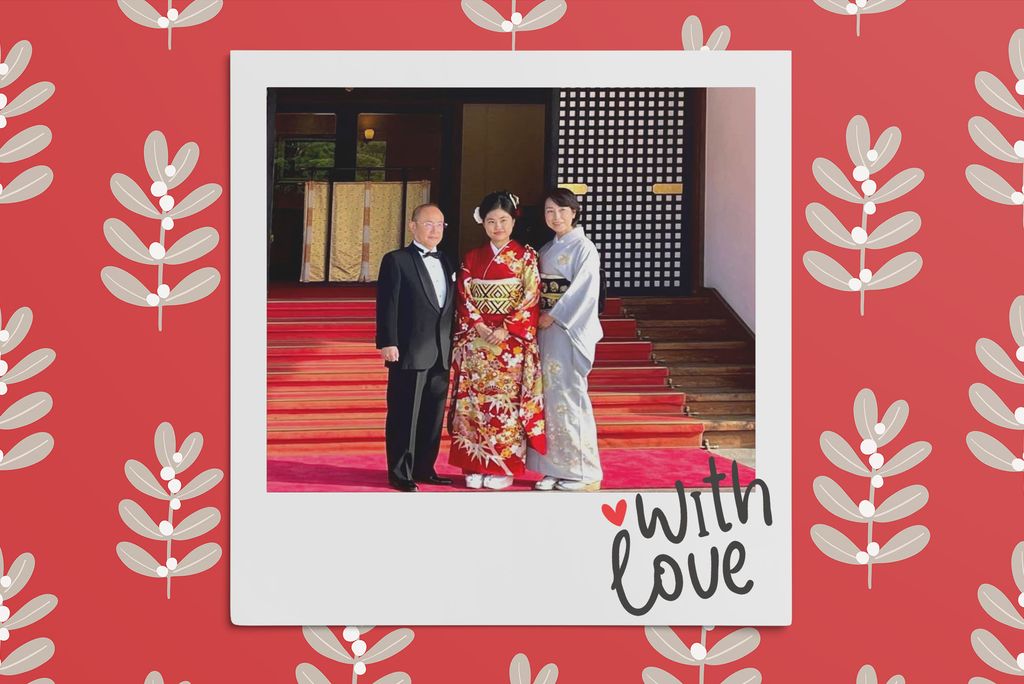 Thanks to my lovely wife, I was able to enter the spring semester at the Center for English Language & Orientation Programs (CELOP) at Boston University. And my daughter is a CELOP student too 😊😊。
With love, Akihiko ❤💌❤
From: Akihiko Ikai, CELOP student