Two Alums Make Time's List of Most Influential People of 2022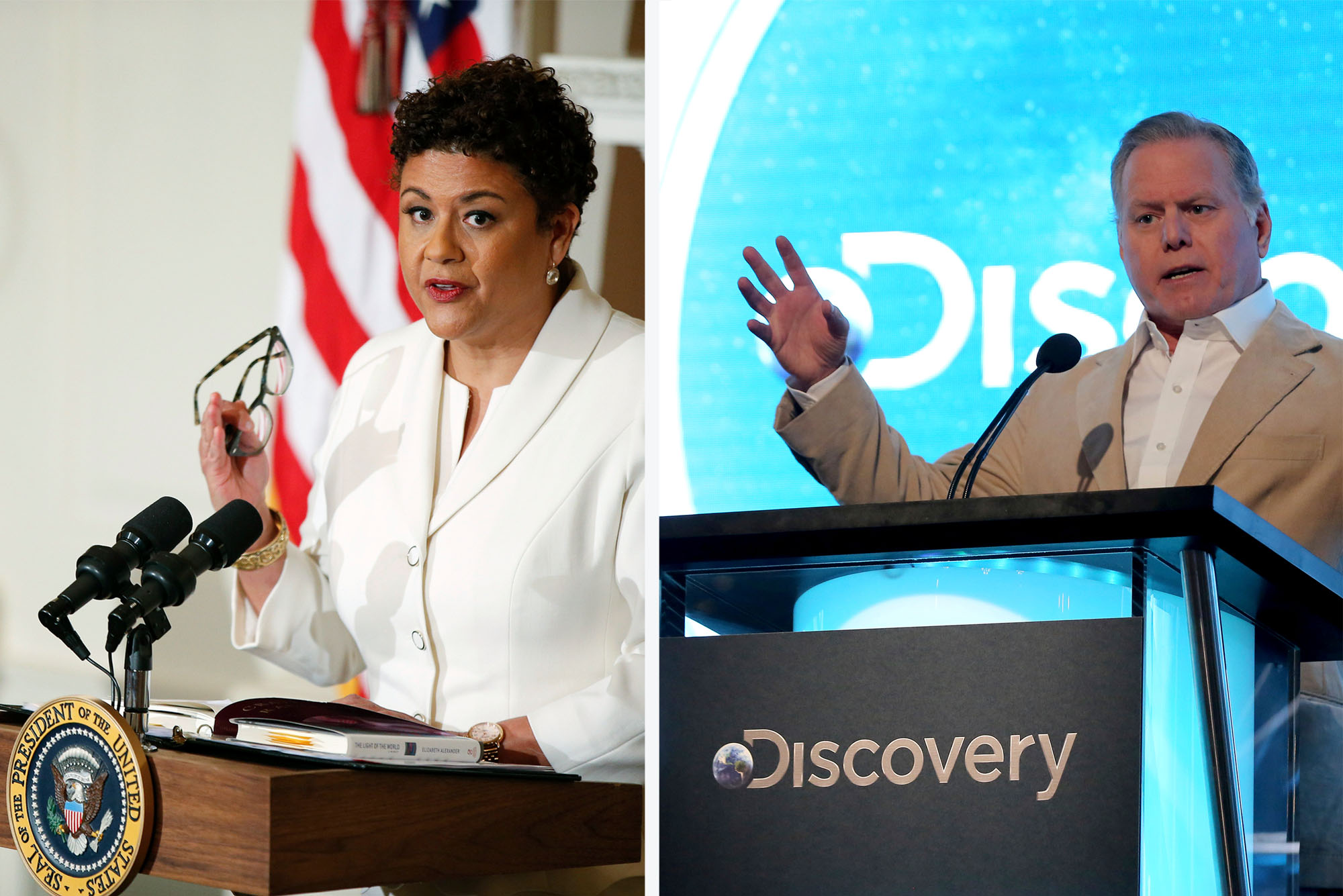 Accolades
Two Alums Make Time's List of Most Influential People of 2022
Mellon Foundation president Elizabeth Alexander (GRS'87) and media executive David Zaslav (LAW'85) among 100 artists, innovators, and leaders honored
They share the spotlight with Joe Biden and Volodymyr Zelensky, Tim Cook and Oprah Winfrey, Kris Jenner, and Vladimir Putin.
Two BU alums were named to this year's Time Magazine 100 Most Influential People 2022, a list populated by many household names and more than a few less-famous influencers.
David Zaslav (LAW'85) is the chief executive officer and president of Warner Bros. Discovery, the vast multimedia conglomerate formed from the merger of WarnerMedia and Discovery Inc., which was completed in April and reported at more than $40 billion. Previously he was CEO of Discovery Inc., a position he assumed in 2006.
Elizabeth Alexander (GRS'87) is an award-winning poet, essayist, and biographer—and the president of the Mellon Foundation, which has an endowment reported at more than $8 billion.
Both were named to the Time list in the Titans category, which also includes Apple's Cook and Winfrey, as well as Irish novelist Sally Rooney, European Central Bank president Christine LaGarde, and the Indian billionaire Gautam Adani.
In Time's format, each of the honorees receives a short tribute from a colleague or peer. Zaslav's was penned by Chip and Joanna Gaines, whose success as founders of the Magnolia lifestyle empire began with the show Fixer Upper on HGTV and now thrives on Discovery's Magnolia Network.
"There's something about the feeling David imparts when he believes in you, that has the ability to change circumstances," they write. "To change the outcome. To change you and the world for the better. And now, as he takes on the role of CEO of Warner Bros. Discovery, that opportunity becomes even greater."
Zaslav earned a bachelor's degree at Binghamton University and went on to get a law degree from BU, practicing in New York before joining NBC Universal in 1989, overseeing cable and new media distribution of channels that include Bravo, Sci Fi, and the USA Network. He became CEO of Discovery in 2006, and notably oversaw its acquisition of Scripps Networks Interactive in 2018, which brought Food Network, HGTV, and others into the company. Now he's tasked with leading Warner Brothers Discovery in the streaming media era.
Outside the corner office, he is known for charitable work, including on behalf of Jewish charities and Holocaust awareness efforts, where he has appeared with Steven Spielberg (Hon.'09) and the late Nobel laureate Elie Wiesel (Hon.'74), a longtime BU professor.
"David is a trailblazer but still grounded in what matters most," the Gaineses write, noting his love for his family. "He's a visionary who boldly predicts what's ahead, but is the first to get behind other people's dreams."
"Elizabeth Alexander is many things," Pulitzer Prize–winning playwright Lynn Nottage writes in Time. "She's a poet, a philanthropist, an educator, and an intellectual, but most of all, she's a visionary."
Alexander received a bachelor's degree from Yale and a master's degree from BU, where she studied poetry under the late Derek Wolcott (Hon.'93), another BU professor and Nobel laureate, in the Creative Writing Program. She also earned a PhD from the University of Pennsylvania and has taught at Yale and Columbia. She has published six books of poetry and wrote "Praise Song for the Day" to recite at President Barack Obama's 2009 inauguration. She has been a Pulitzer Prize finalist in poetry and memoir.
Her 16th book, published in April, is The Trayvon Generation (Grand Central, 2022), examining how race in America interacts with the arts and humanities, and the impact on young people like Trayvon Martin, Tamir Rice, and others whose names have recently been etched in tragedy.
She became president of the Mellon Foundation—the largest funder of the arts and the humanities in the United States—in 2018.
"Having a poetry insider at the head of a big grant-making institute does not mean, however, that poets have moved to the front of the line for funding. Alexander has a much more ambitious vision for the role that the arts and culture play in the formation of society," Time wrote in 2020.
Among other things, Time noted, that means the Monuments Project, the biggest initiative in the Mellon Foundation's history, a $250 million five-year plan to make America's public monuments better reflect the complexity and diversity of our history.
"I am thrilled to receive this distinct honor from Time magazine and to be included in a cohort of such visionary artists, thinkers, and leaders," Alexander says. "To be recognized for the power of the word and devotion to multicultural community and justice feels especially wonderful."