Tracing the History of New England's Ice Trade
History professor studies long-gone industry, and how climate change would have made it virtually impossible today
History
Tracing the History of New England's Ice Trade
BU history professor studies long-gone industry, and how climate change would have made it virtually impossible today
In the spring of 1845, the naturalist Henry David Thoreau began building a small cabin on the shores of Concord's Walden Pond to escape the noises and activity of the city. He couldn't have predicted that his tranquility would be cut short in the winter by what was then the most modern of industries: the ice trade. Writing in Walden, Thoreau says his peace was disturbed once 100 Irishmen "came from Cambridge every day to get out the ice," bringing with them "many carloads of ungainly-looking farming tools—sleds, plows, drill-barrows, turf-knives, spades, saws, rakes."
"Thus it appears that the sweltering inhabitants of Charleston and New Orleans, of Madras and Bombay and Calcutta, drink at my well," Thoreau grumbled. The huge blocks of ice carved from Walden Pond—and other lakes and ponds in Massachusetts—were expertly packed in sawdust and sent on ships around the world to warmer climates. Ice was treated as a crop, a short-lived product that was strategically cultivated and harvested.
Andrew Robichaud, a Boston University College of Arts & Sciences assistant professor of history, is writing a book on the ice trade, which took off in the 1820s and lasted about 100 years—until refrigeration rendered it unnecessary. Tentatively titled On Ice: America's Nineteenth-Century Ice Age and the Making of Modern Life, the book will be a history of climate, ice, and the ice trade in North America, and will examine the cultural and economic "ice age" in 19th-century America.
That industrialists made fortunes from ice—a product that is so ubiquitous today—may seem bizarre, but the birth of the ice industry is a crucial historic development, says Robichaud, whose scholarship covers American, environmental, and urban histories. Ice was so valuable because it was both something that could be consumed in a drink and could refrigerate fresh meat, milk, and vegetables on trains. It could also be used to keep dead bodies chilled, and as ballast in a ship to keep it balanced.
The ice harvesting industry "really transforms what people can grow in certain parts of the country, what consumers have access to in other parts of the country," says Robichaud, who is also the history department undergraduate studies director. "And that fits into the story of creating modern markets and modern landscapes of production and consumption that are interesting to me as an environmental historian."
The Boston Brahmin Who Built an Industry
Despite growing up in Thoreau's Concord, Robichaud says, it wasn't until college that he became interested in the ice industry and how refrigeration influenced the country's food and commerce. It later led to his writing his first book, Animal City: The Domestication of America (Harvard University Press, 2019), where he talks about humanity's changing relationships with animals in 19th-century American cities.
"Animal City is in large part about cities in the 19th century that went about excluding certain animal institutions from human life," he says, "and that's really what's happening in this project, too. Not just animals, but environmental and agricultural relations become stretched and obscured by refrigeration."
For so long, ice was a commodity that only the wealthy—or those in cold climates—could access. (Thomas Jefferson installed an ice house at Monticello for chilling meat.) One opportunistic Bostonian saw a chance to change that, reportedly after hearing at a party that there was a market for ice overseas.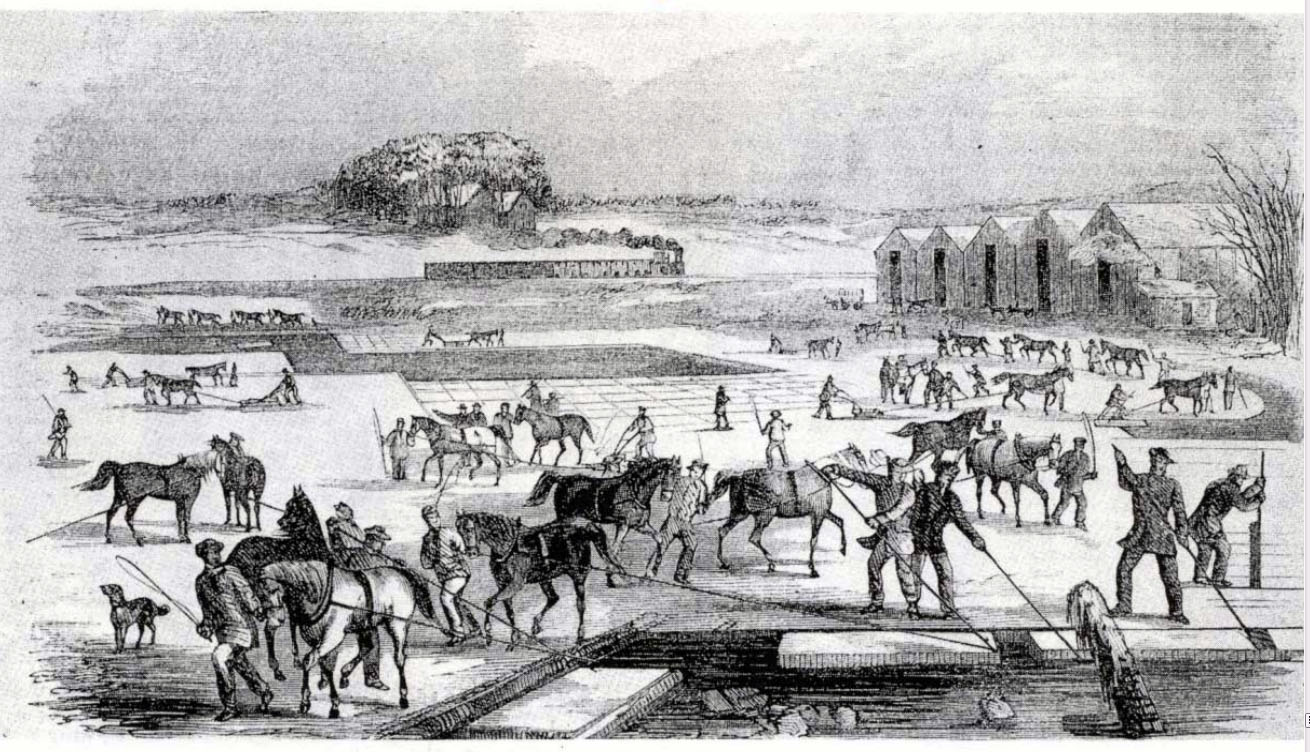 His name was Frederic Tudor and he hailed from a wealthy Boston Brahmin family. While carving ice from ponds wasn't new, Tudor was the first who was brave (or perhaps foolhardy) enough to try to ship blocks of it to warm climates. His first trip in 1806 carried ice to Martinique, but the ice melted shortly upon arrival as there was no ice house to store it. Tudor subsequently built icehouses in the ports he shipped to.
At its height in the mid-19th century, ice harvesting was done across the cold climate regions of the United States and Canada. Robichaud says that in the year 1847, 353 ice-packed vessels left Boston Harbor on their way to the American South, as well as to international ports like Rio de Janeiro and Hong Kong. Boston alone exported almost 75,000 tons of ice that year, and used another 27,000 tons here. Much of it came from Fresh Pond in Cambridge, Mass., where Tudor's ice company was based.
By the time he died in 1864, Tudor was worth $200 million in today's dollars.
Questioning the Ice King
With his scholarship, Robichaud is questioning just how influential Tudor really was—despite his wealth and apparent success. For instance, Robichaud says, history often gives Tudor credit for being the one to convince American consumers that cold drinks were delicious. Early in his career, he reportedly supplied bartenders with free ice, asking them to slide a few cubes into the drinks they made. "But I'm skeptical that people needed all that convincing," Robichaud says. "Tudor did a lot, but it's not like people had no idea what to do with ice. He was just the one who tried it and stuck with it."
Tudor has become almost a folklore hero in the ice industry story, Robichaud says, earning the nickname, "The Ice King." Tudor kept records and Robichaud has been studying his papers, which are preserved at Harvard's Baker Library. "He had a real idea of, 'I'm doing something historic,'" he says. "And he's quite involved in the creation of his own legacy as the Ice King. But I'm still trying to figure out who first called him 'the Ice King.'"
Historians in the late 19th and early 20th centuries liked to tell "triumphalist stories of American capitalism, and American development and progress," Robichaud says. "And they picked up on Tudor as this sort of entrepreneur, this brilliant businessman who had this idea of cutting ice and sending it to places. And so what I'm trying to do in this book is to look at this topic with a fresh set of eyes, using some methodologies and approaches that are more reflective of recent trends when studying history."
For instance, he plans to use digital mapping tools and take a more critical look at "capitalism and the historical construction of political economy."
"Tudor was not just some successful entrepreneur, but was made by networks of family and class privilege, and on the backs of low-wage workers and enslaved people," he says. "So, I'm highlighting not simply the magic and feel-good story of ice as others have—and which has some merit—but also the darker, more complicated side of things, too, in order to present a more complete picture."
Robichaud says that Tudor, in fact, owed much of his success to his employee Nathaniel Wyeth, who grew up on the shores of Fresh Pond. Hired in the 1820s, Wyeth revolutionized the way ice was harvested, making use of horse-drawn plows and cutters. It was only with Wyeth at the helm that Tudor's business finally became profitable, Robichaud says.
The ice industry began to experience decline in the early 1900s when refrigeration was introduced, making carved ice and icehouses unnecessary. But climate change like we are experiencing now would have eventually crippled the ice trade, Robichaud says. In the 19th century, Walden Pond froze two weeks earlier than we see today. It doesn't stay frozen for as long, and is usually thinner, based on research by Richard Primack, a BU CAS professor of biology.
Robichaud describes the trend of the earlier ice-out as alarming. "Part of this project is a reflection on the change in climate, and thinking about how [the] cold was more of a part of this region's history and culture: they enjoyed being outside," he says.
Although the idea of carving ice from a pond and sailing it thousands of miles away may seem strange now, Robichaud tries to emphasize in his scholarship and teaching the ways that the past was really weird.
"That weirdness can help us see other worlds and other possibilities that existed," he says. "And I think for students, and for readers of scholarship, it's also a great entry point."
Andrew Robichaud's work has been partially supported by the BU Center for the Humanities.