Loftier Stories, Long Hours, High Standards Help The Daily Free Press Reach New Heights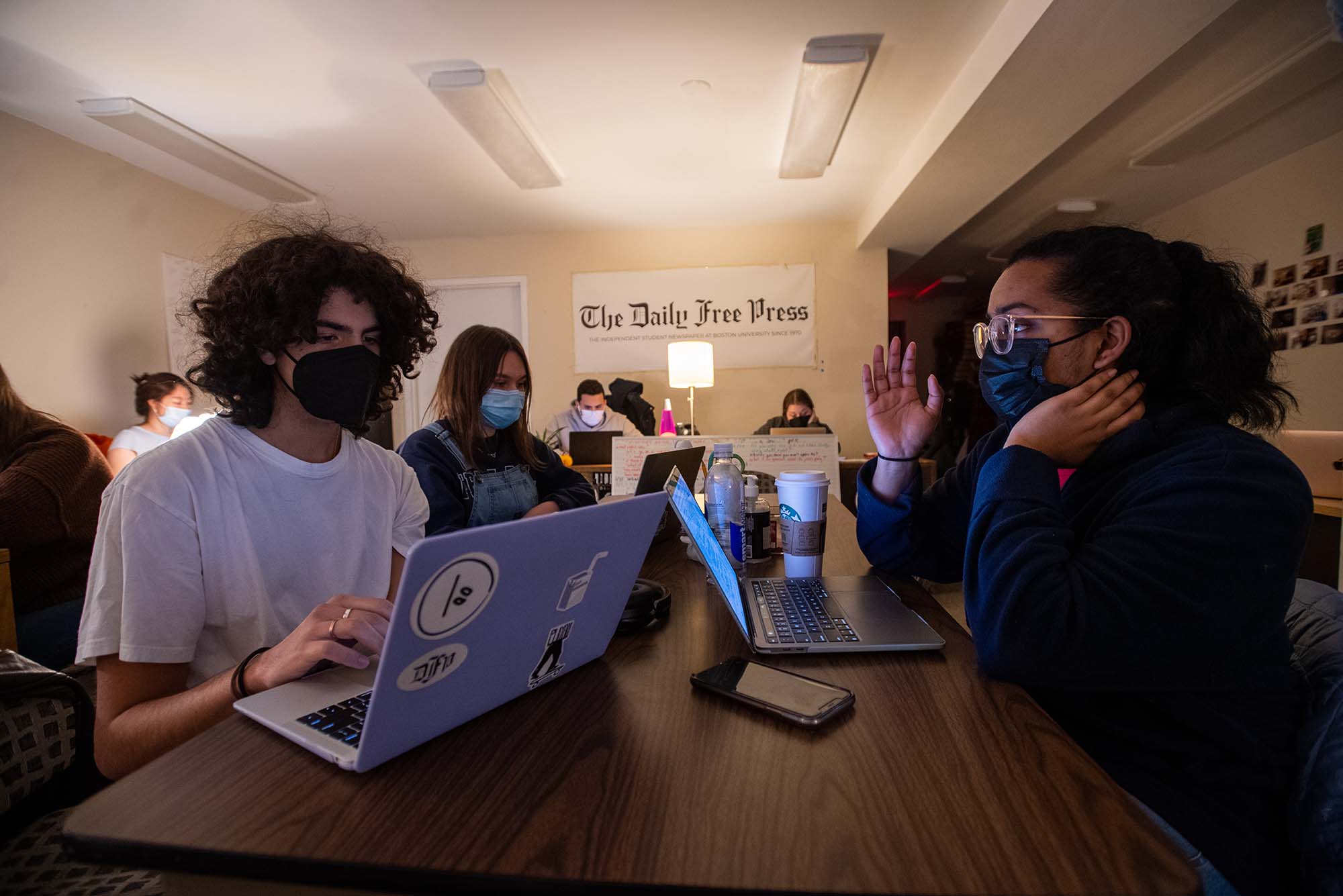 Student Journalism
Loftier Stories, Long Hours, High Standards Help The Daily Free Press Reach New Heights
"The heartbeat" of independent student journalism can be heard on Print Night, in the basement newsroom under Insomnia Cookies
Emily Stevenson's roommates worry about her. "We never see you," they tell her. "Why are you doing this?"
"I'm fine," Stevenson (COM'24) assures them. "I love it."
With a shrug, she says, "You have to be there."
There is a dimly lit basement office tucked beneath Insomnia Cookies on Comm Ave, outfitted with mismatched furniture, a lifesize cardboard cutout of Ron Burgundy, and a couple of coffee makers that may or may not work. Some people might call it a dump. But they're not journalists.
This is the home of The Daily Free Press, the 52-year-old independent student newspaper at BU, where managing editor Stevenson and the other editors, writers, photographers, podcasters, and production people spend untold—and unpaid—hours each week, covering news of the campus, the city, and beyond. To these young independent journalists—independent meaning they don't answer to the University, and when it comes to funding, or anything else, they're on their own—this basement newsroom is hallowed ground.
It's also the home of a reinvented college newspaper—fully digital, multimedia, with a staff of roughly 120 pumping out an email newsletter five days a week while still holding on to the tradition of print despite the high cost.
"Even when we're there 'til 4 am and we're exhausted, it's still amazing," says Stevenson, a journalism major who juggles her Freep duties with an after-school babysitting job (a job that does pay). "We're all there together. The collaborativeness is what gets us through. And we all keep coming back and trying to do our best. It's fun."
And it's not just fun they're having. Over the past eight months or so, The Freep has broken story after story about issues important to its readers, from transgender students' complaints about Student Health Services gender-affirming healthcare to questions about whether BU is admitting too many students and overwhelming University housing to covering allegations that BU's Orientation director was emotionally abusing students who worked for her.
Chris Daly, a College of Communication journalism professor and a former Associated Press and Washington Post reporter, has followed The Daily Free Press, and the ups and downs that come with being a cash-strapped student-run news outlet, for more than two decades. "The Freep," says Daly, "is on a roll."
Print Night
At 6:30 pm on a late February Thursday, with a winter storm warning in effect—the season's last snow is hours away—people across campus are scurrying for cover or stocking up on last-minute groceries. But underneath Insomnia Cookies, Stevenson and a dozen other editors are hunched over their laptops, slugging down coffee, editing stories, and talking about the news. There's plenty of it: Vladimir Putin had just invaded Ukraine.
A Freep tradition, Print Night is under way (see a short documentary about it here). The first issue of The Freep was produced by journalism student Charles Radin (COM'71) in May 1970, two days after four Kent State University students protesting the Vietnam War on campus were fatally shot by National Guardsmen. Radin went on to work as a Boston Globe foreign correspondent and The Freep flourished, too, becoming, in its heyday, Boston's third largest daily, with a circulation of 25,000.
Print Night is when they put out an actual newspaper—an edition that "strengthens our presence on campus," says Madhri Yehiya (CAS'24, Pardee'24), last semester's campus editor, currently serving on the editorial board as chair of recruitment and training.
The paper once was daily—then weekly—but these days, with declining ad revenues and not enough donations, Print Night is down to once a month during the academic year (except during vacations, exam periods, and when there aren't enough ad sales to cover the cost). Even so, on this evening The Freep morale meter—a former editor's jean shorts, roped to a pole in the newsroom—is flying high.
For anyone worried about the continuing implosion of mainstream media, the budget and staff cuts that mean less coverage of local news, the crush of partisan opinion masquerading as reporting, the growing threat of fake news and disinformation, Print Night is a ray of hope.
Editor in chief Jean Paul Azzopardi (COM'23), who is studying for a master's, had worked as a reporter in his native Malta. He surveys the room and tells a visitor, "This is the heartbeat of local journalism right here."
The Freepers, as they call themselves, come from all over. City editor Cici Yu (COM'24), who is from China, wrote her admissions essay about her dream of working for The Freep. She's editing a front-page story tonight about Boston Mayor Michelle Wu's announcement that proof of COVID-19 vaccination will no longer be required to enter indoor spaces.
Yu recalls her excitement about interviewing voters when Wu was elected as Boston's first female, and first Asian-American, mayor last fall: "I witnessed history."
Campus editor Jesús Marrero Suárez (COM'24), who was smitten by journalism at age 13 when he saw the movie Spotlight, about the Boston Globe reporters who exposed the Catholic Church sex abuse scandal, is pacing back and forth, on the phone with one of his writers.
Tonight Suárez is handling a followup to last fall's big Freep story detailing allegations of verbal and emotional abuse from former BU Orientation student employees about Orientation director Shiney James. The story got more than 200 comments online—some from students making similar allegations—and it got action: the University launched an investigation and announced that James (CAS'99), who has been Orientation director for nearly 15 years and is still at BU, was no longer working with students.
Spring 2021 editor in chief Colbi Edmonds (CAS'23, COM'23), who has interned at the Richmond, Va., Post-Dispatch, says the reporting on that story began when a student who'd worked for James "came into the office on Print Night and gave us a tip." Edmonds and former managing editor Cameron Morsberger (COM'22), now a Lowell Sun reporter, pursued the story all last summer and into the fall. Most of James' accusers wanted anonymity, but two agreed to speak on the record. The reporters tried via multiple emails and phone calls to get James' side of the story—to no avail.
Ananya Panchal (COM'22), then multimedia editor and now chair of the Freep board of directors, remembers clearly the week the James story published. "Everyone was talking about that story—in class, on the bus, at the GSU. I started wearing my Freep sweatshirt," she says. Panchal was five when she decided she wanted to be a reporter and already has a part-time job writing for Bustle. "I didn't have anything to do with the story," she says, "but I was just so proud."
Shifting strategy
The James story also reflected a change in The Freep's strategy. While the paper had always done in-depth reporting, Yehiya, as campus editor last semester, pushed for more high-impact stories and fewer "very low-stakes, fluffy" pieces, as Panchal puts it. An international relations and economics major, Yehiya started learning about fake news in high school and listens to the BBC's daily news podcasts, and she got everyone, including the current editors, to back this approach.
Before The Freep changed its strategy, Suárez remembers covering a story about the Grubhub website being down. "There was a glitch, and the thing was apparently only down for half an hour, and then it was fine. And halfway through the story, I seriously started wondering, why am I doing a story on this? I'm glad we're moving away from that."
Hoping to build a more diverse newsroom, Freep editors also are trying, within the limits of their budget, to offset the long, unpaid hours that discourage would-be staffers who need to work part-time to earn money. They've begun an "editors' equity fund"—a few dollars set aside for anyone who works into the night and needs to Uber safely home or buy food after campus dining halls close (one perk of the office location—Insomnia Cookies sends down freshly baked unsold cookies on Print Night).
And in a sign of the heightened emphasis on student well-being, editors have instituted "wellness guidelines" to discourage all-nighters: if a story for the digital edition isn't ready to post by 2 am, just push it to the next day. "Our audience is mostly students who are asleep," Yehiya reasons, "and if they're not asleep, they're not going to read it at 3 am." The cutoff doesn't apply to Print Night.
What makes the long hours doable, Yehiya says, is that Freepers have "that passion at the end of the day—even if it's unpaid, we're still there."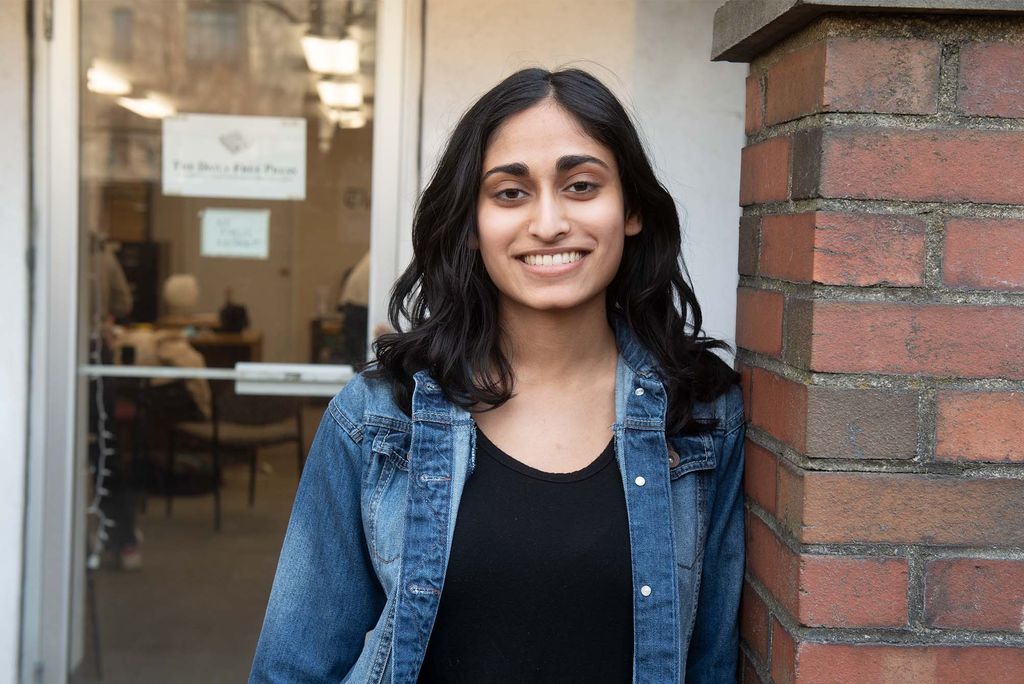 Back in the basement newsroom, sports editor Mitch Fink (COM'25) is handling the front-page feature story about women's basketball coach Melissa Graves, who kept coaching into the ninth month of her pregnancy, driving six hours to a game in Washington, D.C., (doctor's orders: no flying) while the team flew. (Two days after Print Night, Graves tweeted an update, complete with photo: her baby, Arya Isabella, had arrived, eight days late.)
Co–opinion editor Brian Foisy (COM'24) is watching videos of the Ukraine invasion online and working on an editorial about how lightning-fast the news of this day-old war travels. Yes, students care about the war, Foisy says—"It was the topic of conversation in every class I was in today."
Tough standards
One reason Print Night stretches into the early morning hours is The Freep's unusually stringent fact-checking policy. Reporters must record interviews on Otter transcription software so that editors can check quotes for accuracy. The editors check each story's facts, too.
And despite all that labor, "from time to time," Stevenson says, "we do, like, mess up."
The checking is required by The Free Press ethics code, which is as tough as, or tougher than, those of many professional news outlets. You can't interview your friends, roommates, teammates, or members of your club for Freep stories. High standards are part of the tradition at a student paper whose distinguished alums include Pulitzer Prize–winning journalists David Barboza (CAS'90), Don Van Natta, Jr. (COM'86), and Joseph Hallinan (COM'84).
Newcomers to The Freep find themselves quickly plunged into frontline journalism. Suárez recalls how nervous he was reporting his second story, about the status of study abroad during the pandemic. He landed a Zoom interview—from his bedroom in his parents' home in Puerto Rico—with University spokesman Colin Riley. (Riley's statements are a staple of Free Press stories.) "I'm 18 years old. I'm just a kid," he remembers. "I'm shaking, I had no idea what I was doing."
Yu was surprised to be tapped as city editor as a sophomore, especially since English is not her first language. Besides English, she speaks Mandarin, Cantonese—and the ancient language of newspaper journalists: print. Yu talks about how print is sacred, you can touch it, you can cut out your articles and send them to your parents. She tells of her family's tradition, back in Guangzhou, of going out for dim sum on the weekend—her father would bring the paper and the family would read it.
"The physical print feels real," Yu says. "You have an emotional connection to it—that's your work."
Of course, the work isn't confined to the 5,000 copies of the monthly 12-page print edition. The digital Freep boasts roughly 75,000 page views and 42,000 "unique" views a month. Freepers, as they like to be called, produce podcasts as well. And they sift social media for possible stories. Reddit was the origin of Stevenson's recent series on Student Health Services and transgender students: editors first saw complaints on Reddit.
Another recent Freep highlight was Yehiya's December interview with BU President Robert A. Brown. Students felt Brown was "inaccessible," she told him. "How do you feel about that and do you plan to do anything to change this?"
Brown said his packed schedule, including an average of 100 days' travel each year for BU, made this issue "frustrating." Then he asked Yehiya: "Any recommendations?"
She suggested that Brown show up at more student events instead of being seen only when he was "on the go somewhere with your rolly backpack."
Brown said that he welcomed her tough questions. "You know," he told her, "I have never turned down The Freep."
February's Print Night ends at 5 am, when editor in chief Azzopardi, with Suárez standing by, presses the final send button. The snow is coming down hard outside as Suárez heads home. Azzopardi collapses on the newsroom's futon sofa to catch some sleep before heading to COM to teach his 9 am introductory survey class. Stevenson's print night wraps up as well, just in time for her to get some rest before her babysitting job.
In a few hours, other Freepers will be trudging across campus in the snow to deliver free copies of the latest print edition.