Terriers Head to Bucknell to Compete in Patriot League Cross Country Championships This Weekend
Men hoping for first league title, women going for third in four years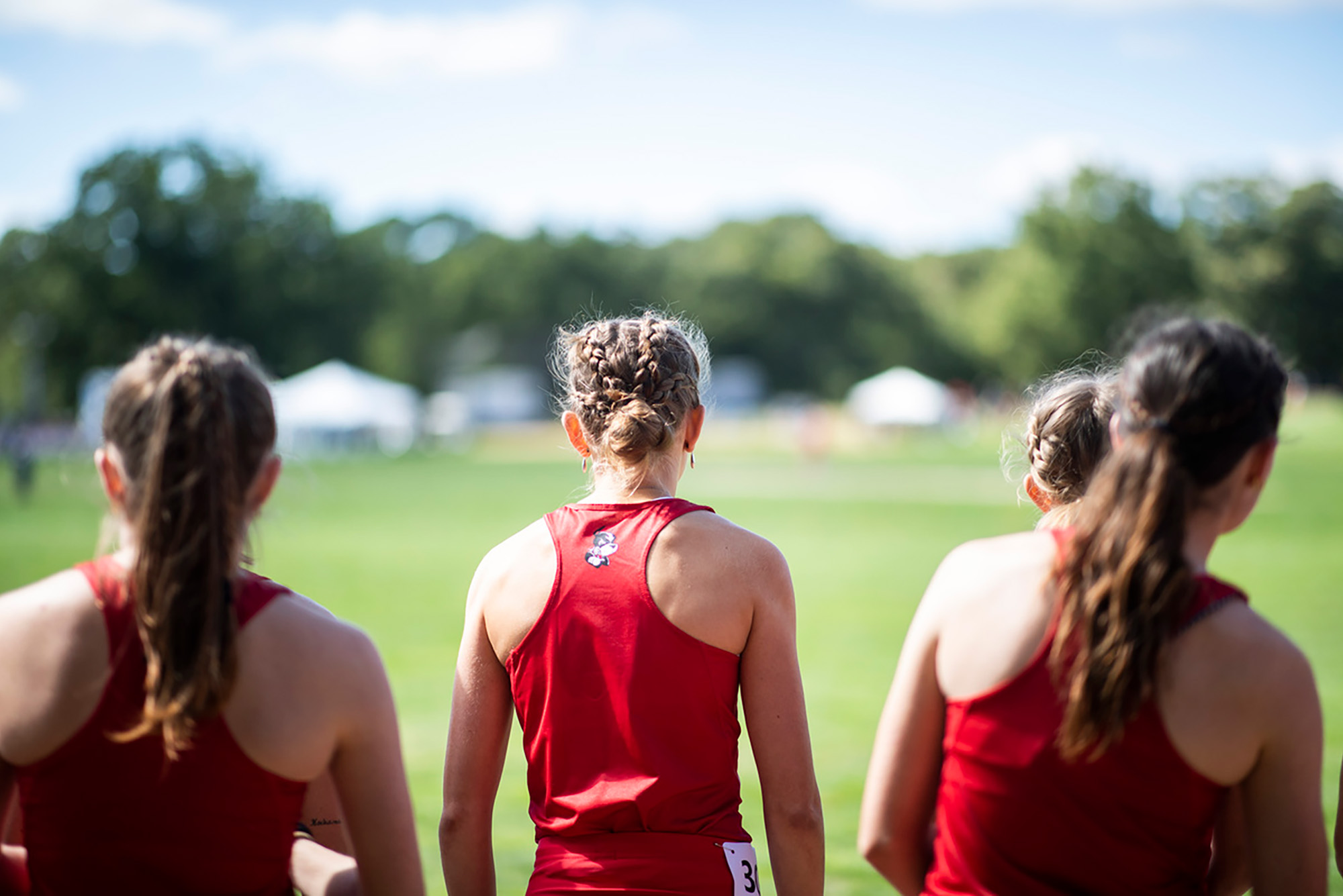 Varsity Sports
Terriers Head to Bucknell to Compete in Patriot League Cross Country Championships This Weekend
Men hoping for first league title, women going for third in four years
The Terrier men's and women's cross country teams are headed to Bucknell to compete in this year's Patriot League Championships October 29. The women are chasing their third Patriot League title in four years, and meanwhile, the men have high hopes that they can clinch their first-ever Patriot League title.
BU will send 12 runners from each squad to the start line in Lewisburg, Pa., on Saturday. At the end of the women's 6K and the men's 8K, the top-five finishers will contribute to the Terriers team score. The team with the best average time will take home the hardware.
Women's cross country
In 2021, the Terriers came five points short of returning the Patriot League Championship trophy to Commonwealth Avenue for a third straight year. Although placing three runners in the 6K top-five at Lehigh, they lost their crown to Navy.
In back-to-back Patriot League Championships, in 2019 and 2020, BU had runners finish in the top-five and top-three en route to a title. Jordan Carpenter, cross country associate head coach and assistant coach for track and field, says the team is using a similar strategy this year.
"We have some of the best top-end talent in the Patriot League, and so we'll be relying on those women to go out and compete well at the front of the race and win those individual battles," Carpenter says. "We have three or four women who are all capable of being inside the top five to seven individual places on that day."
At the 2021 Championship, 8 Terriers finished in the top 25. Graduate students Meghan Convery (CGS'20, COM'22, MET'24), who finished 5th last year, and Veronica Kriss (Sargent'21,'23), who has seen two titles, is a multiyear captain, and finished 19th, have both returned to vie for a top spot in 2022.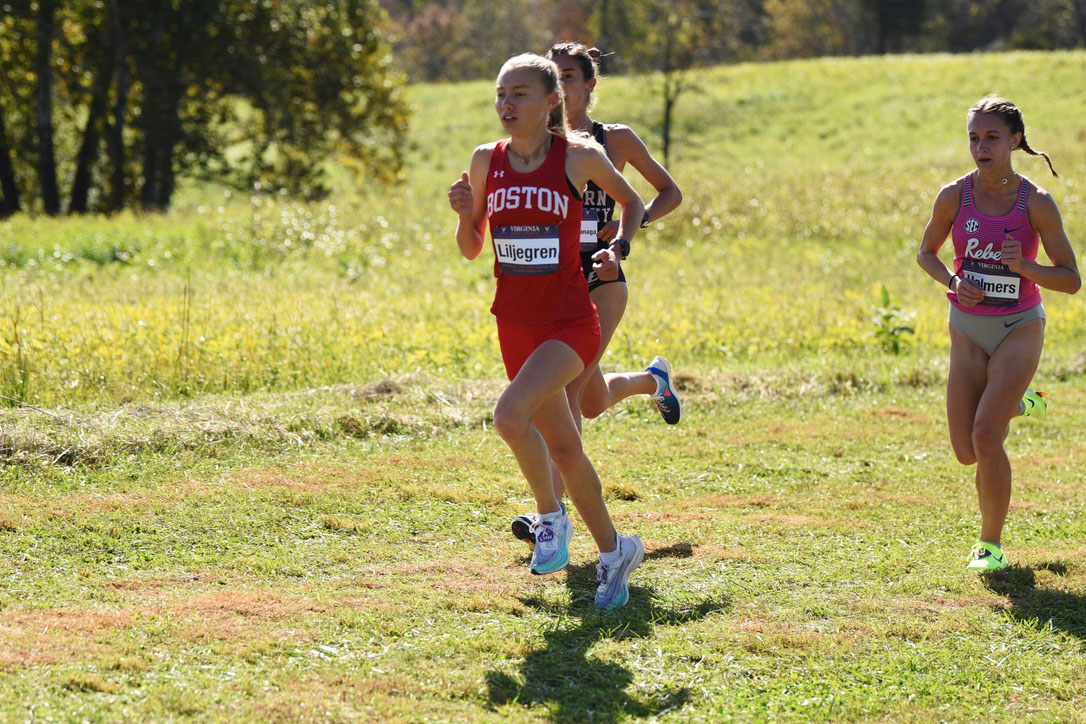 Highlighting the 2022 campaign is Daisy Liljegren (CAS'24), who ended the regular season being named Patriot League Athletic Female Cross Country Runner of the Week in consecutive weeks.
"It's a huge honor to be recognized by the Patriot League," Liljegren says. "I've been competing at a level that I wasn't at last cross country season. Those titles are really just a consequence of the amount of work that has been put into practices and workouts."
Liljegren's Patriot League ambitions extend beyond a team title though. "For the team, we definitely should be aiming to win it," she says. "We have the ability, it's just a matter of putting it out there on that day. As for myself, I would also like to individually win it. That's definitely what I'm looking for. I think that the season has prepared me well to be able to do that."
Liljegren and the women's 12 will take off at 10 am on Saturday.
Men's cross country
After finishing third at last year's Patriot League Championships, expectations for the men's team this year are also high.
"We're going to go to that championship thinking that we have a very good shot to win our first Patriot League title," Carpenter says. "We joined the Patriot League in 2013, and we've been second or third consistently. This is a year where we think if we run to what we're capable of, we'll have a really good shot to win that first Patriot League Championship."
The last seven league championships saw the men place second or third, and in their nine PL contests to date, they've finished outside of the top-three twice, and never outside the top-five.
The athletes share their coach's confidence. Matt Mason (Questrom'24) came in eighth overall at the 2021 PL Championships, the first Terrier to finish, and claimed a second consecutive spot on the All-Patriot League Second Team.
"I'm in my third year, and this is definitely the strongest cross country team we've had," Mason says. "A lot of the seniors and some of the grad students are saying it's the best team they've ever seen, as well. So I think we all feel really good, we all know we're really good. And now we're just trying to put that into action this weekend and try and win for the first time."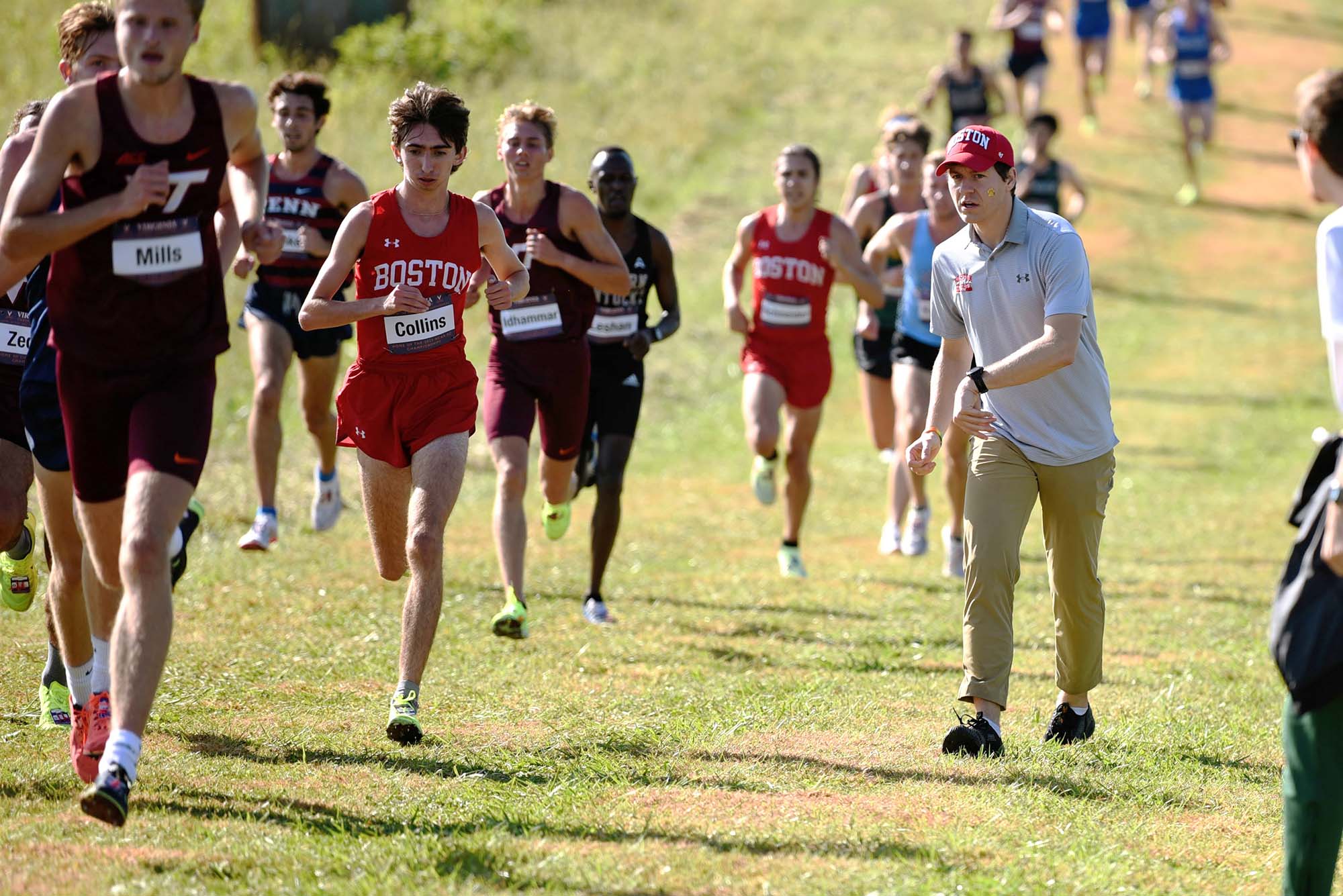 Mason, who was named Patriot League Outstanding Rookie of the Meet in 2020, cites the squad's freshmen—what Carpenter calls a "youth movement"—as a particular asset this season. Freddy Collins (ENG'26) and Parker Schneider (COM'26) are the program's two best runners, Mason says.
"I think the whole freshman class is really, really strong, and then they all push each other to be better," he says. "I don't think Freddie and Parker would be as good as they are without the other freshmen doing what they do. Coming into this year, we had no idea that two freshmen would be our two best runners."
Collins was named Patriot League Athletic Male Rookie of the Week October 18.
BU has had at least two freshmen in the scoring five at all of this season's meets. Carpenter says the success of the team's rookies has energized the entire team. "It's kind of pushing our returners as well to step up and continue to improve," he says. "We have a great group and there are no egos—everybody is team first. There is no resentment towards talented freshmen coming in."
The men will run at Bucknell at 11 am Saturday.
After the Patriot League Championships, both squads will participate in the NCAA Regionals on November 11. Individual runners will hope to qualify for the NCAA Championships on November 19 in Stillwater, Okla.
"We think if we have our A-day, we'll get the job done," Carpenter says. "That is the goal for both squads, and on the individual side, we want to bring in a number of All-Patriot League runners back on the top 14."
The Women's Cross Country and Men's Cross Country Patriot League Championships are Saturday, October 29, at Bucknell University in Lewisburg, Pa. The women begin at 10 am, and the men follow at 11 am. Live stats and results will be available all day on patriotleague.org, and BU fans can find more information on goterriers.com and follow along on Twitter at @TerrierTFXC and @BUGameDay.