SHA Student's Summer Internship at New York's Famed Gramercy Tavern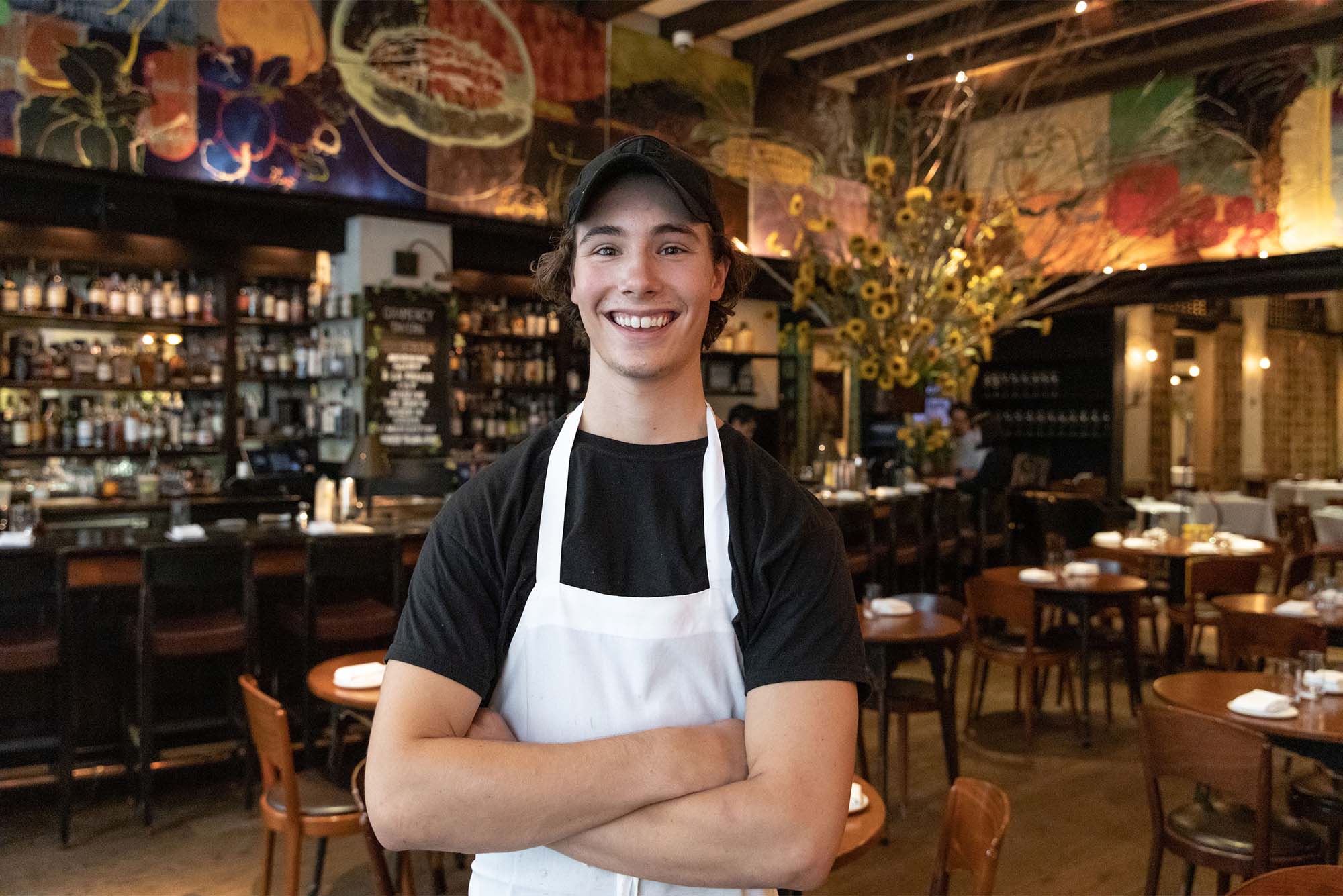 Student Life
SHA Student's Summer Internship at New York's Famed Gramercy Tavern
James Kaz (SHA'25) hustled in the kitchen of Danny Meyer's Michelin-star restaurant
James Kaz made a gutsy move to get his summer internship.
The BU rising sophomore has always had a passion for cooking and food. Originally from Montclair, N.J., Kaz did everything from busing tables to washing dishes to working in the kitchens at restaurants during high school—he even hosted his own dinner parties. When he was a junior, his mother gave him a copy of the Michelin Guide—the renowned guidebook to the world's best restaurants—and told him to pick a place to eat. Kaz (SHA'25) finally took her up on that offer this past winter and chose renowned New York spot Gramercy Tavern.
"We went there, sat in the dining room, and had a phenomenal dinner," he says, "and I was like, might as well just shoot my shot, see if I can get a chef's business card."
Kaz spoke to a manager, got a chef's card, and sent an email. His long shot paid off: soon after, he received a reply, then interviewed, and met Union Square Hospitality Group (USHG) executives at a School of Hospitality Administration luncheon in March. And eventually he got an offer to spend the summer at one of New York's most well-known and respected kitchens, led by famed restaurateur Danny Meyer.
Gramercy Tavern, which opened its doors in 1994 in Manhattan's Flatiron District, offers a selection of New American cuisine at the hands of Meyer, alongside executive chef Michael Anthony. Meyer founded the USHG and owns several upscale restaurants, as well as the Shake Shack franchise.
Kaz says it was Meyer's 2005 book, Setting the Table—an exploration of hospitality in dining and everyday life—that inspired him to choose Gramercy Tavern to dine at with his mom. And from there, his request for a business card opened the door to building his skills in the tavern's kitchen.
Kaz set a date to do a "trail" at Gramercy Tavern over spring break. In the jargon of the dining world, a trail is the first step to becoming an apprentice cook. It meant he would go to the restaurant, shadow a shift throughout the day, and experience what a day was like.
"I didn't really know what to expect, to be completely honest," he says. "They have you come in and you just do some knife work. They allow you to try all the dishes, and then you [look over] the restaurant during service, and everything went well."
Finally, in June, Kaz began an internship working on the prep line in Gramercy Tavern's kitchen. It entailed peeling carrots, chopping vegetables, making stock, and other miscellaneous tasks to get all the ingredients ready for the line cooks each day.
"They have you start on the prep team to really understand the process of what goes on the final plate," Kaz says. "Because if they just put you on the line right away, you wouldn't really have the appreciation for the ingredients that go into it."
Gramercy Tavern's a la carte menu is a classic selection of New American fare, featuring items from roasted oysters to grilled arctic char to brick-pressed jerk chicken. And the restaurant's dining room, which includes a more formal five-course tasting menu, includes dishes like marinated fluke and swordfish with squash, shell beans, and peppers.
Halfway through the summer, Kaz's work as prep cook paid off and he was promoted to the restaurant's production team, a role with far more responsibility. On his own, he was responsible for making over a dozen sauces and purees to accompany many of the restaurant's dishes.
The dining industry is known for stressful environment and long hours, and Kaz's internship was no exception. Each day he would take the 6:30 am train from his New Jersey hometown to start work in the city at 8 am. He would work a minimum of 10 hours and then commute back, arriving home at around 8:30 pm each night. He had Wednesdays and Thursdays off.
"The hours are long, but I really enjoyed working there," Kaz says. "And I just love the fact that I went in there and every day I learned something new."
Beth Wisniewski, a talent manager at USHG, says their current internship program was introduced this year, and they had about 27 students working this summer. "This is an opportunity for students to really understand what it's like to work in this industry and see if this is something that they want to pursue," Wisniewski says.
The environment and the chance to grow as a chef were Kaz's favorite part of the job, even if it involved a lot of mundane chores.
"Every day there's a new technique that I learned, there's a new sauce that I learned how to make, or I worked with new products [and] some of the [finest ingredients] I've ever worked with," Kaz says. "So, that is what Chef [Michael Anthony] loves to say: there's magic in the monotony. So, whenever I'm doing a boring task, that's what I always think of."
He adds that while the environment of an upscale restaurant is stressful and demanding, Gramercy Tavern's kitchen was a lot more welcoming than he expected.
Kaz will return to work at Gramercy Tavern next summer with the hope of being a line cook. He is not sure if he will stay in the restaurant business after college (he sees himself going more into the management side of hospitality), but right now he's enjoying the work and the opportunity to grow as a cook.
Wisniewski says Anthony spoke to her in particular about Kaz's work ethic and has nothing but praise for him.
"He has a willingness to learn and [easily moves] from one role to another, and I think that's a testament to his hard work and his desire to keep learning and growing," she says. "The program is what you put into it. And James [did] exceptionally well at Gramercy Tavern."