Where to See Boston's 7 Best Holiday Lights
Stroll through these beautiful light displays to get in the festive spirit
Holiday Fun
Where to See Boston's 7 Best Holiday Lights
Stroll through these beautiful light displays to get in the festive spirit
If you're sticking around Boston for the holidays, or you call the city home, we have you covered with all things winter to put you in a festive mood. Read our comprehensive list of holiday lights and shows sure to amaze you. And don't forget to bundle up!
The annual Christmas tree at the Boston Common stands at an impressive 45 feet tall and is bedecked with lights and ornaments for all to see. For the 51st year, a Nova Scotia tree was donated to the city, this time by landowner Roddy Townsend and his family of Nova Scotia's Christmas Island. Nova Scotia has gifted Boston a Christmas tree every year since 1971 in thanks for the Hub's relief efforts following a deadly ship collision in Canada's Halifax Harbour in 1917. Stop by this winter season—the tree is a great spot for photos.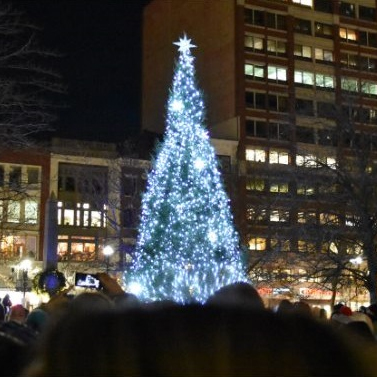 Like Boston Common, Copley Square has an enormous, and gorgeous, Christmas tree that's sure to spice up your holiday social media feed. Although it doesn't boast the historic background of the Boston Common tree, it's still worth a stop on your holiday lights trip. If you're chilly, grab a cup of hot chocolate at the Starbucks across the street.
Trees along the Commonwealth Avenue Mall are illuminated with beautiful white lights. This event, which goes through April 1, is funded by community support and private donations raised by the Committee to Light the Commonwealth Avenue Mall.
The Emerald Necklace Conservancy decorated 10 trees on the Boston Common and the Commonwealth Avenue Mall for this year's holiday season. The Japanese zelkova trees, lit in green bulbs, help distinguish Charlesgate as a bridge between the Commonwealth Avenue Mall and the rest of the Emerald Necklace. The trees are also bringing awareness to the ongoing efforts to restore Charlesgate Park. The lights will stay illuminated until March 2023.
This year marks the 20th annual holiday tree lights in the North End's Christopher Columbus Park, on Boston's historic waterfront. Hosted by the Friends of Christopher Columbus Park, this display features the park's 260 feet of trellis illuminated by 50,000 blue lights and flanked by over a dozen decorated trees.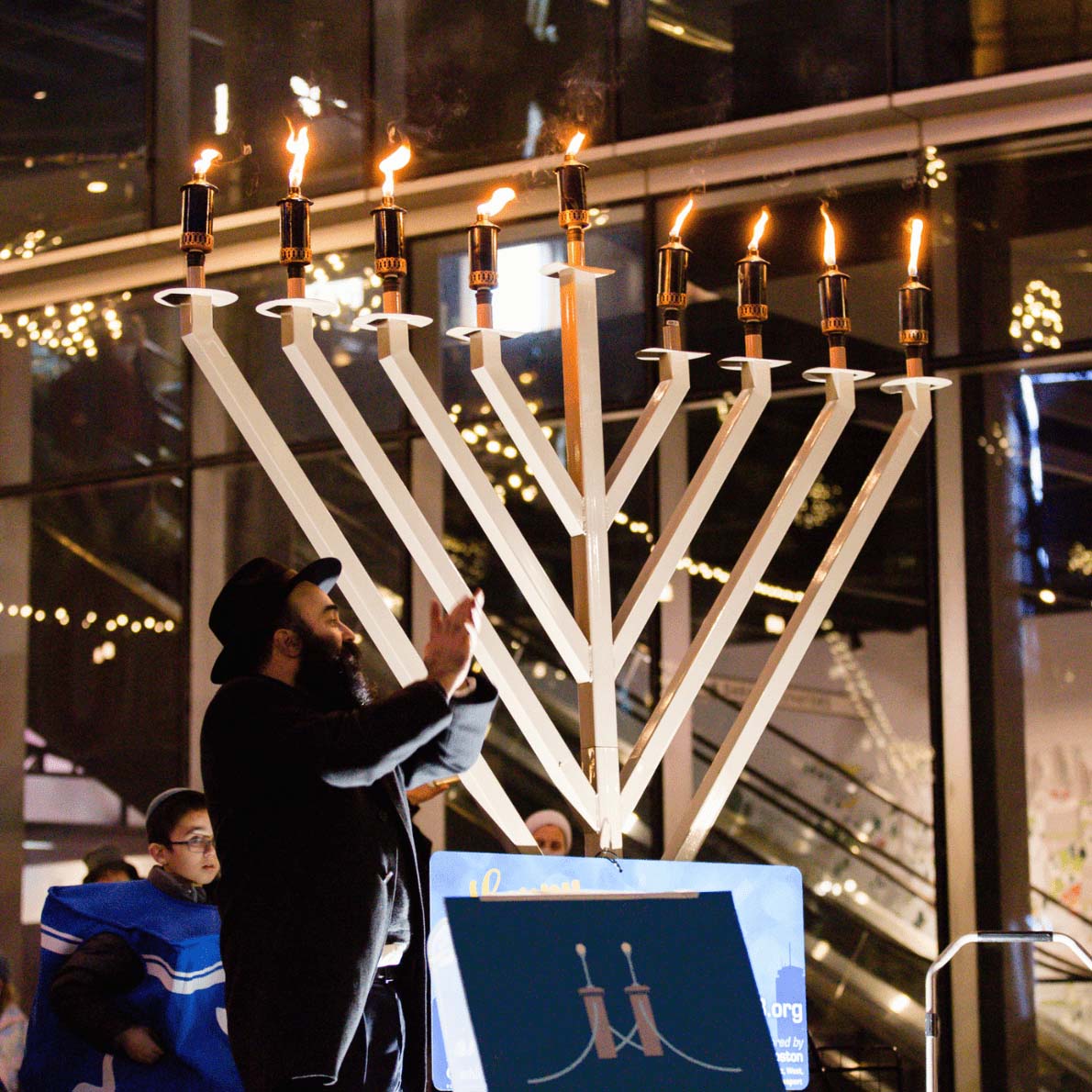 Thursday, December 22, at 6 pm
The Chabad of Downtown Boston will host their annual menorah lighting ceremony at Snowport, Seaport's winter market. The event will include lighting a colossal nine-foot menorah, treats, and more. There's a ton happening elsewhere at Snowport, too: a holiday market featuring 60 small businesses, food and drink, and a 48-foot holiday tree adorned with 10,000 twinkling lights.
Sunday, December 18, at 4 pm
Join Boston dignitaries, community leaders, and residents in celebrating the first night of Chanukah in Copley Square as they light the grand Boston Menorah, the tallest menorah in New England. There will be live Berklee and New England Conservatory music ensembles, the Solomon Schechter Day School Choir, and a fire truck chocolate gelt (chocolate coin) drop.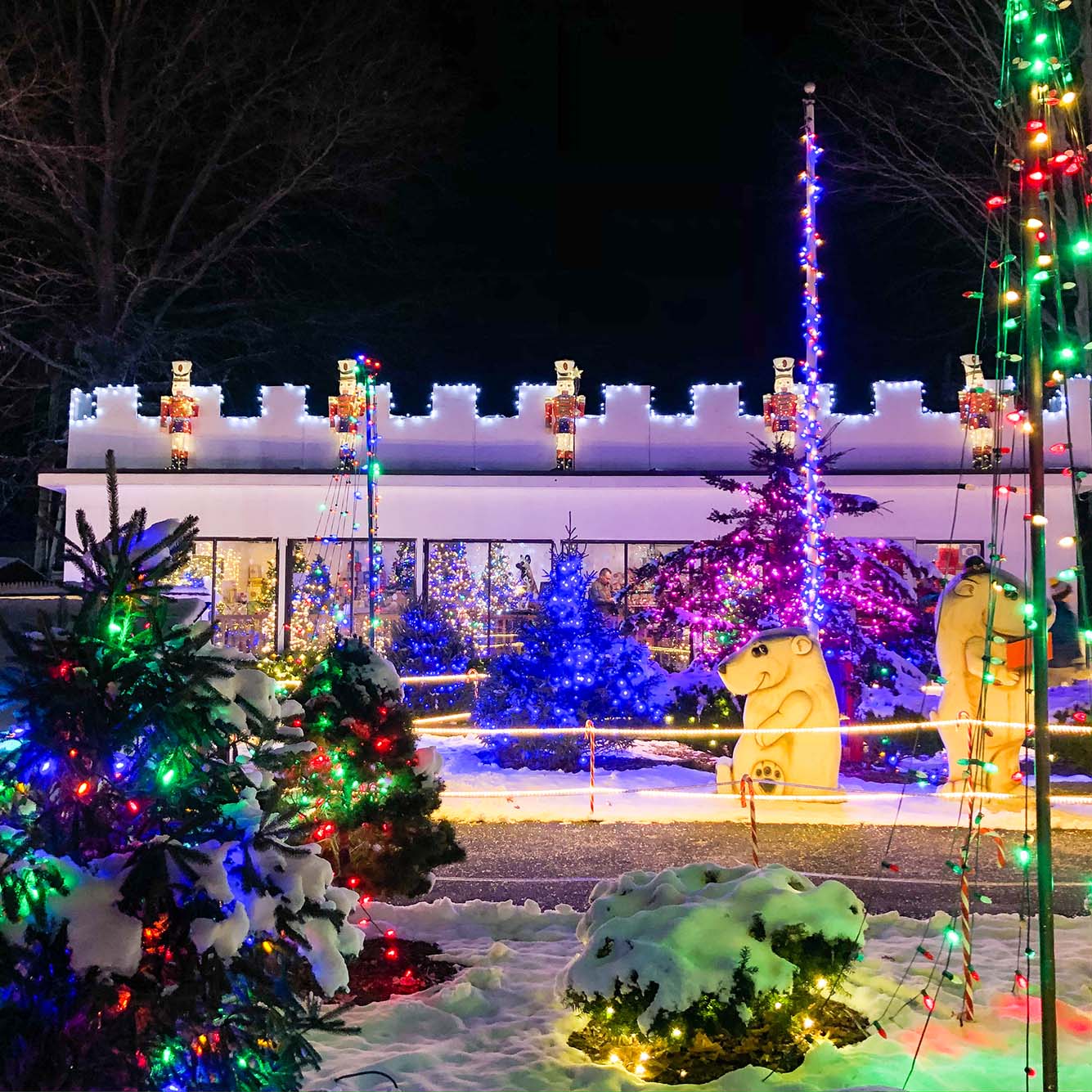 Enter a winter wonderland of tree-lined paths illuminated by thousands of sparkling lights along over 20 acres of the Stone Zoo. Home to black bears, Canada lynx, reindeer, and arctic foxes, the zoo will also be lit with large-scale animal lantern displays. On Wednesdays through December 21, you can take photos with Mrs. Claus. Tickets sell out quickly, so make sure to plan ahead. The lights will continue through January 8, from 4 to 9:30 pm, excluding Christmas and Christmas Eve.