School of Music's 150th Anniversary Opens on a Big Stage
Watch it again
School of Music's 150th Anniversary Opens on a Big Stage
College of Fine Arts
School of Music's 150th Anniversary Opens on a Big Stage
Boston's Symphony Hall is a big venue, but it doesn't seem that way when you're performing onstage, says flutist and School of Music student Matthew Lee.
"I don't know what it is, but you get the feeling the audience is sort of on top of you the whole time. It's a bit unnerving at first," Lee (CFA'20,'25) says with a smile.
"When you're in the audience, the hall is very big and you get a sense of that space," says Lee, who was finishing up a performance degree in spring 2019 when they first performed there with the BU Wind Ensemble. "But sitting onstage is a whole different experience. The first thing I noticed is that the audience feels very close to you. That space is just eliminated.
"You have to get yourself in the right headspace, take everything in, acknowledge it," says Lee, now a grad student studying for a doctorate in music arts. "And then try to just focus on the task at hand, which is playing a good concert."
Lee will return to Symphony Hall April 5 when the College of Fine Arts School of Music performs its annual concert at the storied venue after a two-year pandemic-caused hiatus. This year's event will also kick off the School of Music's yearlong 150th anniversary celebration.
James Burton, BU's director of orchestral activities and a CFA master lecturer in music (and choral director of the Boston Symphony Orchestra), will lead the BU Symphony Orchestra and Symphonic Chorus in a performance of Brahms' German Requiem with choral director Mariah Wilson, a CFA lecturer in music. David Martins, a CFA master lecturer in music and director of the BU Wind Ensemble, will conduct the ensemble performing the score for The Cowboys by John Williams (Hon.'85) (from the motion picture The Cowboy and the Girl) and Our New Day Begun by Omar Thomas.
Lee will be the principal flutist in the Brahms and will also perform with the Wind Ensemble on the Williams piece.
Registration for the free Symphony Hall event is closed, but a limited number of last-minute walk-up tickets will be available at the door just before the concert, which will also be livestreamed.
Worthy of a yearlong celebration
"The reach, the impact of the School of Music on the world of music is profound," says Harvey Young, dean of the College of Fine Arts and a professor of theater.
"If you combine the alumni from the School of Music and the BU Tanglewood Institute, we have alumni in every major symphony orchestra in the United States," Young says, "from Dallas to San Francisco to Philadelphia to Chicago, and of course we have dozens of members of the Boston Symphony Orchestra and the Boston Pops, a decent number of whom continue to serve as faculty."
But it's more than that, says Young, who is also a College of Arts & Sciences professor of English. The anniversary is a milestone in the history of music education in the United States—BU's was the first degree-granting school of music in the country, although there were other music conservatories at the time. "The study of music in this country began through BU, and that is a message we're going to push out in a bold and significant way," he says.
But don't expect the yearlong celebration to be an archival fête of past triumphs. More like a snapshot of an institution as it pivots toward the future.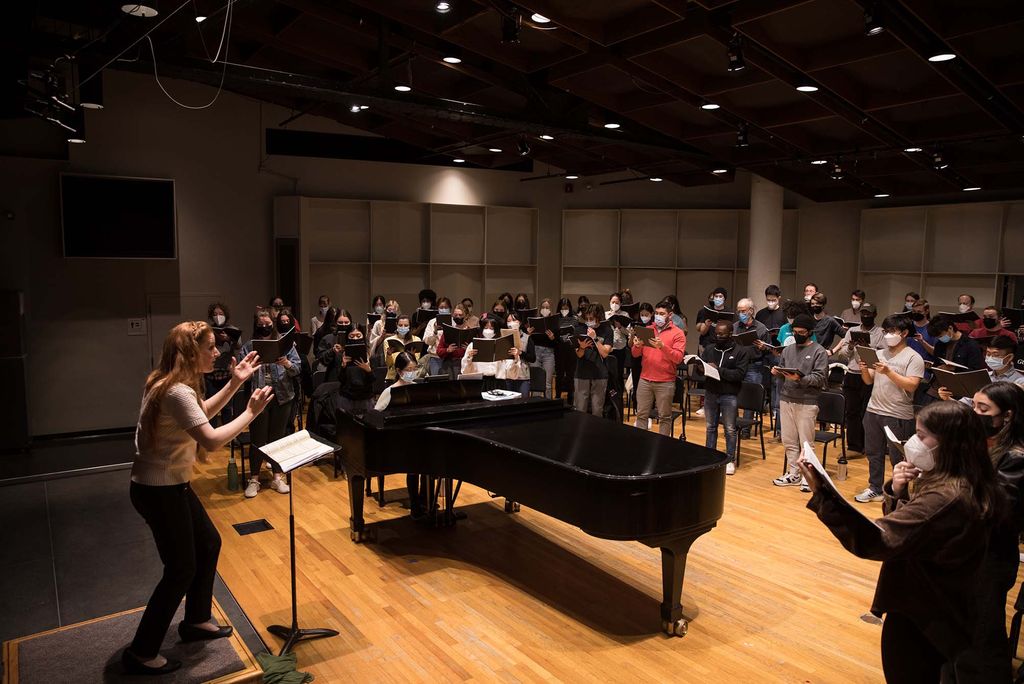 "This year's celebration is: we are all giving ourselves an opportunity to rethink what we're doing," says Gregory Melchor-Barz, director of the School of Music and a professor of music, musicology/ethnomusicology.
"The past three years have been difficult for everybody who is musically inclined," he says, "learning to come to grips with not being in community with other people, choruses having to sing on a Zoom screen, people performing chamber music who are not in the same room. We have all had to learn new skills. And there's no going back. We're taking what we've learned these past three years, using some of these skills, and learning to be more compassionate and caring with each other, enjoying the process rather than only the product."
The school is also looking forward—and asking big, difficult questions about the past, "cracking open ideas of antiracism," and taking diversity, equity and inclusion to heart, Melchor-Barz says. "We decided to listen to our students, who really wanted us to focus on the really critical issues in American education, specifically in arts education, issues that deal with antiracism both within the curriculum and musical repertories we play in the School of Music."
The annual School of Music performances at Symphony Hall and at Carnegie Hall next spring are just the highlights of this year's activities. The next 12 months will be filled with concerts and recitals as well as symposia and lectures, looking to the future as much as to the past.
Perhaps ironically, COVID has helped the whole school discover a new way to expand its audience.
"Our experiment during COVID of relying heavily on livestreaming of our concerts to ensure people will get to hear what we do has led to a new way for us to reach outside the BU campus," Melchor-Barz says. "Thousands of people have been tuning in to our livestreams. We are reaching more people than we have ever been able to reach, and this is one thing we will continue in the coming year. We have invested in equipment, time, and labor, and we're not going back. We've got people coming in from all over the world, from Asia and Turkey."
The school is also bringing in guests to help explore the question of what "being a music conservatory in its second 150 years" means, he says. A public conversation at WBUR's CitySpace in the fall will pair Melchor-Barz with Anthony Tommasini (CFA'82), the recently retired New York Times classical music critic. Lucia Lin, a CFA professor of music, violin, will appear at the same venue next spring with composer Gabriela Lena Frank, who will be in residence at BU; the two have collaborated to commission more violin works from underrepresented composers.
Melchor-Barz is also trying to expand the international audience for BU music scholarship, with musicology and ethnomusicology faculty traveling to BU's London Study Abroad program for a major symposium next March with scholars invited from across Europe.
Of course, the year will also include special events here on campus, including a celebration of 100 years of BU Bands on Family and Friends Weekend at BU, October 21 to 23. Many members of the bands are not School of Music students, "but they are making music and fill the campus with joy, and they're all my people," Melchor-Barz says.
"Our marching band outlasted our football team," Young says with a smile. "Having our bands at every game and event is really a sign of how much they're continuing that role of being the heartbeat—the soundtrack—that community-forming element of the campus."
The yearlong celebration will wrap up in spring 2023 back at Symphony Hall, with a concert marking the retirement of Wind Ensemble conductor Martins, who Melchor-Barz says "is part of the heart and soul of this institution to a degree that is hard to imagine." Martins had planned to retire before the current school year, but agreed to stay on for two more to help the new director begin his tenure. The repertoire for that concert is still under discussion, but Melchor-Barz promises "something fantastic" to mark the end of the yearlong events.
"We're thinking where we are going to be next year and where we're going to be in 10 years, where do we want students to be, how do we get students in the pipeline so they can take over in 10 years," Melchor-Barz says. "That's been part of my commitment to the diversity, equity, and inclusion initiative, to convince us all that we need to listen to students differently, to be more open to how people are musically in the world. And it's starting to happen."