SARP Student Ambassador Launches Letter-Writing Campaign to Support Incarcerated Survivors of Sexual and Domestic Violence
Sexual Assault Awareness
SARP Student Ambassador Launches Letter-Writing Campaign to Support Incarcerated Survivors of Sexual and Domestic Violence
Terriers to gather Monday night as part of observance of Sexual Assault Awareness Month
Content warning: This story discusses sexual assault.
Hannah Zobair has long been involved with sexual-assault response work. It began in high school, when Zobair (CAS'22) and a fellow student started an after-school forum for students to discuss rape culture and issues surrounding sexual violence. Her advocacy work continued when she arrived at BU and joined the Sexual Assault Response & Prevention Center (SARP) as a student ambassador.
Among their many responsibilities, student ambassadors create content for SARP's social media pages, organize events and trainings, and generally serve as liaisons between the center and the student body. They are also instrumental in creating annual programming for Sexual Assault Awareness Month, which is held every April. (Find more info about this year's programming here.)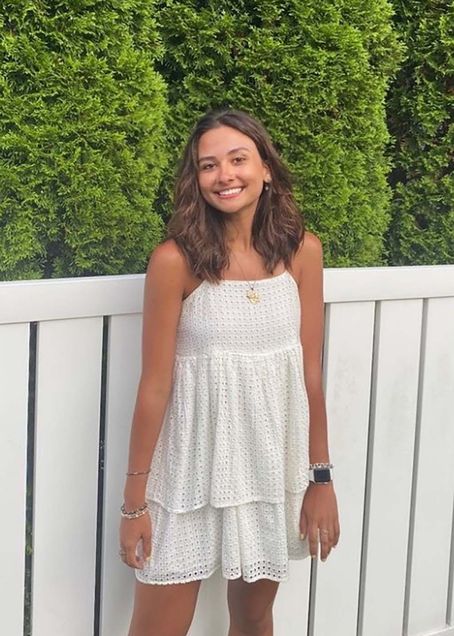 One such event: the April iteration of the Incarcerated Survivor Letter-Writing Initiative, a monthly program Zobair first started in November 2020. The idea came to her after she stumbled across the Instagram for Survived & Punished, a nonprofit coalition that supports incarcerated and formerly incarcerated survivors of sexual and domestic violence. Among the areas the group is addressing: the devastating loneliness that these individuals face.
"Isolation is central to the persistence of domestic violence, sexual violence, and incarceration," the Survived & Punished website states. "Writing letters to criminalized survivors helps to dismantle this isolation, creating pathways for connection, collaboration, and coalition."
Zobair's letter-writing group typically meets the third Monday of every month, but this month's meeting is tonight, Monday, April 11, from 6:30 to 8 pm in the Howard Thurman Center for Common Ground (register here). Typically, each event includes a video or a presentation from an activist organization prior to the letter-writing. Past speakers have included representatives from Black and Pink, an LGBTQ-focused carceral-reform organization, as well as the Boston Area Rape Crisis Center and Survived & Punished.
When Zobair initially broached the idea to her fellow student ambassadors, "everyone loved it," she says. "Survived & Punished has lists of women who are in prison for defending themselves against either a sexually violent or domestic-violence situation and gives you all the information you need to write letters to them. This initiative has been a really great way for the BU community to connect [with SARP] and for us to do something really concrete that supports survivors."
Zobair estimates that since last fall, ambassadors and others attending have written 85 letters to incarcerated survivors, who are overwhelmingly women of color. (They've gotten four or five letters back so far, she says.) The initiative has attracted a wide swath of students, including Zobair's sociology classmates and members of community-service sororities.
The monthly series is one of Zobair's favorite student-led events. As one of the nine current SARP ambassadors, she says, it's easy to get caught up in the logistics of coordinating programming and outreach. Taking the time to connect with survivors always feels like tangible, meaningful action.
"I feel like people get intimidated by survivor outreach because they think, Oh my God, what could I say to a survivor of sexual assault?" Zobair says. "But the most meaningful thing about this process is that you're just another human talking to them like a human. That's what these letters are supposed to provide: human connection." (The Survived & Punished website offers tips for writing letters.)
Zobair says working with SARP has been an integral part of her own healing journey as a sexual assault survivor. There are a litany of things the public doesn't understand about the survivor experience—such as trauma responses, PTSD, or how triggering the news cycle can be—and helping to educate allies or implement survivor-focused programming always feels like a victory, no matter how small, she says, and is what's driven her work for years.
"It's like having concrete steps that you can take to fight back against what happened to you," Zobair explains.
In addition to tonight's Incarcerated Survivor Letter-Writing Initiative gathering, SARP's Sexual Assault Awareness Month programming includes the monthlong Denim Day Display at the GSU, where members of the BU community can add their messages of support to survivors to a poster. SARP is also bringing back "I Will Walk with You," an interactive public-art event where participants spray-paint footprints on Comm Ave leading to the front door of the SARP office. Also in the works are "Cookies for Consent" on April 15 and a how-to-support workshop on April 20.
The Sexual Assault and Response Prevention Center is on call 24/7 at 617-353-SARP (7277). Additional resources include the Boston Rape Area Crisis Center and the Rape, Abuse & Incest National Network. Find information on reporting sexual misconduct to the University here.