BU Sociologist Saida Grundy on "Respectability Politics" and the Morehouse Man
Her reign as historically Black college's campus queen gave her a window into the making of Black male elites—and led to her new book
Respectability Politics
BU Sociologist Saida Grundy on "Respectability Politics" and the Morehouse Man
Her reign as a historically Black college's campus queen gave her a window into the making of Black male elites—and led to her new book
Saida Grundy was the last person anyone thought would compete in the Miss Maroon & White pageant at Morehouse College, the nation's only historically Black college for men. Miss Maroon & White was supposed to embody the ideal feminine counterpart to the Morehouse man—part of a long HBCU (historically Black colleges and universities) tradition of choosing a queen to represent students for a year. As a junior at Spelman College—Morehouse's sister institution (both in Atlanta, Ga.)—Grundy was known around campus as a firebrand feminist who regularly skewered the Morehouse patriarchy in her column in the student newspaper.
It was Grundy's friends in her sociology qualitative methods seminar who talked her into going through the pageant's secrecy-laden interview process; they thought it would make a great ethnographic project for the class, especially for a muckraking student journalist like Grundy. Partly as a joke, never dreaming she'd make it past the first round of interviews, she entered the pageant—and despite her avowed lack of Miss Maroon & White–worthy talent, won.
"I was mad because I had to buy a dress," says Grundy, who graduated from Spelman in 2004 and is now a Boston University College of Arts & Sciences assistant professor of sociology, African American studies, and women's, gender, and sexuality studies. "The joke was on me." 
Her duties as Miss Maroon & White provided her with a rare look inside an institution—founded in 1867, at the height of Reconstruction—that prides itself on molding Morehouse men, paragons of Black upper middle-class success and respectability, who will take their places alongside white elites in America's corporate boardrooms and halls of political power.
Troubled by what she learned about Morehouse's ideas on Black masculinity, Grundy began mulling a set of questions: what was the Morehouse experience like for men who were gay or who were first-generation college students or from low-income families? What was the cost of Morehouse's rigid adherence to a narrow Black male ideal? How did Morehouse's approach to the cultural education of Black men reflect conservative and gendered Black politics and the perceived national crisis among young Black men and boys?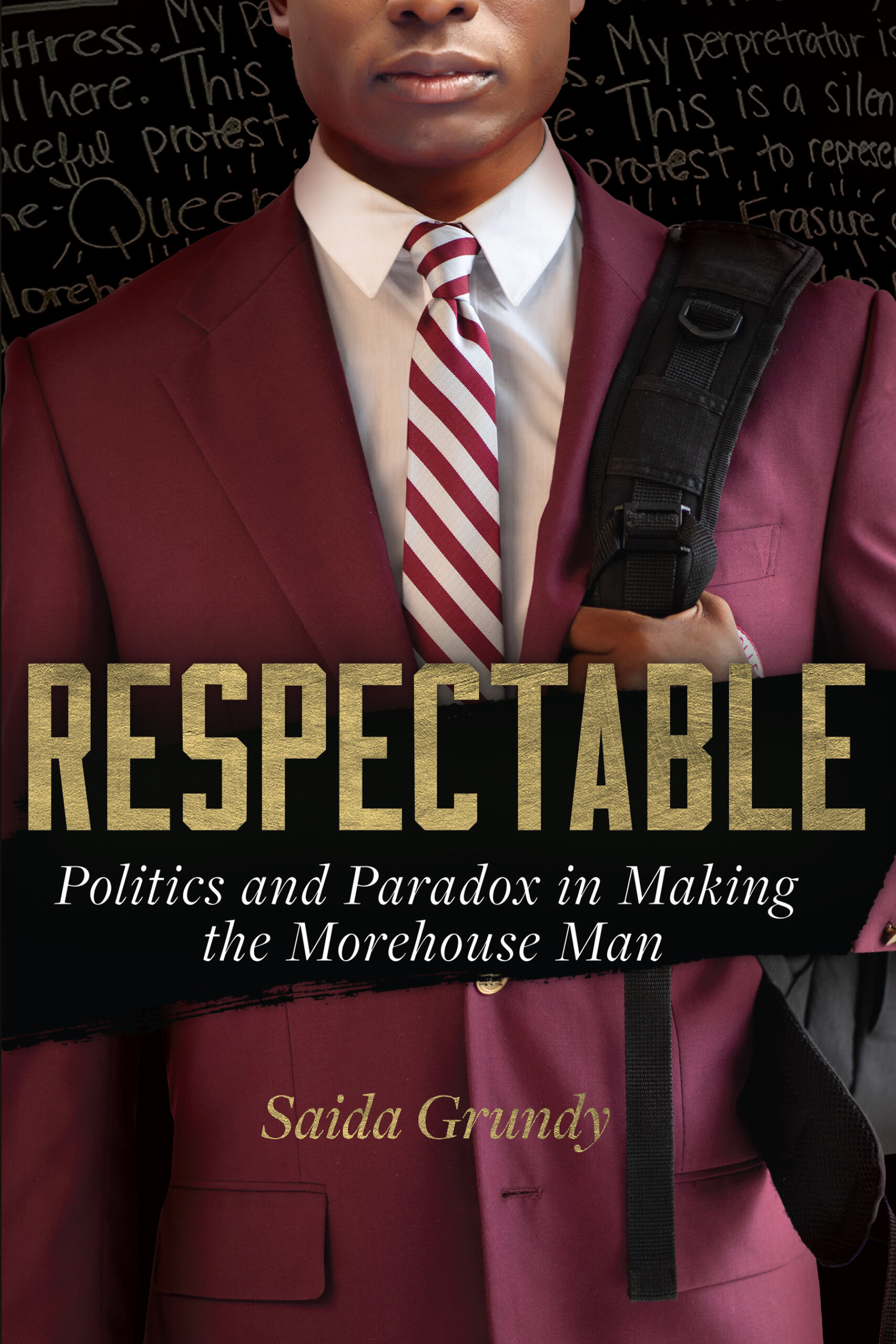 Those questions propelled Grundy toward a PhD in sociology and they are at the core of her recently published first book, Respectable: Politics and Paradox in Making the Morehouse Man (University of California Press, 2022), an analysis of race, gender, and class at an institution whose mission, she writes, is focused on producing racial leaders and advancing the professional success of African American men—men, she argues, whom Morehouse deems worthy of representing the race to whites.
Morehouse's notable alumni include Martin Luther King., Jr. (GRS'55, Hon.'59), Howard Thurman (Hon.'67), actor Samuel L. Jackson, civil rights icon Julian Bond, filmmaker Spike Lee, US Senator Raphael Warnock (D-Ga.), Eddie Glaude, a Princeton University professor and MSNBC commentator, and Olympian Edwin Moses, along with a long list of other political leaders and CEOs. Grundy's book is based on her interviews with 33 men who graduated from Morehouse between 1998 and 2002, and who were in their early 30s at the time she spoke with them.
New Yorker writer and scholar of race, politics, and American history Jelani Cobb calls Respectable, "an indispensable addition to the canon of work on Black masculinity." Dean of the Columbia Journalism School and author of The Substance of Hope: Barack Obama and the Paradox of Progress (Walker Books, 2010), Cobb writes of Grundy's book: "Incisive, provocative, and deeply researched, this study will reframe parameters of the discussion."
Respectable does not condemn Morehouse—far from it. "The best men I know went to Morehouse and the worst men I know went to Morehouse," Grundy, a feminist sociologist of race, writes in her introduction. "This conflict is chief of all the paradoxes you will read about in these pages. It is a feeling akin to how the great James Baldwin described his relationship to America—that he loved this country and therefore reserved the right to be fiercely critical of it. Black people know the America that America does not want to know, and I love the Morehouse College that Morehouse College does not love. All the queerness and working classness that slurs together like a southwest Atlanta accent are the parts of Blackness that are too easily clipped off the brochure image advertised by their version of Morehouse manhood."
Grundy, raised in Lexington, Ky., by parents who are educators and lifelong civil rights activists, credits one Black man in particular with influencing her scholarly career: her dad, Chester Grundy. He not only started her reading the words of Black intellectual giants at age four, he and her mom, Ann Grundy, rubbed shoulders with the likes of Angela Davis and Muhammad Ali. (A 13-year-old Saida even got to spend a day with the boxing champ as part of a civil rights event her father led in the aftermath of the police killing of an unarmed young Black man.) Her father read her book manuscript three times—and flagged a misplaced semicolon. "That's my father in a nutshell," Grundy says.
The Brink talked with Grundy, who's also a faculty lead at the BU Center for Antiracist Research, about how being Miss Maroon & White ignited her questions about Morehouse and Black masculinity, and what she sees as the real secret behind the success of generations of Morehouse graduates.
The Brink:
How did being Miss Maroon & White put you on the path toward this book?
Grundy: So, you are Miss America—you're sort of the ceremonial face of Morehouse. You can do that reign a couple ways. You can show up and wave. You get a seat on the student government association. So I was inside. You meet the president of Morehouse. You go to the galas. You're ceremonial, but you also do a lot with the new student orientation. It wasn't just football games. I showed up for all of it.

I was sort of a country mouse. I was not a pageant girl, and I was adjusting to the expectation they had for femininity. I remember my first football game—I think I had on a tennis skirt and flip flops and my sash. And the administration called me to task—like, there's an expectation for how you'll be presenting yourself.

This is how I also learned about Morehouse cronyism… The administrators weren't there because they had backgrounds in college administration. They were there because they were frat boys with someone who was in the administration.
The Brink:
What do you see as some of the strengths of Morehouse?
Grundy: Morehouse gives itself and its rituals and ceremonies a lot of credit, but what's making Morehouse men is the network effect of putting a bunch of very adept Black males in the same place and having them help navigate each other's lives. It's not all this other stuff that they claim is their secret sauce. It's the network effect of saying, "Hey, there's this big white world out there that's not going to hook you up. How about if we took a whole bunch of really smart Black males who are all angled toward similar trajectories in the same space and then for the rest of your lives, you have the network effect of knowing each other?"
The Brink:
You're critical in your book of what you refer to as Morehouse's focus on the cultural education of Black men—wearing the right clothes, knowing how to tie a tie.
Grundy: Morehouse is still very '80s. Reaganomics, in the '80s, saw this creation of a Black male elite class. Coming out of the civil rights movement, a lot of people in the Black business sector were like, "The movement needs to grow up. We can't be talking about poverty and marching in the streets; the way to Black progress is getting us in the C-suite." In the '80s, the whole country was obsessed with corporate business; this was the Gordon Gekko era. Black men were in that too. Morehouse is still in that '80s mode of: "What you need to do is get you the pinstriped suit," and this to me is as antiquated as it gets, because if you show up to Silicon Valley in a suit, you will be laughed out of town. I'm, like, the culture you all think you're teaching died with the savings and loans crash. It was such a mismatch between their [Morehouse's] imagination of white spaces and what white spaces were really doing. They seemed to be kind of clueless about what was actually going down at Harvard, even as they justified all their stuff by, "You know, this is what the guys at Harvard are doing. We're training our men to compete with Harvard and Princeton." No, you are not. They are 30 years past that.
The Brink:
Can you talk about respectability politics and how you look at that in your book?
I'm very influenced by the work of a couple of Black women historians and also the Black historian Kevin Gaines, who wrote a book called Uplifting the Race. It's a really masterful historiography about the moral campaigns that Black people engaged in in this racial uplift pursuit. And there are books that are in chorus with this. Michele Mitchell wrote a book called Righteous Propagation: African Americans and the Politics of Racial Destiny after Reconstruction, about the moral campaign around family planning, gender, and sexual politics, coming out of Emancipation—and this idea that even though Black people were free, they weren't ready to be citizens, because they weren't morally ready. And then of course [Harvard historian] Evelyn Brooks Higginbotham first coined the term "politics of respectability." She was writing about Black women in the Baptist churches using respectability as part of their [turn-of-the-century] social movement campaign proving that Black communities should get rights.

My book is about how respectability politics actually structure and organize gender troubles and class troubles within the race, because there are high stakes involved in who gets to represent the race. I think it's larger than Morehouse. There are entire racial dialogues that happen around what is a good Black man every time we vote for a Black male candidate. We're saying who gets to be seen every time. There are certainly overwhelmingly Black male elites who have dictated basically what is an acceptable Black person and who is a disgraceful Black person. Obama's respectable. And apparently the Black woman with four kids on her own is a disgrace. It comes up again and again, this class and gender axis of what's acceptable and what's not and who we should be promoting.

Morehouse sticks to a script about Black racial advancement that isn't unique to them, but they are huge in promoting the idea that the race is best uplifted through the leadership of Black male elites. There's no notion of radicalism—like maybe we should dismantle the table or maybe there's a problem with so few Black people getting representation, or maybe these men don't actually represent the race, but rather they represent the interests of people like them.
The Brink:
What main point do you want readers to take away from your book?
My takeaway is that racialization, the process of applying meaning to race, happens in more spaces than just interracial spaces, that Black spaces in themselves create meanings about what it means to be Black. And my argument in this book is that gender is the terrain through which many of us create the meanings of what it means to be Black. That's what they're doing at Morehouse. Masculinity to them is the crux of what it means to be Black. And their version of masculinity is a type of Black masculinity that is anointed as racial leadership—that is, racial leadership in the way that it can be seen and accepted by the white masses and also sort of verified by the Black masses. Their idea is that they're running point guard for the race, but their idea about what's best for the race is often what affects the most privileged African Americans.
Saida Grundy's research for the book was funded by the BU Center for the Humanities and the Social Science Research Council.