POV: The Lessons of One Million Lives Lost to COVID in the US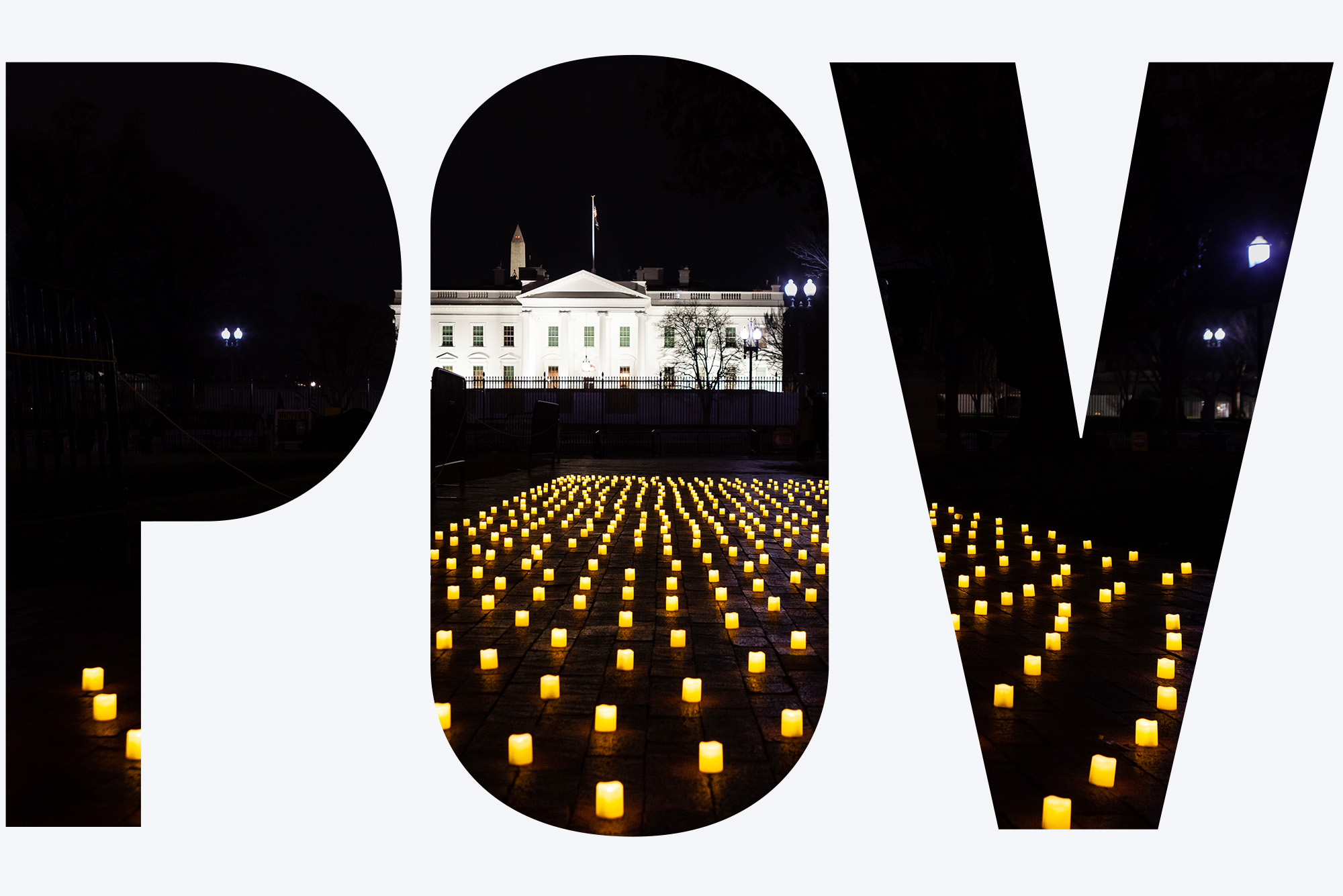 Infectious Diseases
POV: The Lessons of One Million Lives Lost to COVID in the US
As we approach this tragic milestone, we can see how our own failures did much to bring us to where we are now
Soon, one million people will have died in the United States from COVID-19. Even in this time of pandemic, when each year, each season, has brought new tragic milestones—100,000 deaths, 200,000, and on and on—this number stands out. One million deaths breaks through the numbness that can set in when we try to grapple with such loss and urges us again to remember that each death was an individual human life. These were one million mothers, fathers, sisters, brothers, sons, daughters, grandparents. Each had their own hopes, fears, and aspirations. Their loss inspires mourning, reflection. It also demands that we take a hard look at the moment we are in, to ensure that nothing like this pandemic ever happens again. Nothing can redeem so many deaths, but their impact is made so much worse if we do not learn from this moment.
This means fundamentally rethinking our approach to health. It has long been easier to turn a blind eye to the areas where we remain in the grip of an unhealthy status quo. Surely in the face of one million dead from COVID-19, this disengagement is no longer acceptable? Aiming to better understand the moment, to underscore what we should be learning, lest we forget all too soon, I suggest there are three key questions we should ask ourselves about the COVID-19 moment, the answers to which can help guide us towards a healthier future.
First, what went wrong during COVID-19?
In the face of an overwhelming tragedy like COVID-19, trying to answer the question "what specifically went wrong?" can seem overwhelming. Yet engage the question we must. To my thinking, three key factors went wrong during COVID-19. First, there was the overall burden of the pandemic—the sheer scope of sickness and death. This is reflected by the millions who died around the world, and by the milestone of one million deaths here in the United States. It is also reflected by the fact that this country had the highest rate of per capita COVID-19 deaths of any large, high-income country. The second factor is the inequities, which characterized this burden. The pandemic did not affect us all equally. Throughout the crisis, socioeconomic context was core to shaping who lived and who died. Black Americans, for example, were three times likelier to sicken and twice as likely to die from COVID-19. Americans with less income and savings were also more vulnerable to both the physical and mental health risks of the pandemic. The third factor is the social fracturing, which characterized the COVID-19 moment. The pandemic struck during a time of heightened political and cultural polarization in the United States. This made nearly every aspect of the pandemic into a political issue, even seemingly neutral steps like masking and simply believing the virus was a genuine threat. On top of this, the murder of George Floyd in summer 2020 touched what is perhaps America's most sensitive societal nerve: race. The months that followed the murder featured both necessary conversation about the challenge of race and a level of social unrest not seen since the 1960s. All this reflected the social fracturing, which complicated our response to the pandemic, even as it informed welcome and overdue conversations.          
Second, what caused these shortcomings?
These challenges did not come out of nowhere. They reflect key shortcomings in our approach to engaging with COVID-19. First, there were the technical shortcomings that hampered our progress against the virus. This is perhaps most evident in our challenges in delivering the vaccine to all who needed it. The vaccines themselves reflected a triumph of medical innovation, and the speed with which they were produced was a feat of which we can be proud. Yet, efforts to vaccinate the population were complicated by issues of supply, difficulty prioritizing who should get the shots first, and vaccine hesitancy fueled by both misinformation and genuine failures on the part of public health communication. On top of technical shortcomings, we faced the challenge of deeply rooted inequities that created a context of poor health that allowed the virus to take hold. The United States is very much a country of health haves and have-nots. There is, for example, a 20-year gap in this country between counties with the lowest life expectancy and counties with the highest. Gaps in other factors like income, education level, and homeownership also inform gaps in health. Then there is the dividing line of race, with people of color—particularly Black Americans—facing decades and centuries of poorer health than white Americans. These gaps shaped health before and during COVID-19, at the level of chronic conditions, like obesity, that do so much to determine our vulnerability to other health challenges. They also shaped our capacity to physically avoid the virus by working from home. For example, the wealthiest 20 percent were far likelier to stay home during the pandemic than the bottom 20 percent. Those with least flexibility to work remotely tended to be low-wage workers, and employment status often intersected with race, with Black workers likelier to work frontline jobs.
Then, there were the many communications challenges that informed a context of chaos and suspicion around pandemic-era messaging. The central figure here is former President Trump, for whom chaotic messaging has long been a trademark, and whose combative, inconsistent style and relentless partisan focus helped confuse key public health messaging and politicize the crisis from the start. Having said this, public health at times did much to undermine its own messaging without any help from President Trump. Public health, too, could be partisan. There were occasions when public health has engaged in unhelpful simplifications that, at the time, may have seemed to be in the public good. While the motives behind such behavior are perhaps understandable, it is nevertheless important to acknowledge that this ethical corner-cutting happened, to understand how skepticism of public health messaging may have been, at times, warranted.
Third, what are the roots of these problems?
The challenges that informed our failures during COVID-19 reflect deeper structural issues, which we have not yet fully addressed. Among the most fundamental of these issues, it seems to me, is our underinvestment in US health systems. Over the last decade, state and local public health workforces have shrunk, and state public health agency staffing and spending have dropped. At present, most states spend less than $100 per person on public health. At the federal level, public health faces shortfalls in the funding of the preventive measures necessary for fully supporting health in the United States. This underinvestment in public health echoes a broader underinvestment in health more generally. Despite our vast spending on healthcare, we have not invested in addressing the core drivers of health—the socioeconomic conditions in which we live. These conditions—where we live, the air we breathe, the water we drink, the food we eat, income and wealth, our transportation networks, our access to dignity and basic human rights—determine whether or not we are able to live healthy lives and how we will fare in the event of a health crisis like a pandemic. Addressing them is far more complicated than simply developing a drug or providing healthcare to all, important as these steps are. It requires us to have difficult conversations about our national shortcomings.
The United States is, in many ways, every bit the beacon of prosperity and democracy it bills itself as—indeed, these features are what drew me here as an immigrant, and countless others like me. But it also has deep inequities along the lines of race, class, geographic distribution, and other factors. While we have made progress on many of these issues, we have not made as much as we should for a country of our power, wealth, and rhetorical commitment to ideals of liberty and equality. We should aspire for all to be able to enjoy the freedom that comes with living a healthy life, and we should invest accordingly. To pursue this vision, we need a politics that can guide our investment, one that is supported by a robust, credible scientific establishment. Unfortunately, the pandemic revealed a frequent misalignment between science and political action. This reflects the third foundational cause of our poor performance during the pandemic: the sometimes-tense relationship between science and politics. When political leaders do not value science, and when scientists find themselves acting more like politicians than reasoned empiricists, neither class is well-positioned to advance policies that shape a healthier world.  
As we look back on the road that led us to one million deaths from COVID-19, we can see how our own failures did much to bring us to where we are now. This is a sobering thought. However, it does contain a grain of hope. If our past actions caused us to fall short of meeting the COVID-19 moment, our actions now can help us to see a better future. How, then, should our experience during COVID-19 shape our approach to health? Centrally, the pandemic should motivate us to embrace a focus on health. This means thinking beyond doctors and medicines—necessary but insufficient contributors to health—and addressing the socioeconomic foundations of health, to shore up these structures, so they do not crack the next time they are strained. We also need a better, value-informed science, one that embraces epistemic humility, to avoid the overreach and political gamesmanship that caused many to distrust science during the pandemic.
Finally, we need to change the conversation about health. When we talk about health, we are fundamentally talking about the world around us. When we talk about sickness—from the flu to HIV to a pandemic—we are fundamentally talking about the many ways our world should be made better. Addressing health in these terms can help us to then turn words into the actions that support the kind of world where we are less likely to see mass death from contagion and face the kind of grim milestone we now approach.
Author's note: I am grateful to Eric DelGizzo for his contributions to this opinion piece.
"POV" is an opinion page that provides timely commentaries from students, faculty, and staff on a variety of issues: on-campus, local, state, national, or international. Anyone interested in submitting a piece, which should be about 700 words long, should contact John O'Rourke at orourkej@bu.edu. BU Today reserves the right to reject or edit submissions. The views expressed are solely those of the author and are not intended to represent the views of Boston University.