POV: My First-Gen Story: In Search of a "Better Future, a Better Life"
In honor of First Generation College Celebration Day, Posse Scholar shares her journey from rural Georgia to urban Boston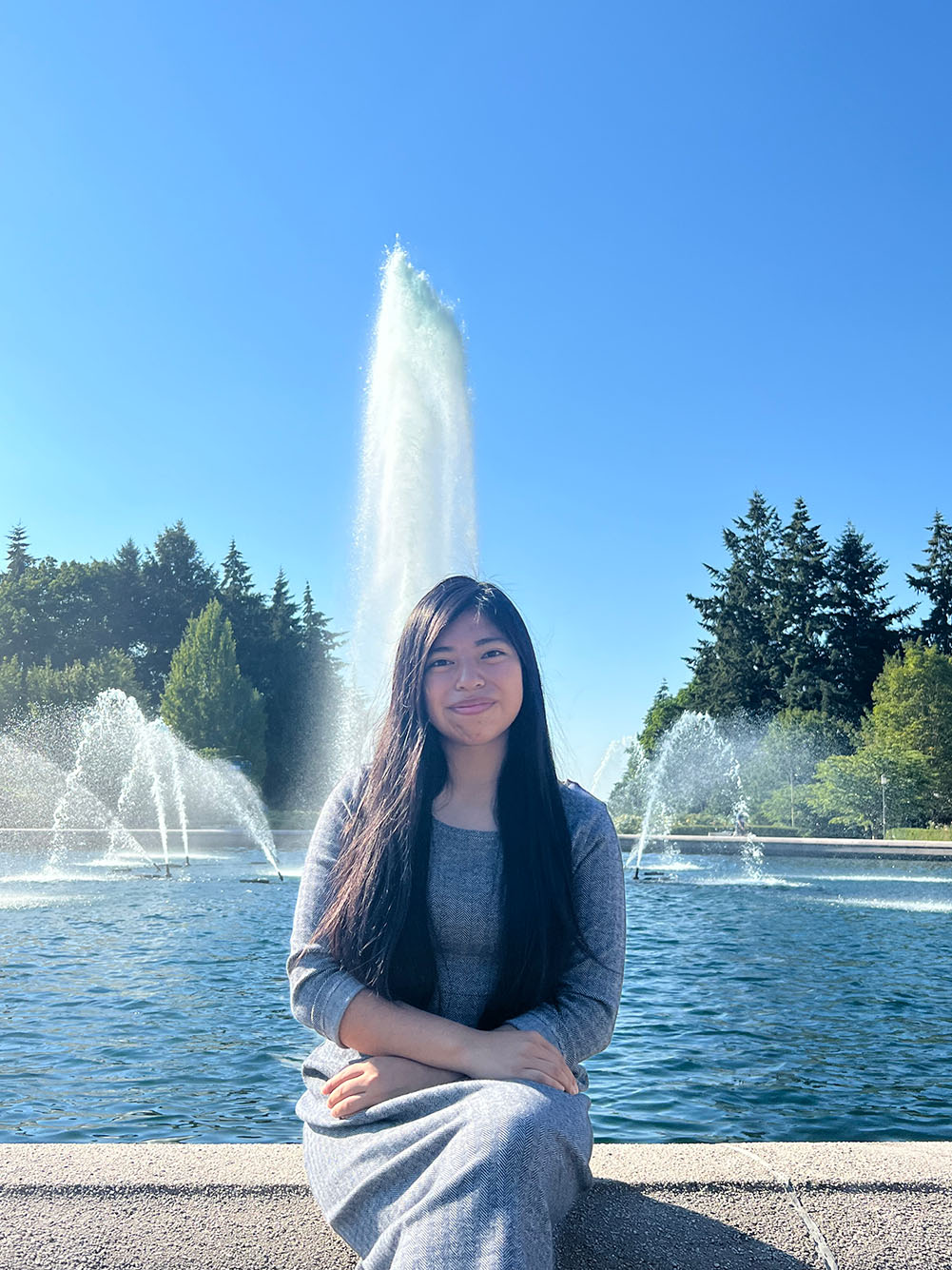 First-Gen VOICES
POV: My First-Gen Story: In Search of a "Better Future, a Better Life"
In honor of First Generation College Celebration Day, Posse Scholar shares her journey from rural Georgia to urban Boston
To recognize First-Generation College Celebration Day on Tuesday, BU Today asked Posse scholar Teresa Miguel (Sargent'25) to share her story.
I grew up in a small rural town in Georgia, surrounded by blue-collar, low-income immigrant neighbors, along with Hispanic/Latinx families like mine. My single-parent mom received no formal education. I was the first of six siblings to go to college and move more than 10 minutes away. No one came to Boston, let alone to an elite school like Boston University.
When my family and I got to Boston, it was a whole new world.
My mom was in awe. She repeatedly told me how fortunate I was and how she was proud that one of her children had the opportunity to study in a city that was clearly better. With my education, I would have a better future—a better life.
I felt happy, proud, and guilty.
---
I stepped onto BU's campus for the first time ever the day I moved in. It was gut-wrenching to say goodbye to my family. I gave them their plane tickets, the taxi number, and the parking receipt. I told them to call me if they needed help finding their way back to their terminal. I made sure they had everything they needed to get back home.
They depended on me for rational, logical, and planned decisions—what would happen now?
I watched them leave with red, teary eyes; I choked up. I realized I would be missing birthdays, holidays, and the small, but important milestones that came with seeing my younger family members grow. I pushed my emotions aside. I had to be clear-minded and strong. I needed to do this—for me. But also for them.
---
There were burdens I didn't expect as a first-generation and low-income student.
My wallet hurt just looking at the cost of textbooks and programs for courses. I already spent so much on basic toiletries, clothes, and the bare minimum necessities. I was later caught off guard by the realization that I had to pay for summer storage at the end of the year, and I didn't realize how much the costs of buying plane tickets added up. Even as a resident assistant, I continue to struggle to budget and find what is worth the cost—sometimes leaving things behind [at stores] because I don't really need them.
Even as a full-merit Posse Scholar, I had trouble with imposter syndrome and didn't believe I deserved a spot at BU. In my first year, it was hard adjusting to college and meeting those high expectations of myself. I overthought and overcompensated way too much.
Thankfully, my Posse group and my mentor, Beza Begosew [a Residence Life area director], were consistent reminders that I wasn't alone and that I was capable. It was incredibly hard for me to open up, but I felt that I could share my experiences with them because they genuinely understood. They continue to encourage me, believe in me, and inspire me.
I remember sitting down for my FY101 First Year First Generation class. I was in awe—there were so many accomplished and down-to-earth people who were first-gens. Everyone in that room understood the value of coming to BU from humble beginnings. We understood how much coming to college would impact us, our families, and our community. We could relax and open up about our upbringing and families without embarrassment or shame. It was a space where I felt known and validated.
Similarly, when I went to a First Generation Low-Income Partnership (FLIP) event, I was shocked to see even more first-gens. We spoke about the burden of frustration, stress, and alienation tied to our invisible first-gen identity and I remember FLIP's E-board members talking with power, resilience, and perseverance. I used to hide and suppress my first-gen identity. But they had an unapologetic story and a voice they were proud to share. I wanted to be like them; I wanted to be confident in my first-generation identity. So, I joined as an underclassman representative and now I'm the vice president of FLIP.
"My name is Teresa Miguel, a first-generation and low-income student here at Boston University."
The first time I spoke these words, I was scared. I was nervous to talk about my disadvantages to my peers, to my friends. There's a stigma and sympathy that comes with telling people that I'm a first-generation and low-income student. I didn't want to be seen as less than others, but I've since discovered that being a first-generation student is a strength and not something to hide.
Being a first-generation means I have opportunities and experiences I've never had before, a newfound community for a lifetime, knowledge and understanding of systems, and access to new things. Being a first-generation means I'm bringing my knowledge back to my community, to my family, and moving forward with them.
It means I'll be the first in my family to cross the stage at a university commencement.
And I firmly believe that I won't be the last.
Teresa Miguel (Sargent'25) can be reached at teresa@bu.edu.
"POV" is an opinion page that provides timely commentaries from students, faculty, and staff on a variety of issues: on-campus, local, state, national, or international. Anyone interested in submitting a piece, which should be about 700 words long, should contact John O'Rourke at orourkej@bu.edu. BU Today reserves the right to reject or edit submissions. The views expressed are solely those of the author and are not intended to represent the views of Boston University.