New Professional Clothing Closet Provides Free Dress Clothes to Students Who Need Them
First-gen college student Tima Dasouki (Pardee'22) launched the initiative, run by CCD, Newbury Center
Student Life
New Professional Clothing Closet Provides Free Dress Clothes to Students Who Need Them
First-gen college student Tima Dasouki (Pardee'22) launched the initiative, run by CCD, Newbury Center
First-generation college student Tima Dasouki had internships where the costs started to pile up: transportation, lunches, professional clothes. That experience stuck with her when she became a marketing intern at BU's Center for Career Development (CCD) in September 2020 and was tasked with thinking about new outreach opportunities for the center. Inspired by similar programs at other schools, she wondered if the CCD could help low-income and first-generation college students access free gently used professional clothing to eliminate an expensive burden.
"I wanted to make sure that low-income and first-generation students have a resource on campus that can help them feel confident and successful," Dasouki (Pardee'22) says. ​​
Now, 18 months later, the new BU Professional Clothing Closet has opened. Run by the CCD and the Newbury Center, which supports first-gen students, the closet provides students with free professional attire appropriate for interviews, networking events, career fairs, and the office. The Closet—housed in the Center for Student Services Room 103—looks like a mini J.Crew store: eight racks of suits, blazers, dress shirts, and skirts in an array of sizes, with accessories like shoes, ties, and laptop bags hung on the walls. All items are donated by BU faculty and staff.
The Closet promises to be inclusive of all genders and sizes, and no one is asked for financial information or to prove their need.
"We want to help students make that best first impression. If you feel confident about the clothes that you're wearing, you are going to convey that to whoever you're speaking to," says Addye Buckley-Burnell, CCD executive director, who helped launch a similar project at her previous position at Auburn University. "Many students also wonder if what they're wearing is appropriate. Helping students feel confident will make them successful in any situation."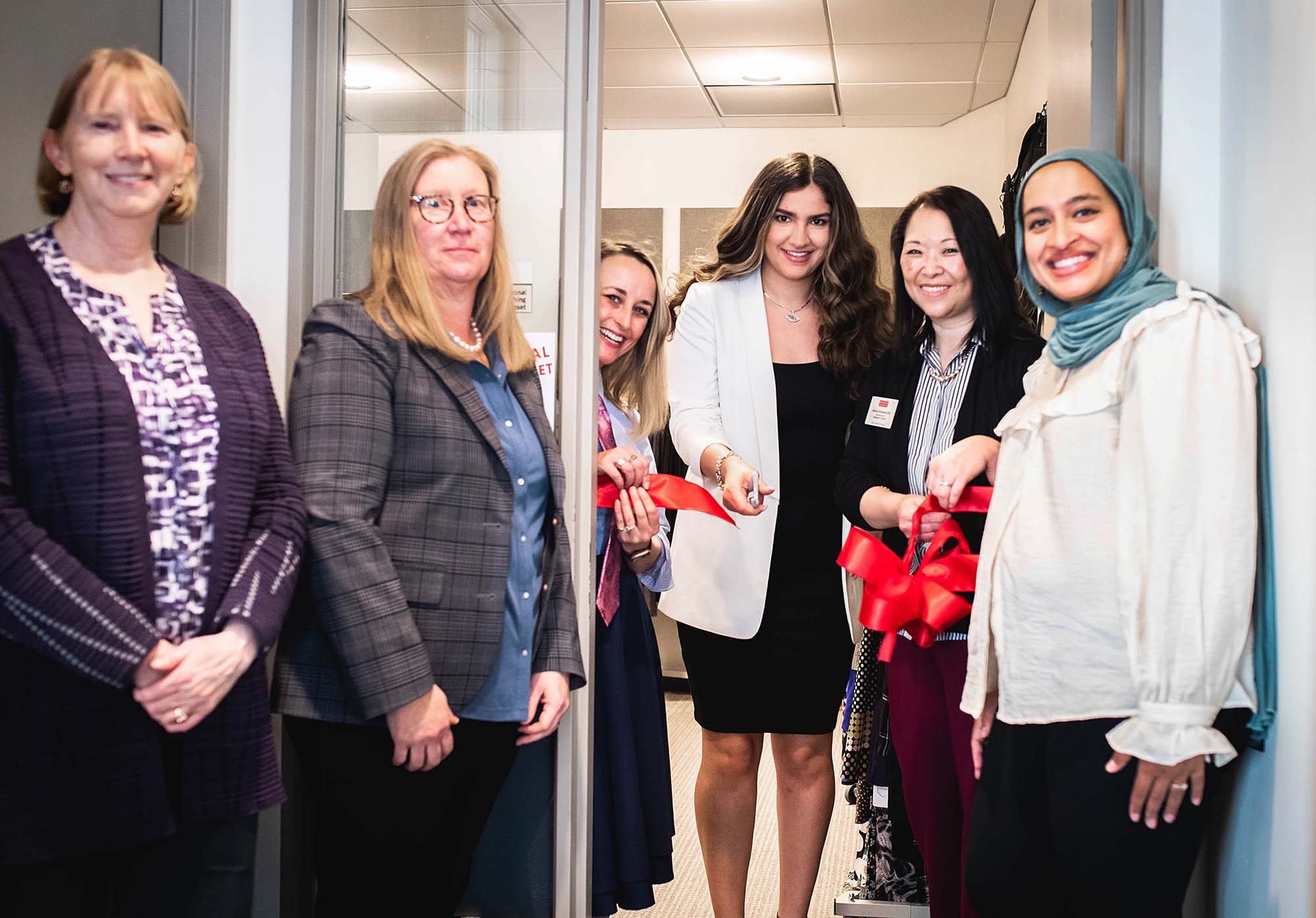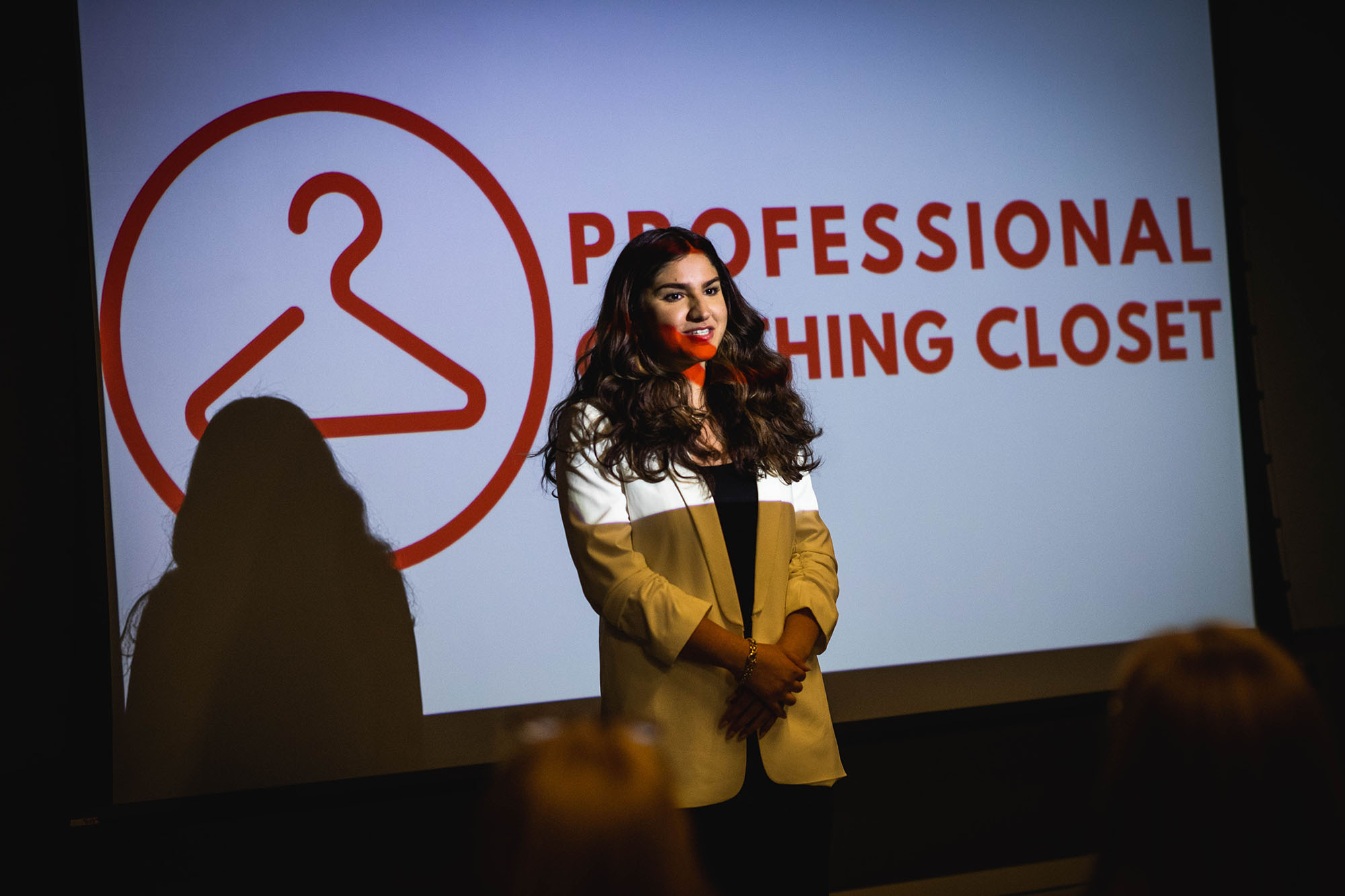 When Dasouki first brought the idea to CCD and Newbury Center staff, they loved it and vowed to support her. She set out to talk to those at other schools running similar programs and model the BU program after theirs.
"I did more research to back up the fact that it is feasible on our campus," says Dasouki, who was recently named a Thomas R. Pickering Foreign Affairs Fellow, a program that trains outstanding young people for foreign service careers in the US Department of State. "And that's how the connection between the CCD and the Newbury Center formed. I think it's a great symbol of how these centers have resources for students of all backgrounds, whether they're first-gen, LGBTQ+, etc. I wanted the Professional Clothing Closet to help students feel that way as well."
Dasouki helped raise more than $20,000 to staff the Closet, with funds coming from places like Alumni Relations and Innovate@BU's second annual Community Impact Challenge, a contest where student teams dream up innovative ideas focused on emotional, social, and physical well-being.
In her initial application to the Community Impact Challenge, Dasouki wrote about how she had interviewed first-generation students during her research for the Closet and most of them had confided that they were confused and intimidated by the difference between professional clothing, business casual clothing, and casual clothing, and didn't have experienced family members to ask. "All of these students expressed a need for professional clothing, and did not have it readily available when they began attending college," she wrote. "Some students relied on friends to borrow professional attire while others struggled to find appropriate clothing at thrift stores."
Interested students can make a half-hour appointment through Handshake to visit the Closet, where they will be met by grad assistant Ellie Tillotson (Questrom'23), who will be on hand to give advice and answer questions like: "Does this tie match this shirt?" and "What exactly does business casual mean?" Students are allowed to take four items per school year, and the plan is for the Closet to be frequently updated with new items.
Faculty and staff enthusiastically responded to an email that went out in mid-February asking for lightly used clothing donations. Tillotson says more than 1,000 items were dropped off—some with the price tag still on—and that one jacket even had a note attached that read, "If this suit doesn't fit you perfectly, give me a call and I'll pay to have it tailored for you." Student volunteers then weeded through the donations, which included brands like Boden, Tahari, Kate Spade, H&M, and J.Crew, and selected suitable items. The remainder went to the BU Fashion & Retail Club to be reimagined for their upcoming fashion show.
Tillotson, who is a social impact MBA student, was drawn to work at the Professional Clothing Closet partly because of the sustainability aspect—the fashion industry is the number two polluter in the world, she says, and donating clothes keeps them out of landfills. This is also a service opportunity for students across campus and many student organizations have already volunteered to help with sorting the clothes.
"This is a dream for me as the director of the Newbury Center, knowing what kind of a need this is on campus," says center director Maria Dykema Erb, who was herself a first-generation college student. "And the support we've had from the BU community, both on campus and alumni, has been phenomenal."
Interested students can make a 30-minute appointment on Handshake to visit the Professional Clothing Closet. Staff and faculty who would like to donate clothing or accessories can do so year-round in the Yawkey Center; look for the bin directly in front of the 5th-floor elevators.