Nancy Feldman to Retire after 27 Years Leading BU Women's Soccer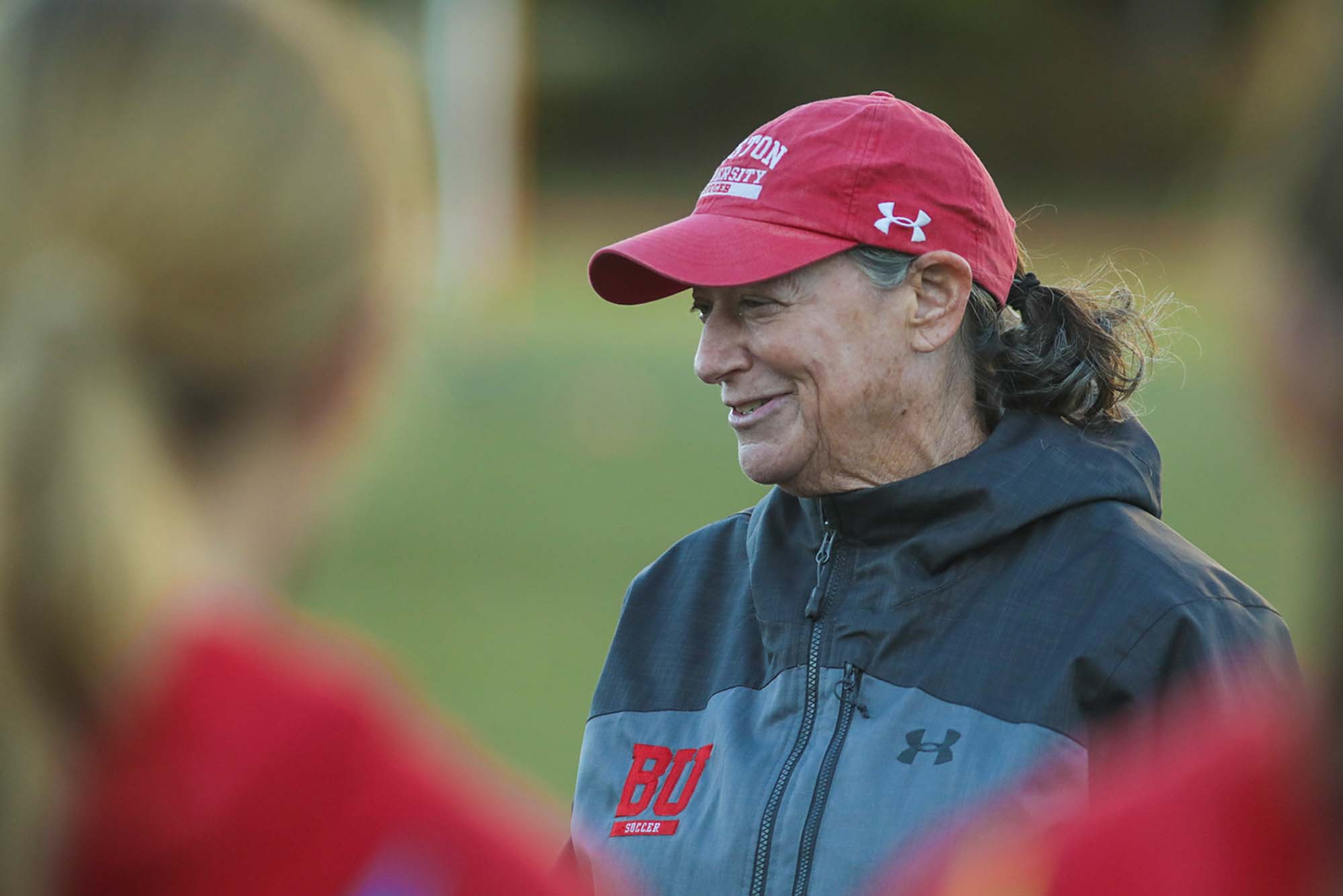 Retirement
Nancy Feldman to Retire after 27 Years Leading BU Women's Soccer
Legendary Terrier head coach is credited with developing BU into a "women's soccer powerhouse"
After a 27-year tenure as inaugural head coach of the Boston University women's soccer team, Nancy Feldman announced her retirement on Monday, April 11.
Feldman has been the program's only coach since 1995, when it became a varsity sport. She concludes her career having amassed 418 victories to rank 22nd all-time among NCAA women's soccer coaches and being named conference Coach of the Year 12 times.
Within hours of announcing her retirement, Feldman's inbox was flooded with messages of praise and congratulations from nearly three decades worth of players and colleagues.
"It was kind of like a This Is Your Life moment," Feldman says. "I'm trying to soak up all the gratitude and appreciation, and I'm sending it right back."
Feldman led the Terriers to 13 conference tournament trophies, 14 regular season titles, and 14 national tournament appearances in her time at BU. "I love that we were consistently successful," she says. "I think, of everything, I'm most proud of that."
The program's most recent trip to the NCAA tournament was in 2018 when BU's current seniors were rookies. The Terriers fought 19th-ranked LSU for 120 minutes before falling on penalty kicks. Despite the loss, it was one of Feldman's favorite of the 549 games she's coached at BU.
"That had to be probably the best soccer game we played in my time at BU," Feldman says. "We didn't win, but I was just so proud of the performance, and I've always been about the performance and the process. That game just summed it up."
The Terriers came within one win of earning another trip to the national tournament this past fall, dropping a 1-0 contest to Bucknell in the Patriot League title game.
Feldman broke the news of her retirement to her squad early Monday morning following their end-of-season reception over the weekend.
"I didn't sleep very well because I didn't want to disappoint anybody," she says. "Change can be hard; it also can be great. As I said to the players, there's an opportunity, and I know the hiring process will find the next great, committed, competent coach to lead BU women's soccer."
That task will fall on Drew Marrochello, director of athletics, who knows he has big shoes to fill. "Nancy set a high standard of excellence with a hallmark of incredible consistency, passionately devoting herself to her team and its growth every fall," Marrochello says.
Why did she decide to step down from coaching now? The time felt right, Feldman says. "The program deserves someone that is able to give 100 percent, 100 percent of the time. I was starting to feel that I wasn't going to be able to meet my own standard of doing it at the only level I know how to do it, which is all-in. I never wanted to be someone who took shortcuts to success."
During her coaching career, Feldman earned numerous accolades, several of them from the United Soccer Coaches, including its Excellence in Coaching Education award, Long-Term Service Award, and Women's Soccer Award of Excellence, the last chosen in conjunction with the Women's Soccer Advocacy Group and WAGS (Women and Girls in Soccer). In addition, she was inducted into BU's Scarlet Key Honor Society, one of BU's highest academic honors, in 2009, and Martin Walsh, then Boston mayor, declared December 11, 2018, Nancy Feldman Day, in recognition of her contributions to Boston University and the city.
"Sports wasn't just a given for girls when I was younger," Feldman says. "Every step of the way, I had opportunities because of pioneers before me, and I have felt compelled in my career to be sure I was propping up the women's game and helping grow it."
Feldman served as the National Soccer Coaches Association of America (NSCAA) All-America Committee national chairperson from 1989 to 1995, and was on the NCAA Division III Regional Selection Committee from 1992 to 1995. She was also a member of the NCAA Division I Women's Soccer Committee and the NSCAA National Coaching Academy.
Off the field, Feldman has participated in numerous initiatives, such as BU's Summer Day Camp Soccer Program and City Kicks, a group that provides soccer activities and academic support to middle school students.
"It's satisfying to feel like you made a difference," Feldman says. "I didn't do this to make a million dollars, and I didn't necessarily do this for the thanks. The wins are great, the championships are great, there are certain highlights—but to hear how you positively influenced other people is what any of us would want on our tombstone."
"It has been a privilege to work with Nancy," Marrochello says. "She has not only been a valuable colleague, but also a friend and mentor to many. Everyone associated with our department owes a debt of gratitude to Nancy and her legacy, as she simply made us better."
Feldman graduated from the University of Massachusetts in 1983 with a degree in public health and earned a master's degree in exercise and sports studies from Smith College in 1988. She scored her first head coaching assignment at Lake Forest College following her graduation, then spent five years as women's soccer and women's basketball coach at Plymouth State, before arriving at BU in 1995.
Looking back on nearly three decades at BU, Feldman says she hopes she will be remembered for how she helped her players develop both on and off the field. "Hopefully by being challenged, they grew, learned more about themselves, and became stronger, empowered, and prepared for life. That really is the legacy I hope to leave."
Feldman says that she's excited for what the future holds. "There's going to be adventure, there's going to be endeavors, and there's going to be opportunities for me to decide how I will give back in some way to my community, and what I will enjoy.
"I'm walking away healthy, with family that I have put second to my soccer responsibilities," she says. "Soccer as a fan will always be part of my life. I'll always be a BU fan of the athletic program and I'm sure I'll be at games."
BU Athletics announced in its April 11 release that the department's nationwide search for the next women's soccer head coach will begin immediately. Fans can visit GoTerriers.com and follow @BUAthletics and @TerrierWSOC on Twitter for updates and more information.