Commencement: a Moment of Pride and Achievement for These First-Gen Students
Graduating E-board members of First-Generation Low Income Partnership (FLIP) reflect on their journeys and the legacy they leave
Watch Now
Commencement: a Moment of Pride and Achievement for These First-Gen Students
Graduating E-board members of First-Generation Low Income Partnership (FLIP) reflect on their journeys and the legacy they leave
Figuring out how to navigate college is challenging for any student, but especially so if you're from a low-income family—which adds in how to pay for it—and the first in your family to graduate from college. It can be a lonely experience, one that many such students say makes them feel invisible as they strive to succeed academically while holding down a job, sometimes two, or even three.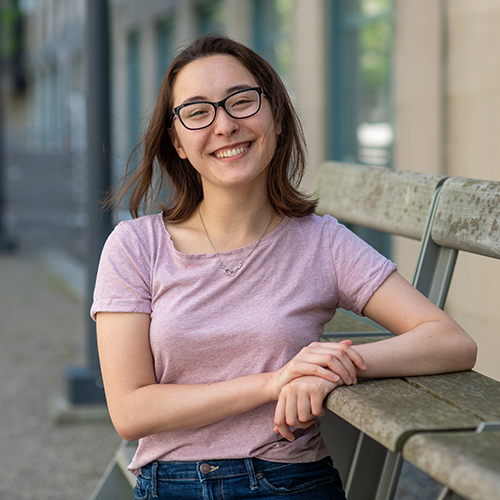 "There's a lot of stigma around being FGLI [first generation, low income]," says biology major Maelee Chen (CAS'22), who was raised by her single mother outside of Chicago. Chen is specializing in ecology and conservation biology, and she says that as a BU freshman, she often felt isolated. "I felt that most of my peers didn't understand or even know the financial considerations I was facing," she says. So at the end of her sophomore year, Chen cofounded FLIP@BostonU (First-Generation Low Income Partnership), a student club run by and for FGLI students that offers a safe space to support one another, socialize, and share resources both on and off campus. The organization, which is open to both first-gen and low-income students, launched virtually in September 2020 with between 20 and 30 core members, and today has a mailing list of 275 students and meets regularly in person.
The club works closely with BU's Newbury Center, which was created in 2020 with the goal of fostering the holistic success of first-generation students. The center provides financial support and teams up with the club to develop initiatives. FLIP@BostonU helps students navigate a wide range of situations, Chen says, from how to apply for food stamps to where to find professional resources to help with résumés.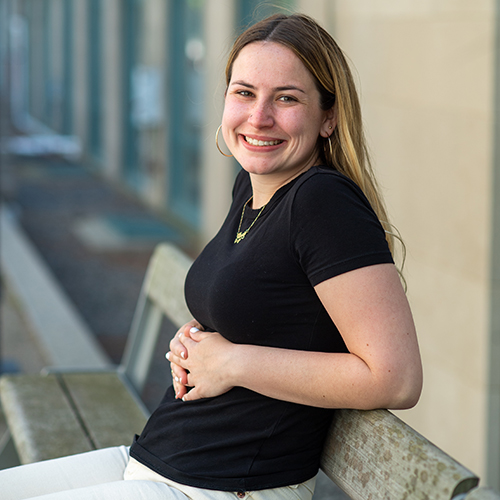 This year's club president, Chen and the other two graduating E-board members—executive vice president Annie Hallett (Sargent'22) and treasurer Cecilia Jarquin Tapia (Sargent'22), both health science majors—have faced the challenges of putting themselves through school and have worked to increase the visibility of students like themselves at BU. As they prepare to graduate, they're feeling the pride and elation of reaching this milestone and being able to share it with their families.
"I'm ecstatic. I'm so excited to do this for myself and my family," says Hallett, who grew up in Cambridge and says her parents and sisters have been there for her, literally and figuratively, through the past four years. She joined the club after learning about it during a class she was taking with Chen. Students in the class were asked to share one fun fact about themselves and Chen's was helping launch an organization to help first-gen students. Hallett, a transfer from Duquesne University, was immediately intrigued. She says there had been no such student resources there to help first-gens, and she joined right away. "Being first-gen means having to figure everything out on your own," Hallet notes. "This club does so much for people like myself…it's taught me to not be afraid to talk about my FGLI experiences, and being able to have those conversations with other FGLI students has been one of the highlights of my college experience."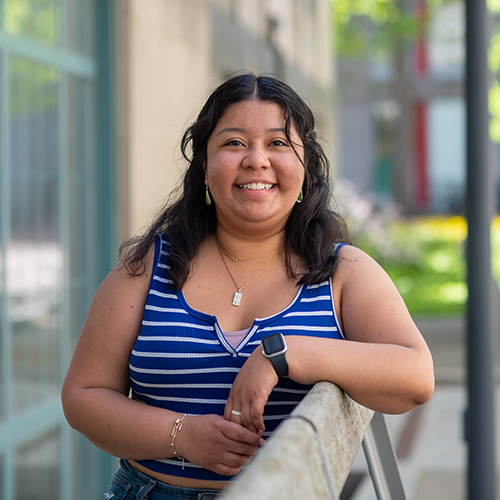 Tapia was born in Nicaragua and grew up in Hyattsville, Md. She and her family immigrated to the United States when she was four. Commencement builds on "everything my parents and grandma have done for me over the years," Tapia says. (They'll all be on hand Sunday to help her celebrate her big day.) "FLIP is a club I would have loved to have my freshman year, because my parents don't know what it's like to be in college."
As for what's next for each? Following Commencement, Chen will join the Boston law firm Foley Hoag as a case assistant on the product liability/litigation team, with plans to eventually become an attorney specializing in environmental law. Hallett will return to the camp she attended as a child, where she'll work as an after-school instructor. She's interested in getting an advanced degree that will allow her to help shape educational policies. And Tapia will remain on campus. As a junior, she applied for and was accepted into BU's BA/MA program. This fall, she'll be enrolled in the School of Public Health's master's degree program, while working full-time as a research fellow at Wheelock College of Education & Human Development's Center on the Ecology of Early Development.
Our best wishes to each of these remarkable individuals.