Men's Soccer Hosts First Patriot League Semifinal since 2014
It's defensive-minded Terriers vs Navy Tuesday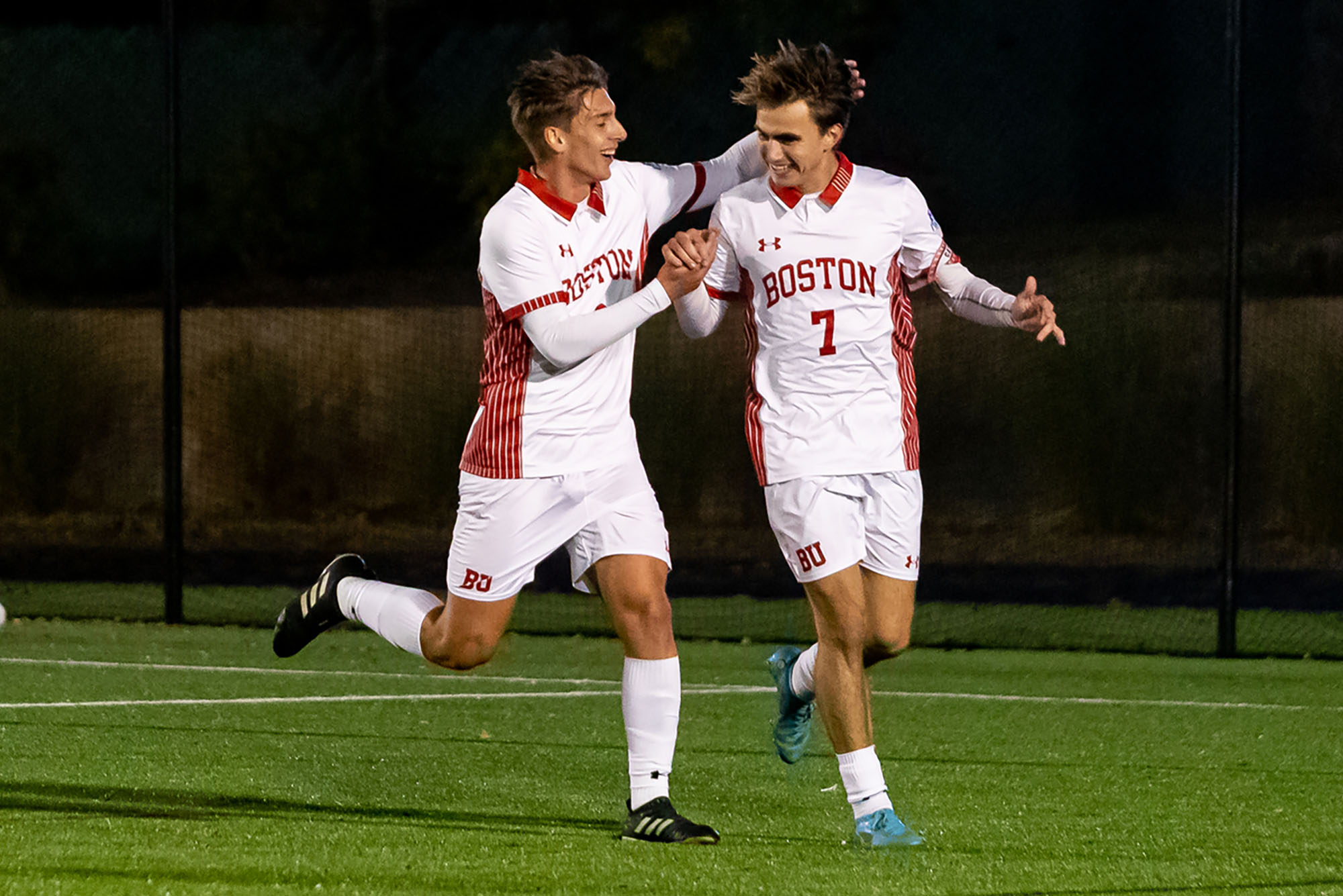 Varsity Sports
Men's Soccer Hosts First Patriot League Semifinal since 2014
It's defensive-minded Terriers vs Navy Tuesday
Offense wins games, but defense wins championships. A defensive mindset and high-class goalkeeping has helped the BU men's soccer team finish second in the Patriot League standings, with a 4-2-3 conference record. The Terriers clinched a first-round bye to advance to the Patriot League Championship Tournament. 
The team will face No. 4 Navy in the Patriot League semifinals on Tuesday, November 8, at 6 pm on Nickerson Field. With Patriot League Defender of the Year Griffin Roach (Questrom'23) and Goalkeeper of the Year Francesco Montali (COM'24) in net, BU boasts a league-leading .88 goals-against average and a conference-best team save percentage of .803. 
"We decided as a team that we would be a lot better defensively this year," Montali says. "We felt like we gave up a lot of goals last year, and that if we didn't give up goals, we'll be in every game. That's played a huge part in our success this year." 
BU failed to make last year's tournament, finishing eighth in 2021, with a 3-4-2 record in Patriot League play. 
Kevin Nylen, Terrier head coach, says he's pleased with the growth his team has seen this season. "It's a process and it's progress," Nylen says. "This year has been a year of work and commitment from our guys. To now find ourselves at the end of the season, to have a bye, and to host a home game—I think our guys are ready to go."
This is Nylen's and assistant coach Patrick Lopez's third season at Boston University, with a shortened debut season moved from fall 2020 to spring 2021 by COVID-19. This year marks the program's first Patriot League Tournament appearance since 2018 and their first winning season since 2016. 
The Terriers last won a tournament in 2008, when they bested Binghamption 1-0 in the American East Tournament final. BU men's soccer has yet to win a Patriot League championship. 
"We took this job in January 2020 and now in November 2022, we're slowly seeing the work that's been put in over the last two years," Nylen says. "The guys have had a good present-day mentality as well as short-term future mentality."
Montali credits a team-first approach in addition to players' and coaches' present-day mentality and defensive-minded play for their strong showing.
"I feel like it's a very cohesive unit this year," Montali says. "It's like a whole team effort every game, having a belief in each other and knowing that at the end of the day, we'll have each other's backs."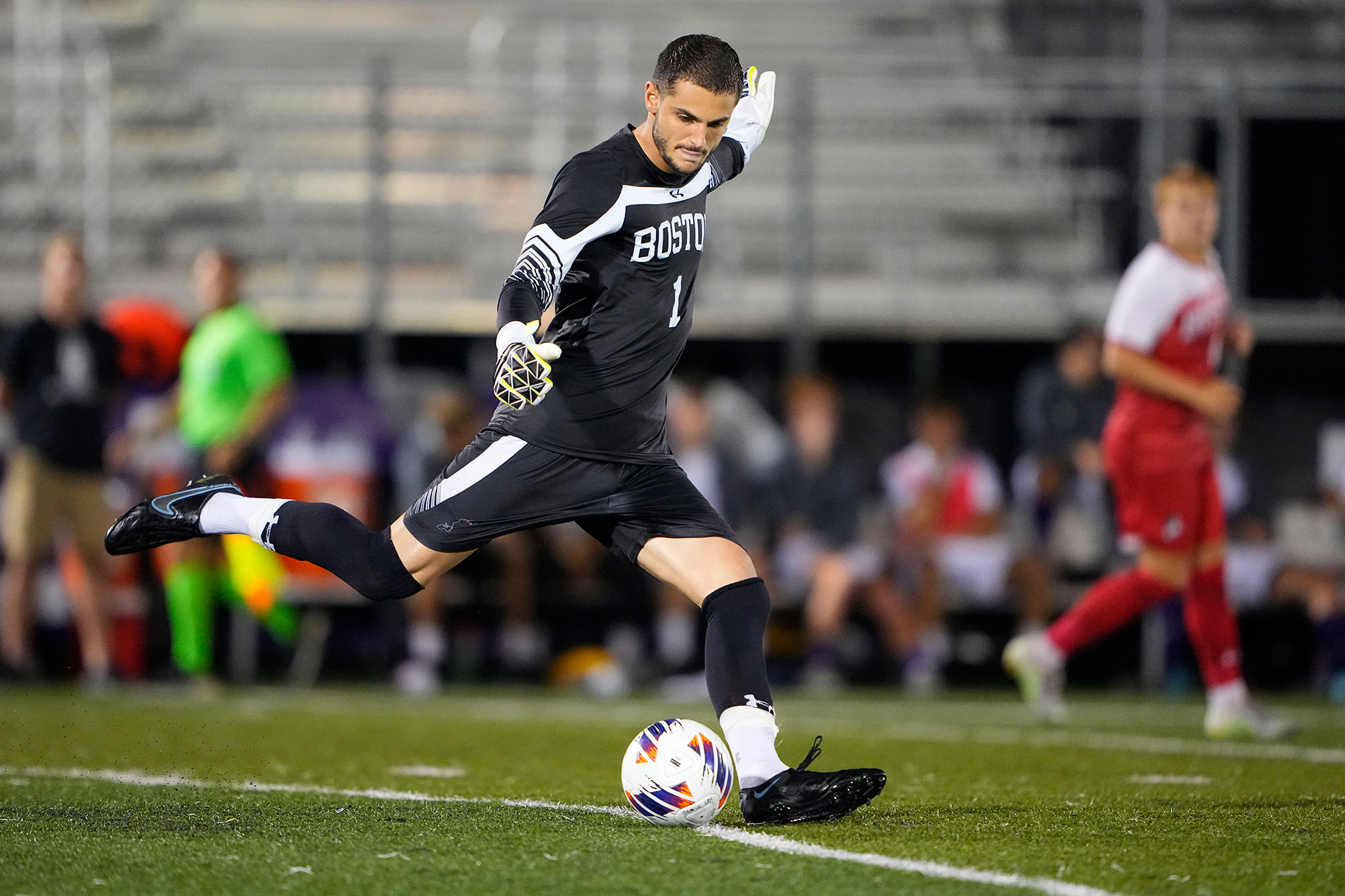 BU started the season with a 1-0 nonconference win in August at the University of New Hampshire, then ranked No. 9, then opened Patriot League play with a 3-0 loss to Colgate. But the Terriers went on to tie their next three conference matches and win four of their final five games. Montali points to their shutout victory over Loyola Maryland October 15 as the season's decisive moment. 
"Favorite moment for me is winning at Loyola in a huge conference game," he says. "We have been really successful after that. I feel like that was a turning point for us and gave us belief in ourselves to go forward and compete for the conference tournament."
BU fell 2-1 to Holy Cross in the final game of the season November 2, but despite that disappointing loss, All-Patriot League First Team midfielder Colin Innes (CAS'23) is proud of his team's hard work this season. 
"We had some lofty goals set for ourselves this year," Innes says. "We wanted to make the playoffs, we wanted to host a game, and to be doing that in the semifinal with the bye is massive for us. I think as upset as we are right now, it gives us a lot to be happy about and a lot to look forward to.
Nylen says the team's focus now has turned internally on their next game—hosting the Midshipmen at Nickerson. 
"Now we will continue to push on and be sharp in our play, but it'll be all about us from here on out," Nylen says. "We wear the jersey with great honor every day and I am proud of them for who they are and how they represent our BU soccer program. We have some more soccer in front of us, so we'll just kind of focus on that and then take it from there." 
The Boston University men's soccer Patriot League Tournament semifinal matchup against Navy is Tuesday, November 8, at 6 pm at Nickerson Field. The game will be streamed on ESPN+ and covered live on Twitter @BUGameDay. Learn more about the teams and the tournaments on GoTerriers.com and PatriotLeague.org. Admission is free for all.