Meet the Fastest Human in BU History. He's Only 19
Toby Makoyawo just smashed the Terrier record for 100 meters as a freshman. What's next for him?
Track & Field
Meet the Fastest Human in BU History. He's Only 19
Toby Makoyawo just smashed the Terrier record for 100 meters as a freshman. What's next for him?
Here are three words you don't expect to hear from the mouth of the 19-year-old freshman who just became the fastest runner in the history of Boston University: "I hate walking."
But that's what Toby Makoyawo (CAS'25) says with a big smile, just before hopping his lean, six-foot-one frame onto a Hiboy scooter and zipping off in his black tracksuit and gray knit BU Track & Field hat. Watching him disappear down Comm Ave must have been the same feeling experienced by other sprinters at the recent Texas Relays in Austin, where his competitors mostly saw only the back of his red BU shirt as he raced into the Terrier record books with shocking, world-class speed.
In his preliminary 100-meter race on March 25, Makoyawo ran 10.12 seconds, finishing second in his heat while smashing the BU record of 10.45 set by Justin Flynn (CGS'16, Questrom'18) in 2018. Then in the next day's final, he stunned the field of runners, and even himself, by winning with a blazing 9.90 time (a tailwind, however, prevented that time from being an official record). He let out a yell of excitement after finishing and then bounded around with elation.
---

I knew he had the race won at 40 meters. His race model came together on that day.

---
It was a short race. But those 10 seconds were the culmination of a long journey for Makoyawo—one that started in his parents' homeland of Nigeria, moved to his birthplace in Florida, took him across the Atlantic to a childhood in London, and finally landed him in a dorm room at BU. On campus, he's just another first-year student who is managing a full schedule of introductory classes, enjoys shooting photos as a hobby, gets around on his motorized scooter, and holds down a part-time job at a fintech start-up.
But once he steps on the track, and his arms start swinging and his long legs start flying, there is no blending into the crowd.
Late bloomer
Soccer was Makoyawo's favorite sport growing up in England. All his friends played, and even when he ran away from the pack in a short sprint in primary school (the country's elementary school equivalent), it never occurred to him that his future might be on the track rather than the soccer field. "I didn't realize how fast I was," he says.
It was at Saint Joan of Arc Catholic School in South Ruislip, England (west of London), where he started competing in track meets against other schools and quickly realized something: "I would win every race," he says.
He was still thinking about soccer until he was 17. He had started running with a club track team in London, and he ran the indoor 60 meters so fast that he was the fastest in the United Kingdom under 20 and number three overall. "I was just shocked," he says of his sprint times. His speed earned him the chance to run the 60 meters with the senior club team, instead of the junior team—and at an international race in Austria he blazed to a victory in 6.68 seconds.
"I blew people away," he remembers—and all of a sudden it clicked for him. Track was his future.
There was just one problem with his success. As fast as he was at 60 meters, that's an indoor sprint distance. Makoyawo was convinced his best race was actually the outdoor equivalent: the 100 meters, and even the 200 meters. The reason? His size.
Tall sprinters—like Makoyawo's idol, the world's fastest man, Jamaica's Usain Bolt, who is six-foot-five—excel in the 100 and 200 more often than the 60, because their legs need a few more strides to hit top speed. So, while shorter, quicker runners might be faster at the shorter 60-meter distance, the long stride of the taller runner uses the final 40 meters in the longer race to reach top speed. (In case you're curious about how fast Makoyawo is running at his top speed, it's between 20 and 22 miles per hour.)
He was just getting ready to prove that the 100 meters was his best event when the coronavirus pandemic ground the world to a stop in early 2020. Instead of getting frustrated, Makoyawo says, he found a hill behind his house, started training on it, and built up his strength. "I found it therapeutic," he says of those days. "I was a late bloomer to track."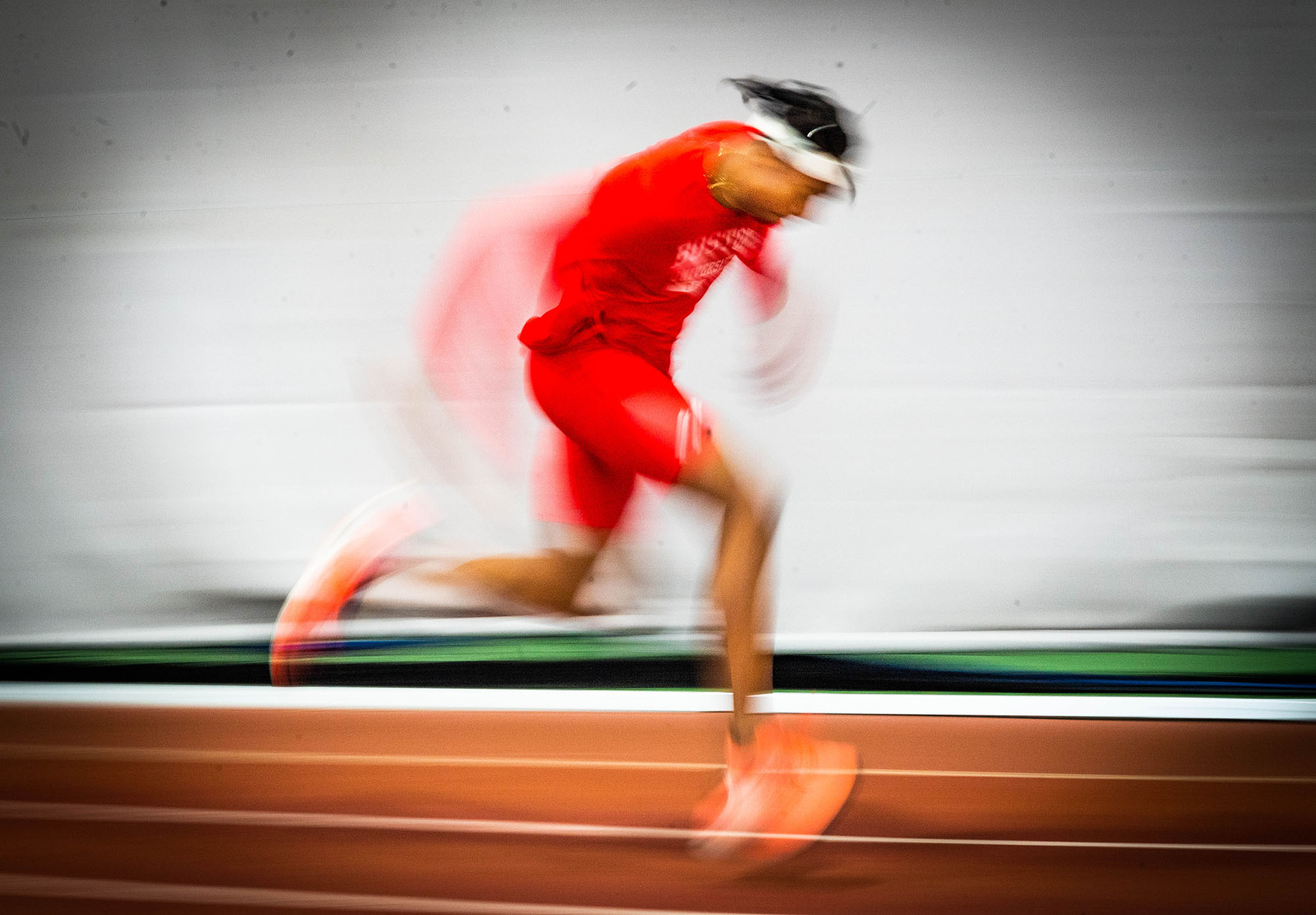 Colleges come calling
Even COVID-19 could not stop the word of his sprint times from spreading, and soon Makoyawo began hearing from colleges in America, including Purdue, the University of Florida, Harvard, and BU. The clincher in his decision was Gabe Sanders.
Sanders had been an assistant track coach at BU from 2008 to 2015, working closely with the sprinters. Under his leadership, the Terriers broke 15 school records and BU sprinters and hurdlers combined for 16 Patriot League titles and 28 America East crowns. He left BU to become assistant track coach at Stanford, where the sprint relay teams shined. There, he directly coached 14 NCAA First-Team All-Americans, 3 Second-Team All-Americans, and 17 NCAA finalists. During his tenure, 11 Stanford school records were broken and Stanford qualified three relay teams to the NCAA Championships, including both the men's 4×100 and 4×400, for the first time in Cardinal history. And then in 2019, Sanders returned to BU as director of track and field and cross country, and again, Terrier records started to fall. Makoyawo wanted to be a part of that.
"Coach Sanders was a big draw," Makoyawo says. "I wanted to work hard and be competitive. Coach shaped a program that wasn't just for all sprinters, it was for me."
Sanders knows that individualizing training programs is critical for young runners.
"Working with athletes in general, it's about physiology, biomechanics, psychology, and understanding that it's not just knowing what to do, but how to make it accessible to the student," he says of his approach. "People respond to different training methodologies in different ways."
With Makoyawo, Sanders says he looked for clues through race footage and racing patterns, and what he saw was unlimited potential. "I said, holy cow, why am I the only one seeing this? I saw an insanely talented young man. His 60-meter dash was world-class compared to his 100 and 200. But if you look at the footage and break down his racing, it told me this young man has very, very strong profound top speed characteristics and qualities."
While other schools may have shied away from Makoyawo based solely on his lacking a great 100-meter time, Sanders says he believed he was just raw, physically underdeveloped, and needed time in the weight room to get stronger. "Speed doesn't lie. You just have to figure out what works for individualized training."
Even before he arrived at BU, Makoyawo continued to break records. In July 2021, he won the 100 meters at the 2021 European Athletics Under 20 Championships in 10.25 seconds, a European record for runners under 20. And once he got to BU a month later, he didn't slow down. In his first indoor season as a Terrier, Makoyawo saw an immediate impact, as his time in the 200 meters dropped from 21.05 to 20.73.
The Texas Relays have been his biggest stage in the United States so far. Dating back nearly 100 years, it's the second-largest relay meet in the country, after only the Penn Relays, drawing roughly 1,000 teams and 7,000 athletes.
Setting a BU record
Before he ran his individual sprint, Makoyawo anchored the BU 4×100 relay team—a team impressively comprising two other freshmen, Matt Spicer (CAS'25) and Leon Christian (CAS'25), and sophomore Uchenna Nwosu (CGS'22)—that ran a school-record time of 39.89.
Makoyawo says that running and walking around on the track a few hours later, he felt poised for a great individual 100. "I felt quick," he says.
And he was.
Sanders says that entering the meet, their goal for Makoyawo was to make the 100-meter final and to finish in the top three. In the preliminary heat to qualify for the 100-meter final, Makoyawo's 10.12 time was the third fastest in all of the heats and easily advanced him to the final. His time also set a new Patriot League record, and according to BU Athletics: "It is believed to be the second-fastest 100-meter time by an athlete at a Northeast region school, trailing only the 10.09 by Syracuse's Mike Morris in 1985."
In the final, Makoyawo had a good start, which is not always his strength, and once he took the lead, there was no catching him. "I was ecstatic," Makoyawo says. "Just so happy. It was a shock, and it wasn't a shock. I had visualized it for so long."
Sanders says that everything just clicked for his young sprinter in those 10 seconds.
"I knew he had the race won at 40 meters," says the coach, who was watching from the stands and could be heard screaming on the ESPN broadcast of the race. "His race model came together on that day. He's much stronger in his core, he accelerated deep into the race and reached his top speed later. The only question in my mind was how fast was it gonna be."
The race clock initially said 9.96 seconds, but it was quickly adjusted to 9.90. (For perspective, the gold medal–winning time at the 2020 Olympics was 9.80.)
"I was like a damn fool," Sanders says of his reaction. "In front of 20,000 people you can hear me yelling, going, 'Yeah! Let's go!' It was pure, raw emotion. All of these positive, joyous emotions you could have all came out."
He says that for any competitive sprinter, breaking 10 seconds is the ultimate accomplishment, vaulting a runner into world-class territory (the world record for the 100 meters is 9.58, set by Jamaica's Bolt in 2009).
"Every 100-meter sprinter dreams of that race when they break 10 seconds," Sanders says. "I was so happy for Toby. And so happy for our program."
He hopes that the success of the team, highlighted by Makoyawo's record, will help BU erase the idea that the best sprinters have to go to schools in the West or South, not the Northeast.
"No, you need an environment and culture supportive of the student-athlete," Sanders says, "then take care of their needs, and the rest will be history."