Meet the King of the GSU
Eduino Torres, lead custodian and events operations head, has been with Facilities & Management for more than 30 years
staff Spotlight
Meet the King of the GSU
Eduino Torres, lead custodian and events operations head, has been with Facilities & Management for more than 30 years
If you've ever attended an event in the George Sherman Union—Orientation, Senior Breakfast, or one of the hundreds of trainings and conferences held in the second-floor Metcalf Ballroom every year—there's a very good chance you have a particular person to thank for its success: Eduino Torres.
A lead custodian at Boston University, he has spent 28 years at the GSU running events setup and more for the BU community. Prior to working at the GSU, Torres spent six years at Warren Towers and 120 Ashford Street. In his time here, he has seen four presidents move in to (and three move out of) Silber Way, watched numerous buildings go up and down along Comm Ave, and looked on as generations of students have found a place for themselves at BU. 
He's also developed close relationships with staff and faculty across the University. Katherine Kennedy, director of the Howard Thurman Center for Common Ground, is just one of Torres' many on-staff friends and admirers.
"I have worked with Eduino for some 20 years," Kennedy says. "You can count on him to always greet you by name and with a smile." His work was crucial to the Howard Thurman Center when it was in the GSU, she says: "I always looked to Eduino to advise and guide me on different and creative ways to set up the space. He would determine how you could get the most seating and create different layouts for each type of event or program. I count Eduino's contributions to the Howard Thurman Center as an important element in our success."
As the lead custodian for Area 2—which encompasses the GSU and Mugar Memorial Library, the BU Academy, the DeWolfe Boathouse, and the Children's Center on Lenox Street—Torres is in charge of managing the daily responsibilities of the dozen or so custodians who work under him. He clocks in every weekday at 7:30 am and gets started on the day's tasks, which could include most anything, from fixing a broken pipe to responding to a cleanup call from the Academy.
If there are events happening that day, Torres is the go-to for setup and breakdown. Events are where he really shines, according to the folks who've worked closely with him over the decades. It doesn't matter if he's prepping for a 120-table job fair, a weekend conference with multiple layout changes, or a one-time workshop for a student club: the same amount of thought and care goes into each.
"He is always patient and works with you to give you the best of what you may want or need," says Kenneth Elmore (Wheelock'87), associate provost and dean of students.
(Whatever the nature of the event, Torres says, one consideration is always top of mind: "What I'm really responsible for is safety—safety first.")
Going above and beyond
Since joining Facilities & Management, Torres has done just about every job imaginable: snow removal, dorm upkeep, vandalism removal, flood cleanup, COVID-19 sanitation, and of course, event setup and breakdown. 
He's also been known to go above and beyond for the BU community. During the winter of 2015, when Boston was dumped with a record-breaking 108.6 inches of snow, he and other Facilities workers stayed on campus for three days straight to help clear the snow for students and staff.
He's only gotten in trouble once, he says, in all of his time at BU. The offense? A writeup for playing pool with students in Warren Towers in his early days. ("I was a young guy!" he says, laughing.)
It's his reliability and easygoing nature that make Torres a standout as a coworker, colleagues relate.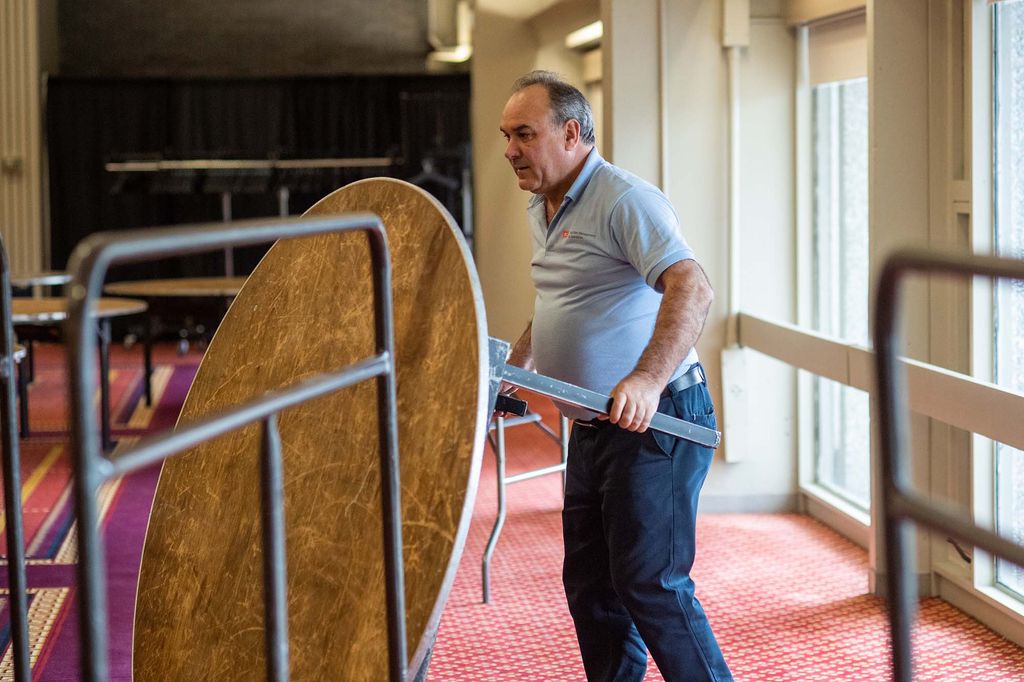 "Eduino has a wealth of knowledge," says supervisor Matthew Rodenhiser. ​​He also has a keen eye for things in need of detail or cleaning and motivates the staff to do the same. 'Fix it first, then talk about it later,' he always says."
"I love the high standards that Eduino demands of us for working with students and taking care of the unseen, important aspects of this place," says Elmore, who's worked with Torres as long as he can remember. "He makes us all look good. I also appreciate his care and enjoying food and conversation with Eduino—to me, he is fam."
But before Torres was a fixture at BU—where his wife, Lucy, works as a longtime executive assistant to the dean of students and where his son, James (MET'12,'13), earned a bachelor's degree in management studies and a master's in criminal justice—he was a young man fresh from the Azores. He immigrated from Portugal in June 1988 and married Lucy, who was then his girlfriend and was already in Boston, soon after. Lucy and her father, a custodian for the school, helped Torres get a job interview "right after my honeymoon," he recalls, laughing again. 
"The same day, I got hired as a janitor," he says. "I remember my father-in-law saying, 'Boston University is a good company with good benefits, and someday when you have a kid they can get tuition to go here.' That's one thing always in my life—always, I wanted to make sure my kids got a good education."
Today, Torres and his wife live in Stoneham, where they've been for nearly 20 years. In addition to James, a local police officer with two daughters who Torres dotes on, the couple also have a daughter, Sandra, a nurse at a Boston hospital.
Torres has always been a family-first type of guy, Lucy Torres says.
"Eduino is a hard worker who takes pride in his work. He is dedicated and always wants to make sure whatever he does is as perfect as possible," she says. "He also takes pride in our family, especially our children and our two granddaughters. Both of our kids are first-generation college graduates."
They consider BU a part of their family, Lucy Torres says, given their long history with the school. Both their children grew up coming to campus, well before their son became a BU graduate.
"BU has been a part of our family for the past 30-plus years," she says. "We work with so many amazing colleagues as well as many amazing students. They are what makes working here so special. We are also thankful for the incredible opportunity to educate our children."
For her husband, being a part of BU's fabric is perennially rewarding. Students learn to recognize him, Torres says, and always say hi when they see him. In some cases, they even tell their younger siblings to keep an eye out for him when they become BU students. Other times, students he's worked with have gone on to become staff members and maintain friendships with him.
Those moments and relationships always make him feel at home on campus. "I started here very young," he says. "I've made my life from here."