Meet Three Standout Class of 2022 Grad Degree Candidates
These graduates are ready to use their skills to change the world
Commencement 2022
Meet Three Standout Class of 2022 Grad Degree Candidates
These graduates are ready to use their skills to change the world
For the 4,113 graduate students in Boston University's Class of 2022, this isn't their first saunter across a stage to receive a diploma. This weekend's ceremonies mark the culmination of their countless hours of studying, researching, interning, teaching, reading (and then reading some more), and working tirelessly in pursuit of that time-honored symbol of higher education: an advanced degree.
With Commencement 2022 upon us, BU Today is showcasing three of the exceptional master's and JD students graduating this year. While they may have vastly different backgrounds, all three have one thing in common: they're ready to use their skill sets to make a difference in their communities.
Edgar Miranda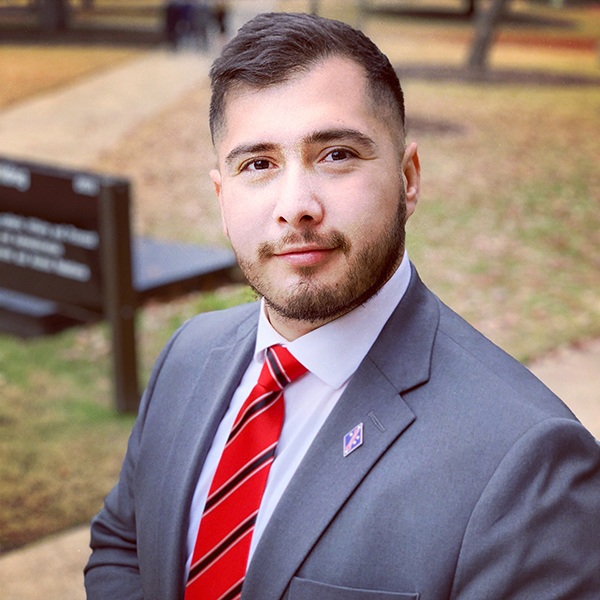 In his time at BU, first-generation college graduate Edgar Miranda (LAW'22) has helped clients of the School of Law's Immigrants' Rights Clinic get asylum, stepped up as the president of the BU LAW Student Veterans Association, and secured covetable clerkships and internships with law offices around the country.
But back when he was 17, none of that seemed even remotely possible for him. With self-described "terrible" ACT and SAT scores and little sense of what he wanted to do in life, college never felt like an option for Miranda.
Instead, he joined the Marines.
"I just went for it," Miranda says. "It's like a free fall; once you take the plunge, there's no going back."  
It worked. In the Marine Corps, Miranda ultimately found the discipline and purpose he felt he'd been missing. By 19, he was already a corporal. By 23, he was in Afghanistan (as a noncombat officer) and in charge of a billion-dollar logistical contract for his base's dining facilities, laundry services, water treatment, security, and more. Ultimately, his service in Afghanistan earned him a Navy-Marine Corps Commendation Medal.
He left the Marine Corps as a sergeant. In his years of service, he'd been stationed in Afghanistan, Texas, Korea, Japan, and California, and had held a variety of roles as an officer, instructor, and mentor. Then came his newest challenge: civilian life.
Miranda enrolled in college at 26. "It was almost like culture shock, going from being a Marine to being a civilian," he says. The students at his community college—and then at the University of Georgia, where he transferred after community college—"felt like children" to him, especially as he was trying to navigate Veterans Affairs to get the education and healthcare benefits he needed to finish college. Luckily, an office assistantship at UGA School of Law's newly established veterans legal clinic offered him both support and direction.
Seeing the UGA law students provide tangible aid to veterans like him was eye-opening. "That was one of those moments where it's like, why not me?" Miranda relates. For one, he'd already been offering fellow service members advice on navigating VA requirements after they left the Corps. Mainly, though, he was influenced by the chance to help people by getting a law degree.
And so, after graduating with a bachelor's degree in business administration from UGA, Miranda enrolled at BU as a first-year law student. For the first-generation Mexican-American and college student, law school was intimidating, but also liberating. He battled impostor syndrome for much of his first year, he says, until he realized that everyone in his cohort was in the same boat.
"Law school is a big equalizer; no matter your background, you're starting from scratch," he says. "You're navigating the same curriculum and trying to get to class and understand what's going on. That's what you need to focus on, rather than 'I'm not smart enough' or 'This person's parents are also lawyers and mine aren't.' Everyone is going through the same things, and if you feel insecure or like you don't belong, that's not the case. You have a right to be there just as much as everyone else."
Miranda spent his final year of law school as a visiting law student at the University of California, Los Angeles, near his parents and his hometown. When he graduates, he'll be going to work for a law firm in Newport Beach as a public finance associate. "I'll help public entities like cities and school districts issue bonds and incur debts to fund infrastructure projects," he explains.

As a newly minted lawyer, he feels like he's found his purpose.
"Getting out of the Marines, I went from being Sergeant Miranda to a nobody," Miranda says. "I finally feel like I'm not a nobody anymore. Now, I can do things to help people. I feel like I'm in a position to continue giving back."
Peter Kargbo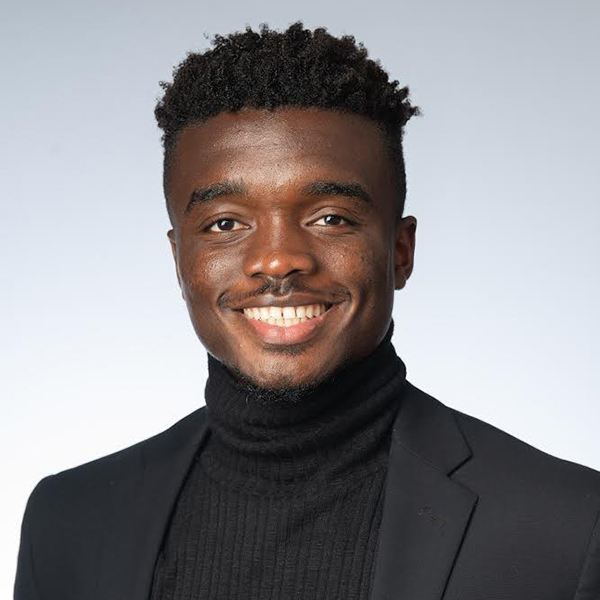 If there's been one constant in Peter Kargbo's life, it's soccer.
It's what got the Sierra Leone native to the United States in the first place, back when he was scouted by soccer academy coaches as a teenager. And after spending years traveling the country with his academy's elite team, it's also what ultimately led him to BU, where he earned multiple honors as a midfielder for the Terriers men's soccer team.
But, it's not all there is anymore.
"Soccer has been a huge part of my life," says Kargbo (CGS'19, COM'21, SHA'22), who's graduating from the School of Hospitality Administration with a master's in hospitality management after earning a bachelor's in advertising from the College of Communication. "The dream was always to play professional soccer after college. But I've realized over the past two, three years that there's way more meaning to life."
Don't get him wrong: he's still grateful for the opportunities the sport allowed him, he says, and that he spent years playing the game he loves. But if there's anything he's learned from his five years at BU—and his nine years in the States overall—it's that life has a way of placing you where you need to be.
For Kargbo, that's been Boston. It's where he found friends (including a girlfriend), mentors, steady employment—he's done just about every student job on campus, he estimates—and an education he and his family never could have dreamed of in Sierra Leone. The fact that he has a high school degree, a bachelor's, and now a master's is still mind-blowing to him, he says.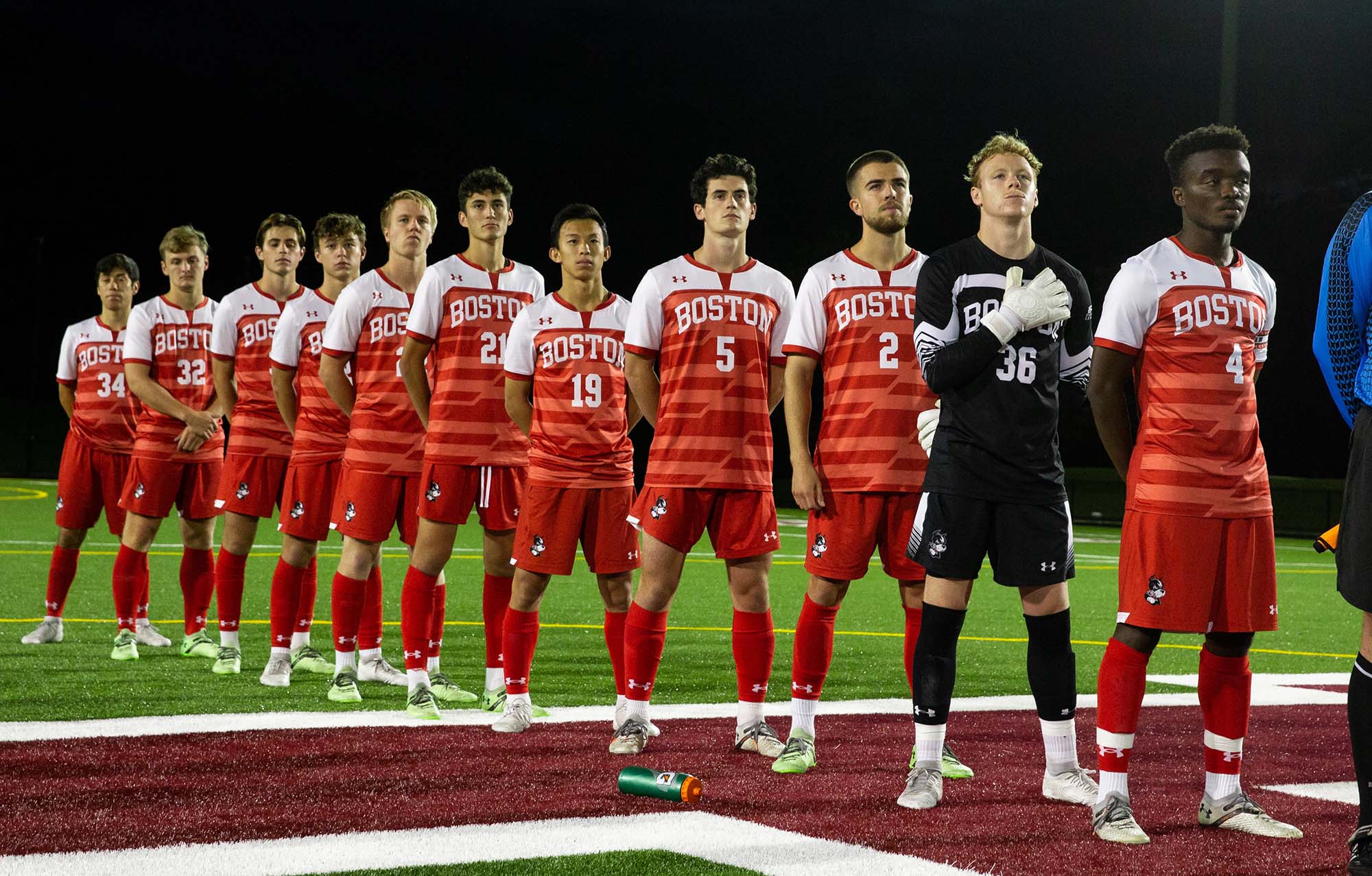 "My parents were always big on education. I video-called my family back home on WhatsApp when I walked for graduation last year," Kargbo says. "When I saw how happy they were—like, I've never seen them like that. Everyone was on the call, all my brothers and sisters, and everyone was just screaming. It was one of my favorite moments. I don't need any other motivation than my family."
That causes a lot of pressure sometimes, he acknowledges. But, he says, "I'm fortunate to be in that position, because any of my siblings would love to be in my shoes."
Kargbo spent the past year taking classes and interning with Restaurant Associates at Harvard Business School, where he's accepted a full-time job starting in June. He also participated in SHA's POC PhD Pathway Program in Hospitality and Tourism conference in April, nominated by Arun Upneja, dean of SHA. Even though a doctorate isn't in his immediate future, he says, the conference and his time at SHA really opened his eyes to what's possible.
So far, his plan is to build his career here in events and catering and then start thinking about what he can do back home. Hospitality is all so interconnected, he says—hotels, catering, tourism: it all goes hand in hand. He'd love to help build a full-service hotel in Sierra Leone one day.
"My goal is to showcase the beauty of Sierra Leone beyond being a country rampaged by a civil war, Ebola, and a pandemic, and to let people—especially in the Western world—see it as a beautiful, safe place with the nicest people in the world," Kargbo says.
He'll also keep giving back in ways he can. He sends money to his family, and last fall, he raised close to $2,000 for a charity that builds schools and provides scholarships to children in Sierra Leone. He's sent soccer balls and cleats to one of his former coaches who runs a charity back home, too.
So yes, soccer gave him this life, but there's so much more in it now.
"My family, and life, and just what I want to do back home for my country and hometown is way bigger than that," Kargbo says.
Michelle Eastman
Growing up in the Evangelical Christian faith and having cerebral palsy, there were two basic narratives Michelle Eastman (STH'22) heard about having a disability. First, that it was the result of sin and needed prayer to be healed. And on the other end, that it was something to be glorified.
"In the Christian tradition, people will say things like, 'If God is allowing you to suffer, that means it's going to help you be strong,'" Eastman relates. "People with disabilities will often be told their suffering is good for them."
It wasn't until she got to BU and began her graduate studies at the School of Theology that she was able to start disrupting those narratives.
In her classes and extracurriculars, she "started to understand that there were other interpretations of disability in theology," says Eastman, who's graduating with a master's in divinity. "STH really works to think about theology in a more inclusive way, and that was the first time in my life that I heard someone challenge the notion of certain healing passages in the Bible. BU really made space for me to reimagine disability not as sin, but as a difference to be celebrated."
That narrative shift inspired her master's work. In her time at STH, Eastman dug deep into disability theory and disability justice. She also engaged in on-campus advocacy: she was heavily involved in talks with BU administrators about making the campus more accessible for students and staff with disabilities. Plus, she's in charge of the STH Class of 2022 class gift, a fund to make the school more handicap accessible.
Most notably, though, Eastman, along with six other theology grad students, from BU, Harvard, and Boston College, organized the first-ever disability conference at STH this past March. The conference, titled Accessing the Divine: Disability, Embodiment, and Claiming Joyous Futures, drew approximately 220 attendees (50 of them in person) from around the world. It featured six presenters—all disabled—three workshops, and keynote speaker Sharon Betcher, one of the most preeminent scholars in "crip theology," as Eastman calls it. ("It's reclaiming 'crippled' as a positive thing," she explains.)
The entire day was "super powerful," Eastman says. "The conversations that came out of it were amazing.
"The whole purpose of the day was to claim joyful futures about disability, because in the Christian tradition—and society at large—disability is seen as a tragedy. But it's the only minority that anyone could fall into at any time," she says. "By coming together with a bunch of disabled people, it was like saying, 'No, our embodiment can be joyful, and our futures matter.' We just made room for the celebration and the understanding that there are other ways to think about disability, whether you're Christian or not."
The conference was the perfect culmination of her work at BU, Eastman says. It's also a harbinger of the work she wants to do going forward. After taking some time off, she plans to pursue a PhD in disability theology. She also wants to continue being an advocate for the disabled community, in whatever form that takes. (And in her spare time, she runs an Instagram page dedicated to celebrating disabilities in religious spaces.)
She knows that this is her calling.
"The more I study disability and reimagining it in a positive way in Christian theology, it's like I've encountered God in a totally different way," Eastman says. "My relationship with God and why I believe in God is very much tied up with my vocational passion to be an advocate for the disability community. I really believe that God is on the side of the oppressed.
"I've been liberated to reclaim narratives [about disability], and I'm motivated to tell other people about them so that people with disabilities will not only feel comfortable in church, but also so they won't be like, stopped in the grocery store to be prayed for," she continues. "It's my passion to change this kind of narrative."