Matilda, a Most Remarkable Heroine, Takes the Stage at Wheelock Family Theatre
In Roald Dahl's Matilda, the Musical, a young girl reminds us that even if you're little, you can still do a lot
Wheelock Family Theatre
Matilda, a Most Remarkable Heroine, Takes the Stage at Wheelock Family Theatre
In Roald Dahl's Matilda, the Musical, a young girl reminds us that even if you're little, you can still do a lot
Roald Dahl created some of the most indelible children's characters in contemporary fiction: Charlie Bucket, the noble, caring boy whose goodness is rewarded with a chocolate factory (Charlie and the Chocolate Factory); James Henry Trotter, the seven-year-old orphan who embarks on a quest for home (James and the Giant Peach); Sophie, the plucky eight-year-old who befriends a giant (The BFG); and Danny, the courageous nine-year-old who rescues his father (Danny, the Champion of the World).
But perhaps none is more memorable than Matilda Wormwood, the brilliant and mischievous five-year-old who uses her intelligence and powers of telekinesis to battle indifferent and abusive adults.
Happily, the plucky and enterprising heroine has arrived in Boston, and for the next month, she'll be delighting theater-goers of all ages. Wheelock Family Theatre is kicking off its 2022-2023 season with a production of Roald Dahl's Matilda, the Musical, the Olivier Award– and Tony Award–winning musical adaptation of Dahl's 1988 children's story, with lyrics and music by Tim Minchin and book by Dennis Kelly.
The musical, first staged in England in 2010, then on Broadway in 2013, is about preternaturally precocious Matilda, who is speaking in complete sentences at age one and by four and a half has devoured all her local library's children's books. As the musical opens, Matilda finds herself enrolled at Crunchem Hall, where she comes up against the tyrannical and sadistic (and also hilarious) headmistress, Miss Agatha Trunchbull. Salvation comes in the form of the lovely Miss Honey, Matilda's teacher, who nurtures her considerable talents.
The New York Times called the Broadway show "the most satisfying and subversive musical ever to come out of Britain." (Fans of the book may also recall a 1996 film adaptation, directed by Danny Devito and starring Mara Wilson.)
Matilda is the latest in a series of musical adaptations of Dahl's children's books staged by WFT. The company presented both James and the Giant Peach and Roald Dahl's Willy Wonka in 2019 and had already secured the rights to Matilda when the pandemic struck.
Emily Ranii (CFA'13), WFT artistic director and director of Matilda, says children respond to Dahl's works because they are tales of empowerment.
"I think it's about the agency that these young people have in the stories," Ranii says. "They change their world in pretty big ways. Matilda's family isn't kind to her, so she goes out and makes a new family with Miss Honey. I think with so many other stories, the adults have all the power. In Roald Dahl's works, the children have the ability to change their surroundings, change their families."
Matilda is Ranii's favorite of Dahl's protagonists. "She's fiercely intelligent, so much so that she has superpowers and can move things with her eyes. As a child, I was absolutely in awe of that. She also has an incredible sense of morality, and she keeps saying, 'That's not right' when she sees Miss Trunchbull mistreating other kids."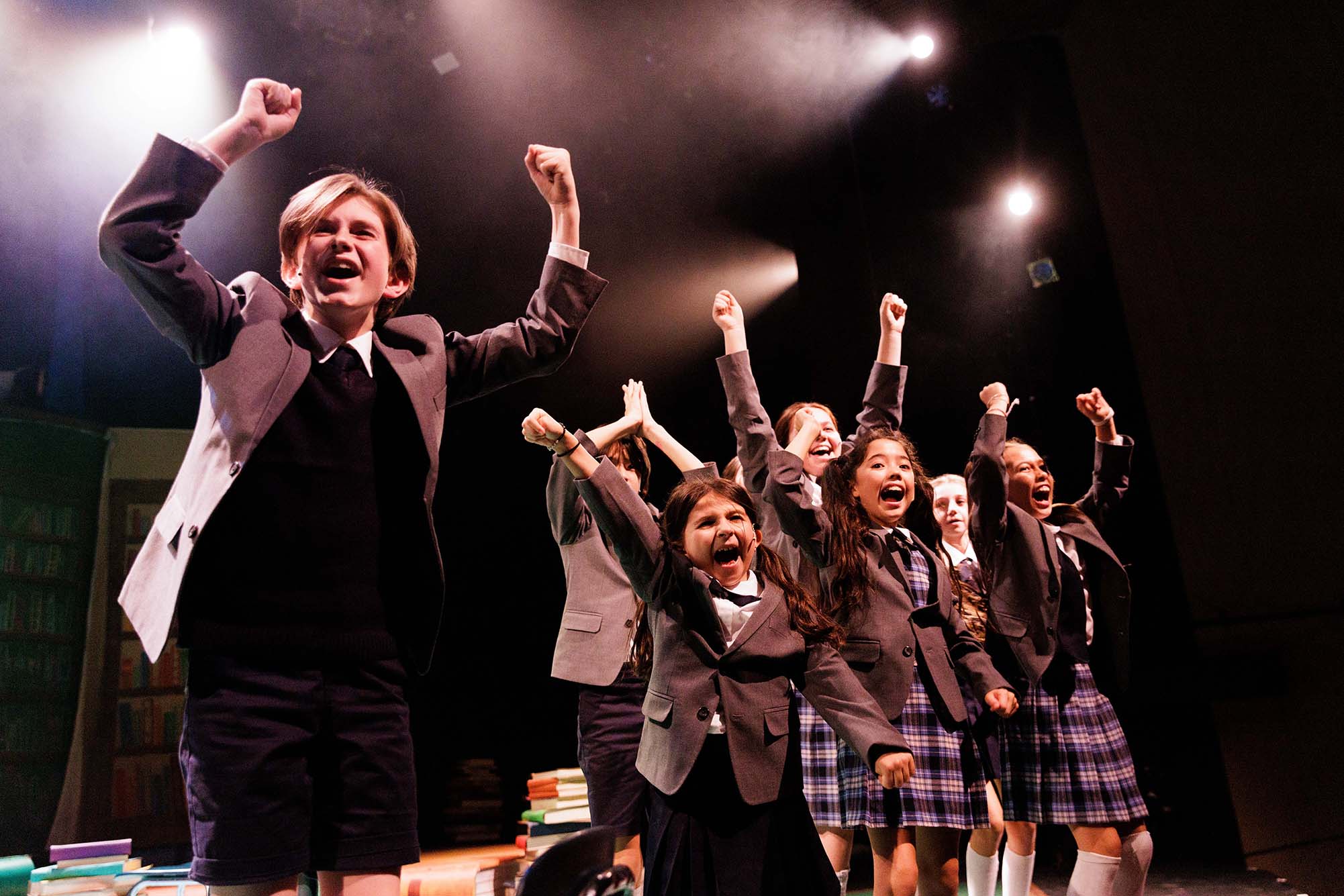 The show poses a number of challenges, she acknowledges, starting with the size of the cast (20), which includes a youth ensemble comprising 11 actors from 9 to 16. And then there are all the understudies, which the pandemic has made crucial. Ranii calls them "wonderstudies," because each is responsible for covering multiple actors, should a cast member get COVID. Pre-pandemic, understudies weren't brought in until the tech rehearsals and had to play "a big game of catch up," she says. Now, they're in from the first rehearsal. The show has a COVID safety manager and cast and crew take twice-weekly tests.
In addition, there are a series of big dance numbers, shadow puppetry, and perhaps most challenging, magic—which has to be conveyed on stage convincingly.
"Lately, a dinner party conversation I've been having is, can you figure out, how on stage, you can make a piece of chalk move at a distance, or how would you stretch a child's ears on stage, or how would you throw Amanda Thripp by her pigtails," Ranii says. "Those are all magic tricks that you have to solve and solve safely for the artists involved, but they also have to look really dangerous to the audience."
The cast is led by nine-year-old Sky Fuller, a fourth grader from Framingham, appearing in her first WFT production. She saw a production of Matilda at a school in Weston and was mesmerized. "I watched it and I was like, oh, my God, I love this so much," Fuller says. So when her mother mentioned that WFT was mounting a new production and asked if she'd like to audition, Fuller was all in. Her answer to whether she was nervous during her audition: "No. I do not get scared. Only for horror movies and stuff like that. I just go right in and be myself."
"She's electric," Ranii says. "She just has so much confidence and personality and there are these really big chunks of text where she has to sustain a long story and engage the audience. And on top of that, she also has to sing and dance like nobody's business."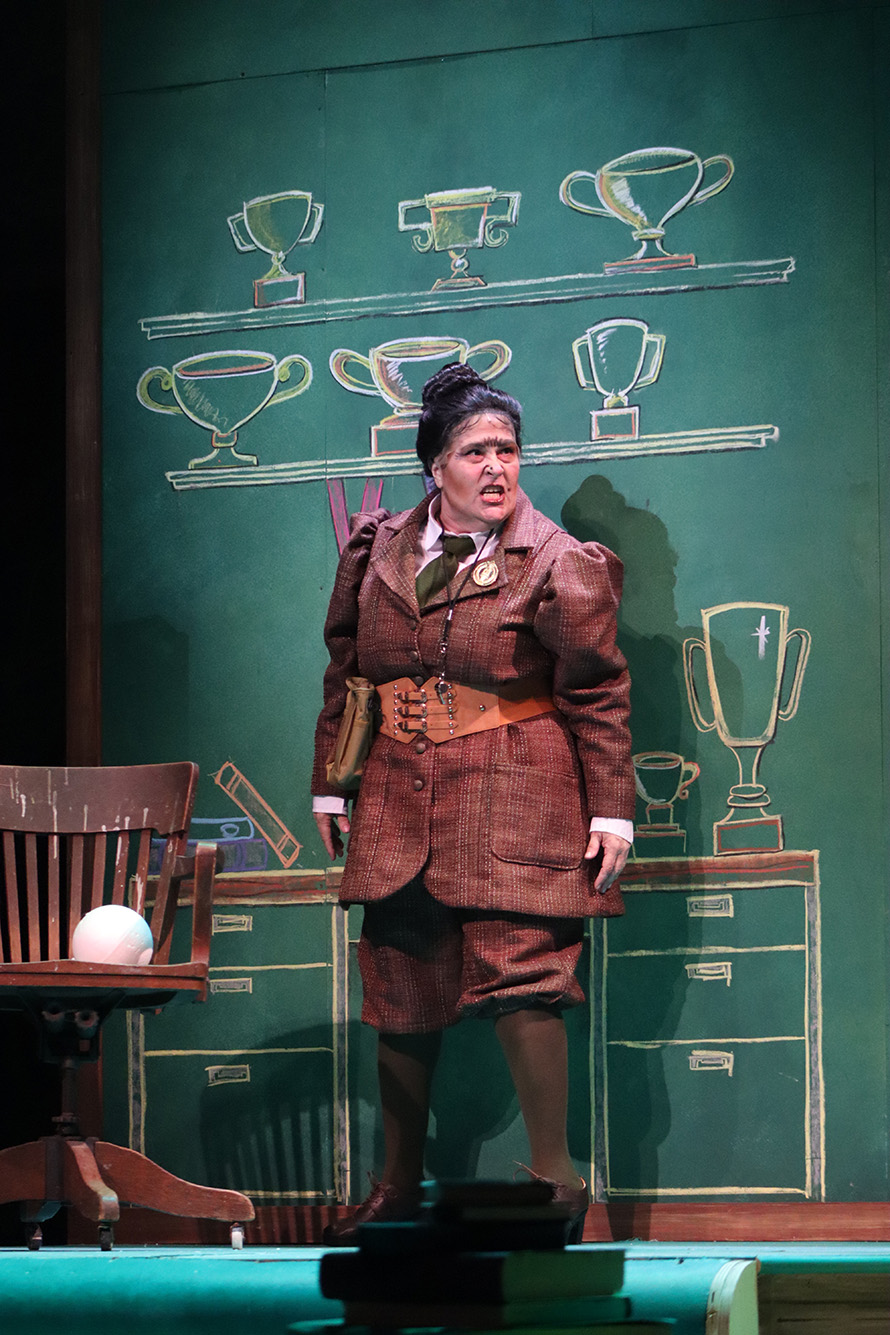 Taking on the role of Miss Trunchbull is veteran actor Johanna Carlisle-Zepeda, who admits to a fondness for playing villains. "I've played Miss Hannigan in Annie, Miss Euphemia Andrew ("the Holy Terror") in Mary Poppins, and the Widow Corney four times now in Oliver! But of all the villains I've played, Trunchbull is the worst," she says. "Where other villains get their comeuppance or find some level of remorse, this human being never really has any remorse. She does not like children. She does not like people. She's just mean to the core."
Carlisle-Zepeda says that to prepare for the part, she watched clips of old Olympic trials for shot putters and hammer throwers. (As anyone who has read the book or seen the musical knows, Trunchbull was a hammer thrower at the 1972 Olympics.) She worked to discover how Trunchbull would carry herself, how she'd present herself with a mix of confidence and terror. "I did a lot of weird research before starting rehearsal," she says.
The first day she rehearsed with some of the child actors in the cast, Carlisle-Zepeda says, it became clear some were a bit intimidated by her. She went to Ranii afterwards and said, "Can we do a little pre-show ritual before rehearsals, just a reminder that I'm not a bad guy in real life and that I really do love and care for them?" So each day, before rehearsals, she gathers the girls around with her understudy, and they put their hands in and recite a take on the school's motto: "Bambinatum est maggitum" ("Children are maggots), and instead, they say, "Bambinatum est non maggitum" ("Children are not maggots") and finish with Matilda's line, "Even if you're little, you can still do a lot."
Miss Trunchbull's counterpart, Miss Honey, is played by Kira Troilo, who last appeared at WFT as Meg in the 2020 production of Little Women: The Broadway Musical.
"I hope the audience, watching Matilda and Miss Honey, recognizes the importance of seeing someone and raising them up," Troilo says. "That's a valuable person to strive to be, and it's valuable to look around and see who those people are for you."
In keeping with WFT tradition, a number of current BU students and alums are working behind the scenes on the production: Evan Brown (CFA'23) and Sav Scott (CFA'25), assistant choreographers; Steven Doucette (CFA'19), props designer; Frank Meissner (CFA'85), lighting designer; and James Rotondo III (CFA'17), shadow puppeteer and scenic painter.
Ranii says she hopes the children who come to see Matilda will take to heart the book's line that Carlisle-Zepeda and her understudy say before rehearsals: "Even if you're little, you can do a lot."
"I hope the young people in our audience understand that their voice can change the world and realize the importance of sticking up for yourself and for others," she says, "and that they know they are already powerful and have everything within them to make a difference."
Roald Dahl's Matilda the Musical runs weekends through November 20 at the Wheelock Family Theatre, 180 Riverway, Boston. Performances are Fridays at 7:30 pm, Saturdays at 2 and 7:30 pm, and Sundays at 2 pm. Ticket prices range from $24 to $48. BU students, faculty, and staff are invited free of charge opening weekend (to reserve your ticket, use code "BUOpen"). BU students can purchase $12 tickets to any performance using the code "College." Faculty and staff receive a 25 percent discount off a full price ticket with code "BUStaff." Purchase tickets here, call 617-353-3001, or email WFTtix@bu.edu. ASL and AD performances are Sunday, November 13, at 2 pm, and Thursday, November 18, at 7:30 pm.
WFT's 2022-2023 season will also include a world premiere musical adaptation of Robert McCloskey's classic children's book Make Way for Ducklings, a co-commission with Adventure Theatre in Glen Echo, Md., created by Michael J. Bobbitt and Sandra Eskin, with music and lyrics by William Yanesh, running February 17 through March 12, and Bud, Not Buddy, an adaptation of Christopher Paul Curtis' award-winning novel about a 10-year-old boy in search of his father, running April 14 to May 14. WFT did a virtual production of Make Way for Ducklings in December 2020. The show has undergone extensive revisions since then. And Bud, Not Buddy was originally planned for spring 2020, but was postponed by the pandemic.