Museum of African American History President Leon Wilson is Preserving a Vital Part of Boston's Past
Alumni
Preserving a Vital Part of Boston's Past
As president and CEO of the Museum of African American History, BU alum Leon Wilson is credited with keeping the nonprofit open throughout the pandemic
Leon E. Wilson was only three weeks into his job as president and CEO of the Museum of African American History when the COVID pandemic struck in March 2020. After a distinguished career in finance and nonprofit finance—including stints at Bank of America's Philanthropic Asset Management Group and the Nonprofit Finance Fund—he had agreed to helm an institution that for more than 50 years has been preserving and illuminating the untold stories of the 18th- and 19th-century Black men and women who helped shape Boston and New England.
But Wilson (MET'75) suddenly found himself in uncharted waters. Museums everywhere were being forced to shutter as the pandemic swept across the country, unsure of how—and when—they'd reopen and how they'd manage financially without paying visitors.
"We had to learn how to keep the museum going," Wilson says. "I'd begin almost every meeting with staff by reminding them: "There's no guidebook here. There are no notes. We're going to have to figure this out every step of the way."
And the stakes were high. Like many small and midsize museums, the Museum of African American History (MAAH)—on a narrow street on Beacon Hill (there's a Nantucket campus as well)—was undercapitalized. Wilson had been hired to help ensure that the museum had the means to expand its mission and to elevate its profile.
First, he had to navigate the COVID crisis.
From March through July 2020, the museum was closed to in-person visits. Wilson helped staff pivot to virtual presentations and virtual learning, reached out to partners like the Boston Public Library and the GBH Forum for assistance with online programming, beefed up the museum's website, and secured PPP (paycheck protection program) funding, all of which allowed the museum to retain its staff of 12 throughout the pandemic.
Wilson says it was imperative that the museum keep operating. If it were forced to shut down, even temporarily, it faced the possibility of gradually fading away. "I thought, we can't take that risk," he says. He told staff, "We're open, we're operating. We're a resource. We're in the business of providing historic facts. These are authentic buildings. We've got to exist, because if the museum was gone, this part of history would be gone."
Wilson also understood that as the nation began to deal with a national reckoning on race following the murder of George Floyd in 2020, the museum could play a critical role.
"We were right smack in the middle of being the answer in a whole bunch of ways," he says. "The best predictor of the future is the past. There was strife around race and racial equity previously. And we got through that as a country. But somebody has to be the custodian of that information… We had to sort of take that out to the world, explain: here is why we have to exist."
Tracing a Story That Begins in Africa
The MAAH bills itself as "New England's largest museum dedicated to preserving, conserving, and interpreting the contributions of African Americans." It aims to bring to life the stories of the free African Americans and white abolitionists who worked to end slavery and struggled to address racial and economic inequality. Chartered in 1968, the museum consists of two historic buildings in Boston: the oldest Black church building in the country, the African Meeting House, built in 1806, and the adjacent 1835 Abiel Smith School, the oldest building in the United States whose sole purpose was to house a public school for Black children. The museum also maintains two buildings on the Nantucket campus.
The African Meeting House was the religious, cultural, and political hub for the city's Black community in the 19th century, hosting meetings by such groups as the New England Anti-Slavery Society and the New England Freedom Association, which was dedicated to assisting those seeking freedom via the Underground Railroad, a network of people and safe houses that helped enslaved people escape. Many of the nation's leading antislavery and women's rights advocates appeared there, among them Frederick Douglass and William Lloyd Garrison.
"The museum's most treasured artifacts are our buildings on the two campuses," says L'Merchie Frazier, the museum's director of interpretation and education. "The fact that we are stewards of this 18th- and 19th-century Black and Indigenous history is represented by these buildings, as the only ones that exist in North America and this hemisphere that date back to the Colonial period and the American Revolution. These buildings situate us in the narrative of American history from its founding."
The museum's collection includes more than 5,000 books written by, for, and about Black people, documents, paintings, photographs, furniture, and clothing—all of which trace a story that begins in Africa and moves to Boston in 1638, when the slave ship The Desire arrived carrying the first documented kidnapped Africans to the commonwealth. The collection's items go on to chronicle the founding of a vibrant free Black community on Beacon Hill in the late 18th century.
The artifacts highlight the critical role that the city's small but influential Black community played in shaping our national story. Among the standouts: a 1773 edition of poems by Phillis Wheatley, the first African American women to publish a book of poetry, and a frock coat worn by Robert Gould Shaw, who was born into a family of prominent Boston abolitionists and later led the first all-Black Union regiment from the Northeast during the Civil War. The museum also has more than 700 glass plate negatives taken by Hamilton Sutton Smith, a Black photographer born in Boston in 1857. The plates have preserved what daily life was like for Boston's Black residents in the late 19th and early 20th centuries. The archaeology collection alone has 35,000 items, unearthed during excavations on museum property between 1993 and 2005.
Realizing what would be lost if the museum were forced to shut down, Wilson immediately began assessing what needed to be done to ensure its future. Working with MAAH staff and its board of trustees, he created a plan to stabilize the museum, arranging payment plans with creditors and collaborating with supporters.
In meetings with corporations, foundations, and other organizations, Wilson discovered that they were looking for help as well—in creating programs and supporting Black institutions and businesses. Suddenly, he found himself forging new partnerships across the city. And at every meeting, he reminded audiences: "You can't lose this piece of history. There is a gap, there are untold stories. There are stories told for us, about us. But we need stories told by us, about us."
The response, he says, was gratifying.
All that hard work soon began paying off. In July 2020, the museum, which has an annual operating budget of $2 million, received a $1 million grant from longtime partner Liberty Mutual Foundation—one of the largest gifts in its history—to help fund a new social justice initiative.
"For over 200 years, the African Meeting House has served as one of the nation's most important and influential centers of cultural and political discourse around racial equality," noted Melissa MacDonnell, president of Liberty Mutual Foundation, in announcing the gift. "Today, the Museum of African American History invokes this important history—in the very place it happened—to open new conversations around racial equity."
---

We've got to exist, because if the museum was gone, this part of history would be gone.

---
And by pivoting to a hybrid model of virtual and in-person programming, the museum was able to increase its reach by 50 percent from 2019 to 2020. This past year, the MAAH increased the number of customized education programs by 50 percent from the year before. The income stream for program delivery jumped from $8,000 in 2020 to approximately $40,000 last year. In June 2021, the MAAH hosted more than 65 events just around Juneteenth, which commemorates the day in June 1865 when Confederate military troops in Texas surrendered to the Union Army, two years after the Emancipation Proclamation was issued. The museum also produced a documentary, Jubilee, Juneteenth and the Thirteenth, produced by Sylvia Stevens-Edouard (COM'74), chair of the museum's board of directors and Liberty Mutual Insurance Company director of community relations. The film highlights the pivotal role of Boston's African Meeting House in the nation's fight to abolish slavery and the significance of the Juneteenth celebration of 1865.
"This Job Uses Everything I've Ever Learned in Life"
Wilson, who grew up in Cambridge, Mass., recalls spending summers hanging out with friends at Magazine Beach, a municipal pool on Storrow Drive, where they would look across the Charles River at Marsh Chapel's spires. "That was college to us," he says. "BU was college to us."
When he enrolled at BU in the mid 1960s, he planned to become a teacher, having had several elementary and high school teachers who had been mentors. But Wilson left BU to join the US Army Reserve, and by the time he returned to Boston, he was married and starting a family and had begun a full-time job at Shawmut Bank in Kenmore Square. The bank offered to pay for his education, and he took finance classes at Metropolitan College before and after work.
"I'd get on the train, go to class and finish up around 9 am, get in the office about 9:30, work all day, go back to classes, and take a 9:30 pm train home," he recalls. "I wish I could say I had a great plan. What I had was a serendipitous road to wonderful things based on unanticipated contacts, connections, and support."
He earned a degree in business administration and management at MET and spent decades in finance before becoming corporate senior vice president and managing director at General Motors Acceptance Corporation Residential, where he headed emerging markets. (In 2004, he received a Boston University Distinguished Alumni Award.) After retiring 16 years ago, Wilson began working for the Nonprofit Finance Fund, a community development finance institution in New York. He retired a second time, did some more consulting, and then retired again, settling with his wife in Edgartown on Martha's Vineyard. But he was soon itching to do something more and began working at the MAAH in 2017 as a strategic advisor.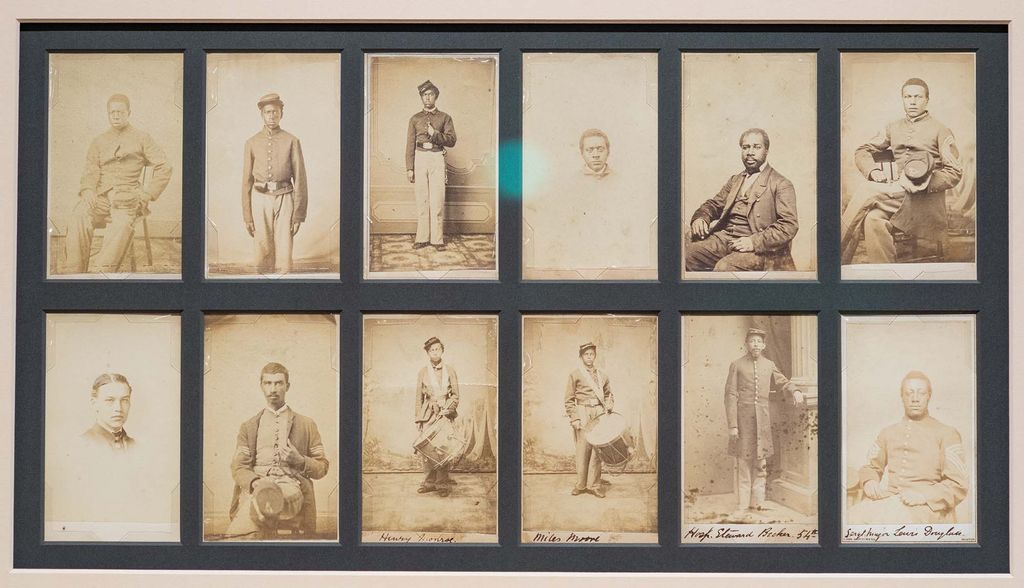 Two years later, when the museum's former president announced he was retiring, the board of trustees offered Wilson the CEO job, feeling he was uniquely positioned to help increase its visibility and ensure it had the financial support to increase programming. "Leon's long history in Boston and his career in banking, which included supporting nonprofits, made him an excellent choice to help create plans to fuel the museum's next phase of development," Stevens-Edouard says.
Wilson says the job has been one of the most rewarding of his career. "It uses everything I've ever learned in business," he says. "It uses everything I've ever learned in life, about working with people."
Now, as the pandemic enters its third year, Wilson says his primary job is to continue securing MAAH's financial future. The Hearst Foundation recently awarded the museum a grant of $100,000 to support its general operating costs, and Wilson is in talks with two other philanthropic organizations. Working with the museum's board, he has created two historians-in-residence, held by Kerri Greenidge, Tufts University's Andrew W. Mellon Assistant Professor of Race, Colonialism, and Diaspora, and Kellie Carter Jackson, a Wellesley College associate professor of Africana studies. And the museum's annual Living Legend Gala fundraiser, hosted this year by Emmy-nominated actor and comedian Anthony Anderson (Blackish), was its most successful ever.
"Leon has done his job," Stevens-Edouard says. "The museum is on track, developing new and deeper relations with funders, area colleges and universities, as well as community stakeholders. Under his leadership, the museum is moving proudly forward."
Wilson says the lessons of the past two years have been invaluable. "We have learned well the benefits and necessities of operating in person and virtually," he says. "We will never go back to an in-person-only environment. We've added significant new supporters and expect to increase our funding, programs, and outreach."
What does he hope his MAAH legacy will be?
"I hope to leave the museum as an organization that can endure for centuries to come," he says. "You can't lose these buildings, this history. They are irreplaceable."