Legendary Dancer, Choreographer, and Director Bill T. Jones to Speak at BU on March 2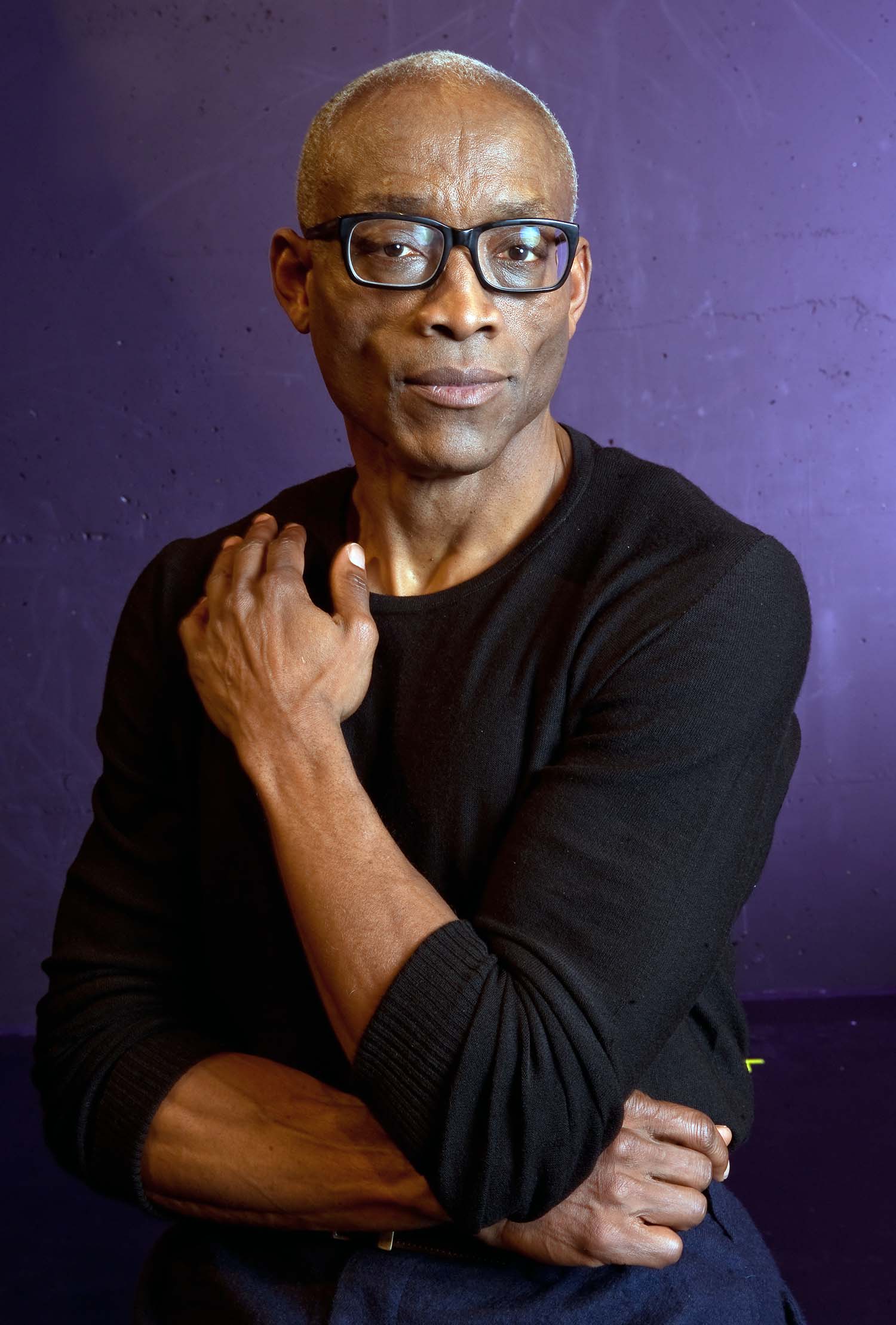 Dance
Legendary Dancer, Choreographer, and Director Bill T. Jones to Speak at BU on March 2
Award-winning artist will discuss his career at BU's annual Conversations in the Arts and Ideas series
Back in the mid-1990s, controversy erupted around choreographer-dancer Bill T. Jones' dance/multimedia piece Still/Here, which featured interviews with sick and dying HIV/AIDS patients. A prominent dance critic outraged many in the arts world by refusing to see the piece, calling it "undiscussable victim art." Louis Chude-Sokei, then a grad student at UCLA, knew little about dance, but made it a point to see Still/Here.
"It was the first time I'd even seen or thought about putting different kinds of bodies on stage, not just thin, athletic, pristine balletic bodies or muscled modern-dance bodies," says Chude-Sokei, a College of Arts & Sciences professor of English and director of the African American Studies program. 
"It was old, young, large, small, different movements, different sounds, and it simply blew my mind because all of that was possible," Chude-Sokei says. "I remember being really, really moved by that. And that's how I was introduced to Bill T. Jones."
Now BU's George and Joyce Wein Chair in African American Studies will help introduce Jones to BU. The legendary dancer, choreographer, and director is the latest guest in the University's annual BU Conversations in Arts and Ideas series. He'll talk about his life and work with Chude-Sokei on Wednesday, March 2, at the Tsai Performance Center at 7 pm. The event will have a Q&A and is free and open to the public; register here to ensure a seat.
"Artists are always working in an ever-shifting world," Jones says in a BU Today Zoom interview. "Shifting values, a shifting sense of what is beautiful, and more importantly, a shifting sense of who is art for—that is the question of what is human. That might feed into this idea of making art in times of duress, such as during pandemics."
Jones has worked hard to keep his Bill T. Jones/Arnie Zane Dance Company moving forward during COVID, which he sometimes calls the second pandemic. "Words we use so much that some members of my staff are allergic to them now are 'nimble' and 'pivot,'" he says, words that could be dance terms.
"We kept paying people even when nothing could happen. Many things were proposed and prepared for, and then they were canceled. So how do we keep a company of talented young performers occupied?" Jones says. "This was the genius of my associate artistic director, Janet Wong—to give them assignments to be worked on in their remote locations and they would videotape them, and then we would meet through Zoom and critique.
"It's a tactile art form, as you say. To be doing it all remotely was rather dismaying at first," he says. "We had to be more nimble in terms of how the language we use as directors would affect our young performers. And the performer had to articulate more clearly what was not happening. If they're looking at a videotape of Bill T. Jones dancing in 1991, that's a lot different than having him in the room and looking at him doing it. So there was a lot of expansion of the pedagogy, which is a good thing."
Anniversary year, but new work keeps coming
As a freshman at Binghamton College, Jones fell in love with Arnie Zane, who would be his personal and professional partner until Zane died of AIDS in 1988. Their duets provocatively addressed race, sex, and many other topics. In 1982 they formed the company that's still going strong today. Jones is now married to Bjorn Amelan, the company's creative director.
"On the 40th anniversary of the founding of the Bill T. Jones/Arnie Zane Company, we must recognize Bill T. Jones as one of the most powerful forces for innovation in the dance-theater world," says Carrie Preston, a CAS professor of English and director of the Kilachand Honors College, one of the series sponsors. "Jones has persistently worked to foreground injustice, particularly injustices related to race, sexuality, and ability, and to choreograph a new way of being in the world." 
Also sponsors of the Arts and Ideas series are the BU Center for the Humanities, the Office of the Provost, and half a dozen other campus entities. Previous series speakers include authors Zadie Smith and Teju Cole and filmmaker Werner Herzog.
Last fall, Jones, a two-time Tony Award winner for best choreography (2007's Spring Awakening and 2010's Fela!), took the stage in a new work, Deep Blue Sea, alongside dancers from his company and 90 or so community volunteers. The large-scale production at Manhattan's Park Avenue Armory, called colossal by the New York Times, was inspired by a mostly forgotten Black character in Moby-Dick and by the "I have a dream" speech by Martin Luther King, Jr. (GRS'55, Hon.'59).
"Deep Blue Sea occurred to me when I was invited by the wonderful artist Nick Cave to enliven his 20,000-square-foot installation at Mass MOCA. This room had all sorts of objects hanging from the ceiling—it was like an ocean," Jones says. "I was only able to walk a certain path, which was a figure eight. The audience was lining this path, about 200 people. I was walking when they came in, and some of them were so busy trying to get their chairs, they were bumping into me. And then when the piece started they said, 'Oh, that was the guy!'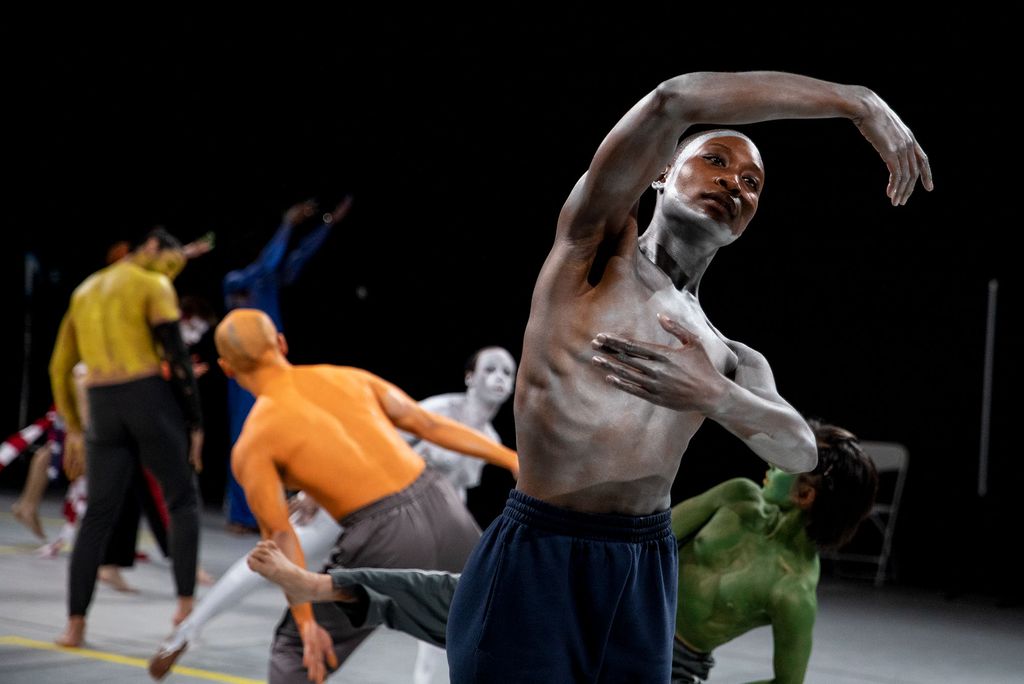 "So in the Armory version, we actually set about having the audience come in and walk through the performing area, encountering this six-foot-one-inch Black man who is doing some very esoteric movements in silence. And they're trying to get to their seats. So already the performance implicated them in an uncanny way. It felt like a performance, but was it a performance? I made people either very excited or very nervous.
"That was a piece, Deep Blue Sea, where I was asking, 'Is there a we?' This was formulated on the eve of the universe's great answer to that question: 'Yes, there is a we, you are subject to it, and it can kill you. You are subject to a virus.'"
Now 70, Jones is hardly slowing down. He choreographed the musical Black No More, with music and lyrics by Tariq Trotter of The Roots, which opened off Broadway last month (thrilling, the Times said of his work). One of his enduring works was the subject of the much-praised 2021 documentary Can You Bring It: Bill T. Jones and D-Man in the Waters, which Kilachand Honors College screened three times in preparation for his appearance. Students in Kilachand's first-year studio courses will be studying Jones' work, particularly work related to the HIV/AIDS epidemic, and some classes will also look at that mid-'90s controversy over Still/Here.
"I really do want a lot of our conversation to also come from what the students want to talk about," Chude-Sokei says.
The two met for a long phone conversation last summer after Jones read Chude-Sokei's book The Sound of Culture: Diaspora and Black Technopoetics (Wesleyan University Press, 2015), and ended up licensing portions of it as material for a forthcoming project called Curriculum 2.
"The real excitement was when I realized he actually read the book! He read it like he was a graduate student, asking questions that were deep and intense," Chude-Sokei says.
"It's an important book examining the relationship of Black bodies to technology," Jones says. "His book was what I call a serious prompt for my work. My work in general always comes from a set of questions. I am asking a question: what is the curriculum to raise the consciousness of people in the west? How do they understand the world?
"I come from the postmodern dance world," he says, "which was less about learning steps and more about solving problems. A score could be a set of questions, that the person by answering those questions would be making a performance. This was a work that was extremely conscious of the meta nature of creation: Who's doing it? When are they doing it? Why are they doing it? Is that not itself the poetry that lies at the heart of the work?"