Kori Pacyniak and the Women Priests Push for Changes in the Church
Transgender, nonbinary alum has become a leader in a breakaway Catholic movement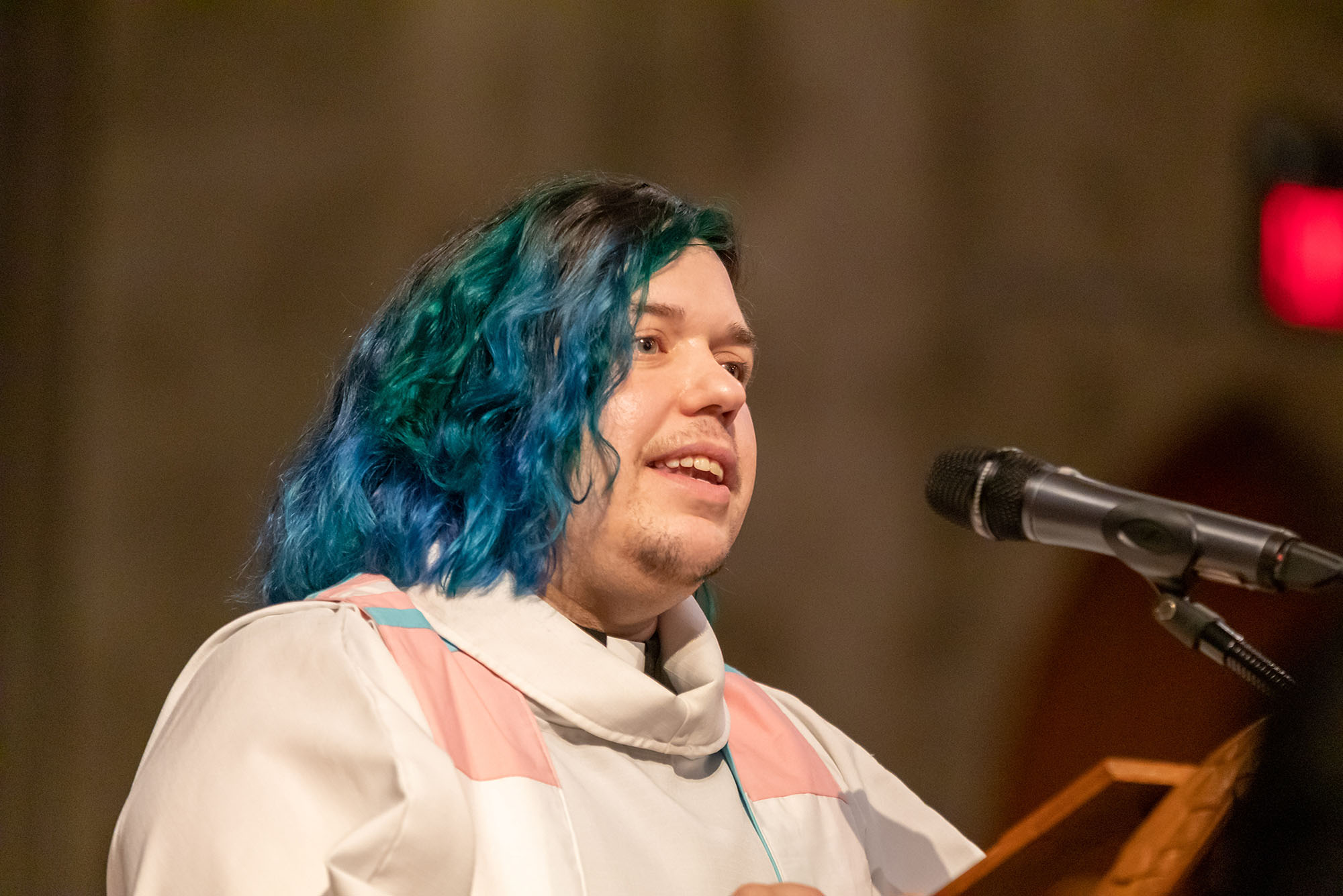 LGBTQIA+ Religion
Kori Pacyniak and the Women Priests Push for Changes in the Church
Transgender, nonbinary alum has become a leader in a breakaway Catholic movement
Growing up in a Polish neighborhood of Chicago, Kori Pacyniak was swaddled in Catholicism. Their family was devoutly Catholic. Friends in Girl Scouts and a Polish folk dancing group were Catholic. But Pacyniak's love for the Church often felt unrequited, as when, at just eight, they told their grandmother, "I want to be a priest."
"Only boys can be priests," their grandmother responded. "Fine," Pacyniak recalls saying, "when I grow up, I want to be a boy."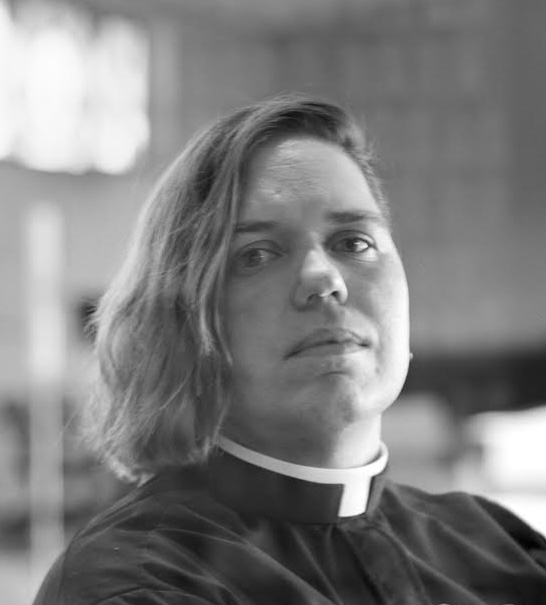 Now 40, Pacyniak (STH'15) was ordained in 2020 as the first known transgender, nonbinary cleric in the Roman Catholic Women Priests—a revolution among revolutionaries. Women Priests is a global breakaway movement from the Church, with 200 clergy, mostly in the United States. Its priests are automatically excommunicated by the Vatican, which recognizes ordination for cisgender men only.
For Pacyniak, pastor of San Diego's Mary Magdalene Apostle Catholic Community, a Women Priests church, that accomplishment is bittersweet. "I've felt called to serve the Church as a priest for years. [Excommunication] limits my job prospects," they say. "However, the Roman Catholic Church also teaches that we should follow our conscience, and after years of discernment, I knew that I couldn't deny my vocation. I still intend on working for gender equality and ordination justice within the Roman Catholic Church, but I think that much of my vocation is being called to serve those Catholics who feel there is no room for them within the Catholic Church.
"Jesus calls us to the margins, and my work on the margins of the institutional Church doesn't require a blessing from Rome."
Creating an Inclusive Church
The Vatican cites divine mandate for ordination restrictions: Jesus chose only men for his twelve apostles. Dissenting, former priest—and Vietnam-era BU chaplain—James Carroll noted in his memoir, Practicing Catholic, "No Celts were among Jesus' Apostles, but the Irish can be ordained." Even some members in good standing with the institutional Church advocate, if not for ordination, then a wider welcome for the LGBTQIA+ community. 
A prominent voice is James Martin, who ministers to the LGBTQIA+ community and is editor at large of the Jesuit magazine, America. "Part of being Catholic, part of being Christian, is standing on the side of those who are rejected, excluded or marginalized, as Jesus chose to do," Martin wrote. "As we Jesuits say, it also means 'walking with the excluded.' And LGBTQ people are among the most excluded in our church." He pointed to a 2015 survey by the Centers for Disease Control and Prevention, in which 29 percent of gay and bisexual high schoolers reported attempting suicide in the previous year, versus 9 percent of all high school students. A 2016 survey, Martin wrote, found that Catholic teaching that same-sex acts are sinful drove more Catholics to leave the Church than the pedophile-priest scandal.
---

The Church is a human institution that can and has changed over time, and I hope that it will move toward full inclusion.

---
Even among Women Priests, Pacyniak's groundbreaking status can be a burden, as if one person could represent an entire group. As progressive as the movement may seem, some members struggle with accepting nonbinary and transgender individuals, Pacyniak says.
"The Roman Catholic Woman Priests movement is made up of a majority of cisgender women—and there have been a lot of conversations, some difficult, in my time with them," Pacyniak says. For example, Mary Magdalene pastor emerita Jane Via confessed to the San Diego Tribune, "I'm struggling to refer to Kori as 'they.' When there is a single person and we know that is just one person, well, I've never used the word 'they' for a single person. I know Kori gets frustrated with me at times." Pacyniak's tongue-in-cheek response: "This is hard? Learning to spell my last name as a child was hard."
At Pacyniak's suggestion, a regular liturgical line at Mary Magdalene—"We believe that all women and men are created in God's image"—was changed to "all people of all genders are created in God's image," in deference to nonbinary worshippers.
A Strong Faith
Pacyniak's time at the School of Theology followed Barack Obama's repeal of the military's "Don't ask, Don't tell" policy regarding enlistees' sexual orientation. Pacyniak studied LGBTQIA+ military ministry with Shelly Rambo, a School of Theology associate professor of theology, who created the school's track for training chaplains, military and otherwise.
"When Kori first came to STH, they were one of few scholars concerned about addressing the spiritual needs of transgender military personnel," says Rambo. "Kori is driven by a hope that God's embrace is wider than any human institution. I delight in seeing them robed—clergy robes and stoles—and recognized for the gifts that they bring and for their testimony to that wide embrace."
"My time at BU helped me examine the way trauma and moral injury function in our societies and in our religious organizations, and our theologies," Pacyniak says. "STH gave me a passion for making sure my academic work is not separate from the world, but integrated into it."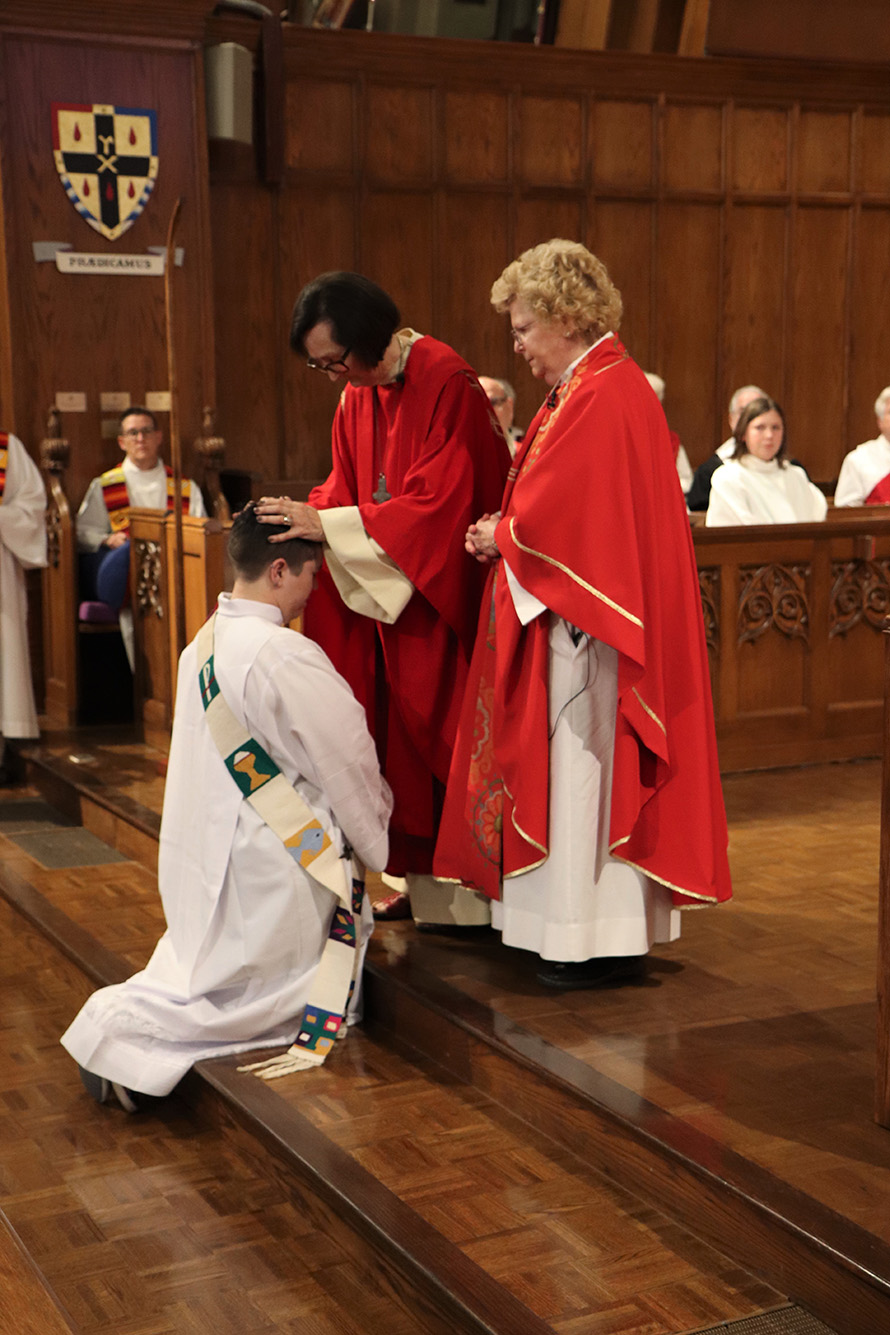 That work includes helping everyone—Women Priests, the canonical Catholic Church, and other denominations—affirm transgender people. "Just because a church or denomination ordains transgender people," Pacyniak says, "doesn't mean its leaders and communities are always affirming or educated on trans issues."
Which raises a question about the institutional church: why remain Catholic in a church that doesn't validate your ordination or your identity? 
Pacyniak long ago threw off the temptation of many lapsed Catholics to join the Episcopal Church, with a similar liturgy but a more progressive take on gender and ordination.
"Being Catholic is so much more to me than just membership within the Roman Catholic Church," they say. "It has to do with identity, ritual, and spirituality. I think the Church is a human institution that can and has changed over time, and I hope that it will move toward full inclusion of LGBTQIA2S+ [Lesbian, Gay, Bisexual, Transgender, Queer and/or Questioning, Intersex, Asexual, Two-Spirit] persons in all the sacraments. I also don't intend to allow the Vatican or the institutional Church to take my faith identity away from me.
"I would hope that my experience makes it a little easier for those who come after me. I think there are so many amazing, talented transgender people who are called to serve churches where their gender precludes that, and it's truly a shame when churches and church leaders refuse to acknowledge a person's gifts and talents because of their gender identity."