New Music June 2022: Local Boston Concerts, New Album Releases
Featuring the return of Kendrick Lamar, rising emo-indie star Ethel Cain, and Girl Ultra live in Cambridge
New Music
What's Hot in Music This Month: Local Concerts, New Releases
Featuring the return of Kendrick Lamar, rising emo-indie star Ethel Cain, and Girl Ultra live in Cambridge
Welcome back, Terriers, to our monthly column "What's Hot in Music."
This month, bump the long-awaited return of rapper Kendrick Lamar on a road trip, immerse yourself in rising emo-indie star Ethel Cain's latest, or venture out to Cambridge to see the lively Girl Ultra.
New Releases
Mr. Morale and the Big Steppers, Kendrick Lamar
Five years since the release of his critically acclaimed Pulitzer-winning album DAMN., rapper and storyteller Kendrick Lamar returns with the highly anticipated Mr. Morale and the Big Steppers. The project is a stunning, intimate look at Lamar's personal journey and confrontations with toxic masculinity, the cycle of sexual abuse, trans rights, mental health, and generational trauma. The first track, "United In Grief," a heady and confessional banger, is the perfect lead-in to the revelations, or "truths," Lamar works to unpack, all beginning with the rapper seeing a therapist. The fruits of his emotional labor continue in "Father Time," with the rapper processing his wants and needs for paternal affirmation from his childhood and the resulting lessons he's learned as a father of two: "I love my father for tellin' me to take off the gloves / Cause everything he didn't want was everything I was / And to my partners that figured it out without a father / I salute you, may your blessings be neutral to your toddlers." And "We Cry Together" is not for the faint of heart, disguised as six minutes of a couple's dispute, with an emotional performance from actress Taylour Paige, who shares her feelings on gender inequality, among other topics, in the entertainment industry and the larger surrounding world. Other standouts: "Auntie Diaries," a provocative look into Lamar's struggling acceptance of the trans community, and "Mother I Sober," a profoundly introspective reflection on sexual trauma as seen through the experiences of his mother, his fiancée, abusers, and generations of the Black community.
---
Preacher's Daughter, Ethel Cain
Hayden Silas Anhedönia, known by her persona and stage name Ethel Cain, grew up in Perry, Fla., in a religious household, where Christianity grabbed ahold of her life the second she stepped into it. She came out to her family at age 12, and by her 20th birthday, had come out as trans. Thus, her relationship with religion is complicated, and this debut album explores the death and tragedy of Ethel Cain, her persona in an alternative, and the darkest, timeline of her life. The project is her magnum opus following three EPs, and is what Anhedönia hopes will be the "next great American record." The album succeeds, and is an epic that takes on Southern Baptism and saccharine American sentiments, breaking it all down into all-too-American generational trauma. One of few pop-esque records on the otherwise broody gothic album, "American Teenager" critiques the realities of the American Dream and ties in Anhedönia's own lived experiences with Christian sensibilities: "The neighbor's brother came home in a box / But he wanted to go, so maybe it was his fault / Another red heart taken by the American Dream." Through Ethel, Anhedönia tackles a traumatic past of abuse, and in a Pitchfork interview, explains her negativity about the Christian religion in her music: "Everything I do through my art is a way to get my thumb on top of what's happened to me in the past, because now I'm in control and I can't be hurt by it again."
---
A Light for Attracting Attention, The Smile
The Smile is a supergroup of superstars. Members are rock veterans Thom Yorke and Jonny Greenwood of Radiohead and jazz group Sons of Kemet's drummer Tom Skinner, and from behind the scenes, Radiohead's trusty producer, Nigel Godrich. The collective has thus been accurately dubbed a Radiohead side project, and at six years since Radiohead's A Moon Shaped Pool, The Smile's debut project comes with a side of hefty expectations right off the bat. The first track, "The Same," leads listeners into an unsettling and fragmented ambience, and into themes that continue throughout the project. Yorke's desperate and exasperated verses in "The Same" ("We are all the same") plead with a crazy world to abandon their differences and join together. The other tracks warn of a world that continues on the same stubborn path: "You Will Never Work In Television Again" is the band's scathing critique of corruption, referencing the crimes of the former mega film producer Harvey Weinstein, "The Smoke" paints a picture of a world ravaged by climate change and Yorke's unease and restlessness with the state of a society seemingly unbothered by it all.
---
Dance Fever, Florence + The Machine
Florence Welch, lead vocalist of the band Florence + The Machine, is upended by her desire to pursue motherhood and a world that's not kind to women or mothers. In the project's first single and track "King," she struggles over how children could fit into her lifestyle, how she could juggle her music and kids. A staunch critic of the burdens society has placed on her kind, Florence continues her campaign against patriarchy in the satirical "Dream Girl Evil" and "Girls Against God," which ties in her frustrations during COVID-19 lockdowns. Among other standout tracks: "The Bomb," where we see Florence, notorious for her tendency to fall back on feelings of loneliness, and in Mitski-esque fashion, consider taking a break from her music career.
---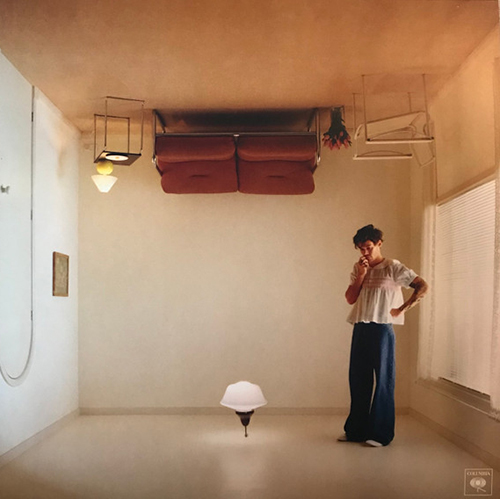 Harry's House, Harry Styles
Six years after forming One Direction, the biggest boyband in the world, on the British talent show The X Factor, each member left in 2016 to chase a solo career. The cheeky, charismatic Harry Styles, in particular, hasn't looked back. The megastar's third, and latest, studio album introduces refreshing yet easily assimilable plays into the radio stratosphere. With an undying and loyal fanbase that's followed him through his teens to his now-late-20s, the status of Harry's House on the charts was a little iffy in the days leading up to release. But now the full force of the Briton's domination can be felt simply by turning to any station, sure to be blasting a track off the quirky and danceable project. Standouts: the infectious and jazzy "Music for a Sushi Restaurant," the sincere and therapeutic "Matilda," and the wildly popular "As It Was."
---
Upcoming concerts
Mariana de Miguel, known as Girl Ultra, was born and raised in Mexico City, where she dropped out of film school to pursue her passion for music by playing DJ sets, eventually releasing music under her current moniker. Growing up under house and R&B, de Miguel initially incorporated these influences into her sets, realizing the Spanish scene lacked such a sound—which she quickly worked to fill. Girl Ultra's debut EP, Boys, had a Spanish cover of R&B giant Daniel Caesar's "Get You," but the singer refuses to be defined or limited to genre, demonstrated by her latest EP, El Sur, a project with a luscious mix of punk, pop, and house beats. Girl Ultra is set to tour Boston on Sunday, with support from Katzù Oso.
The indie band Wet began as a trio when Kelly Zutrau, Joe Valle, and Marty Sulkow met in college through mutual friends. The three played gigs in Brooklyn before catching the attention of record label Neon Gold, which released their debut EP Wet before they switched to Columbia Records for their two studio albums, Don't You and Still Run. Their third, and latest, project, Letter Blue, released independently via record label alternative AWAL, features some pretty high-profile collabs, such as writing and production credits from Frank Ocean's go-to keyboardist Buddy Ross. Find the trio near campus next Monday at the Paradise Rock Club.
The fresh-faced Noah Adams is a self-proclaimed champion of authenticity and a voice for a new generation. Unsurprisingly, the English singer found his beginnings on the internet, where Instagram and YouTube became the home for his musical endeavors as well as his personal experiences as a transgender male. The budding artist released his debut EP, "Stuff from My Brain," in 2021, a pop-punk record that delves into Adams' mental illness, the struggles of fitting in, and criticism of media portrayal of minorities. NOAHFINNCE is set to perform in Cambridge for the first time on June 7.
For those who had been paying close attention to Chicago's R&B scene, the rise of Ravyn Lenae comes as no surprise. The singer was discovered when she had her first recording session at Classick Studios in her hometown, and was quickly coaxed to join the music collective Zero Fatigue, founded by rapper Smino. Following a period of supporting Noname and SZA on tour, she worked on her debut album HYPNOS for four years before its release on May 20. The project was quickly stickered under Pitchfork's "Best New Music" list and was granted a rare 8.5 rating. Pitchfork deemed it "a mature reintroduction, a love-stained, moody transport that flies through Lenae's world with a featherlight cadence."
New Zealand singer Stella Rose Bennett dominated the New Zealand music scene, taking home three major awards at the New Zealand Music Awards in 2019, before blowing up internationally. Her single "Supalonely" exploded on TikTok following a viral dance challenge, with over 600 million current streams on Spotify, leading to an American publicity tour that included performances on The Tonight Show with Jimmy Fallon and The Ellen DeGeneres Show. The singer is currently on her first worldwide tour, with a stop in Boston on June 14.