Sociologist Jessica Simes' New Book Explores the Toll of Mass Incarceration and Its Racial Disparities
How Black and Latinx neighborhoods in deindustrialized smaller cities have become communities of loss—robbed by the prison system of family members, wage earners, potential voters, and citizens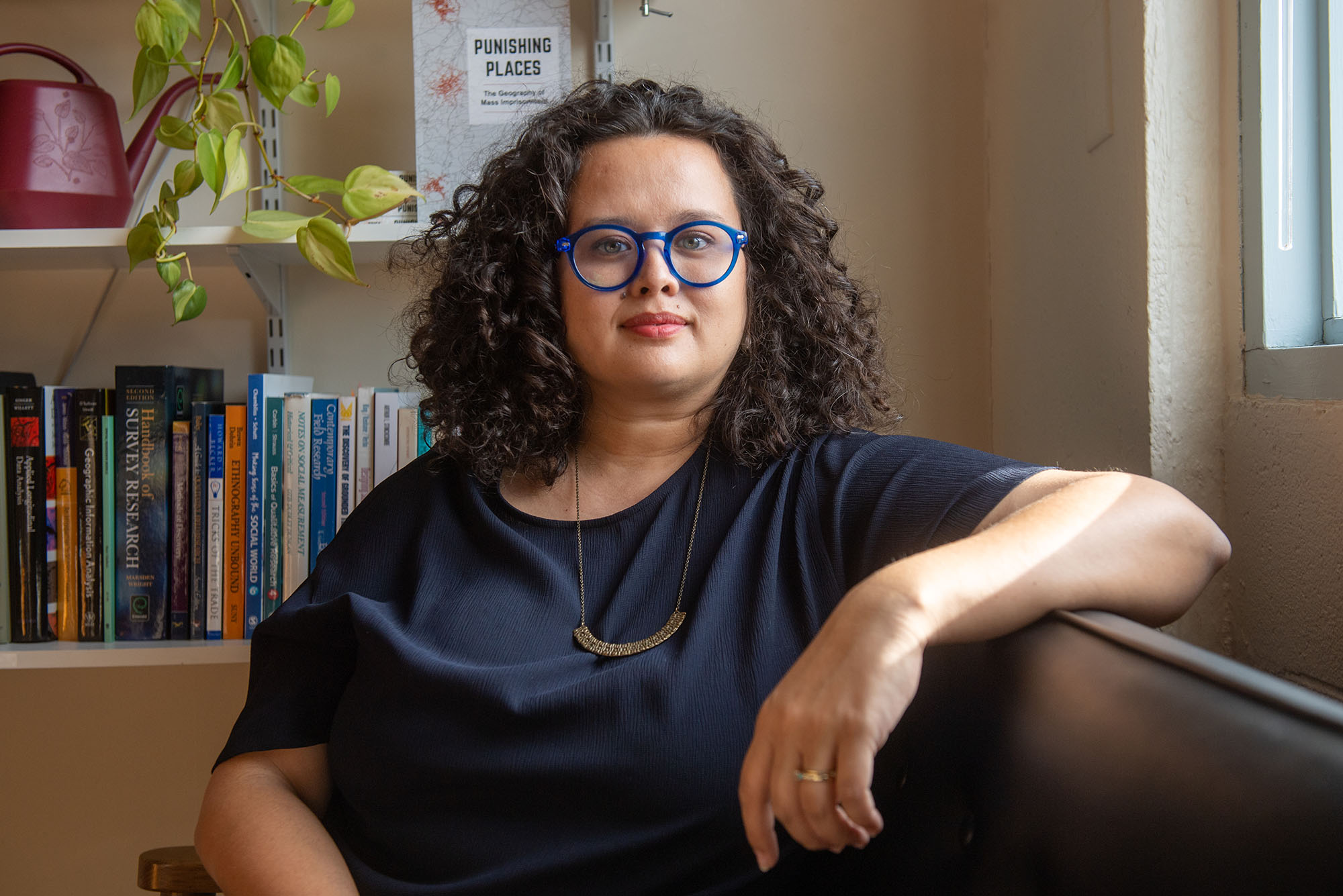 Mass Incarceration
Sociologist Jessica Simes' New Book Explores the Toll of Mass Incarceration and Its Racial Disparities
How Black and Latinx neighborhoods in deindustrialized smaller cities have become communities of loss—robbed by the prison system of family members, wage earners, potential voters, and citizens
The zip codes were the key.
Jessica Simes was working as an unpaid intern at the Massachusetts Department of Correction when she discovered that the state's records included data rarely available in prison systems—the last known addresses for each incarcerated person since 1997. Simes, who was then a graduate student in sociology, realized the data could help her investigate the relationship between mass incarceration, racial and class inequities, and place.
By analyzing and mapping the zip codes for Massachusetts prison admissions between 1997 and 2017—a period that includes the War on Drugs and the peak of mass incarceration in the United States—she made a startling discovery: The majority of people going to prison were not from Boston, as in the past, but instead from predominantly Black and Latinx neighborhoods in smaller cities, such as Pittsfield, Holyoke, Lowell, Lynn, Lawrence, Brockton, and Fall River, as well as from suburbs and rural areas. The stark racial disparities of mass incarceration remained unchanged. Black people were still being held in Massachusetts state prisons at over seven times the rate of whites, and Latinx people at four times the rate of non-Latinx whites.
Her discovery launched Simes, now a Boston University College of Arts & Sciences assistant professor of sociology, on an eight-year investigation into the shifting geography of mass incarceration—specifically in Massachusetts, but with the pattern being repeated across the country—and the consequences for neighborhoods and communities. Her findings—a data-driven story of American punishment and place mostly untold by scholars and researchers—are presented in her recent book, Punishing Places: The Geography of Mass Imprisonment (University of California Press, October 2021).
"Drawing on insights from community and urban sociology," writes Simes, she aims to understand "how mass incarceration became part of the deep and durable forms of disadvantage concentrated in America's poorest and most vulnerable neighborhoods."
She describes these neighborhoods, many of them in cities already battered by deindustrialization, as "communities of pervasive incarceration"—places that have lost fathers, brothers, mothers, sisters, wage earners, voters, and citizens. Mass incarceration is one of the legacies of racial residential segregation, Simes writes, one that has left these communities disenfranchised, and trapped by poverty, violence, economic loss, unemployment, racial inequities, health disparities, and state-imposed social control in the form of police surveillance. By combining the total years in which the criminal justice system sent people to prison in a particular city, Simes comes up with a striking calculation: "community years lost." Between 1997 and 2009, the period in which mass imprisonment peaked in the state, Massachusetts sentenced people to a total of nearly 170,000 years of state prison.
"Rather than just punishing individuals," Simes writes, "the American system of incarceration has been punishing neighborhoods on a globally and historically unprecedented scale."
In another recent study, she added depth to that story, finding that 11 percent of Black men born between 1986 and 1989 and incarcerated in state prisons in Pennsylvania—a population representative of state prisons across the US—have been held in solitary confinement by age 32.
And yet, Simes takes pains to remind readers in the introduction to her book, the neighborhoods punished by the greatest losses are so much more than the data; they are "communities like any other, full of complexities and humanity."
The Brink talked with Simes, who is also affiliated with the BU Faculty of Computing & Data Sciences, about her research and what she learned about the communities ravaged by mass incarceration.
The Brink:
Can you talk about how your framing of mass incarceration is different from how researchers have traditionally looked at it?
Simes: I think we've focused a lot on the individuals who go through the system. We talk about what types of offenses we should get rid of to allow certain people to not go into jail or prison, who should be in prison, if at all, and for how long. A lot of my work is about taking a much bigger picture on how mass incarceration has had its impact, and showing that punishment itself has its own calculus of harm for communities. It stems from this idea of removal—that when you take whole groups of people out of a community, that has ripple effects through the entire community, the neighborhood, the places in which people find connection, and build families.

How can we expect these communities to thrive under those huge losses? And not just losses in terms of people, but also in terms of years lost. I'm trying to quantify that, because we don't have good measures for that loss. The 170,000 years lost in Massachusetts, that is for a very small window of time, from the late 90s to the early 2000s. That's a period from when I had good data. It's also when mass incarceration peaked in Massachusetts. But it doesn't account for anyone who was incarcerated before that time or after, and it's in the state with the lowest incarceration rate in the country. So, I can't even begin to imagine what the losses are in a state like Texas, or California, or in the South. And so I offer that figure as maybe the best case scenario, that this is probably the least amount of loss that we could observe in a state.

We know that around the time incarceration peaked, there were about 2.2 million people in prison in the US. That's a huge number. We're shocked by that number. But let's account for all the time those people lose to being members of a community. I think the first step is to at least acknowledge that loss and that it could be an important driver of things like health disparities and the persistence and durability of poverty in communities.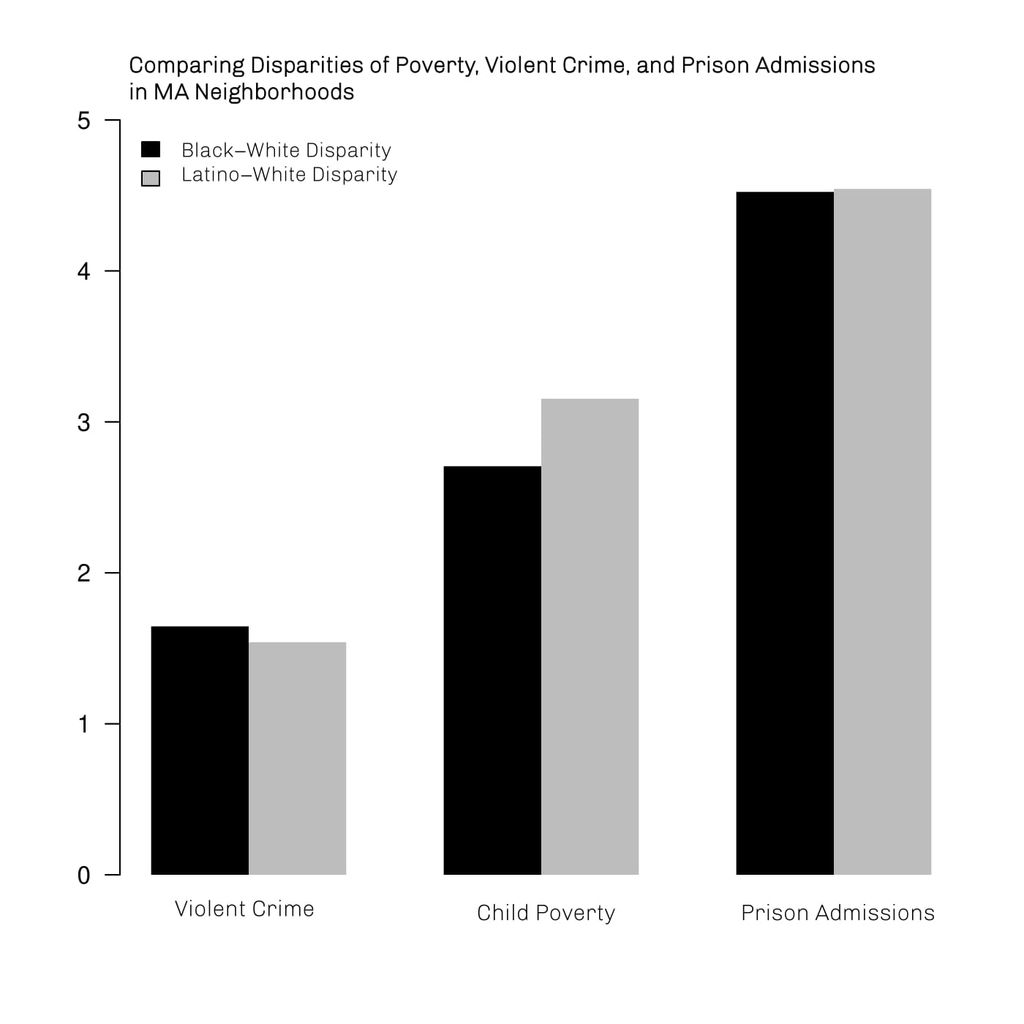 The Brink:
You majored in sociology at Occidental and you've talked about how Angela Davis came to campus and gave a talk about prisons that had a big impact on the direction of your work.
I was hooked on sociology from my first semester. I'd always thought I wanted to go into law and public defense. But I was really moved by the idea that scientific research could be a pivotal tool for broad policy and social change. I also just am truly fascinated and animated by the process of gathering new data, analyzing new trends, and identifying things that challenge assumptions about social inequality and racial inequality.

When I first got into sociology as an 18-year-old, I was really interested in intergroup conflict and racial and ethnic group conflict. Growing up in Los Angeles, there were powerful conversations about the role of racial hierarchy and conflict and things like that in the city. I hadn't really thought about the criminal justice system as a main driver of racial and ethnic disparity in the United States. I hadn't really thought about analyzing the state as a driver of these disparities through the criminal justice system. And so hearing Angela Davis speak, when I was in my sophomore year, it completely challenged me. It changed my trajectory, it changed my focus.

She was talking about the relationship between racial oppression and criminal justice and how they're inextricably linked, and that this goes back far into our history as a country. And she talked about the question—this is from her famous work around criminal justice—are prisons obsolete? Do we need a prison system when, in reality, what we need are robust healthcare and welfare systems?

She put this all on the agenda. I still get chills thinking about it.
The Brink:
How do you define punishing places?
What I'm thinking about is a place that has undergone severe policy neglect, and also severe emphasis on social control. These are places that invest a large sum of resources on punishing and criminalizing institutions, where they use the police as both instruments of social control and crime control. They remove people—put them in jail, in prison—so that you don't see them anymore. It's almost like an environmental hazard, like a toxicity.
The Brink:
In the book, you suggest that one way to reduce mass incarceration and help these vulnerable communities would be to have less policing as a form of control.
A lot of the policy prescriptions from sociologists are about getting people more services: Let's put people in job training, let's make sure people have the right services for the harms they have experienced. My point is—and I think that there's pretty much a complete consensus across the research on this—that this level of incarceration is so harmful, that we absolutely have to scale back. And that's how we deal with the racial disparities and the harms. The policy proposals around that take a great amount of political courage.

And we've seen, since 2020, a lot of proposals for reducing the amount of resources to police fizzle out. Even in Minneapolis, where George Floyd was killed, they weren't able to successfully "defund" the police. It's easy for me to write about these ideas in the pages of a book. It's harder for me to see the sort of courage among, say, our governors, or mayors, to really take on this idea of reducing the amount of police contact and incarceration. It would take the closing of many prisons to see incarceration rates come back down to any sort of historic norms. We'd have to really reduce the amount of uniformed officers in our communities. We'd also have to infuse these communities with resources, but you can't just give people resources because that alone will not address the harm that's been caused by mass imprisonment.
The Brink:
You interviewed people who provide social services in towns with heavy incarceration rates. They talk about how underfunded their programs are, especially compared to Boston, and how the lack of access to services and to good public transportation becomes an obstacle for people returning from prison to hold jobs and reestablish themselves in the community.
I think that what I wanted to really get with the interviews was some direct observations about what I was seeing in my maps, what it's like to be cycling in and out of incarceration in a place that has no resources. To be able to get to a low-wage job, a person has to take a three-hour bus ride on two different bus routes, and they're going to pay two or three hours of their wages just to get there and back each time. I hope that policy and research would focus on these areas as places for desperate need for resources.
The Brink:
You were writing your book when George Floyd was murdered by a white police officer in Minneapolis. What kind of impact did that have on your work?
The fatal police encounter that had the most influence on my work was the death of Michael Brown in Ferguson. My sister is a resident of St. Louis and she was very much witness to the crisis that unfolded. It was a community event. In many ways, out of deep and utter human suffering and the complete rejection of human life, people really came together on this. But, yes, I think writing the final draft, in the midst of learning about the deaths of George Floyd and Breonna Taylor, had a huge influence on how I see the kinds of policy prescriptions we can put into place.

I don't think people are saying they're upset about one or two aspects of policing. It's something core, like the roots are rotten. And people are asking for a fundamentally different institution, something transformative. And I think these profoundly tragic deaths force us to have a very different kind of conversation around what is acceptable to us as a society and whether we can tolerate any more of this kind of loss of life.

In academia, and especially for people early in their careers, we tend to be very tentative in what we say, but these police killings influenced me to say that we have to think about reparative justice more seriously. We have to respond to the harms of policing, historically, and not just say, "If we just change these policies, things will be better in the future." We have to look back. And part of that is including the community in our understanding of harm.
Boston University Initiative on Cities, Rappaport Institute for Greater Boston, and Harvard's Institute for Quantitative Social Science, Taubman Center for State and Local Government, and Multidisciplinary Program in Inequality & Social Policy provided grant and fellowship support for Simes' work.