"We're Going to Have High Expectations," says Jay Pandolfo, BU's New Men's Head Hockey Coach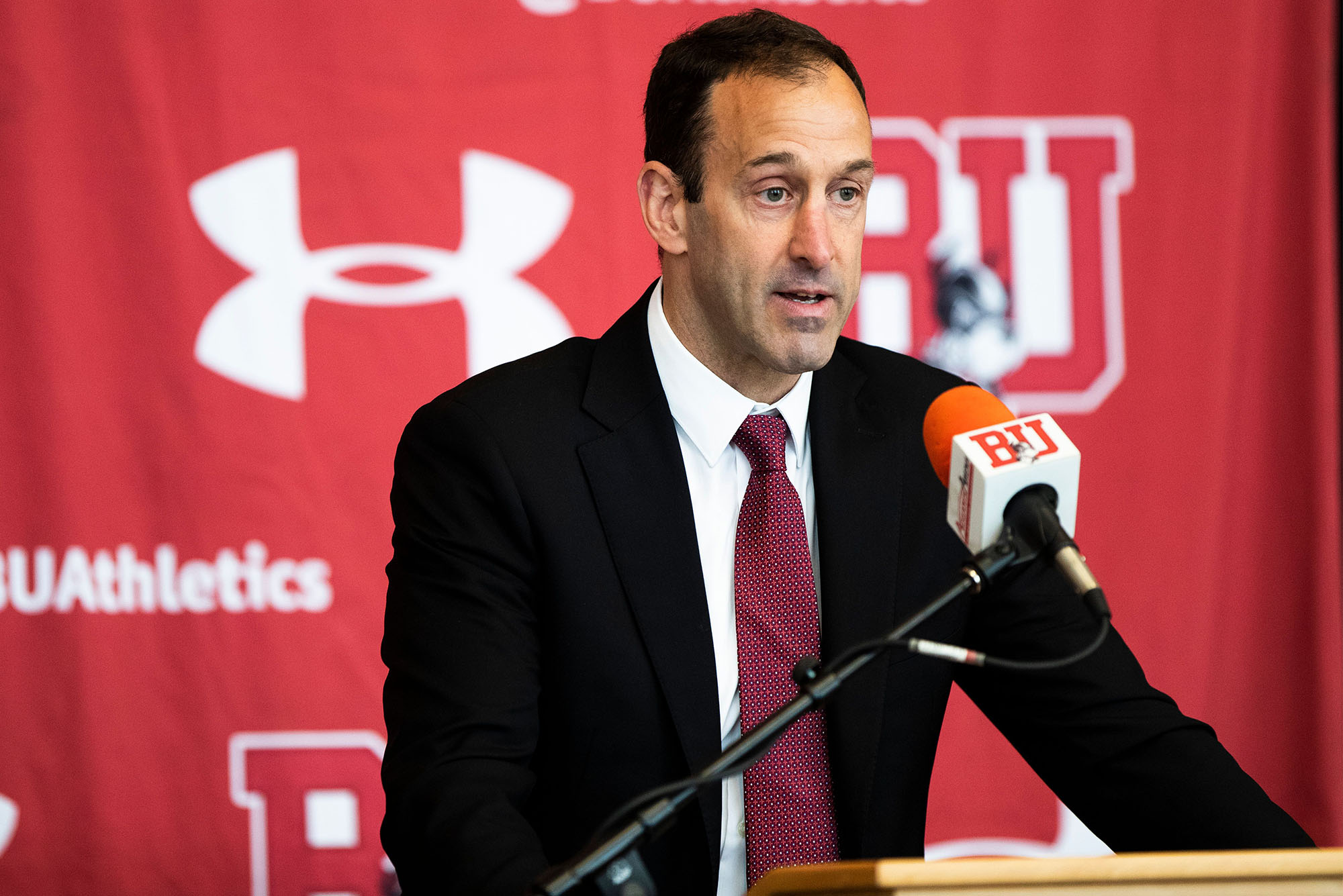 BU Athletics
"We're Going to Have High Expectations," says Jay Pandolfo, BU's New Men's Head Hockey Coach
Former Terrier and Boston Bruin credits his predecessor for supporting his hiring, says BU will be a "hard team to play against"
"This is where I want to be for a long time. There's a history with this program. We want to get that tradition going again, and that identity back."
Jay Pandolfo was officially introduced as the 13th head coach of the BU men's hockey team at Agganis Arena in front of players, media, BU Athletics personnel, and friends of the program on Monday. He called it a privilege to take over the position.
"It's a really good feeling," Pandolfo (CAS'99) said at the press conference. "I'm looking forward to getting started."
"This is a great day for our program," Drew Marrochello, director of athletics, said. "We want guys in this program like Jay Pandolfo, and that starts with naming him as our leader."
BU Athletics announced the choice of Pandolfo for the head coaching position on Friday. When Marrochello began the month-long search for the team's new head coach, he said, input came from all angles. In the end, he decided the best decision was to promote Pandolfo, then the Terriers' associate head coach.
"Some say you have to have a BU guy, and some say just get the best coach. I think, in this case, the best coach happens to be a BU guy," Marrochello said.
Pandolfo spent the 2021-2022 season serving under four-year head coach Albie O'Connell (CAS'99). But in March Marrochello announced that O'Connell would be replaced and that a search for a new coach was underway.
Pandolfo said O'Connell was a resource and friend throughout their season together, and the former BU coach continues to assist in the transition process. "He has supported me this whole time," Pandolfo said. "He wanted to see me get this job, so I appreciate that from him."
The new head coach said this sentiment extends across the BU community. "I want to thank the former players and alumni who were pushing for me to get this job. To me, that's what BU hockey is all about; being there for each other. It doesn't end when you're done playing: it lasts a lifetime."
That support system helped Pandolfo land on his feet at BU last summer, when he arrived after spending five years as an assistant coach with the Boston Bruins. With a year under his belt behind the BU bench, he said he feels prepared to take on a larger set of responsibilities as head coach.
"I think if I had come from the outside, not having any college experience, it would have been a lot more difficult," he said. "To be here and learn it over the course of the year, I think it's going to help me moving forward in making the transition a lot easier."
New Terrier captain Dom Fensore (SHA'23) said the team felt Pandolfo's impact immediately last fall. "We found out right away he was so dedicated and always wanted us to get better," Fensore said. "He's got so much knowledge about the game, and you can see the passion he has for the game."
The team hit its stride in the season's second semester, winning eight consecutive games, including the program's 31st Beanpot championship. "The second half, we kind of just gelled together, and [Pandolfo] was a big part of that," Fensore said.
The Terriers were eliminated by UConn in the Hockey East quarterfinals on March 12, concluding the season with a 19-13-3 record and missing out on qualifying for the national tournament. Marrochello said the recent results did not match BU's lofty ambitions for the program.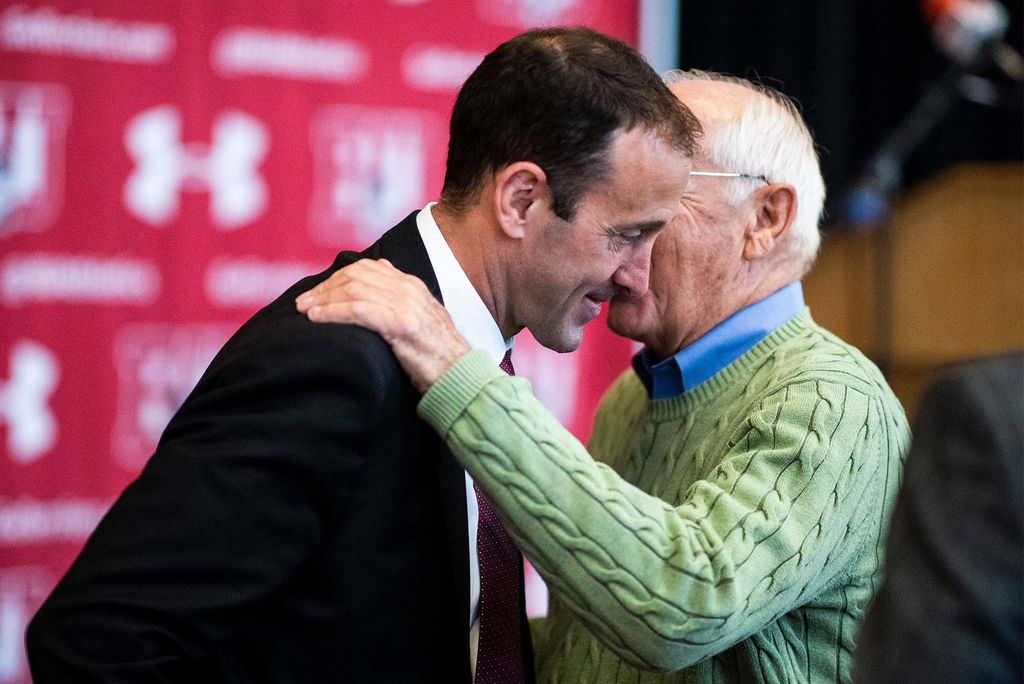 "Being on the outside of the NCAA tournament is simply not good enough for us. Losing in the first round of the NCAA tournament is not good enough for us. This is a program that is defined by Frozen Four appearances and national championships. That continues to be our goal."
Pandolfo believes that mission is attainable. "The BU hockey program isn't broken. We're going to have high expectations, so we have to have high standards. It's not simply about the wins and the losses. It's about striving to be the best we can be, day in and day out," he said.
The Terriers reached the Frozen Four in all four years of Pandolfo's collegiate playing career in the 1990s, winning the national championship in 1995, when he was a junior. Marrochello said he hopes the former captain can bring the program back to its peaks of the past.
"History is what you did, tradition is what you carry forward," he said. "You can't rely on history to win you games. What's your identity? What do you carry forward from that history?"
Pandolfo said he continues to learn from his former head coach, Jack Parker (Questrom'68, Hon.'97), who established the program into a national powerhouse over 40 years on the job.
"It's been over 25 years since I played for Jack, and I'm still calling him asking him for advice," Pandolfo said. "I want to have that same relationship with the players I coach."
Those connections have already begun, and Fensore said the team values the familiarity brought by Pandolfo's appointment to the position. "It's definitely nice to see a familiar face. I think he's going to do an amazing job as head coach."
To Pandolfo, these bonds are among many factors he thinks make the program special. "I wouldn't have left the Bruins for just any job, but it was Boston University hockey, which means a lot to me. [My family] can be more of a part of the program. That's how I remember it when I played here, that it was that family atmosphere. I like that."
Pandolfo is ready to get to work on the ice when the 101st season of Boston University men's hockey begins, and he is confident the players are excited, too.
"They're all-in. They know what to expect from me, and what I expect from them," he said. "We're going to be hard to play against. Teams are going to know when they're playing Boston University."