Hanako Kawasaki's Passion for Golf Has Brought Her Halfway around the World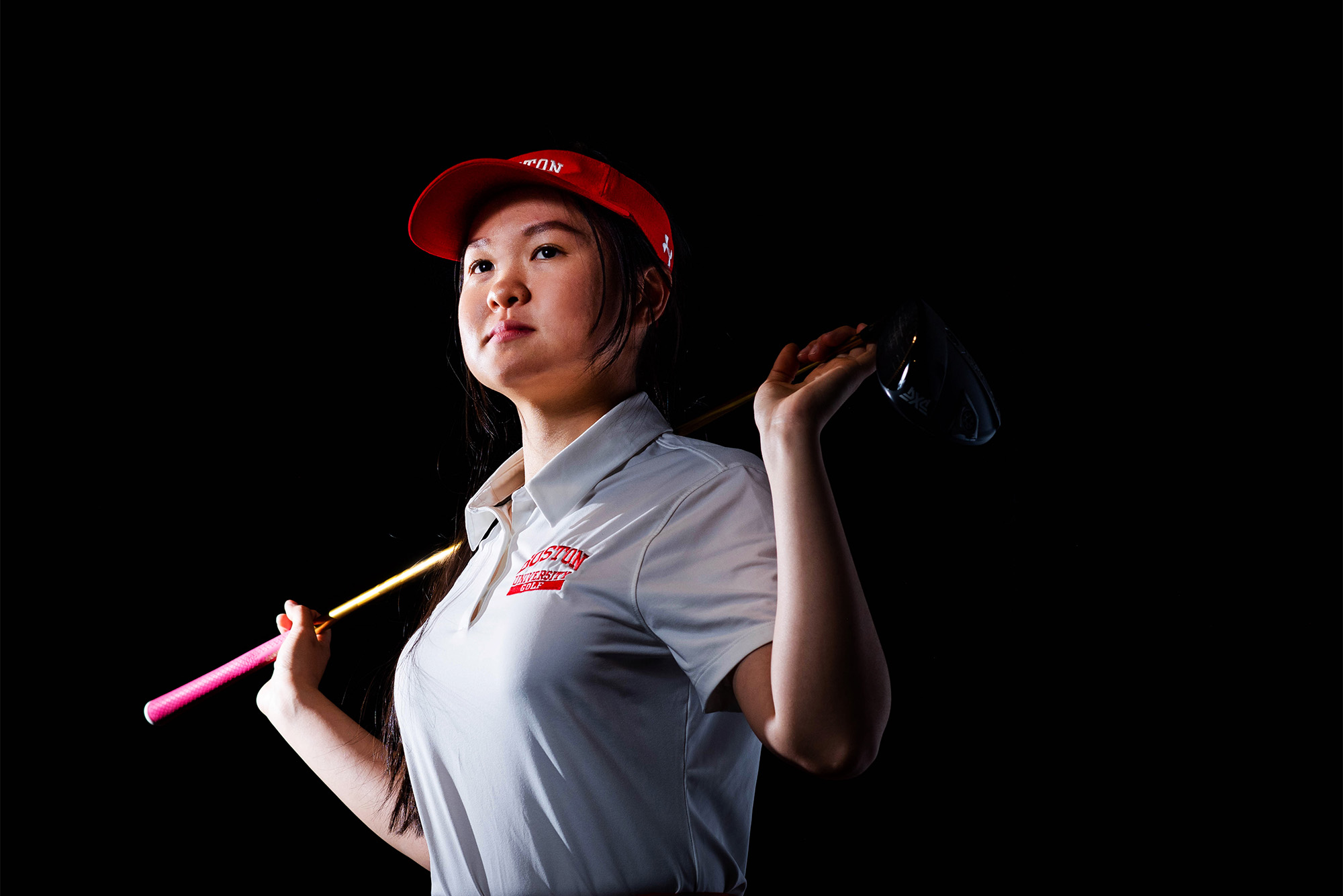 Sports
Hanako Kawasaki's Passion for Golf Has Brought Her Halfway around the World
As she prepares for graduation, Terrier women's golf star has her eye on a final Patriot League title
Hanako Kawasaki can probably navigate the Case Center blindfolded. She breezes past room after room until she reaches a golf-branded rug in front of a heavy door labeled "Women's Golf." On the other side is the BU women's golf team indoor practice facility, where she has spent much of the last four years.
"I always hit balls around this time," Kawasaki (Questrom'22, SHA'22) says, gripping a 9-iron and toeing the turf mat that accompanies the team's high-tech golf simulator. "It's always great to be in this room. When teammates come in and out, there's a sense of support and camaraderie."
Right on cue, Victoria Takai (Questrom'25) pushes open the door and prepares for a Zoom session with her private swing coach. That's the routine when the weather doesn't allow the team to practice outside. "We're always encouraging each other and supporting each other," Kawasaki says. "Watching the team grow, it's been an honor. Being able to be a part of leading the team to success means a lot to me."
The flat-topped lockers lining the practice room are crowned with trophies and memorabilia commemorating the team's many victories, and Kawasaki's corner is filled to capacity. She has been a perennial Patriot League First-Team honoree since her arrival at BU, the first rookie to ever win the Patriot League championship and being named the conference's 2019 Golfer of the Year.
"I still remember it so clearly to this day," she says."I was playing from behind, but I like chasing more than leading. I had a couple nice birdies late in the round and won. It felt really good."
Winning the Patriot League individual title was just one of several honors Kawasaki earned freshman year. She claimed her first collegiate victory at the 2018 Yale Intercollegiate, shooting a program-record 67 in the final round. She later set another program record for a 36-hole event with a score of 137 to win the Navy Invitational.
"That was a really good momentum-builder," Kawasaki says. "This year's conference championship is at Navy's course, so I'm feeling pretty confident that I know the course and it fits my game."
Kawasaki's college career was impressive from the beginning. She claimed her first collegiate victory at the 2018 Yale Intercollegiate, just her third event as a Terrier, shooting a program-low 67 in the final round.
"I was like, you know what, I can do this," she says. "I recognized that I had something there with my talent."
Kawasaki's personal best 18-hole score is an 8-under 64 she carded in a competitive event in Vietnam, where she grew up and where she started playing at age 12. Her mother belonged to Vietnam's first golf club and was one of the nation's first female golfers.
"When she tried to get me into it, I really didn't like it," Kawasaki acknowledges. "I think the learning curve for the game is very steep, and as a kid, you don't like playing things that you're not good at." But she couldn't stay away for long. "In my family, they all play golf. They would always go to the golf course and leave me out, so I learned the game and really came to enjoy it."
She quickly climbed the ranks as a teenager, winning several national tournaments in Vietnam before improving enough to compete against competitors of all ages in international tournaments.
"You don't really know how good you are until you get yourself into a field that's really competitive," she says. "I started playing more overseas, and I realized, wow, these girls are good. And a lot of them went to college in the United States, so I thought I'd try my hand at getting a spot on a really good team. Coach Chalas found me and we talked from there, and here I am."
After recruiting Kawasaki to BU, Terrier head coach Bruce Chalas paired her with instructor Kim Baldwin, a PGA golf professional based out of Singapore. Communicating across the globe has become a constant for Kawasaki, who stayed at home in Vietnam when the pandemic hit, often rising at 3 or 4 am to attend classes and team sessions remotely.
"COVID times really changed the game," she says. "It's just not the same online. Practicing together, training together, going to the range together, you feel very supported and engaged."
Kawasaki and her teammates reunited in Boston in March 2021, assembling a list of respectable results in a shortened season, but finishing two shots short of defending their 2019 Patriot League team title. Kawasaki tied for fourth overall, and was named the league's Scholar-Athlete of the Year.
Her junior-year golf season extended into the summer when she earned entry to the 2021 U.S. Women's Amateur Championship, one of the golf's greatest stages for a nonprofessional player. While she says she did not play her best golf that week, the chance to play alongside some of the best players in the world was a point of pride for Kawasaki.
"Knowing that I'm able to get there kind of validates my skill and everything I've put into the game that's gotten me here," she says. "I could probably finish higher in events like that, but I think in terms of my golf game, it makes me really satisfied and makes me feel like all my hard work was worth it."
So far this year, Kawasaki has finished in the top-10 in seven of BU's eight events. The conference championship is two weeks away, and as her plans currently stand, it could be the Terrier star's final competition for some time. After graduation in May, she's moving to New York to work in the financial services industry.
"It takes a lot to be a professional [golfer]," she says. "I feel like you have to be super dedicated and committed and there's a lot of pressure to maintain your tour status. I'm not going to go professional, but I'll keep golf very close to my heart and play recreationally now and then."
Before that, though, she is focused on ending her athletic career on a high note. Before she graduates, Kawasaki wants to put one more trophy in the practice room.
"My focus is to win the Patriot League," she says. "I have my teammates' backs, and they have mine. We really want to make the most of it."
Learn more about Hanako Kawasaki and the BU women's golf team on GoTerriers.com, and follow their upcoming events through @TerrierGolf and @BUGameDay on Twitter.