Introducing Young Readers to the Beauty and Wonder of Our National Parks
Alum Gus D'Angelo's lavishly illustrated National Parks A to Z is an enticing guide for explorers of all ages
Books
Introducing Young Readers to the Beauty and Wonder of Our National Parks
Alum Gus D'Angelo's lavishly illustrated National Parks A to Z is an enticing guide for explorers of all ages
Several years ago, Gus D'Angelo came across an article with a headline that grabbed his attention: researchers reported that 80 percent of Americans could no longer see the Milky Way in the night sky because of light pollution.
"I was becoming more cognizant of how kids weren't going to have the opportunity to experience the natural world, that many of them would never walk in a grove of redwood trees or experience the thrill of climbing to the top of a trail to get some incredible view," says D'Angelo (COM'85), a San Francisco illustrator and animator. "And I started thinking about what I could do to inspire them to become more active and engaged with nature and then to be inspired to preserve those environments." D'Angelo grew up on a family farm in Michigan's Upper Peninsula, where he spent his days hiking, fishing, snowshoeing, and scouting for snakes and frogs with his three brothers. That experience instilled in him a love of the natural world.
He wanted to publish a simple picture book that would introduce young readers to America's national parks in the hope that they'd want to visit them—and someday work to protect them. But as he visited the parks and interviewed National Park Service (NPS) rangers, tribal nations members, field scientists, and accessibility activists, he learned about the complex range of issues confronting the parks (from trash accumulation to animal safety) and the parks' efforts to tell stories about their diverse cultural history, including the forced removal of indigenous peoples from the land.
"Many of the parks are doing an amazing job at presenting these issues and stories through their visitor centers, kiosks, and activity books for kids, but I didn't see one book that pulled it all together in an engaging, fun, not-preachy format," he says.
D'Angelo has captured those complexities in his new children's book, National Parks A to Z: Adventure from Acadia to Zion! (Mountaineers Books, 2022), a lushly illustrated guide that takes readers to 26 of the 63 national parks—one for every letter of the alphabet. "I created a rule early on that each letter of the alphabet had to have a park that started with that letter, had to have an animal that was native to that park that started with the same letter [the animals act as something of a tour guide for each chapter], and the animal had to be doing an activity that you could do in that park that also started with the same letter," he says.
The book is full of alliteration: "A coyote contemplates the cosmos at the Grand Canyon." "An egret eases into the Everglades." "A killer whale kayaks at Katmai." He "wanted the learning to be fun, and not feel educational—just a quick, fun, read," D'Angelo says.
But the book also has lots of fascinating details that will engage older kids (and adults). Readers discover that Acadia National Park's Cadillac Mountain, at 1,530 feet, is the highest point on the Eastern seaboard and that the bottom of Death Valley National Park's Badwater Basin is the lowest point in the United States, that Pinnacles National Park in California's Central Valley is home to the widest diversity of bees anywhere in the country, and that Great Smoky Mountains National Park, which straddles North Carolina and Tennessee, is the most visited.
There's even information on how visitors should properly bury their poop—sure to delight the scatalogically minded young. (They're advised to dig a hole at least 6 to 8 inches deep and at least 200 feet from any body of water—or better yet, carry it out of the park using a biodegradable bag.)
When it came time to select which parks to feature, D'Angelo knew he had to include the most iconic: Glaciers, Smoky Mountain, Yellowstone, and Yosemite. But with only 26 letters to work with, he had to make some tough decisions. He looked for parks that would span as many states as possible. (The book actually features 27 parks, as both Yellowstone and Yosemite get a nod.)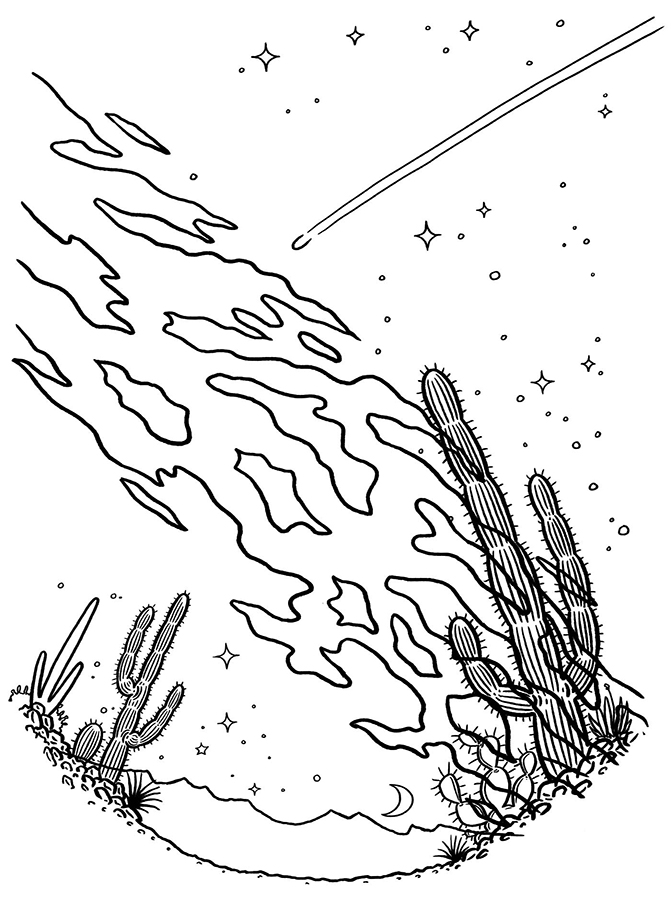 "Most of the parks are in the west—there's a ton in California and Utah," he says. "So, for the letter A, I chose Acadia because it's in Maine, instead of Arches, which is in Utah. And for B, I chose Badlands because it was in South Dakota, rather than Briones, which is also in Utah. I wanted to try to represent the country."
The author concedes he pushed the wordplay when it came to X and Q. There are no national parks that begin with those letters. He chose Sequoia National Park in California for Q and Big Bend National Park in Texas for X.
Another goal he set for himself was to convey the extraordinary biodiversity to be found in the national parks. Well-known animals like grizzly bears, coyotes, and bison make an appearance alongside more exotic animals, such as the desert cardinal, a songbird found in Big Bend, and the avocet, a seabird that uses its extra-long upturned bill to dig bugs out of the ocean surf.
D'Angelo spent much of 2018 and 2019 crisscrossing the country. "I'd spend a couple of days seeing the big sights in a particular park and then spend a few days doing more back-country travel, trying to capture the unique feel of each park," he says. "Then, I'd have interviews scheduled. And I'd be sketching and writing the whole time."
A different way of drawing
The illustrations D'Angelo created, he says, are vastly different from anything he had done in his journalism career. As a staff graphic artist at the Washington Post and the San Francisco Chronicle, he created infographics and maps before going on to work as an animator for mobile and social games, including a stint at Google. "My previous work was frequently humorous, cartoon-style, or it would be something done over a couple of days or even in one day, on deadline," he says, "whereas the illustrations for this book have a level of detail and depth where every line, every color, every part of it has been thought about and redrawn many, many times."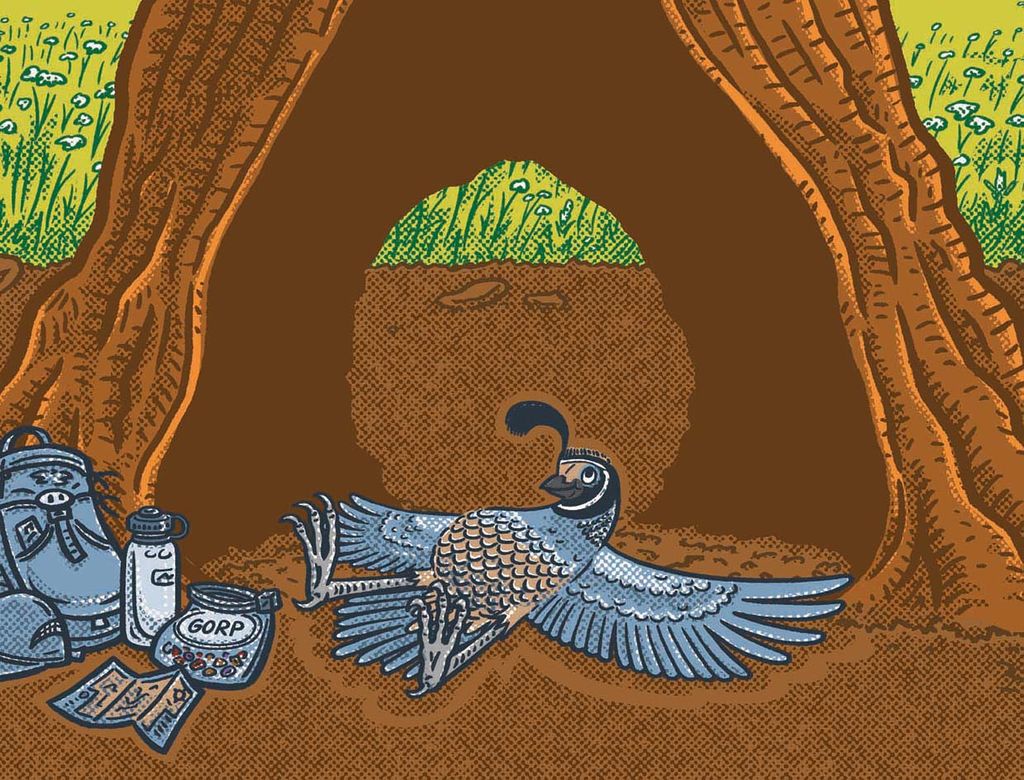 D'Angelo began drawing in earnest when he was a student at BU. As a sophomore, he created a popular comic strip, Matchstick, that appeared each day for three years in the Daily Free Press, the independent student newspaper at BU. "It was a slice of life, kind of a Doonesbury-inspired strip with a highly satirical edge," he says, featuring a recurring cast of characters, including the eponymous Matchstick. One day's strip might have been a spoof on a trip to Nicaragua by then-President John Silber (Hon.'95) with former Secretary of State Henry Kissinger (Hon.'99), the next day's might have featured a bunch of characters going to a dorm party.
"It helped to refine my drawing skills on deadline," D'Angelo says. "I became very comfortable with daily deadlines. But because it was a satirical strip, people would stop me in the street and challenge something I had done, so it was a great way to learn about how to communicate and how to research an argument. There was a lot of conflict and controversy on campus at the time, but it forced you to do research and really think about issues and your arguments. The experience affected everything I've done since."
A dedicated environmentalist, D'Angelo says he chose to work with Mountaineers Books, an independent nonprofit publisher based in Seattle, to publish National Parks because of its commitment to using recycled material whenever possible. That dovetails with the book's subtle messaging about the need to protect these public lands.
"If I go to Death Valley, I can see the Milky Way. And there's this really powerful, emotional feeling of awe. That's what makes these places so special," D'Angelo says. "There's this mystery. I'm hoping, through this book, kids will be inspired not just to preserve, but to expand the parks."