Greater Boston Housing Earns "Failing Grade" in Annual Report Card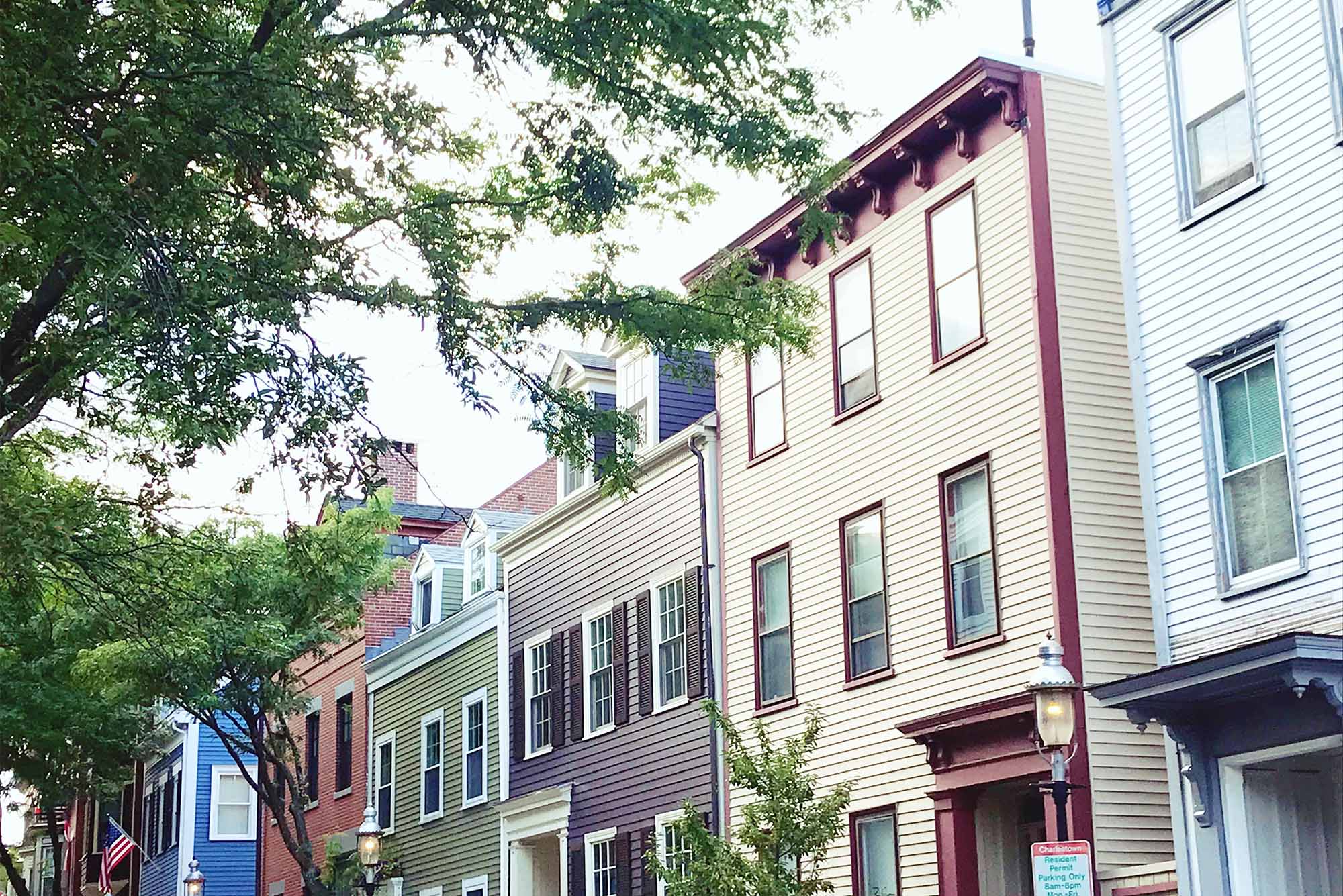 Public Policy
Greater Boston Housing Earns "Failing Grade" in Annual Report Card
Increasing access to subsidized housing could help, say BU faculty who authored a special section of the report
As anyone who has recently moved in Boston and surrounding communities can attest, finding housing is a difficult—sometimes near-impossible—feat. But just how bad is it? A new report shows that the Greater Boston area is facing "a crippling housing shortage."
Released on Wednesday, the 2022 Greater Boston Housing Report Card—the Boston Foundation's annual accounting of the state of housing in Boston and the area surrounding the city—shows that the region "would receive a failing grade" along almost every metric for measuring housing accessibility, equity, and availability, said M. Lee Pelton, Boston Foundation president and CEO, during a report launch event. (Pelton is also a member of the BU Board of Trustees.)
"We've underbuilt housing for decades, relative to job growth, and now we're reaping the consequences of that," says Katherine Levine Einstein, a College of Arts & Sciences associate professor of political science, and one of the contributors to the report. "We're seeing huge increases in housing prices because we haven't kept up with demand."
The report bears this out by using vacancy rates—the share of total housing units that are available for sale or rent at a given time—as a proxy to measure how well the region's supply is meeting its demand.

In a healthy housing market, about 6 percent of apartments are available for rent at any point, and 1.5 to 2 percent of houses are available for sale, figures that give would-be renters and buyers some choice and flexibility in where to live, the researchers say. In the Greater Boston area, apartment vacancies have hovered around 4 percent, and homeowner vacancies around just 0.9 percent—figures well below healthy ratios, ones that represent a high demand for limited inventory.
"Housing is essential for everyone; it's a universal need," says Maxwell Palmer, a CAS associate professor of political science, another report contributor. (Both Einstein and Palmer are faculty affiliates of BU's Initiative on Cities). "When we don't build more housing, it puts more pressure on people in current rentals as their own rents rise. Building more housing is one solution to address that pressure."
The report examines the housing landscape in five Massachusetts counties: Essex, Middlesex, Norfolk, Plymouth, and Suffolk. This group includes 147 cities and towns in the commonwealth, roughly 40 percent of all its municipalities.

Rather than relying on geography, researchers organize these cities and towns into five different "community types," based on an approach by the Metropolitan Area Planning Council that takes into account land use and housing patterns, demographics, and recent growth trends.
Those categories include:
Metro core communities, or high-density inner cities, such as Boston and Malden
Streetcar suburbs, or historic high-density suburbs near the urban core, such as Medford and Waltham
Regional urban centers, or high-density urban centers proximate outside Boston, such as Peabody and Haverhill
Maturing suburbs, or higher-income towns, such as Reading and Marshfield
Developing suburbs that have well-defined town centers or low-density towns with room to grow, such as Andover and Plymouth
The findings include some bright spots: metro core communities and regional urban centers issued many more building permits this year than they have in the past, a shift that should increase the region's housing supply in years to come. Also, almost all community types (other than maturing suburbs) saw an increase in multifamily housing production this year—a change that signals increasing diversity among residents, according to the report.
Still, one of the most damning findings of this and past years' housing reports remains largely unchanged. Segregation in housing in the Greater Boston area persists and is particularly pronounced for Black and Latino homeowners, whose home purchases are concentrated in just a handful of cities and towns outside of Boston.
"Black and Latino households experience disproportional harm in almost every measure related to housing," the report reads. "They are cost-burdened at greater rates, they have lower rates of homeownership, and they are faced with eviction proceedings at higher rates."
Indeed, Greater Boston's history is fraught with discriminatory housing and lending policies, including redlining and race-based restrictive covenants, practices that still cast long shadows on the region's housing market today.
According to 2020 US Census data referenced in the housing report, Boston ranks 24th for racial segregation among all large metropolitain areas, putting it in the "high segregation" category. Taking the entire state into account, more than 60 percent of Massachusetts' Black population lives in just 10 cities, according to census data.
How does this disparity manifest in the housing market? The report finds that Black and Latino families are less likely to own homes in Greater Boston; are far more likely to be "cost-burdened," or spending more than a third of their income on rent; and are more likely to be evicted from their apartments than white or Asian tenants.
Across the board, housing prices have increased dramatically in the Greater Boston area, putting pressure on everyone in the region, but especially low-income renters and homeowners.
While different data sources paint slightly different hues on this, the big picture is the same: Boston now has some of the highest rents in the nation. A brief respite during the COVID-19 pandemic, when prices dipped slightly, has been surpassed by record highs in most communities in the region, the report finds. The average rent for an apartment in the Greater Boston area (regardless of its size) is about $2,834, according to the report.
Home prices have not been immune to this trend, either, and the report shows that in many communities they've grown much faster than rental prices. One estimate shows that the median single-family home sale price increased by 10 percent from 2021 to 2022 and is now $610,000, according to the report.
Incomes for most families have not kept pace with the rising cost of housing, especially for the region's lowest income population. The report finds that housing costs have increased faster than incomes for the poorest third of families, exacerbating local inequality.
"In Greater Boston, families with two full-time minimum wage workers still pay well over half of their income to afford median rents," the authors write. "In other words, we could make dramatic progress at reducing market-rate housing costs, and many lower-income families would still have trouble affording housing on the private market."
This is where subsidized housing, housing that is made more affordable by government support or regulation, comes into play, say Einstein and Palmer, who wrote a special section on the topic for the housing report.
Overwhelmingly, the region lacks enough subsidized housing to meet the increasingly dire need of many residents, they say in the report and in interviews with BU Today. As it stands, competition is fierce: the Allston-Brighton Community Development Corporation's 500 units (half of which have rental subsidies) had a wait-list of 17,000 people in 2020, Einstein and Palmer say.
They found, however, that even when communities do build subsidized housing, would-be residents might not even know it's there or might not know how to apply.
"What we saw was that the state is completely failing to collect basic information about subsidized housing," Einstein says.
"You would expect that for subsidized housing—which is either partially or fully funded by state and federal governments—the state and federal government would keep a comprehensive, centralized database," Palmer adds. "That just doesn't exist. That makes it challenging for researchers like us, but it makes it a huge challenge for cities and towns trying to understand where there is and isn't enough housing, and a nearly impossible challenge for people trying to find affordable housing."
Centralizing this information, they say, will help renters find and apply for affordable housing and help distribute these subsidized units more equitably throughout the region.
"This is low-hanging fruit, and I'm optimistic that we seem to be moving in that direction," Einstein says.
She and Palmer say that other policy changes are needed to help broaden access to affordable housing in the commonwealth. They recommend creating a Massachusetts Office of Fair Housing, better enforcing fair housing laws and regulations, creating a new state-level chief of housing data, creating a centralized application system for subsidized housing, eliminating age restrictions and local preferences for subsidized housing, and building more housing in areas accessible by public transit.
Outside of affordable housing, the report's authors recommend a long-term strategy for increasing housing supply that includes updating local zoning laws and maintaining some of the pandemic-era housing stability measures.