BU's Ninth Annual #Giving Tuesday Aims to Open Doors for Students
Donations will support scholarships, research, internships, and community service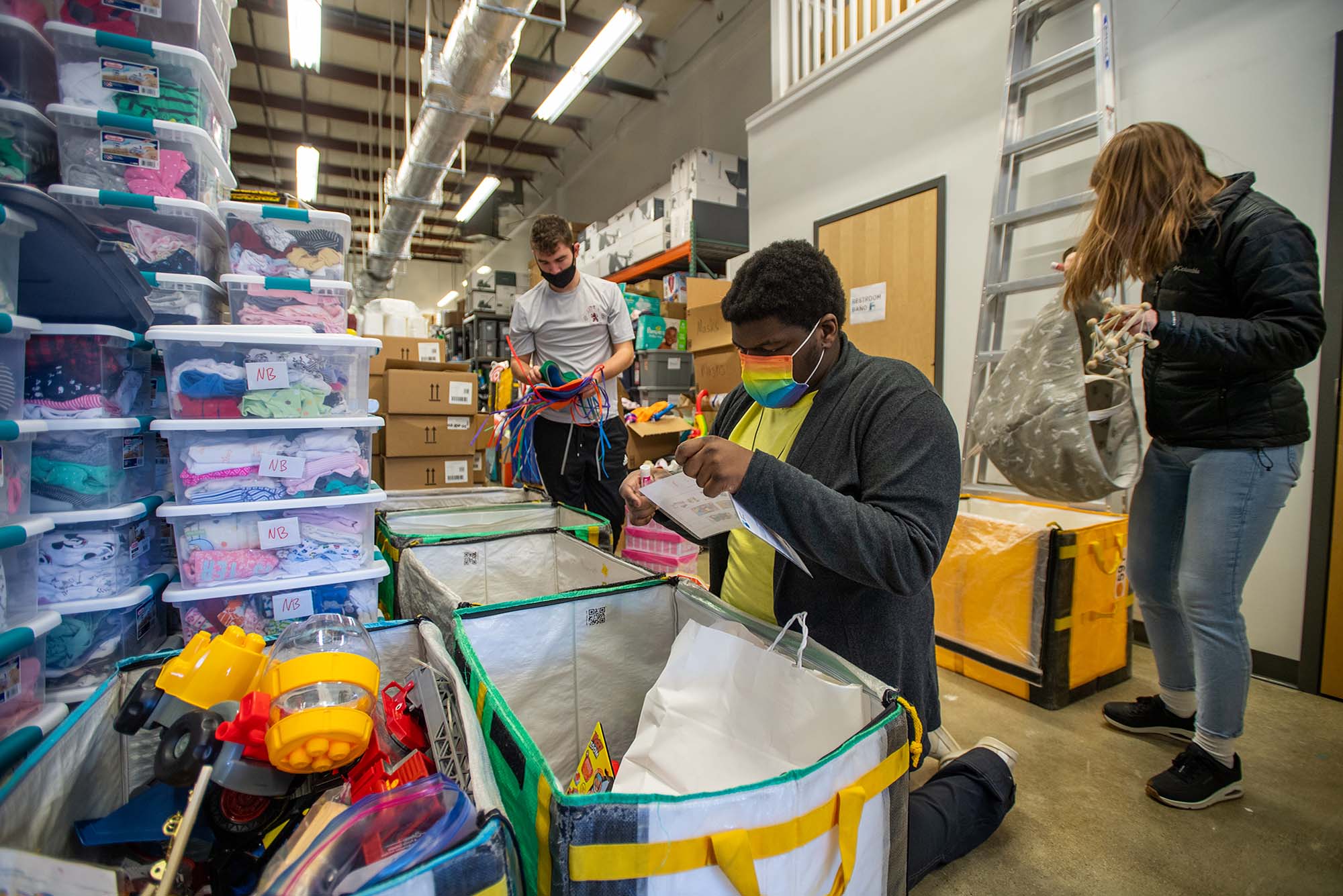 Giving
BU's Ninth Annual #Giving Tuesday Aims to Open Doors for Students
Donations will support scholarships, research, internships, and community service
November 29 is Giving Tuesday, the annual global event launched in 2012 that encourages people to give and celebrate generosity. This year marks the ninth time BU has participated, and as in past years, students, faculty, staff, alumni, parents, and other friends of the University have the opportunity to open doors to a wealth of learning experiences both on campus and beyond. 
This year, in addition to initiatives within the schools and colleges, BU is highlighting four specific funds:
Scholarships 
The General Scholarship Fund is one of the simplest—and most powerful—ways of opening doors to all qualified students, regardless of their financial need. The many donors who give to support scholarships help students focus on learning without having to worry about making ends meet, now and in the future.  
Since its founding, BU has been committed to making sure that talented students from all economic backgrounds have access to its extraordinary resources. For this reason, the University spends more each year on financial aid. And it's making a difference: about one in four of this year's freshman class comes from a low-income family, one that qualifies for a federal Pell Grant—and BU promises to meet their full demonstrated need with grants, not loans. What's more, the affordableBU commitment means that the University will meet 100 percent of demonstrated need for all first-time domestic students. 
That's a big promise. And it's one that gifts to the General Scholarship Fund help make possible.
Undergraduate research 
The Undergraduate Research Opportunities Program (UROP) is a key sign of how important experiential learning is at BU. Gifts to UROP support stipends for student researchers working with faculty mentors, both during the academic year and in the summer, as well as lab supplies, student travel for research and participation in professional conferences, enrichment activities, and other needs. 
UROP's mission is to nurture curiosity, to capture imagination, and to cultivate relationships between faculty and students beyond the classroom to shape independent, innovative, and collaborative leaders. Established in 1997, UROP has helped more than 3,000 undergrads participate in projects ranging from accounting to zebrafish genetics. 
Antiracist research 
For students interested in one of BU's newest research centers, gifts to another highlighted fund will support undergraduate and graduate internships at the Center for Antiracist Research. These internships, which launched during the 2021–2022 academic year, provide opportunities for students to work on a wide range of individual and team projects alongside scholars, doctors, lawyers, and leading experts. In turn, participants contribute their diverse knowledge, ideas, and passions to the center. 
The center hosted a total of 74 paid interns during the fall 2021, spring 2022, and summer 2022 semesters. These 17 undergraduate, 36 graduate, and 21 PhD students assisted in racial research, research-based policy innovation, data-driven educational and advocacy campaigns, and initiatives aimed at changing the narrative on racial issues.
Community service 
This year's fourth highlighted fund supports the Community Service Center (CSC). Christopher Weber (Pardee'01) established the deneen zarada Community Service Memorial Fund In memory of his friend deneen zarada (Sargent'02), who died shortly after graduating (she preferred not to capitalize her name).  
One goal for the CSC over the next several years is to raise $65,000 to fund scholarships for the center's Alternative Service Breaks (ASB) program, a weeklong volunteer opportunity during spring break. Through the program, volunteers build genuine connections between fellow program participants and their host community, emphasizing the importance of inclusivity, diversity, intentional service, and a deeper understanding of social justice. 
Last year on Giving Tuesday, more than 2,000 donors contributed over $401,000 to more than 140 funds. With a dedicated webpage, emails, texts, messages on social media, and tables around campus, organizers hope to do even better this year. All gifts made on November 29 (midnight to midnight, EST) will count toward #GivingTuesday 2022. 
More information about all of these funds and ways to make a tax-deductible gift is available at givingtuesday.bu.edu.