College of General Studies Welcomes a New Class
A look at how four entering freshmen spent their gap semester
Student Life
College of General Studies Welcomes a New Class
A look at how four entering freshmen spent their gap semester
This is the first week of classes for the 718 entering College of General Studies freshmen who enroll at Boston University a semester later than most other members of their class. They spent the past semester working at jobs and internships, volunteering, pursuing passions and hobbies, traveling, and developing professional skills. Each year, the CGS freshmen overwhelmingly say their gap semester experiences are formative, says Stacy Godnick, CGS associate dean for student academic student life.
"Some have imagined a gap year and so they have to think about reducing that to a semester, while others are daunted by a blank canvas," Godnick says. "Their lives have been scheduled all these years of high school. Many students work, some students take classes, some travel, it runs the gamut. No matter what they do, they unanimously say that at first it seemed daunting, but it was a wonderful opportunity for them to take a break, take stock, and they loved it."
The students plan their gap semester experiences with the guidance of the CGS academic advising team, working together to identify goals and think about how their time can best be spent. They also attend workshops, where current CGS students talk about how they had spent their gap semester and help the incoming students brainstorm the possibilities available to them.
Below, a look at how four CGS freshmen spent their fall semesters.
---
Fiona Brymer (CGS'23), Everett, Mass.
Fiona Brymer had a weekly routine with her mom growing up: They would eat peppermint stick ice cream and watch Dancing with the Stars. They loved the reality show so much that one year, as a birthday gift to herself, her mom signed up for ballroom dancing lessons. Since she couldn't leave her then seven-year-old daughter home alone, she brought Brymer along to watch.
Brymer recalls a teacher approaching her and asking if she wanted to play with some stickers. She nodded yes, and the teacher placed them in a pattern on the floor and told her to step on the stickers in a particular pattern. "She told me, 'You just danced the cha-cha,' and my mind was blown," Brymer says. "Ballroom clicked for me right away and I loved it from the very beginning. When my mom's lesson was done, I begged her to sign me up."
Brymer started competing at the age of nine, and now has dreams of one day going pro. She's well on her way—in October she placed first in the Latin category of the USA Dance National Championships in Fort Lauderdale, Fla., along with her partner, Brian Freitas.
The finals were originally slated to take place in 2020, but were postponed to October 2021 due to COVID. Brymer and Freitas competed against five other couples to secure their second national title. "I was very, very happy," she says. "I didn't know how we would do because there were no competitions for a year, so we didn't have any other events to compare to."
Brymer says she plans to sign up for BU's Dancesport Club and to major in anthropology with a prelaw track. (She hopes to become a civil rights attorney one day.) But, she says, she expects to remain a fixture on the dance floor.
"They have senior competitions with people who are 60 or 70 years old, and I say, 'That's going to be me, I want my grandkids to see me dance,'" she says. "I can't see my life without ballroom, it's been a big source of happiness for me. I just don't know if I could live without it."
Nathan Duong (CGS'23), Seattle, Wash.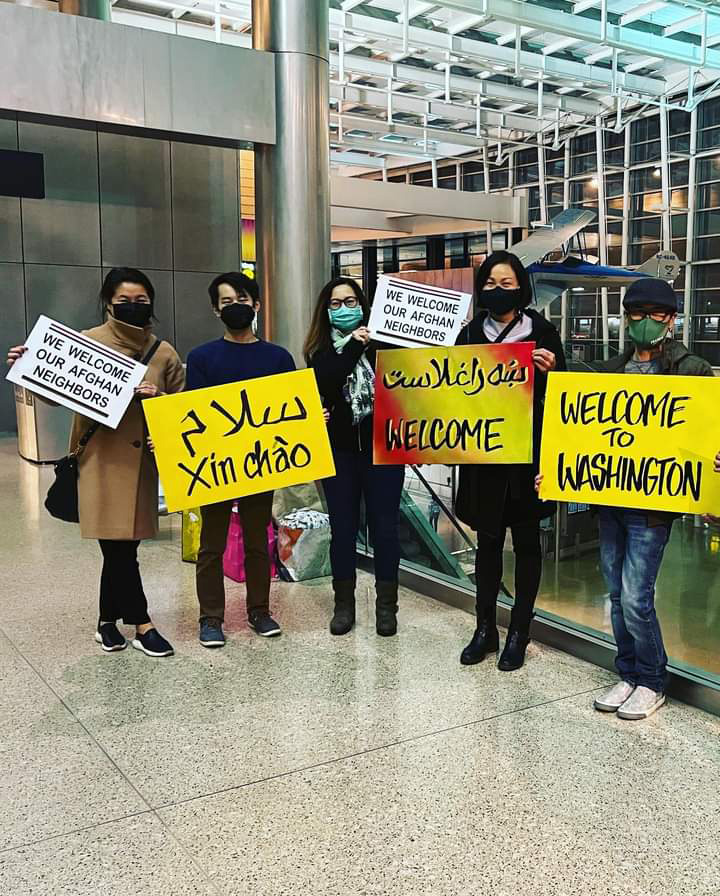 Nathan Duong spent his gap semester volunteering with the newly formed nonprofit Viets for Afghans, an organization helping to mobilize Vietnamese Americans in Washington state to aid incoming Afghan refugees.
"The fall of Kabul [in August 2021] struck a chord with a lot of members of the Vietnamese diaspora, since there were intense similarities to the fall of Saigon," says Duong. "It started as a simple 'What can we do to help?' and it has evolved into organizing the Vietnamese refugee community to help those coming to America from Afghanistan."
Duong's father's family are refugees from Saigon who arrived in the United States during the 1975 evacuation. "I was talking to my ông nội [grandpa in Vietnamese] and told him how I was involved with this group, and we looked together at a photo in the news of Afghans on a US military plane being evacuated," Duong says. "He pointed to the left-hand corner of the photo and said, 'That's where our family was sitting.' My father has talked about the chaos, the airplanes, the bright lights, the gunshots. So, I see similarities in my family and what happened to the Afghan community."
Viets for Afghans started with a goal of finding 75 Vietnamese families to temporarily house or host Afghan refugee families. The organization quickly met its goal. One of their main initiatives is called the Sponsor Circle, where private citizens working in groups vow to raise $2,275 per refugee to fund their rent, food, and transportation. While there are nine nonprofit agencies that resettle refugees under contracts with the US government, they are struggling to keep up. And the Seattle Times reports that the state of Washington is among the top five locations for Afghan resettlement, due to the significant community of Afghan Americans already living there.
During his gap semester, Duong helped Viets for Afghans with administrative work, assisted with the sponsorship applications, and created fundraising materials. His family is also sponsoring a family of refugees. Duong says watching them reunite with their aunt and a close family friend at the airport was emotional.
After CGS, he hopes to enroll in the College of Arts & Sciences and major in international relations and minor in Holocaust and genocide studies and human rights studies.
"My work is really important to me because the Vietnamese American community here has gone through so many horrible experiences that draw really intense parallels to what Afghan refugees are going through," Duong says. "When I help with sponsorship tasks, I look at the little kids, who are the same age as my dad was when he came over. I imagine my dad in that situation. I've wondered my whole life what I would have done if I was in a position to help during the fall of Saigon. And now I'm in one. This is the time to get involved and help out."
Jaelyn Carr (CGS'23), New Orleans, La.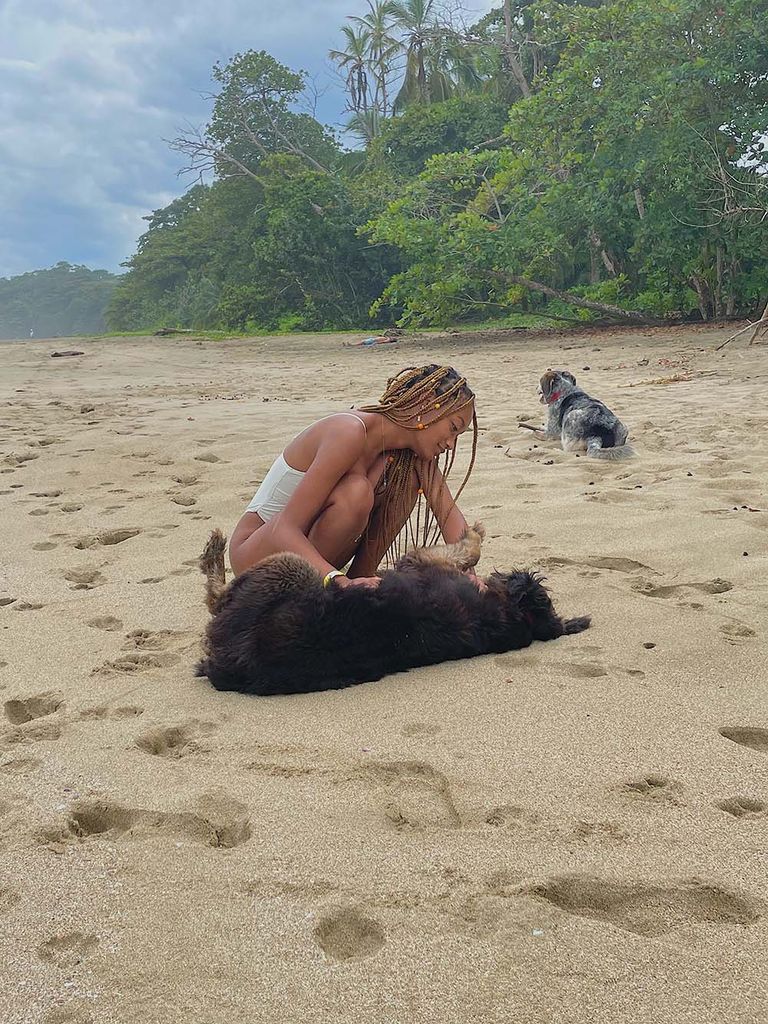 Jaelyn Carr was four years old when Hurricane Katrina pummeled her hometown of New Orleans, La. She and her family were forced to evacuate to Texas and, after returning home, she remembers seeing many stray animals who were in dire need of assistance. "They were malnourished, and it was traumatizing," Carr says. Her own family has had numerous pets over the years, including a toy poodle, a chiweenie, and a stray mutt puppy she was handed on the street during a Mardi Gras celebration.
When she learned she had been accepted to CGS and had a gap semester to fill, Carr knew she wanted to travel and find a way to work with animals at the same time, having previously volunteered at a cat rehabilitation center. "I was looking at a bunch of different opportunities and knew I wanted to work with either dogs or turtles, since anything else would feel like actual work and I needed a break from rigor," she says.
She connected with a student exchange organization that helped her find a host family in Costa Rica and a full-time position there with an animal shelter called Casita Azul, a small, family-run animal shelter. When Carr discovered the organization didn't have much funding, she launched a GoFundMe that raised over $2,000 to get the animals wheelchairs, cages, and toys, and pay for vet appointments.
"Costa Rica has a really high stray dog population, but I found that the stray dogs had great lives because the community left out food, they were socialized," Carr says. "Our shelter took in dogs who had abusive owners and were in awful condition."
"Everyone who worked there seemed to love animals," adds Carr, who was only just proficient in Spanish before arriving in Costa Rica last fall. She says she relished the opportunity to immerse herself in the language.
"It was amazing, I had the best experience ever," says Carr.
Devin Hirsch (CGS'23), New York, N.Y.
Devin Hirsch says he's always been passionate about environmental concerns, but a three-week-long trip to the Dominican Republic in the 10th grade provided a chance to work with a team of volunteers restoring coral reefs. The trip proved to be a life-changing experience.
"Before we even got in the water, they showed me a photo of the colorful reef 20 years ago," says Hirsch, 19, who grew up in New York City and attended school in the Bronx. "Then we scuba dived to the reef and it was white. I never realized how drastic the effects of climate change were, because I never saw climate change like that up close. It was a turning point for me."
After that experience, Hirsch joined the climate change action club at his high school and decided that his future college major would involve the environment in some capacity. (On a smaller scale, he also cut out red meat from his diet, as meat production has a large carbon footprint.) As a senior, he did an independent study project, researching topics like renewable and solar energy, carbon offsets, and plant-based meats, and how companies can actually make a profit from these things, leading to a win-win for both the environment and businesses.
During his gap semester this fall, Hirsch interned at dClimate, a company that has built a decentralized network that collects and monetizes climate data. He helped research and create carbon offset proposals and assisted with marketing materials and blog posts.
Carbon offsetting is a way to mitigate the amount of greenhouse gasses released into the atmosphere by having a company compensate for emissions made elsewhere, Hirsch explains. "It's very expensive for a company to revamp its business structure, so allowing them to offset their emissions in another way lets them change over time, and not be forced to do something all of a sudden," he says.
He discovered dClimate on LinkedIn and has enjoyed the internship so much that he plans to continue working for them part-time this spring.
"You can't change what happened prior to you entering the world or entering the workforce, but you can impact the future," he says. "The numbers show that things are getting significantly worse. The biggest thing for me is I want to leave this world a better place than when I came in."