Championship Hopes for BU Basketball Teams as Play Opens
A doubleheader against Northeastern starts season of high expectations for both men and women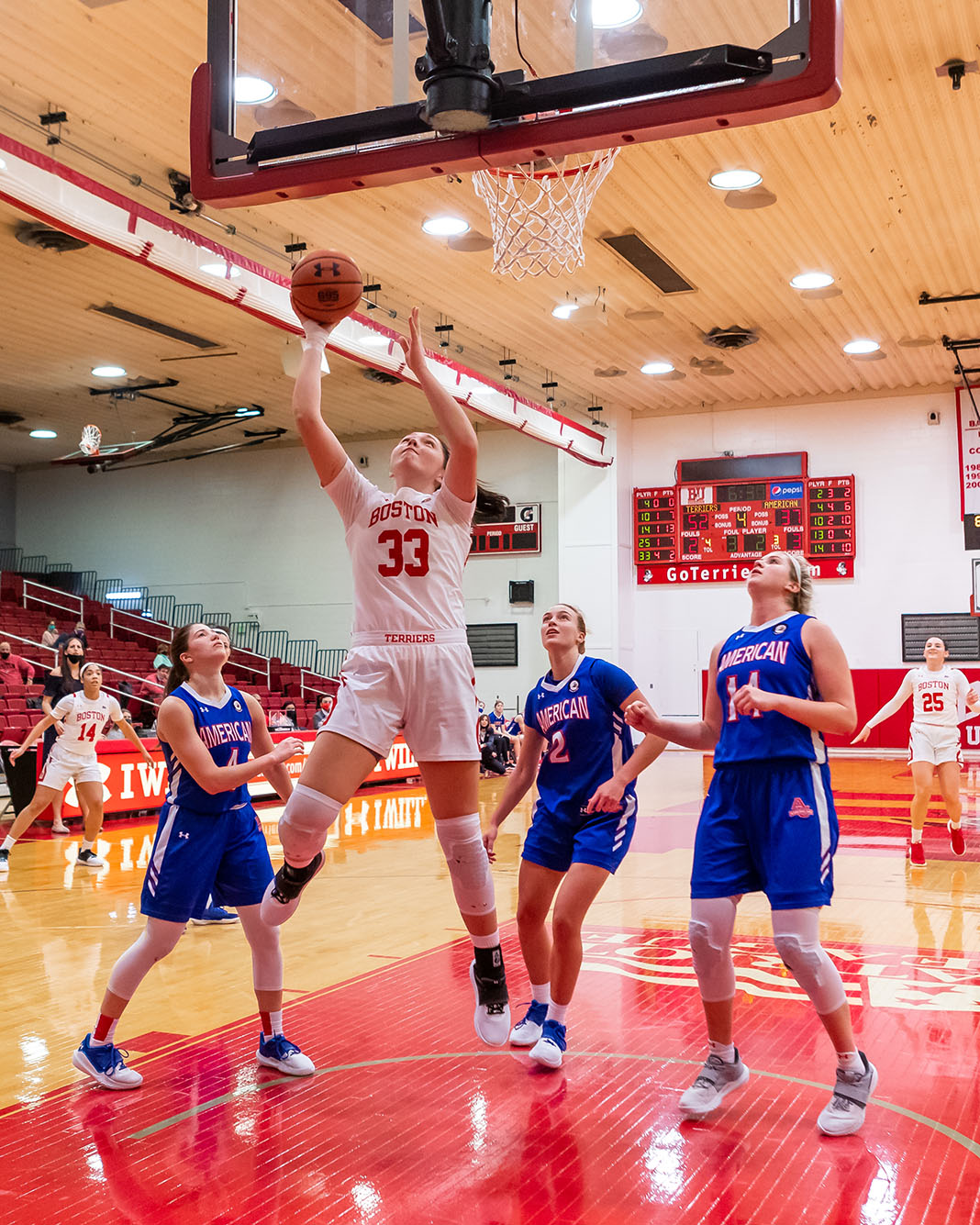 Varsity Sports
Championship Hopes for BU Basketball Teams as Play Opens
A doubleheader against Northeastern starts a season of high expectations for both men and women
With high expectations for both the Boston University men's and women's basketball teams heading into their 2022-2023 seasons, the bleachers of Case Gym should be rocking starting Monday, November 7. Both Terrier squads will retake the hardwood to open their respective seasons in a doubleheader against crosstown rival, but nonconference foe, Northeastern University.
The BU women are picked to win the Patriot League, the men predicted to finish second behind defending champion Colgate.
Women's basketball
The Terrier women's basketball team, under second year head coach Melissa Graves, enters the season returning last season's starting five. With an experienced roster—boasting 2021-2022 All-Patriot League First Team player Sydney Johnson (CAS'23) and Patriot League All-Defensive Team member Maren Durant (Sargent'23)—the Terriers were named the 2022-2023 Patriot League preseason favorite, with 16 first-place votes.
Johnson was named 2022-2023 Preseason Player of the Year, and Durant Preseason Defensive Player of the Year. Despite the preseason accolades, the Terriers are focused not on winning the Patriot League top individual honors, but on winning the league.
"I am very humbled that the league recognized me, but I care more about winning games than awards," Durant says. "We think that we're going to have a pretty dominant presence this year. The ultimate goal is winning the league."
Graves has a similar outlook on the 2022-2023 campaign. For her, the preseason ranking is motivation to push her squad more. "Obviously, preseason polls are nice, but there's still a lot of work to be done," the coach says. "We feel confident, but we do not think this means we're just guaranteed a championship. We have to hone in and work even harder because people are going to be coming after us even harder."
For BU women's basketball, the devil is in the details. In the final weeks of the preseason, the team's focus in practice has been isolating the areas where they'd previously fallen short.
"We only made it to the quarterfinals last year, but it felt like we had the pieces," Durant, with Johnson, one of the team's four captains, says. "All the little things accumulated into that loss at American. Everyone on the team just really wants to make sure that we're good on every single aspect of our approach in order to be successful."
Last spring, Graves' first season at BU, the Terriers finished third in the Patriot League, with a 12-6 conference record, but fell to American University 70-48 in the conference tournament semifinal.
"You obviously learn from your first year the little things of in-game adjustments," Graves says. "The big thing this year for me is we have a 12-person roster and how to navigate lighter loads in practice while still trying to get better."
The team's two freshmen—Anastasiia Semenova (CAS'26) and Sam Crispe (CAS'26)—are a great fit to the team, according to Durant. And Graves says she believes they will contribute a decent amount this season.
With four captains on this year's squad, the Terriers will turn to their leaders to start off the season right Monday against Northeastern, a team they fell to 53-45 last December.
"We're looking to start right away throwing a punch," Durant says. "Having our first game versus a crosstown rival is always fun, especially because it's a doubleheader with the guys. Folks should be coming out to both games because it's going to be a great night of basketball."
"I feel like we're all on the same page," Graves says. "We have a really attainable goal in front of us, but we have to earn it, that is the team's top priority and nothing else."
Men's basketball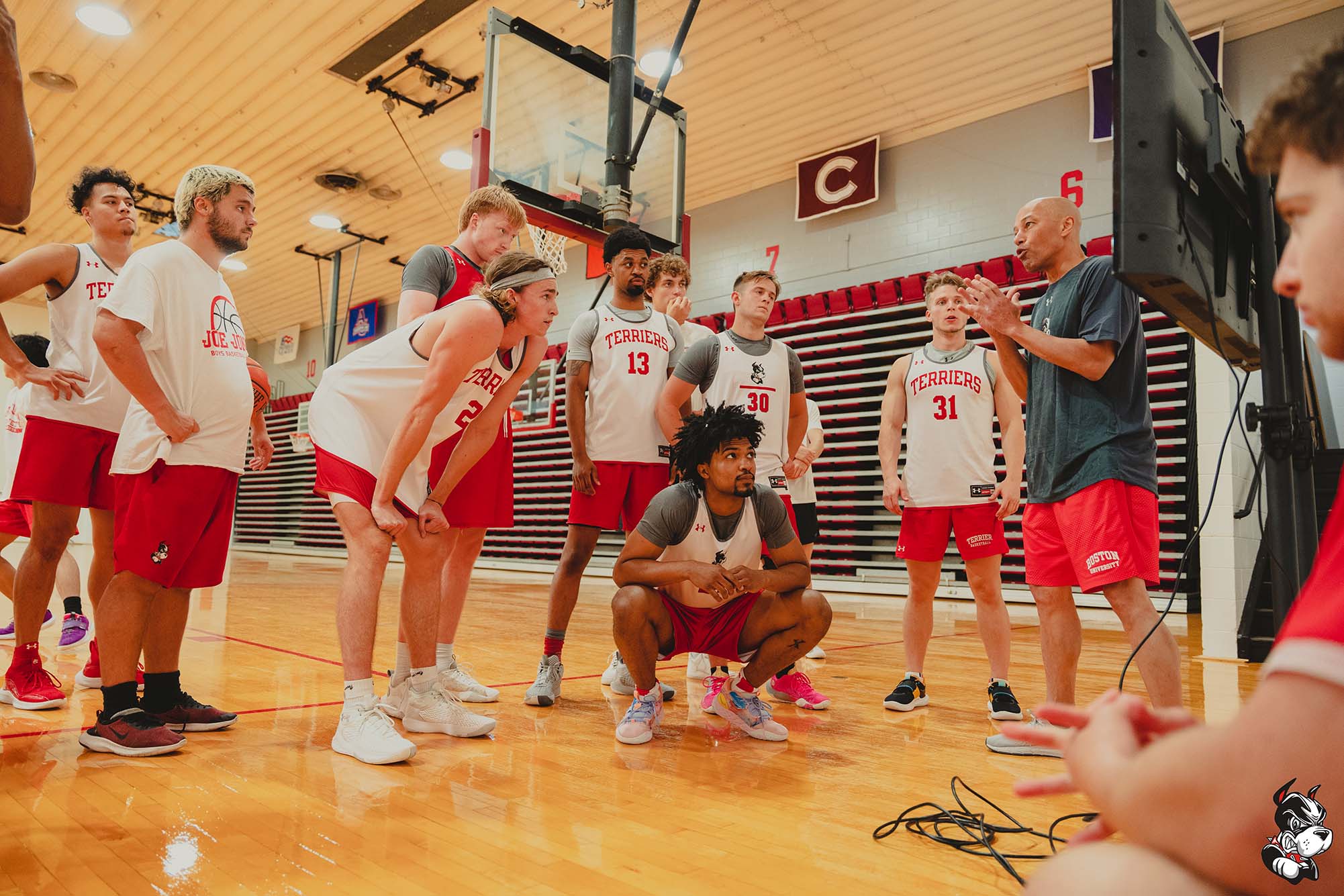 Like the Terrier women, the men's squad also benefits from an experienced roster. In addition to five juniors and five seniors, the men also have three graduate student players. Fifth-years Jonas Harper (CAS'21, MET'23) and Fletcher Tynen (COM'22, MET'24) complement sixth-year player Walter Whyte (CGS'19, CAS'21, SPH'23).
For players and head coach Joe Jones alike, the team is focused on winning some hardware of their own.
"I really like the team that we have, I think it's got a lot of potential," Jones says. "I think it's got a group of guys that really want to win. We always have a goal of being regular season champs and Patriot League Tournament champions."
The Terriers enter the season second in the Patriot League Preseason Poll, behind Colgate, which won three of the last four Patriot League Tournaments. The Terriers were the spoilers in the 2019-2020 season, winning it all before the COVID-19 pandemic upended their dream of playing in the NCAA Tournament.
For Harper, who was on that 2020 championship roster, getting back to the top of the Patriot League is a priority.
"We are doing everything we possibly can to be in a position to win a championship," Harper says. "That's the overall goal for our team this year—put everything aside and come together to win a championship. That feeling was like no other, so we want to be at that same position we were three years ago. Even though we didn't get to experience the NCAA Tournament, we got a little taste of it, and I think we're more hungry than ever to be in that spot again."
Last season, with an 11-7 conference record, BU finished third in the Patriot League standings. But an 85-80 overtime thriller against Navy in the conference tournament semifinal sent the Terriers back home.
Among that Patriot League Tournament team was Patriot League Player of the Year Sukhmail Mathon (CAS'21, Wheelock'22) and fellow All-Patriot League First Team guard Javante McCoy (Questrom'21, SHA'22). Both graduated in 2022, but Jones is confident that Mathon's and McCoy's combined 32.5 points and 14.1 rebounds per game can be replicated.
"I don't think you know how you're gonna do with one guy," Jones says. "You have some guys that have really improved, like Malcolm Chimezie (CAS'25), and some freshmen, like Otto Landrum (CAS'26) and Nic Nobili (CAS'26). So we feel like we have some good-quality depth up front, and that's where Mathon was helpful. I think this year's team will be more balanced than last year's."
With the inclusion of Landrum, Nobili, and Ben Roy (Questrom'26), Harper expects the team culture to carry the Terriers to success.
"We're going to be a really connected team," he says. "That's going to help us in what we're focusing on: our next-man-up mentality. We're all on the same page, and we're all focused on the right things and listening to what our coaches say. We have a great mindset, and anything's possible for us this year."
The Terrier men's and women's basketball teams play their home openers against Northeastern University at the Case Gym tonight, Monday, November 7. The women play at 4:30 pm, and the men at 7:30 pm. Tickets to the doubleheader are free for students with a sports pass, $5 for students without a sports pass, $7 for faculty and staff, and $12 for the general public. All home games and conference contests can be streamed on ESPN+, and fans can keep up with BU on GoTerriers.com and @TerrierMBB on Twitter.