CAS Society of Fellows Is Opening New Doors for Early-Career Scholars at BU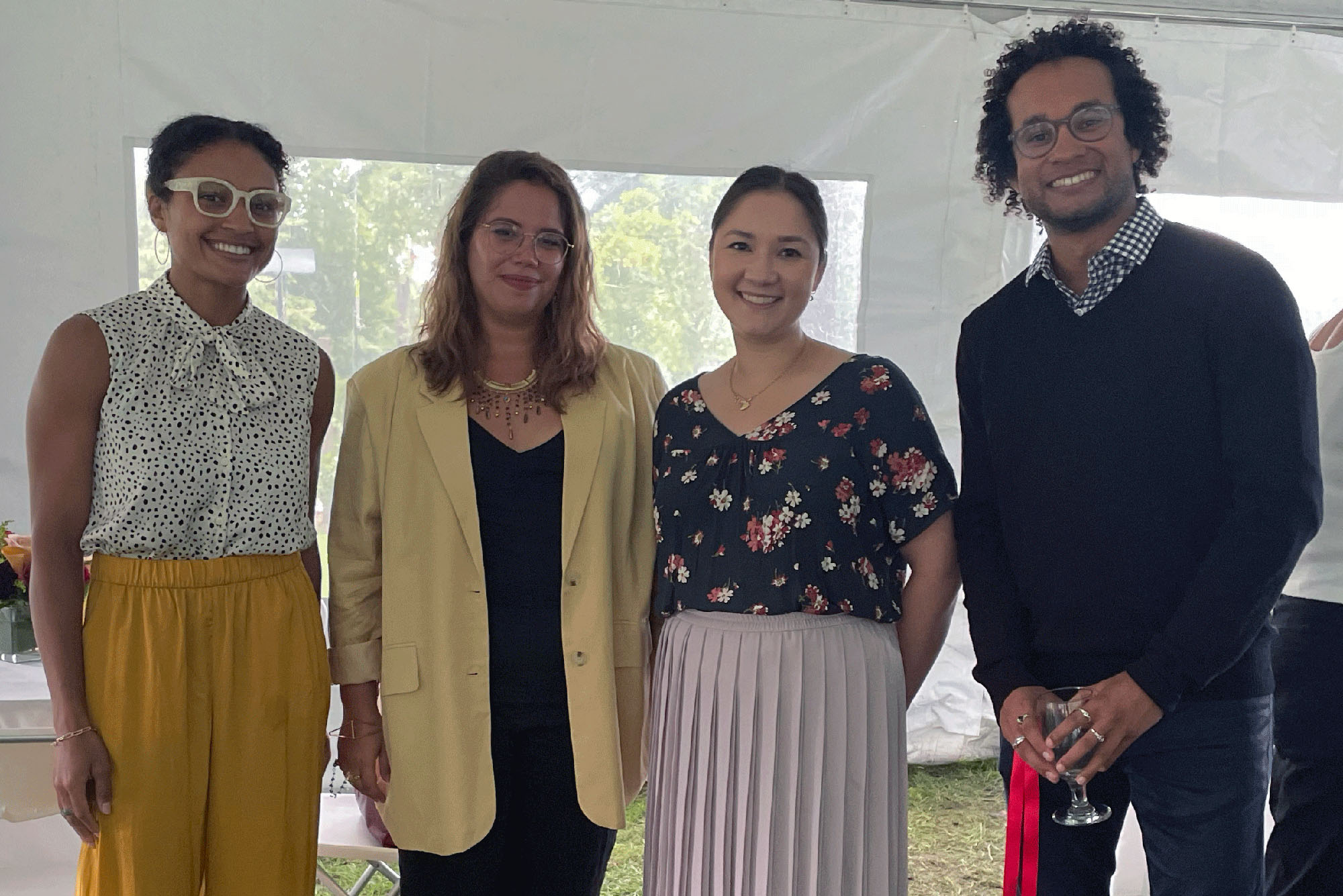 University News
CAS Society of Fellows Is Opening New Doors for Early-Career Scholars at BU
Program fosters interdisciplinary research, diversity, equity, and inclusion for postdocs preparing for careers in academia
Five new postdoctoral scholars have taken up residence at Boston University—the first cohort of a new program within the College of Arts & Sciences that's bridging research disciplines and fostering diversity, equity, and inclusion for academia's next generation.
Born out of college-wide conversations about its 2030 Strategic Plan, the Society of Fellows is a two-year paid program (with an optional one-year extension) that gives scholars who recently completed doctoral programs elsewhere opportunities for professional development and mentorship from faculty in both research and teaching across CAS. 
The inaugural class of fellows has scholars of anthropology, archaeology, classical studies, art history, and religion and was chosen from a pool of more than 650 applicants. Each of the five scholars is paired with a faculty fellow in their field and supported by a community of CAS faculty whose research represents the college's wide array of disciplines.
Throughout the two or three years they're in the program, the postdoctoral fellows will participate in workshops designed to help them develop professionally as early-career scholars, such as classes on applying for grants and writing a manuscript. In addition, each will teach one class per year, in their research field. This year's cohort of scholars will begin teaching in the spring 2023 semester.
"These are the rising stars of their fields, who bring diverse interdisciplinary perspectives, enthusiasm, and a vibrancy to the work that they do," says Stan Sclaroff, dean of Arts & Sciences. "They're here to launch their academic careers, but also to join a scholarly community of peers. They will enrich the life of our campus, enlivening our classrooms and bringing new ideas and energy into our community."
This year's Society of Fellows are Alize Arican, an anthropologist who earned her doctorate at the University of Illinois Chicago; Jacob Bongers, an anthropological archaeologist with a PhD from the University of California, Los Angeles; Tori Lee, a classical studies researcher whose doctorate is from Duke University; Najwa Mayer, who studies race, gender, sexuality, and religion, with a PhD from Yale University; and Alisa Prince, an artist and art historian whose PhD was earned at the University of Rochester.
For the new fellows, the opportunity to work together, supporting one another as a group, is a welcome change from the often isolating, sometimes siloed work of earning a doctoral degree.
"I see myself as an interdisciplinary-minded anthropologist, so being part of this interdisciplinary cohort—having people to bounce ideas off—was really appealing to me," says Arican, who regards the fellowship as an opportunity to deepen her research on residents in Istanbul's Tarlabaşı neighborhood and to finish a book on the same topic.
Prince echoes Arican's sentiment. 
"Honestly, it's just been nice to have people to talk to and connect to who are in this same stage of post-dissertation life," Prince says. She will also use her time in the fellowship to finish her manuscript on visual arts and artifacts of the Black diaspora. "I'm excited about what kinds of projects the other fellows come up with," she says, "and eager to gain a better understanding of how academia works."
This kind of cross-pollination and support is exactly what organizers envisioned when they were building the program.
"Steel sharpens steel," says Malika Jeffries-EL, associate dean of the Graduate School of Arts & Sciences and an associate professor of chemistry, one of the architects of the program. "We absolutely wanted to build a community, and with an underlying emphasis on diversity, equity, and inclusion, we were specifically looking for people whose work crosses traditional boundaries and who historically struggle to find funding for such nontraditional inquiry."
And while postdoctoral scholars typically join tenured faculty to augment existing, grant-funded research, the Society of Fellows creates an opportunity for scholars to continue their own research—something fairly unique in academia.
"We're thrilled to welcome these outstanding researchers to campus," says Margaret Bolter, CAS associate dean for strategic initiatives, another of the program's organizers. "The Society creates a unique and dedicated space for the scholars to focus on their research while building a community together and engaging with faculty from across the college."
Bolter and Jeffries-EL are already looking ahead to next year: applications for the next cohort of fellows is open until October 17. Researchers interested in applying can do so online.