BU's Patriot League Tennis Season Begins Sunday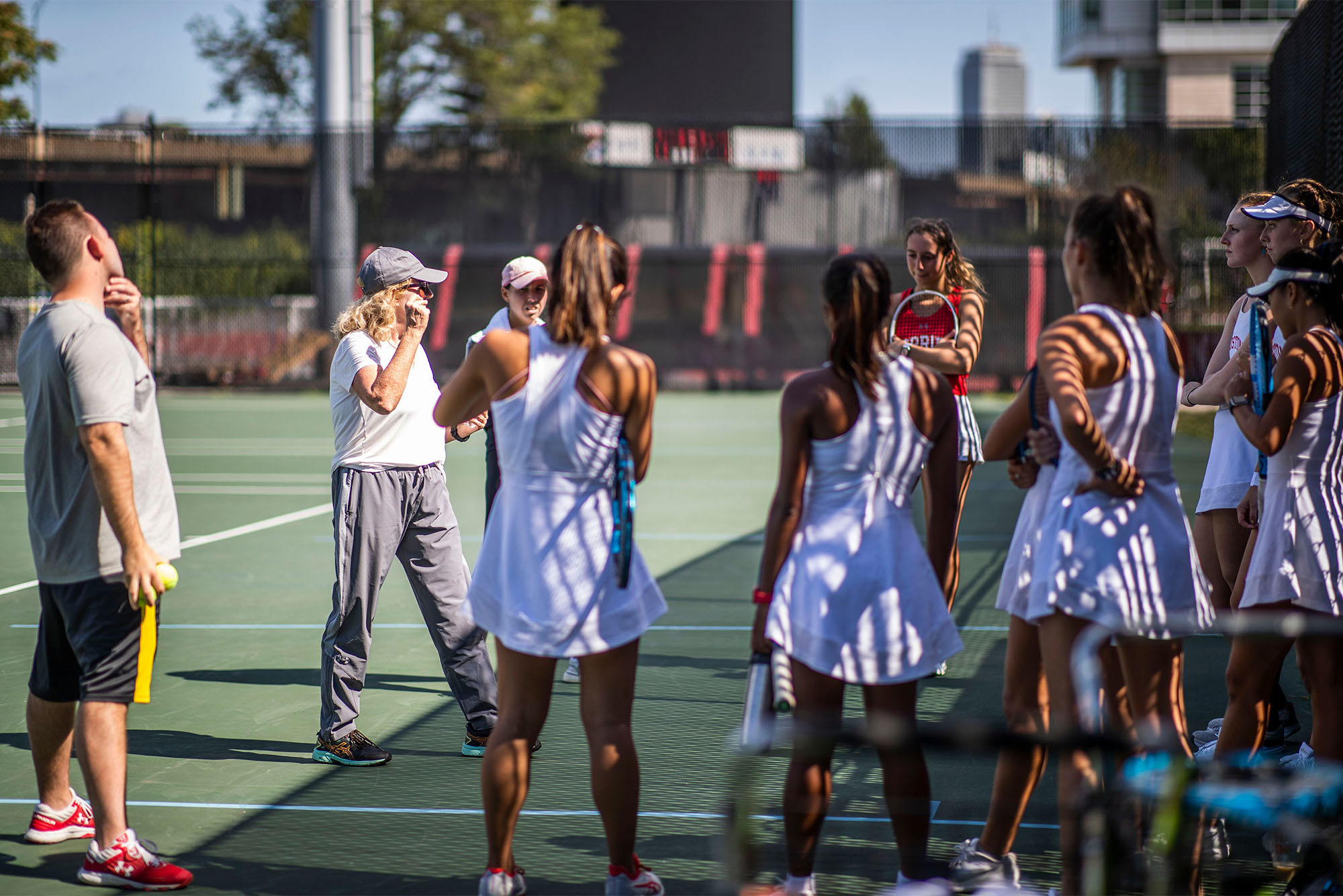 Varsity Sports
BU's Patriot League Tennis Season Begins Sunday
Men play at Navy, women face Loyola Maryland at West Point as conference play commences
Boston University's varsity tennis teams are both into the final month of their regular season, and the matches only get bigger from here. Patriot League competition kicks off this weekend, setting the stage for one last sprint before the conference tournaments start in late April.
"Every match, we're getting better and better," men's head coach Dejan Stankovic says. "I think we're going to be able to peak at the right time."
The women's team has the blueprint. Last year, the Terriers won their fifth Patriot League trophy in eight seasons in the conference. And five BU players on the court for that title-winning performance are back this season, including the lone senior, Shelly Yaloz (SHA'22).
"It meant so much to all of us to be able to go to the NCAA [tournament] and have that opportunity," Yaloz says. "It was such an achievement, and I'm just hoping to do the same thing and repeat it this year, my senior year."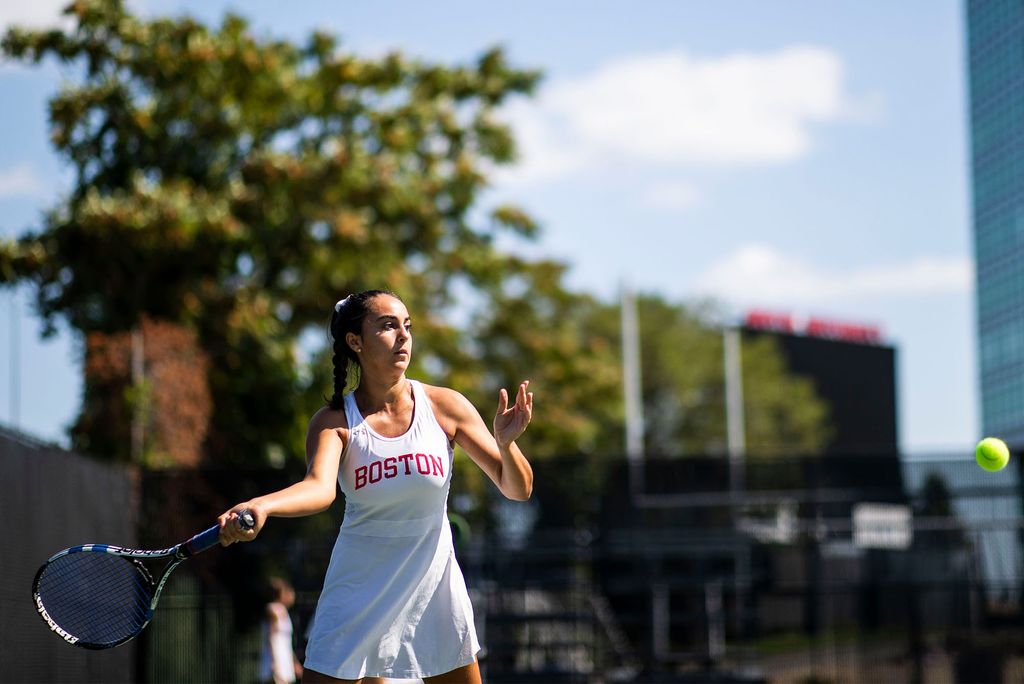 Yaloz and fifth-year player Emily Kim (SPH'22) are the two veterans left from a program that graduated five players last May. Yaloz says she and Kim are doing all they can to encourage the same camaraderie that helped the team capture the conference title last year.
"We did have to rebuild that team dynamic," Yaloz acknowledges. "We do our best to lead and contribute to the same very positive, very energetic, very hardworking dynamic that we had last year."
And according to Stankovic, the men's team has worked to create a similar camaraderie. He says it's one of the closest-knit teams he's coached in his years at BU, and he attributes much of that to captain Zak Schneider (CAS'22, Pardee'22), the only upperclassman on the roster.
"Zak is one of the best captains that you could ask for as a coach," Stankovic says. "He has taken it upon himself to call every player individually over the past year and a half to make sure that they feel welcome and feel like he's someone they can confide in. These guys love him."
Leading a squad of five freshmen and five sophomores, Schneider takes his role as captain seriously. "It's really important for me, especially with this young group of guys, to build a foundation for this team—not just for this year, but also for years to come," he says.
Schneider has already made a bigger impact on the program than he could have imagined when he arrived at BU four years ago. Unrecruited through high school, as a freshman he originally took the position of men's tennis student manager before eventually earning a spot on the roster. "It has been, for me, a lot about perseverance," he says. "Sometimes when it doesn't work out on the court, it's about knowing that you can come back the next day and work harder. That's something that I've stuck to throughout my entire time here."
It's an outlook he's been applying to the team's season so far. The Terriers claimed their first victory of the season—a 4-3 win at Sacred Heart on March 20—their most recent match. "The match was pretty wild," Schneider says. "To get out with a win really means a lot to all of us. It was a really important step that we took."
The women's team has collected 5 wins in its last 10 matches, taking on a range of teams that included the 30th-ranked and 70th-ranked squads in the nation. Head coach Lesley Sheehan says she's optimistic about what she's seen so far this season: "The team as a whole has really been working hard, and each match we see a different person coming out on top."
Entering the Patriot League season as the defending champions, Sheehan says, the players aren't resting on their laurels. "They want to peak during conference [matches] and play as well as they can to see if they can win the conference tournament. I think that's always the goal."
Coach Sheehan "always tells us, 'Don't look at the shirt or the school name or the person that you're playing. You're just playing the ball and you're playing yourself,'" Yaloz says. "We go into every single match with the same attitude and the same desire to win."
Stankovic drills home a similar message to his players. He says he wants them to be tough to play against, no matter the opponent. "We are very competitive and good fighters, and I think that it's starting to show in matches right now," he says. "Let's put it this way: I would be scared to play us if I were other coaches in the Patriot League."
Before conference action kicks off on Sunday, both teams face one last nonconference test on Saturday, the men at Georgetown, the women at Rhode Island. Yaloz says it's a good opportunity for a final tune-up before the stakes get higher. "I look at every nonconference match as a practice match and an opportunity to see where I'm at, where the team is at, and what can be improved," she says. "The non–Patriot League season that we have really prepares us for the Patriot League."
Schneider thinks his team is ready. "We know that we're all really good tennis players and we should have the confidence to be able to to be able to beat a lot of Patriot League teams."
The BU men's tennis team visits Navy Sunday, March 27, at 9 am, and the BU women's team takes on Loyola Maryland the same day at West Point, at noon. Keep up with the teams on Twitter through @TerrierTennis and @TerrierWTennis, and follow all the action on @BUGameDay and GoTerriers.com.