BU Roller Hockey Club Skating to National Tournament
Terriers holding Skate-a-Thon Sunday before Nationals next week's big event
Club Sports
BU Roller Hockey Club Skating to National Tournament
Terriers holding Skate-a-Thon Sunday before next week's big event
"I had zero idea what I was getting myself into. Now, this is the biggest thing in my life."
Miranda Lemus (COM'25) had never played roller hockey before coming to Boston, nor had several of her BU Roller Hockey Club teammates. Now, they're heading to Michigan to compete in next week's National Collegiate Roller Hockey Championships.
The club ended its 18-game regular season with 12 wins, resulting in a bid to Nationals from the selection committee. Captain Aiden Cliff (Questrom'23, CAS'23), who's been a team member for three years, says he's excited about the shot to compete in his first national tournament—the squad's seventh since it was founded in 1998.
"There definitely is a winning culture that has been established within this program," Cliff says. "We felt that this team deserved a bid. We deserve to be on this platform with all the other teams that we're going to be competing against."
The tournament will be held at Wings Event Center in Kalamazoo, Mich., April 6 to 10, beginning with two days of pool play before a three-day bracket decides the national champion. BU's pool, one of 3 in a 12-team field, consists of Arizona, Maryville University, and Colorado.
Cliff says the program has come a long way since its inception. "The inaugural team in 1998 practiced in the College of Arts & Sciences parking lot and used trash bins for goals. Now we're flying thousands of miles to compete for a national championship."
Amidst the team's triumphs this season, many Terriers had stellar individual seasons. At the top, Tomáš Horniček (MET'22) scored 22 goals to finish third in scoring in the Eastern Collegiate Roller Hockey Association (ECRHA), and Cliff produced 30 points, the ninth-most in the league.
Lemus wound up earning invitations to play semiprofessionally and to represent Team USA at the 2022 Continental Championships in Argentina this summer, this just months after joining the club. She'd signed up on a whim after meeting players at September's Splash, the University's semiannual student activities fair.
"It seems like everything happens for a reason: I think I was meant to pass that table and sign up for the team," she says. "This has taken such a big turn for me that I never really anticipated."
Lemus also helped recruit the only other woman on the team, goaltender Ashlyn Aiello (ENG'18, Sargent'22), who played for the BU women's varsity ice hockey team as an undergraduate.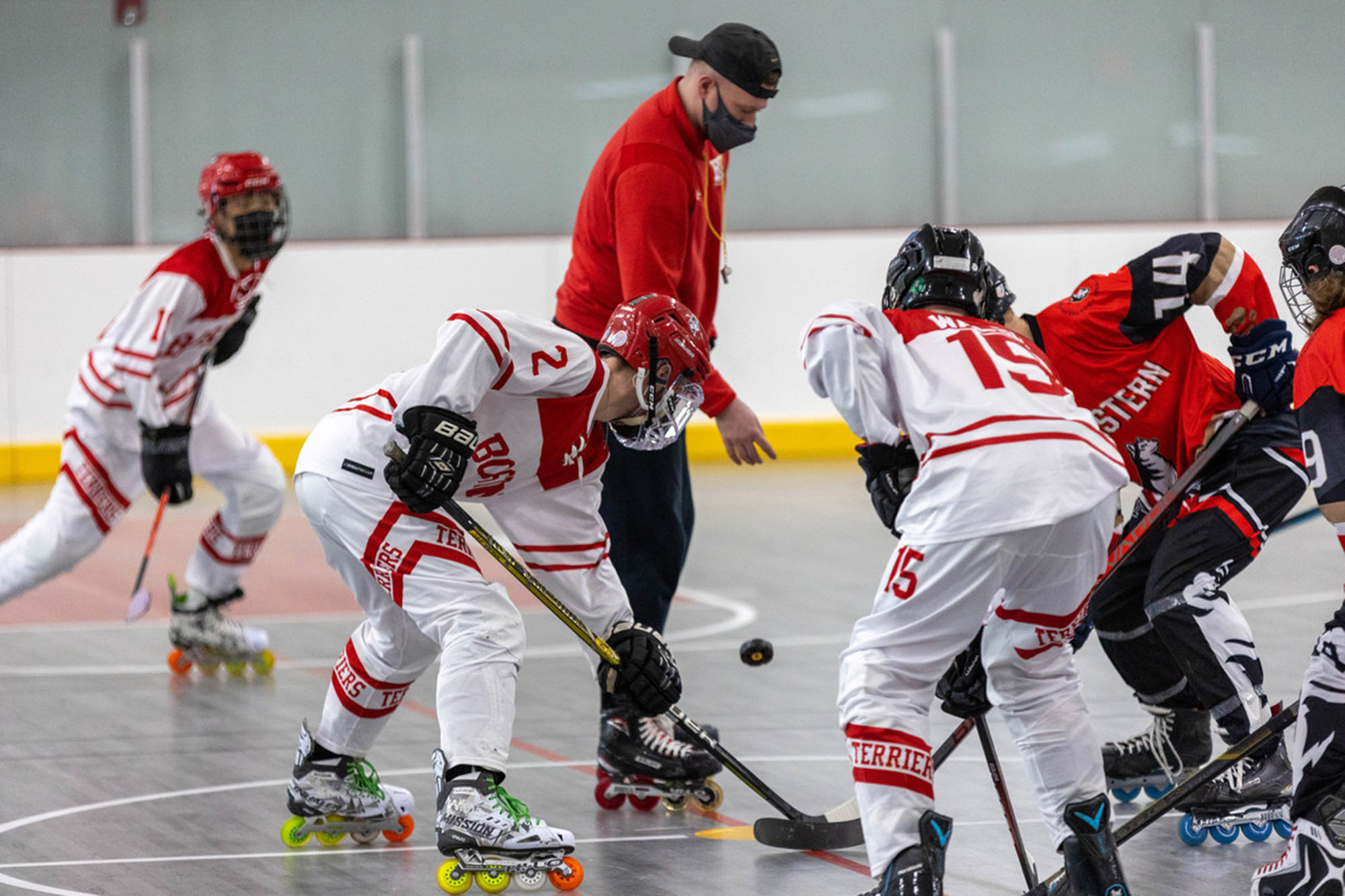 Fellow netminder John McLaughlin (Sargent'24) has enjoyed splitting the crease with Aiello, and they currently hold two of the top-three save percentages among all ECRHA goalies.
"Having her experience with really competitive hockey has been a real asset," McLaughlin says of Aiello. "At the same time, I have a little more Roller experience than her, so she also comes to me with questions. It's a really strong partnership. We get along really well."
Lemus says she's grateful to club veterans for their help getting new members up to speed. "You don't really expect to fit in as well until you really feel what the dynamic is like," she says. "Everybody brings something to the table that makes the team so unique and makes us one big happy family."
Cliff says embracing students from all backgrounds and skill levels has been key to the program's growth and success. "This team is not only the largest it's been within my time here, but it's also the closest. I feel like this team dynamic and family structure can really contribute to our success both on and off the court."
Part of the team's bond, he says, has come through the learning curve in picking up roller hockey, understanding the rules of the game, and adapting to how the game is played.
"People are always impressed when they watch our games," Cliff says. "There are four people on the court at a time instead of five like in traditional ice hockey. This changes a lot about the style of the game: it's a lot more possession-based and a lot more skill-based."
From the goaltender's perspective, McLaughlin says, his movement is much different from playing on ice. "The surface tends to be really sticky on goalie pads, so I have to be more deliberate and more cautious in how I move."
With no shortage of players interested in learning the game, the team has more than doubled in size in the last three years. Lemus says part of her motivation for joining was seeking new activities as an incoming student during the COVID-19 pandemic. "It's probably one of the best decisions that I've ever made," she says. "As soon as I came to BU, things were very slow to start, so one thing that really made everything better was joining Roller."
The club finished 4th out of 15 teams in the ECRHA this season, competing in regional tournaments across the Northeast, and McLaughlin predicts it will continue to improve. "It's only up from here. We're looking to keep growing the program, stepping up our level of skill, and staying competitive in our division. We're going to take home as many trophies as we can."
Cliff is optimistic about the team's chances of returning from Michigan with a national championship.
"I definitely do think it's feasible. We're having a record-breaking year. We are hungry for a national championship this year, which we feel is within our grasp."
The BU Roller Hockey Club is accepting donations through April 4 to fund their trip to Michigan. On Sunday, April 3, the team will host a Skate-A-Thon, skating to designated campus landmarks at the request of donors who contribute $100 or more. Donations to the program can be made here.

The BU Roller Hockey Club is scheduled to open the National Collegiate Roller Hockey Championships tournament in pool play against Maryville University at 10 am on Wednesday, April 6, at Wings Event Center in Kalamazoo, Mich. The Terriers will then play Colorado at 12:15 pm on Thursday, April 7, and Arizona that night at 11:45 pm. Those results will dictate seeding in the bracket, leading up to the title game at 2:15 pm on Sunday, April 10. Fans can follow along with the team on NCRHA.com and @burollerhockey on Instagram.