BU Lecturer Went to Hungary as a Fulbright Scholar. Now She's Helping Ukrainian Refugees
Theodora Goss: Imagine if someone invaded the United States and told you "Go find another country"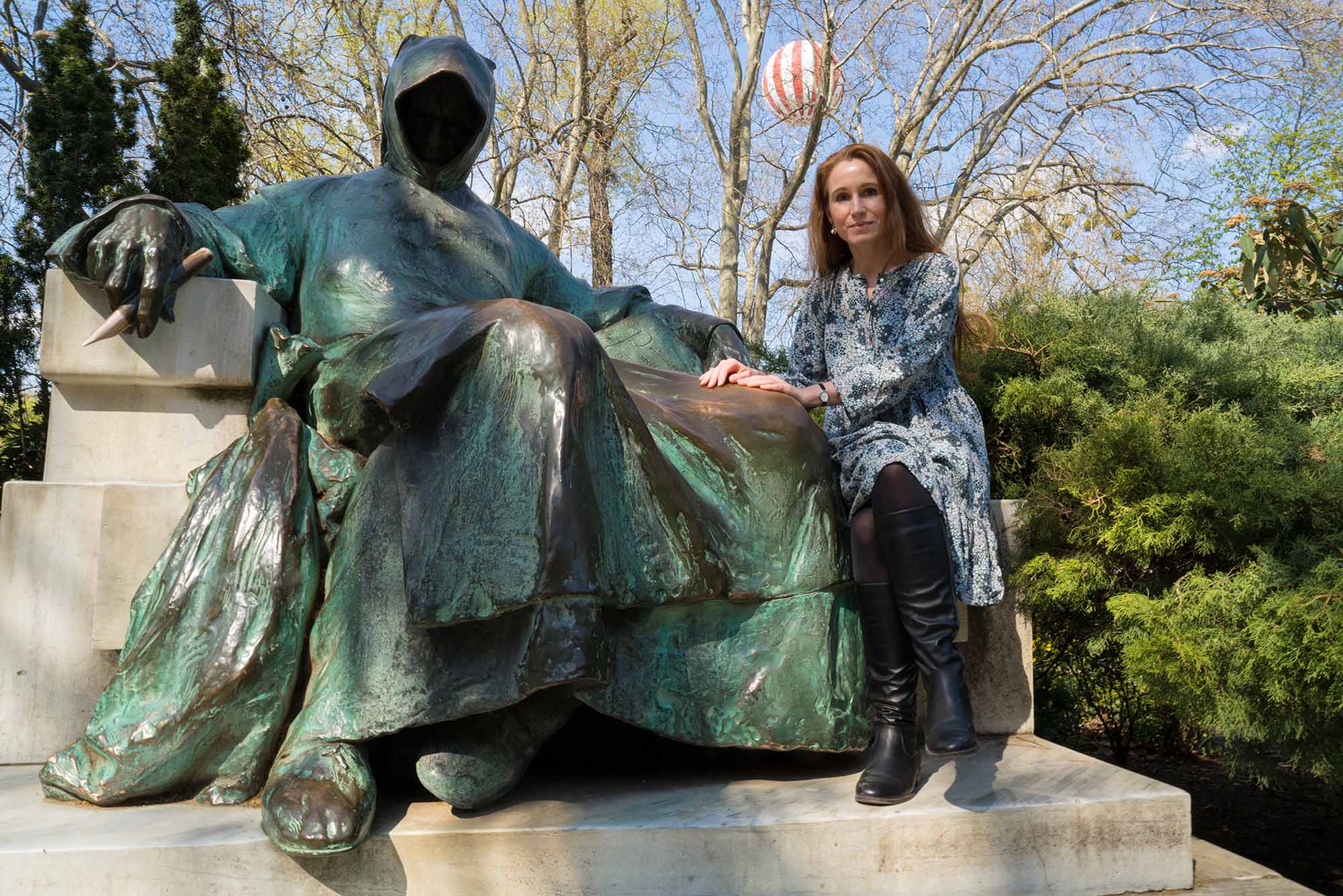 UKRAINIAN REFUGEES
BU Lecturer Went to Hungary as a Fulbright Scholar. Now She's Helping Ukrainian Refugees
Theodora Goss: imagine if someone invaded the United States and told you, "Go find another country"
Novelist, poet, and short story writer Theodora Goss arrived in Budapest at the end of January to begin a semester as a Fulbright scholar. Goss was born in Budapest and lived there until she was five, when she and her mother emigrated to Brussels and then the United States.
A senior writing and literature master lecturer in BU's College of Arts & Sciences and 2020 recipient of BU's Gitner Award for Distinguished Teaching, Goss was looking forward to teaching fantasy literature at two universities in Budapest, researching Hungarian culture and literature for her own writing projects, and taking Hungarian language classes.
Then Russia invaded Ukraine. Within weeks, hundreds of thousands of Ukrainians fleeing the Russian army's relentless shelling, bombing, and brutal killings of civilians began pouring into Hungary, and Goss found herself in the middle of the biggest refugee crisis in Europe since World War II. Everyone she knew in Budapest was scrambling to help. At Eötvös Loránd University (ELTE), where Goss is teaching fantasy literature, Kristina Kocyba, a German professor, opened a pop-up school for Ukrainian children, with English classes for their mothers. And she began recruiting graduate students and other scholars as volunteers. Goss signed on to teach English to the mothers.
BU Today talked with Goss about the school, the resilience of the mothers and their children she's observed, and what it's like to be in Budapest now.
BU Today:
How are people in Budapest helping Ukrainian refugees?
Theodora Goss: Everyone here that I know is doing something. A faculty member I know makes sandwiches and brings them to the railway station. People I know who have extra room are housing Ukrainian refugees. They help them with forms, things like that.

There is a Facebook group in Hungary I belong to that basically translates to "Help for Ukraine." There are lots of members and people post stuff: 'A woman with two children is coming—who has a place for them?' Or, 'Someone is here and they need a job in this particular town.'

There are people who need medications and there are doctors who can say, 'This is how the Hungarian system works, this is how you can get the medication you need.' Imagine if you were coming to a completely different country with a completely different medical system, especially here where you have a national medical system—how do you access that system?
BU Today:
Can you talk about the pop-up school?
Theodora Goss: Right now we have 40 children who are coming regularly to the school. They are all in fifth to ninth grades. We offer various subjects for the children as well as language courses for about 20 to 25 mothers and grandmothers. The children are at the age when they really need contact with other kids—and if they're going to stay in the local school system, they need to transition in some way. We're trying to figure out what the next step is for these children. Right now the school is located in the university. It's expanded from four to five days a week and is adding more classes for the children, including computer science. Kristina has recently been able to secure some funding for snacks for supplies. Soon they'll be offering free hot lunch for the children.

We have Ukrainian teachers who are teaching classes in Ukrainian. Right now they're volunteers, but Kristina is hoping to be able to pay them.
BU Today:
What about the class you teach?
Theodora Goss: I have between 7 and 10 women. They range in age from the 30s to the 60s. Many of these mothers will say, 'Oh, my children speak better English than I do.' It's quite standard now to be taught English in Ukrainian schools, and also in Hungary. The older generation coming from Ukraine, because of the Soviet system, they had compulsory Russian. Some of the adults have a certain level of English—they've taken it in school, but sometimes they haven't used it for a long time. 

Kristina's assistant, Yuliia Terentieva, and I split the class. She's a graduate student at ELTE and she's originally from Ukraine. She teaches the women who have absolutely no knowledge of English. The ones that I have, it's a lot of improving their confidence in the language. 

At the beginning of class, we always talk about what we did in the last week. One woman is here with her grandchildren, and she's trying to figure out where they can settle. She isn't sure if Hungary was the best place for them. She's also thinking about the UK.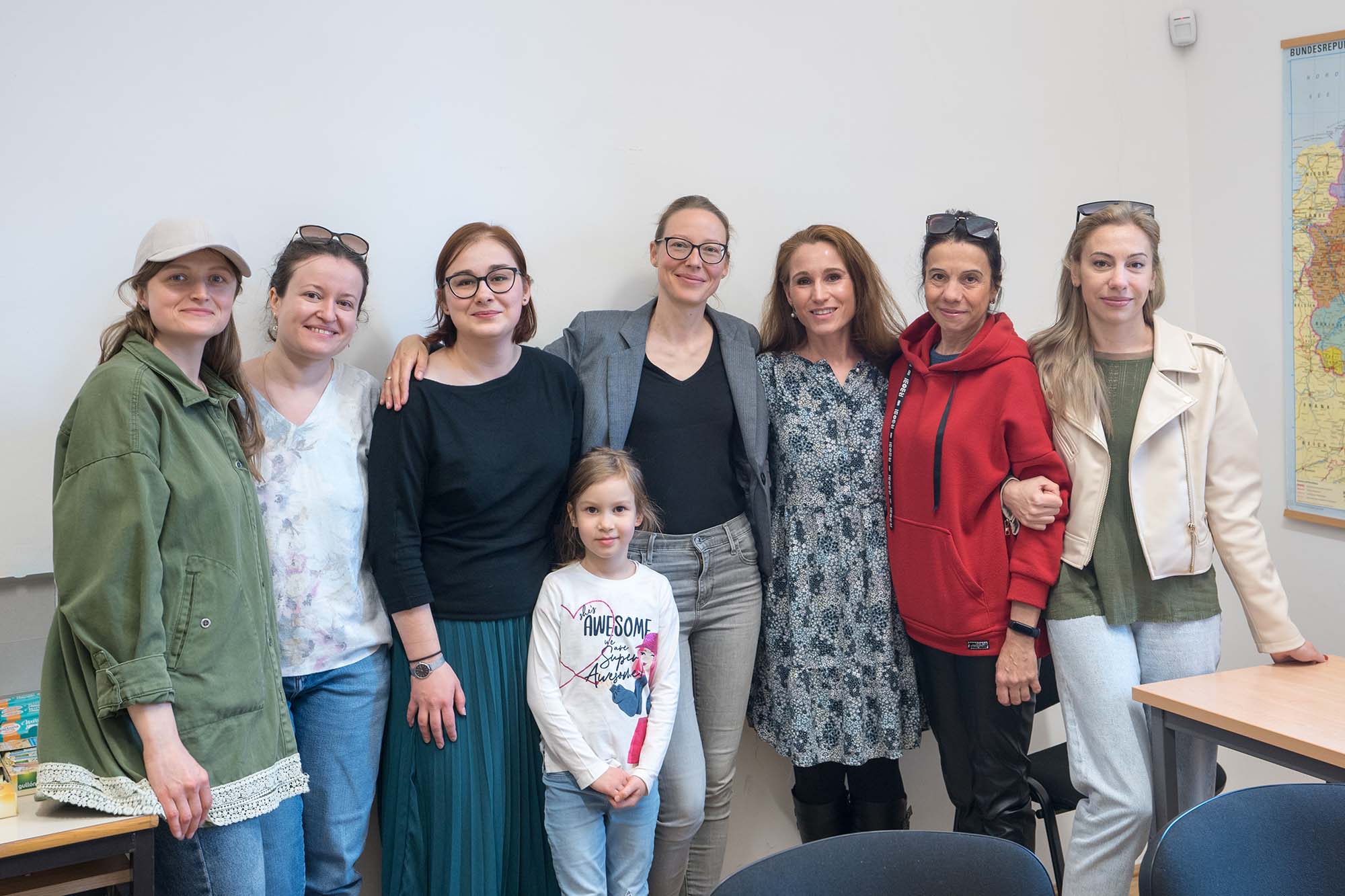 BU Today:
What else do you know about some of these students and their backstories?
Another woman is an administrator at one of the universities in Ukraine. She works in the office of international studies. Right now she is still able to work online with her university back in Ukraine, but she doesn't know what's going to happen with the university and how long this will last.

Another woman who is not very confident in her English said she would like to go to the United States because she has relatives in Boston.

These women arrived in Budapest about a month ago. And now they have to decide what to do with the rest of their lives. They're getting news from Ukraine fairly regularly from relatives who are still there.

Just last Monday, I was teaching and during the break, two people walked into the room. One of them was a man. He explained that he was an American and he'd been working with NGOs in Ukraine. And there was a woman with him who he'd gotten out of Ukraine—he could leave because he's an American citizen. And she had been in Bucha, hiding in the basement of a train station for a month.

Kristina told me that when the kids first came, they were confused and scared. And what they have been able to do with the school is to build a community. And so now the kids have friends at the school. The teachers say the kids talk all the time now.
BU Today:
Can you talk a little about your family history in Budapest?
I'm talking to you from what used to be my grandparents' apartment. They looked through the windows here in 1956, and watched the Soviet tanks coming down the street—toward the students who were part of the uprising [against the Soviet Union] and who were broadcasting from the radio station.

I was five years old when my mother left Hungary with me. We went to Brussels, and when I was seven, we arrived in the United States.
BU Today:
You seem to have an affinity with these Ukrainian mothers and their children.
Yes—in a way, the women are like my mom and the kids are like me. My mom has talked to me about arriving in the United States and having to learn a new language. She's a doctor. The path was easier for her because the United States needed doctors at that point, but I remember she had to redo part of her training. There were all sorts of hurdles that she had to go through. And here are these women with their kids, trying to figure out where they can live safely in the world. I think they're traumatized, but they don't have the time to be traumatized.

I asked them at our last class, 'What did you do in the last week?' And they said, 'Well, we found playgrounds for the kids, we tried goulash.' They're trying to figure out how to make life as normal as possible for their kids. They are in limbo, they're obviously worried. And yet they are so positive, they're so proactive. They are such a pleasure to teach. They're so talkative, so helpful to each other.

One person will say, 'I went to Vienna, you can use a Ukrainian passport to get a [train] ticket for free.' And everyone else will say, 'Oh, tell me how you did that.' And so the class is a way of exchanging information.

I see that the moms are also angry. Someone has come in and taken over their country. Can you imagine if someone invaded the United States—if they came to your door and were like, 'Go find another country.'

One of the things that always strikes me when I come to this part of the world is that there's such a sense of safety in the United States because the world wars didn't happen here. On some of the buildings here, you can still see bullet holes.
BU Today:
It must be very different for you being there in Budapest, compared to those of us here in Boston reading about the war and seeing it on TV.
Here the war in Ukraine is very much on everybody's minds. There are Ukrainian students in the university system here and they have friends who are still in Ukraine. There is a lot going on politically in terms of Finland and Sweden, and talking about joining NATO. There are countries like Estonia, Latvia, and Lithuania that are feeling very threatened. Everyone here is very aware of the political situation.

We started the semester online because of COVID. Two of my students are from Russia and they were joining the class from Moscow. At that point, Russia was a normal part of the world. Then one of the students sent me a message. He said, 'I'm really worried. I'm trying to make sure that I have my visa, I'm trying to get out of Russia. I am 100 percent against this crazy war. And I'm a man, I'm conscription age, and I'm terrified I will be conscripted and sent to fight in Ukraine.'

And then one day he was in class remotely and he sent a message: 'I just got my visa approved, I'm going to the Hungarian embassy, and I'm going to try to find a flight out of Russia because all the flights were stopping.' He made it, he's here now. There is no way he's going back to Russia, where he can't have a voice.
The ELTE Pop-up School is partnering with educational foundation Trefort Gyakorlóiskola Alapítvány. Donations can be made by international transfer to the foundation, with ELTE Pop-up School in the subject or purpose line.

Trefort Gyakorlóiskola Alapítvány
Trefort utca 8 
Budapest 1088, Hungary
titkarsag@trefort.elte.hu
IBAN: HU62117050082013656900000000
Purpose: ELTE Pop-up School