Art Days Returns to Medical Campus, in Person Again
Arts & Culture
Art Days Returns to Medical Campus, in Person Again
Annual exhibition showcases work by talented staff, faculty, and students today and Wednesday
Art Days, the Boston University Medical Campus annual arts exhibition, makes a much-anticipated in-person return this week.
The event, now in its 32nd year, is a Medical Campus favorite. Organized with the help of the Creative Arts Society student group and the Medical Campus Provost's Office, Art Days showcases the work of students, staff, and faculty from the School of Medicine, the Henry M. Goldman School of Dental Medicine, and the School of Public Health, as well as from Boston Medical Center. Last year, the exhibition was held virtually because of the COVID-19 pandemic (check out the 2021 gallery here), but this year, it returns to its usual home: Hiebert Lounge, on the MED Instructional Building's 14th floor. Art Days runs on Tuesday, February 22, and Wednesday, February 23. 
The show, which received about 70 submissions this year, typically includes a mix of sculpture, painting, poetry, illustration, pottery, metalwork, furniture, and knitwear, says Creative Arts Society faculty advisor Keith Tornheim, a MED associate professor of biochemistry and a frequent Art Days exhibitor. As long as you created it, it's welcome, he says.  
"There have just been some absolutely wonderful things displayed," says Tornheim, who's shown both poetry and sculpture over the years. "It's so enjoyable to go look at everyone's work and support your colleagues—and in some cases, be surprised by what they can do."
That's the best part of Art Days, says co-organizer Jie Yin (MED'24), Creative Arts Society visual arts chair. "As a medical student who matriculated in 2020, I found it difficult to interact with my classmates and professors at first due to the pandemic," says Yin, a lifelong "sporadic" painter who picked the hobby up again in recent years. "However, seeing their artworks in Art Days 2021 enabled me to appreciate them in a new light that was not academic, and it fostered a sense of camaraderie in me that was critical for my early days in medical school." (This year, Yin is exhibiting a reproduction in acrylic of Van Gogh's Starry Night.)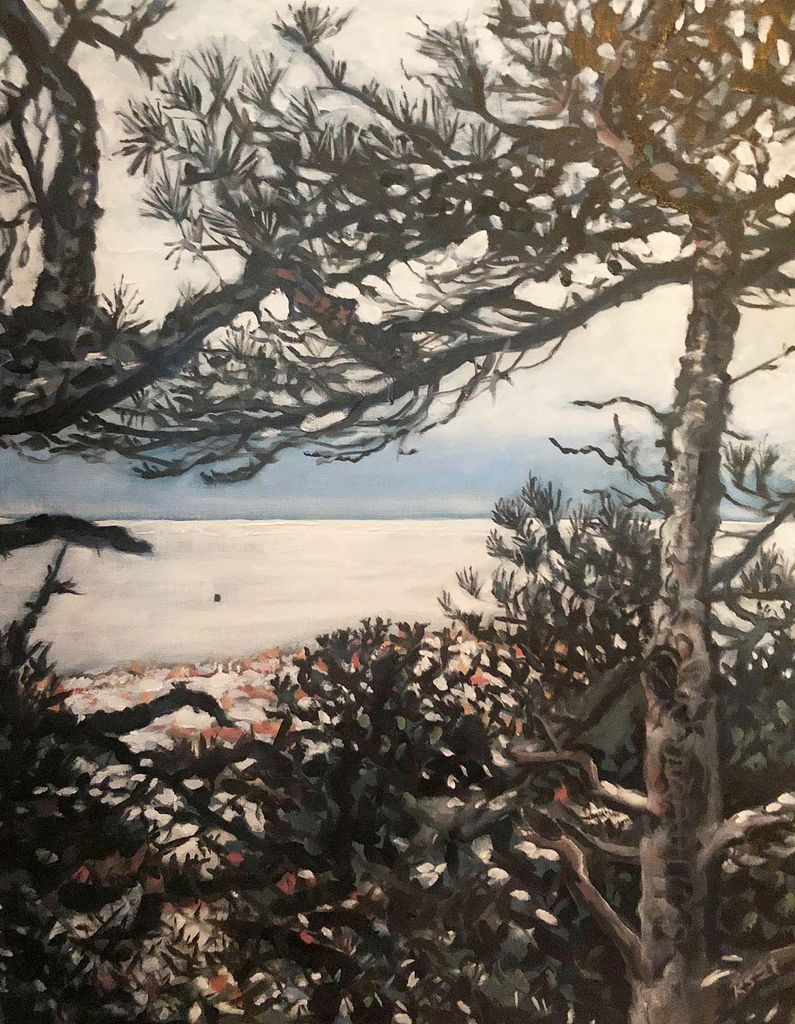 Kitt Shaffer, a MED professor of radiology, has displayed her work in Art Days almost every year since coming to BU in 2008. To her, the event is not only a celebration of her campus colleagues' talents, but a reminder that art has a home in the sciences.
A longtime painter, drawer, and crafter (she's exhibiting one of her oil paintings this year), Shaffer often uses guided drawing exercises in her classes to help with visual learning. She also stresses the importance of having a creative outlet as a medical worker, particularly during the COVID-19 pandemic.
"I feel strongly that having something—drawing, music, writing, sewing, anything that brings a feeling of accomplishment—is essential to battle burnout," Shaffer says. "I'm certain that my artistic activities have made me a better doctor and have helped me get through difficult times. When talking to students and residents about their careers, I always emphasize the importance of keeping some external outlets to allow them to decompress and maintain a well-rounded life."
Also displaying her work is Jade Nortey (SPH'23), an Art Days newcomer. Nortey uses bold line work and bright colors in her paintings, which often depict Black women on vibrant backgrounds. Her creations are inspired by her "personal experiences and identities," Nortey says, as well as the R&B music she most likes to paint to. Although this is her first time submitting her work for the event, it's hardly her first exhibition—last year, the Worcester Historical Museum tapped Nortey to paint a mural for its Pretty Powerful: 100 Years of Voting and Style exhibition.
The Medical Campus art event, begun in 1990 under the direction of MED Dean Emeritus Aram Chobanian (Hon.'06), BU's president from 2003 to 2005, to foster the arts at the Medical Campus, is made possible by the continued support of its Provost's Office and the organizing efforts of the Creative Arts Society.
Plus, of course, the artists who display every year: "We may not be as good as the College of Fine Arts," Tornheim jokes, "but the nonmedical arts have a substantial and continuing history on our Medical Campus. It's just really wonderful that there's this outlet and showcase that's supported."
The Medical Campus Art Days are today, Tuesday, February 22, and tomorrow, February 23, from 9 am to 5 pm in the Hiebert Lounge, 72 E. Concord St., on the Medical Campus. The event is free and open to members of the BU community.